John Lepore | April 18th, 2019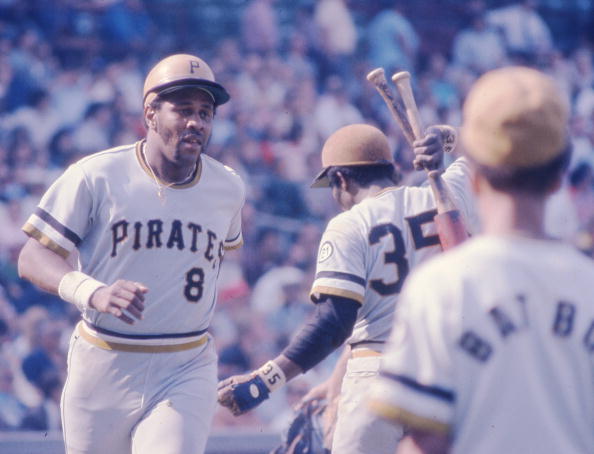 Every Thursday we will take a look back on the life and career of a player. You will get some background, an iconic moment, and plenty of stats. This week we look at a Pittsburgh legend. Willie Stargell
Wilver Dornell Stargell was born on March 6th, 1940 in Earlsboro, Oklahoma. He wound up moving to California to live with his aunt after his parents divorced and played High School baseball at Encinal High School. He signed with the Pittsburgh Pirates in 1959 and endured the racism that was rampant at that time during his trips in the minors through the South and Midwest.
Career
He made his debut at the end of 1962 but was a rookie in 1963. He only hit .243 that year and the power wasn't there with only 11 HRs in 328 PAs. In 1964 though, Willie Stargell started showing his talent with 21 HRs in 443 PAs and an All-Star appearance. He would progress and have an excellent season in 1966 slashing .315/.381/.581 with 33 HRs and 102 RBI. The next two seasons saw him take a step back because the training staff was worried about his weight and wanted him to slim down.
The 70s were the Pirates decade and Stargell was the leader especially after Roberto Clemente died suddenly in a plane crash on New Year's Eve in 1972. The decade started with them making their first playoffs in 1970 but unfortunately losing to the Reds in the NLCS. In seven of the next nine seasons, Stargell would finish in the top 10 in MVP voting. 1971 was the year Stargell started his reign of terror on NL pitchers. The man swung a sledgehammer on the on-deck circle for god's sake. Stargell had a signature windmill style with the bat before the pitcher went into his windup and could be an intimidating figure. He had a 1.026 OPS and beat out Hank Aaron for the NL HR title 48-47. The Pirates would win the World Series that year in seven games over the Baltimore Orioles. While Stargell didn't play well at all that postseason, he would more than makeup for it later.
We Are Family
In 1979, the Pirates embraced the Sister Sledge song "We Are Family" throughout the season. They needed to be family as they won a tight NL East over the Montreal Expos by two games. Facing the Reds in the NLCS, the only team they had a losing record to during the season, they managed to beat them with Stargell going 5-11 with two HRs and six RBI in the three-game sweep. He would win LCS MVP honors for his performance…but Pops wasn't done. In the World Series, he faced the Orioles again in a rematch from 1971. This time Pops was ready. The Orioles took a 3-1 series lead but the Pirates were family and stuck together to force a game seven. After Rich Dauer hit a solo homer in the third off Jim Bibby, the game was 1-0 until the sixth inning. Scott McGregor was cruising. Then Pops stepped to the plate with Bill Robinson on 1st. On the first pitch, Stargell shot one into the right-field stands and just like that the Pirates took a 2-1 lead they wouldn't give up.
He was 4-5 that day with a single, two doubles and that huge home run. He would win the World Series MVP becoming the first player to win both LCS and WS MVPs in the same year. Stargell's playoff numbers: 17-41, six doubles, five HRs, 13 RBI in just 10 games that postseason. At 39 years old!
Legacy
Stargell would play three more years but was limited to a backup role after his MVP season. He played 21 seasons with one organization and was beloved by fans and teammates alike. He was known for his mammoth home runs. Most notably the longest home run in Olympic Stadium where the Expos played. The seat where it hit was in the club deck and measured 535 feet from home plate. He also hit a home run at Dodger Stadium that left the building and was estimated at 507 feet.
Hall of Famer Don Sutton once commented on Stargell, "He just doesn't hit pitchers, he takes away their dignity."
Joe Morgan has said about Stargell, "When I played, there were 600 baseball players, and 599 of them loved Willie Stargell. He's the only guy I could have said that about. He never made anybody look bad and he never said anything bad about anybody."
Fellow Teammate Al Oliver said when he spoke about Stargell's leadership, "If he asked us to jump off the Fort Pitt Bridge, we would ask him what kind of dive he wanted. That's how much respect we have for the man."
Although Pops had medical difficulties after his retirement, he finally passed away from complications from a stroke on April 9th, 2001.
The Pirates have a statue erected for the man who was larger than life in the city of Pittsburgh especially in 1979. He will always remain as many knew him… Pops.
Stats and Notes
Shared MVP Award with Keith Hernandez in 1979
Was first 40 doubles 40 HR player in 1973 since Hank Greenberg in 1940
Only player to win Regular Season, LCS, and WS MVP in the same season
Played more games in LF than at first base (1,229-848)
From 1971-1979 he finished in the top 10 for MVP 7 times
Hit the first home run at Shea Stadium on April 17th, 1964
Check out our Other Throwback Thursday Articles: Kirby Puckett | Gary Carter
Questions and comments?
thescorecrowsports@gmail.com
Follow Us on Twitter @thescorecrow
Follow Us on Reddit at u/TheScorecrow
Follow Us on Facebook at The Scorecrow
Follow Us on Instagram at The Scorecrow
Follow John Lepore on Twitter @jball0202
Main Credit Image: [getty src="75569199″ width="594″ height="454″ tld="com"]