John Lepore | April 4th, 2019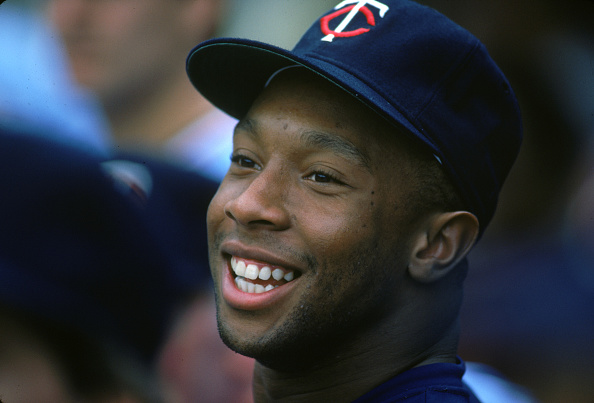 Every Thursday we will take a look back on the life and career of a player. You will get some background, an iconic moment, and plenty of stats. To begin the series we will look back on the Minnesota Twins' stout centerfielder for 12 years, Kirby Puckett.
Puckett was born on March 14th, 1960. He grew up in a housing project on the South side of Chicago as the youngest of nine children. Kirby took to baseball and played in High School but when no college offers came, he went to work on the assembly line at Ford. He eventually went to Bradley University and after a year transferred to Triton College. He made enough of a name for himself to get drafted by the Minnesota Twins third overall in 1982.
Career
Puckett would make his big league debut on May 8th, 1984, collecting four hits, and never looked back. He went on to play 128 games that season and although 148 of his 165 hits were singles, Kirby hit .296 and only struck out 69 times while playing excellent defense. The power would come in 1986 when he would hit a career-high 31 HRs. He made his first of 10 All-Star games that year along with the first of his six Gold Gloves. In 1987, Kirby would be an integral piece in leading the Twins to their first World Series victory in Minnesota. He batted .357 in the seven-game series vs. the St. Louis Cardinals.
After an off year for Puckett and the Twins as a whole in 1990 where they finished last in the AL West, 1991 brought success. The Twins won the division with a 95-67 record. They finished with a team batting average of .280 and Puckett led the group hitting .319. But Kirby would make his mark in the playoffs. In the ALCS, the Twins beat the Toronto Blue Jays in five games and Puckett won the ALCS MVP going 9-21 with two HRs and six RBI. The World Series was one for the ages as they squared off against the Atlanta Braves who also finished in last place the previous season. It's considered one of the greatest championship series ever due to its five one-run games while four of them were won on the final pitch. Kirby tripled in the first inning to score Chuck Knoblauch and then scored himself to give the Twins a 2-0 lead. In the third inning, Puckett made what would prove to be a crucial catch against the plexiglass in left-center off the bat of Ron Gant.
Nevertheless, the Braves managed to tie the game at three and force extra innings. Kirby stepped to bat in the bottom of the 11th vs. Charlie Leibrandt and shot a 2-1 pitch over the wall. Puckett fist-pumped his way around first base to the deafening sound of the Metrodome faithful and the legendary Jack Buck telling everyone "And we'll see ya… tomorrow night."
Game seven was legendary in its own right as Jack Morris pitched the Twins to a 10-inning complete game shutout and a 1-0 victory. That game deserves its own article but it's interesting to note that Bobby Cox played carefully with Puckett and intentionally walked him twice that game.
Kirby would go on to have four more excellent seasons including leading the league in hits in 1992 and RBI in the strike-shortened season of 1994. On September 28th, 1995, he was hit in the face by Dennis Martinez and broke his jaw. Unfortunately, that would be the last time Kirby Puckett would play major league baseball. He was diagnosed with glaucoma after waking up in March of 1996 without vision in his right eye. He went on the disabled list for the first time in his career and multiple surgeries were performed to help him gain his sight back. Puckett eventually announced his retirement on July 12th that year.
Legacy
On May 25th, 1997, the Twins retired Kirby's number 34 and he was inducted into Cooperstown in 2001. After his enshrinement, Puckett's health slowly began to deteriorate. He had domestic and legal issues and allowed himself to balloon to 300 pounds. Finally on the morning of March 5th, 2006, Kirby suffered a massive stroke and when surgery failed, he succumbed the following day.
David Ortiz has said that he took number 34 in honor of Puckett who mentored him and became a friend from Papi's days in Minnesota. Andy MacPhail, who was the Twins GM from 1985-1994, spoke about Puckett to SI.com saying, "The players around him couldn't dog it because he's running out groundouts in spring training games. It was impossible for people to give half an effort when the best player  on the team was going full bore at all times."
While Kirby had his issues after his playing career was over, one thing is certain: He will always be remembered by fans of the Twins and of baseball in general as the short, bald, chubby guy who gave 100% every play with a smile on his face. Oh, and he was a pretty good player as well.
Stats and Notes
Retired with the second highest batting average of any right-handed hitter to retire after 1950 at .318. (Joe DiMaggio .325))
Was the first player to have 2,000 hits in his first 10 calendar years in the majors
In his career, he didn't bat less than .309 in any particular month
Only batted below .300 vs. one team in his career, the Toronto BlueJays at .279
Never struck out more than 100 times in a season
Finished top-7 in MVP voting seven times
Won six Gold Gloves
Was an All-Star 10 times
Won the Branch Rickey Award in 1993
Won the Roberto Clemente Award in 1996
Inducted into the Hall of Fame in 2001 in his first year on the ballot
Questions and comments?
thescorecrowsports@gmail.com
Follow Us on Twitter @thescorecrow
Follow Us on Reddit at u/TheScorecrow
Follow Us on Facebook at The Scorecrow
Follow Us on Instagram at The Scorecrow
Follow John Lepore on Twitter @jball0202
Main Credit Image: [getty src="53286029″ width="594″ height="403″ tld="com"]