John Lepore | April 25th, 2019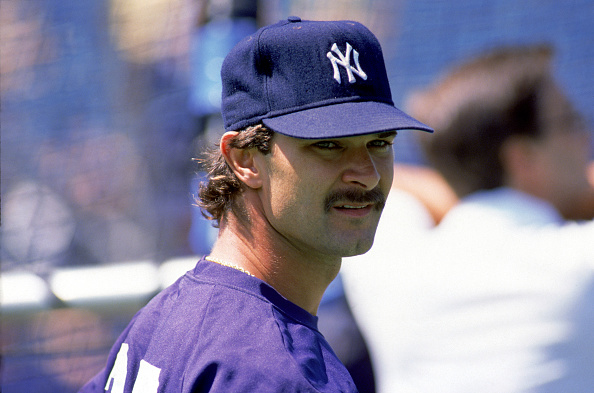 Every Thursday we will take a look back on the life and career of a player. You will get some background, an iconic moment, and plenty of stats. Today we take a look back on the career of a Yankee legend, Don Mattingly.
Donald Arthur Mattingly just turned 58 years old on April 20th. He grew up in Indiana and attended High School there as well as College with Indiana State. In High School, he hit .463 and led his team to a ridiculous 94-9-1 record in his four years there. After attending Indiana State, he was drafted by the New York Yankees in the 19th round in 1979.
Career
He made his debut with the Yankees in 1982 but didn't blossom until 1984. That year he hit .343 and led the AL in Batting Average while also leading the league in doubles (44) and hits (207). It would kick off a stretch of six seasons where Mattingly would have an average of 43 doubles, 27 HRs, and 114 RBI. He did this while batting .327 with a .902 OPS and walking more than he struck out (293/206). He finished in the top 7 in MVP voting four times and won the Gold Glove five times during those years.
Mattingly won the MVP award in 1985 slashing .324/.371/.567 with 35 HRs and an AL-leading 145 RBI. 1986 may have been his best season though slashing .352/.394/.573. That year he led the majors in hits with an amazing 238. In 1987 Mattingly had a string of incredible feats. as he would become the second player to hit a HR in eight consecutive games (Dale Long). Since then Ken Griffey Jr. also joined that group. He also set a record by having an extra-base hit in 10 consecutive games and hitting six Grand Slams in a season. Although the Yankees struggled through the 80s, Donnie Baseball played extremely well and he held the team together. Always the epitome of professionalism and upholding the Yankee way of doing things, he was named Captain in 1991.
Iconic Moment
Don Mattingly came up in 1982, a year after the Yankees were in the World Series, and he retired in 1995, a year before the Yankees won the World Series. Unfortunately, he was relegated to one playoff appearance. He made it count. In the first-ever ALDS, the Yankees squared off against the Seattle Mariners. After the Yankees took Game One at home as the Mariners had the home-field advantage but the first two games were played at Yankee Stadium with the final three at the Kingdome. This ALDS layout would later be changed. In Game Two, with the Mariners leading 2-1 in the sixth inning, Ruben Sierra tied the game with a solo shot. Don Mattingly would then hit a solo HR of his own for the first and only postseason bomb of his career. He hit the HR off of Andy Benes and the Yankees would go on to win that game 7-5 in 15 innings with a young Mariano Rivera getting the victory.
The Mariners would take the next three at home with Game Five being one for the ages. Each game of the series was decided by three or fewer runs with two games being won in walk-off fashion. Donnie Baseball would finish his only postseason series batting .417 (10-24) with 4 doubles, a HR, and 6 RBI. As a free agent, Mattingly decided to sit out the 1996 season to rest his ailing back which had bothered him on and off since a DL stint in 1990. Ultimately in January of 1997, the 35-year-old Mattingly decided his playing days were over and officially retired from Major League Baseball.
Post-Playing Days
Although Mattingly retired as a player he never left baseball. From 1997-2003, he was a special instructor at Yankee camps in Tampa. In 2004, he was named hitting coach, a position he would hold for three seasons. In 2007, he replaced Lee Mazzilli as bench coach to Joe Torre. Mattingly would join Torre in Los Angeles from 2008-2010 and after Torre's retirement, he was named manager of the Los Angeles Dodgers in 2011. He managed the Dodgers for five years and led them to three consecutive postseason appearances. After falling to the New York Mets in 2015, he and the Dodgers parted ways. Mattingly didn't have to wait long for a job as the Miami Marlins came calling.
Legacy
On August 31, 1997, the Yankees honored Mattingly with a plaque in Monument Park which reads, "A humble man of grace and dignity, a captain who led by example, proud of the pinstripe tradition and dedicated to the pursuit of excellence, a Yankee forever." They also retired his number 23.
The nickname "Donnie Baseball" was given to him by Kirby Puckett at a charity event they would attend together in Rochester. Mattingly tells the story here.
Mattingly has an easy way about him and is well-liked by his players as Clayton Kershaw mentioned in an interview. "He's so positive. All he asks of us is just go out there and play the way we're supposed to. Do things the right way on the field, and he's happy with you. When it's simple like that, it's easy to play for, and it's fun to play for."
While Mattingly lasted 15 years on the Hall of Fame ballot, he never made it in. Many fans, especially those of the Bronx Bombers, believe he should be in Cooperstown. Here is an excellent article by Chris Bodig back in 2017 which breaks down Mattingly's Cooperstown case.
Don Mattingly continues to be an example of what a baseball player, manager, and ambassador of the sport should be and will hopefully be enshrined one day.
Stats and Notes
His nine Gold Gloves are the most ever by an AL first baseman
Hit his first HR off John Tudor on June 24, 1983
Never struck out more than 43 times in a season
Had nearly as many doubles (442) as strikeouts (444)
Only the third player to lead his league in doubles three years in a row (1984-1986) since 1940 (Stan Musial, Pete Rose)
Only Yankee with a monument that didn't win a World Series with the team
Had 15.77 ABs per K in his career. To put that in perspective only one active player has more than 10 (Andrelton Simmons 10.32)
Check out our Other Throwback Thursday Articles: Kirby Puckett | Gary Carter | Willie Stargell
Questions and comments?
thescorecrowsports@gmail.com
Follow Us on Twitter @thescorecrow
Follow Us on Reddit at u/TheScorecrow
Follow Us on Facebook at The Scorecrow
Follow Us on Instagram at The Scorecrow
Follow John Lepore on Twitter @jball0202
Main Credit Image: [getty src="51192801″ width="594″ height="393″ tld="com"]