Troy Pierce | May 23rd, 2019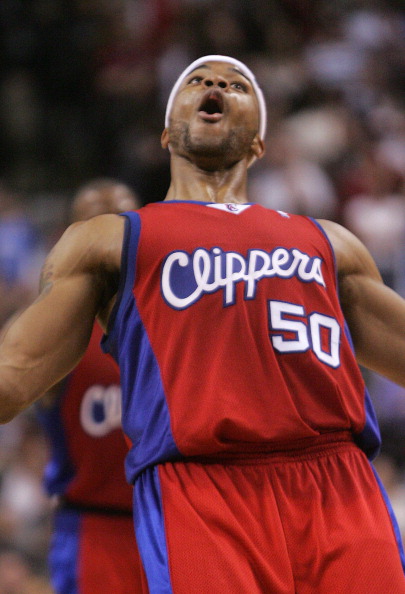 Corey Maggette was a hyper-athletic wing player that feasted on his ability to get the basket, draw contact, and ultimately the free throw line. This would not only help become a perennial scorer during his time in the NBA but also lead to him earning one of the more interesting nicknames in sports history.
High School
Corey Maggette played basketball at Fenwick High School in Oak Park, Illinois. During this time he would be a three-time all-state basketball player and lead the Fenwick Friars to the schools first appearance in the elite eight. In 1998, his senior year, he would earn McDonald's All American honors and compete in the McDonald's All American Slam Dunk Contest.
[youtube https://www.youtube.com/watch?v=pkrXSAXU7UE&w=560&h=315]
Eventually, he would be named to the "100 Best Illinois High School Basketball Players Ever" list by Will Larkin and Tim Bannon, coming in the bottom 50 of the list. Future teammates Quentin Richardson and Darius Miles were also named to the list. Other notable names include Andre Iguodala, Dwyane Wade, and Candace Parker.
In 2008, Fenwick High School would retire Maggette's jersey, his standard number 50.
Duke Career (1998-99)
Maggette's time at Duke is largely forgettable. Outside of a few highlight-worthy dunks, he failed to add his name to the list of Duke Blue Devils known for their star-power. In his one season at Duke, Maggette would average 10.6 points and 3.9 rebounds a night. Duke would eventually make it to the 1999 NCAA National Championship game against the University of Connecticut but would fail to bring home the trophy.
In the wake of an underwhelming freshman season, Maggette would declare for the 1999 NBA draft — a puzzling decision to say the least.
"I saw him play twice. I didn't notice him." — Marty Blake, Former NBA Director of Scouting
NBA Career
Despite the doubt at even the highest levels of the NBA scouting tree, Corey Maggette would get drafted 13th overall by the Seattle SuperSonics in the 1999 NBA Draft. He would be immediately traded to the Orlando Magic with Dale Ellis, Don MacLean, and Billy Owens. Seattle would receive Horace Grant, a 2000 second rounder (eventually became Olumide Oyedeji), and a 2001 second rounder (eventually became Bobby Simmons). This draft holds the distinction of being the first draft in which four players from the same university would be picked in the first round — Elton Brand (1st), Trajan Langdon (11th), and William Avery (14th).
Maggette would have a promising rookie season, averaging 8.4 points and 3.9 rebounds per game in just 18 minutes a night. Solid production for a rookie with some questions heading into their respective draft. Despite an overall successful year, Maggette would be traded, yet again. This time to the Los Angeles Clippers. Orlando would trade Corey Maggette, Keyon Dooling, Derek Strong, and cash to the Clippers for a 2006 first round pick that would eventually become Marcus Williams.
Maggette is most known for his time spent as a member of the Clippers. He would spend his prime years in Los Angeles and become a perennial scorer that thrived on driving head-on into the defense and getting to the free throw line. This ability for getting to the basket and to the free throw line would help him become a staple when it came to players with the most free throw attempts at years end. From 2003-2010 he would finish the season ranking in the top 10 five times.
This would earn him the nickname "Bad Porn" with fans saying, "Sure, there's penetrating and scoring, but are you really happy with what you're seeing?" Not that the fans didn't appreciate his scoring acumen, they just weren't keen on his overall disinterest in playing defense, and rightfully so. Throughout his 14 NBA seasons, Maggette would only have two seasons with an average of at least one steal per contest, and never averaged more than one-third of a block per night.
"Sure, there's penetrating and scoring, but are you really happy with what you're seeing?"
His time with the Clippers was the best of Maggette's career, both in terms of his play and the attention that he drew. Maggette, along with Quentin Richardson and Darius Miles would help make the Clippers a lovable and exciting team because of the energy and emotion with which they played the game, celebrating after one another would make a highlight reel basket. Although they were loved by the fans, the Clippers only won 31 games in Maggette's first season with the team, and peaked at 47 (2004-05) wins during Bad Porn's tenure. The 2004-05 season was also the only year Maggette would get a chance to play in the postseason, losing in the Western Conference semifinals.
[youtube https://www.youtube.com/watch?v=Q64rf_fN_HU&w=560&h=315]
In his prime Maggette was a lethal scoring threat averaging 19.5 points per contest from 2003-2010. During that time he also eclipsed the 20-point average three separate times. His best year coinciding with his lone playoff appearance. In the 2004-05 season, he averaged 22.2 points, six rebounds, and 3.4 assists.
Post Clippers?
In the summer of 2008, the Duke product would sign with the Golden State Warriors. During his two seasons playing in the Bay Area, he maintained his scoring prowess averaging just over 19 points a night on 50% from the field. He was also still a reliable presence on the boards, good for just over five a game.
After leaving the Warriors, Corey Maggette would play for three teams in his final three seasons of NBA play — the Milwaukee Bucks (2010-11), the Charlotte Bobcats (2011-12), and the Detroit Pistons (2012-13). These years were largely forgettable. By this time he had lost much of his athleticism, and thus, his ability to score with the basketball.
Post NBA Career
In his life after the NBA, Maggette has gone on to work as a sports analyst and plays in the Power of the Big 3 League.
[youtube https://www.youtube.com/watch?v=wy-tBZ10L6E&w=560&h=315]
Previous Throwback Thursday's
Paul Arizin
Questions and comments?
thescorecrowsports@gmail.com
Follow Us on Twitter @thescorecrow
Follow Us on Reddit at u/TheScorecrow
Follow Us on Facebook at The Scorecrow
Follow Us on Instagram at The Scorecrow
Follow Troy on Twitter @HoopHead_prod
Main Image Credit:  [getty src="165320543″ width="405″ height="594″ tld="com"]