Antonio Losada | July 30th, 2019
I was looking at this season BABIP leaderboards in the search of some outliers. I was curious to see if any batter was putting together a strangely high BABIP value while hitting more (more more) than average ground balls and not that many line drives or fly balls.
There were a few names worth exploring, but I wanted as much context as possible, so instead of working exclusively with data from the 2019 season, I opted to pull every batter-season from 2010 up to this year. That gave me 1446 player-seasons.
In keeping with my quest to finding ground-BABIP heroes, I decided to apply a few filters to the dataset. So I removed every player posting a BABIP under .325, and on top of that kept only those with a ground ball percentage of at least 57% and a GB/FB ratio greater than 2.5.
Only 18 seasons survived, pertaining to 12 players (Dee Gordon, Ben Revere, Christian Yelich, Derek Jeter, and Howie Kendrick appear at least two times each). Among them, 2019 Eric Hosmer.
Eric Hosmer is, indeed, quite a special hitter and baseball player overall. Look at his WAR numbers since he debuted back in 2011: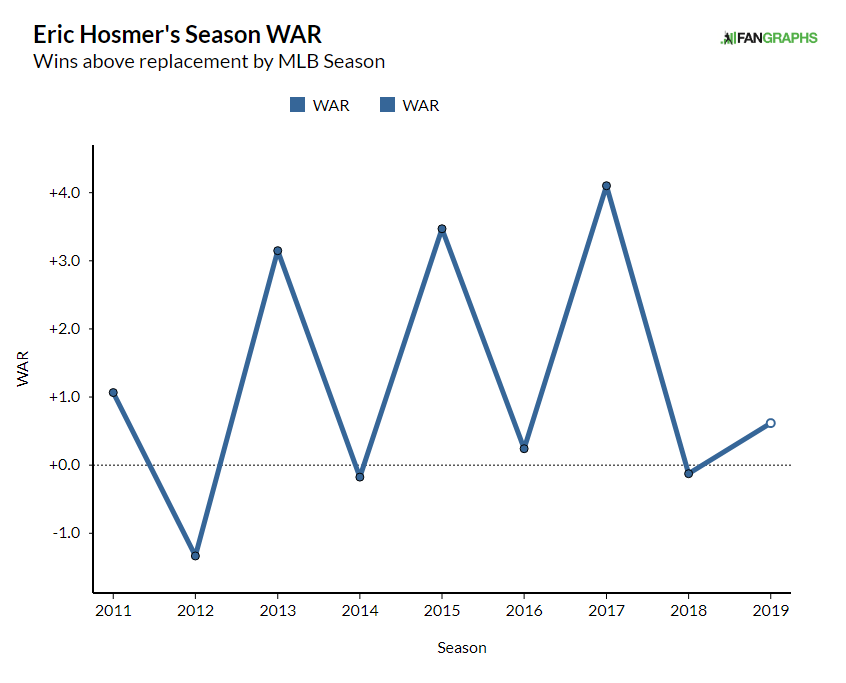 Up. Down. Up. Down. Up. Down. Up. Down. Up. The only constant is that he's been quite inconstant, to say the least.
Back to the hitting numbers. Here are Hosmer's BABIP, K% and BB% this season: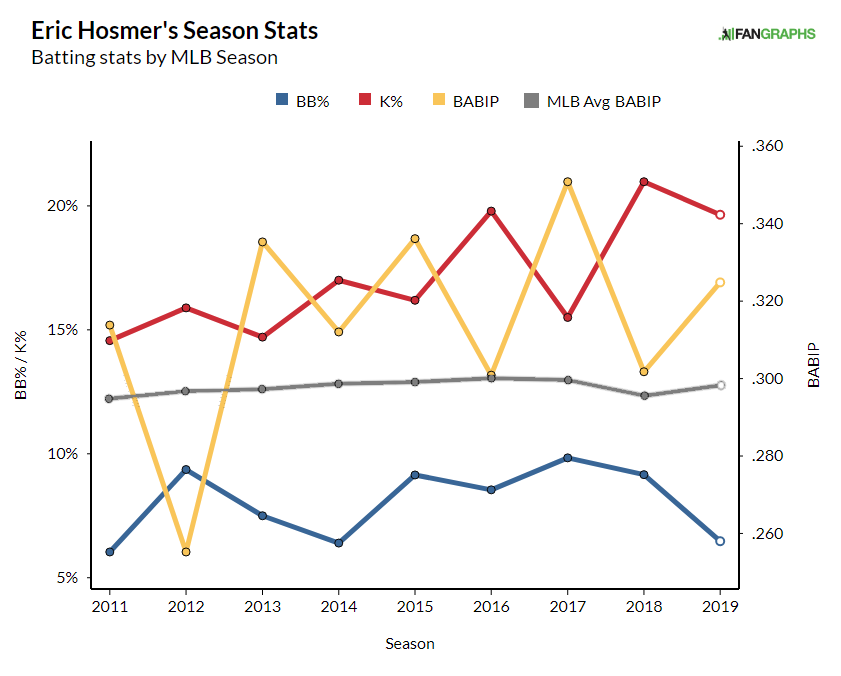 Yes, Hosmer's BABIP is not overly high, but it still is more than 20 percentage points over the league average this season and his outcome in 2018. Also, although he's lowered the number of strikeouts in comparison to last season he's still sustaining an upward trend. The opposite happens with his BB%, which in 2019 is just a hair over his career-low value at 6.5%.
All in all, Hosmer is striking out on a rather high basis (although 3% less than the league average) while walking a little (2% less than the league average), yet still putting up a high BABIP.

Hosmer is by no means a speedster, but he can definitely put in some power. Per Savant, he currently ranks on the 63rd percentile on EV (good-not-great) and on the 81st percentile on Hard% (definitely great).
Career-wise, Hosmer has always had the same problem: he's never wanted to be part of the elevate-to-celebrate movement, or at least he hasn't been able to join it. Take a look at his rolling average Launch Angle since 2015:

Now that's some downward trend, and the lowest of the lows is right there in the 2019 season as a whole. No wonder why his xwOBA only ranks in the 34th percentile. Of players with at least 425 PA this season, Hosmer has the fifth-lowest xwOBA. It is normal. Balls to the ground, no matter how hard they're hit, tend to be fielded on a regular basis.
What is more impressive of Hosmer's profile, though, is how he's making the ball fly when he's putting it in the air. On average, the league is hitting for home runs at a rate of 15% of all of the fly balls hit in the air. Hosmer is holding a 21% HR/FB percentage while only hitting 22% of balls long. Moreover, he's completely strangled his IFFB% numbers standing at 4% while the league on average sits at 10%.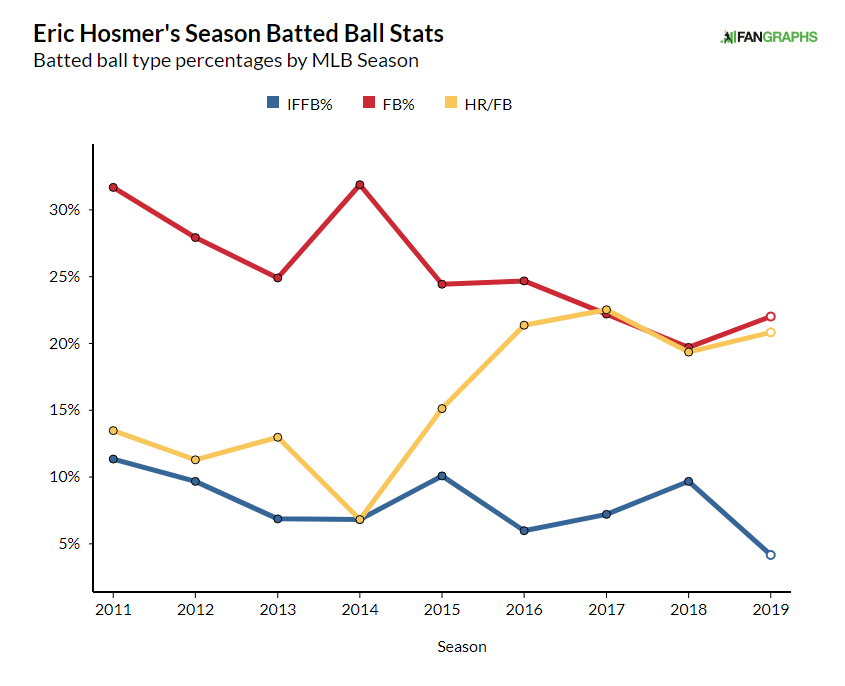 Remember I told you only 18 player-seasons were within the filters I applied to my data? Hosmer's year is unprecedented even among those.
No one since 2010 has been able to get remotely close to what Hosmer is doing this season in terms of hitting a ton of ground balls yet going the distance on more than a fifth the fly balls he hit. It is not hard to spot him in the next chart, even if I had not used a different color for him.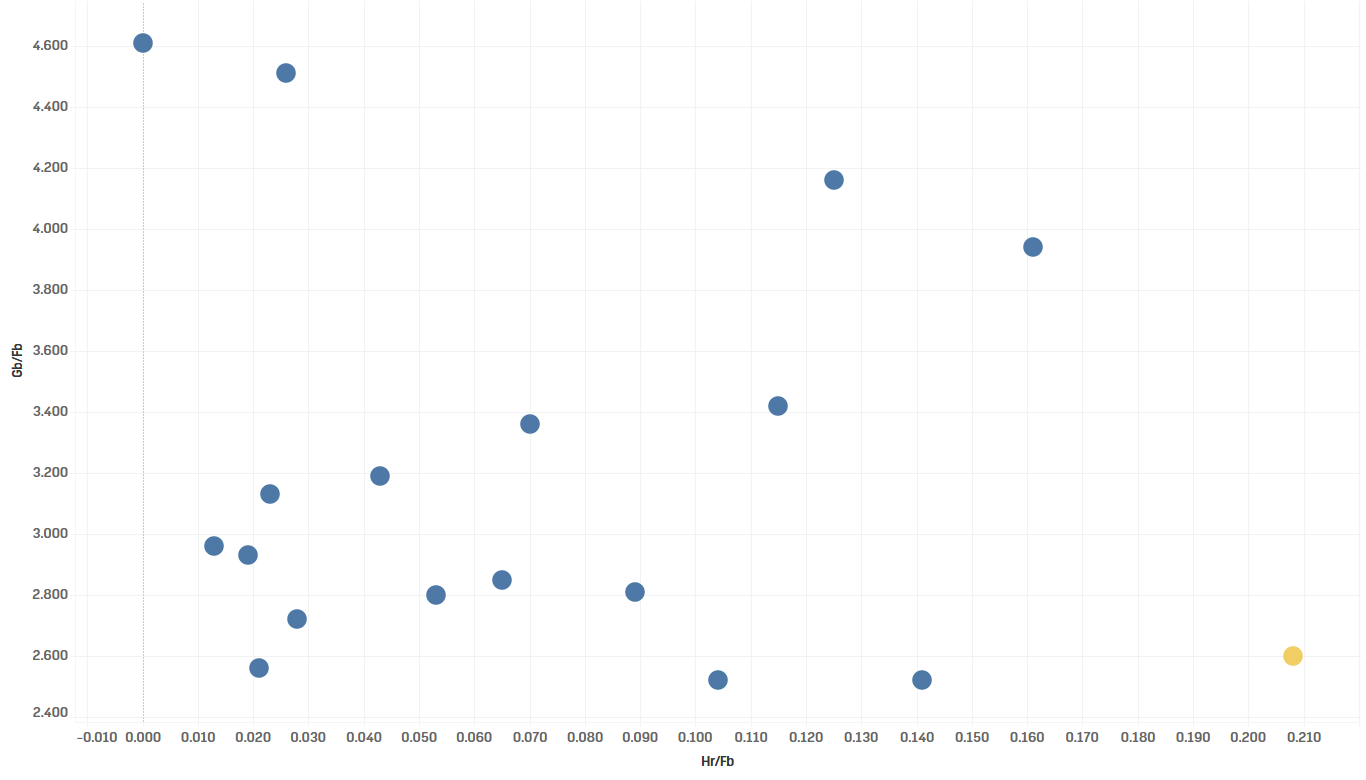 Another way of looking at things, per type of batted ball (including the percentiles among the group of 18 players next to each bar):

Not a question about how ridiculous Hosmer has indeed been this year.
There are still two months to play, and while some of the percentages will fluctuate, there is (kind of) precedence to what Hosmer is doing. A bunch of players have put together seasons similar to his, but not to the extent we're witnessing as of today.
It is more than probable that Hosmer, being who he is and has always been, will maintain his GB/FB rate as is. It is probable he will sustain his current BABIP as it sits pretty much on the average value he's carried all of his career.
The most incredible thing, though, would be if he is able to maintain such numbers while hitting the ball as hard as he's doing now, if he can keep the ridiculous 20+% HR/FB ratio up and if his popups remain limited to the low 4.2% he currently boasts.
In a season of extreme hitting, I wouldn't rule anything completely out. Embrace Hosmer and enjoy what you're watching in him because this is a (unique) year for the ages.
Questions and comments?
Follow Us on Twitter @thescorecrow
Follow Us on Reddit at u/TheScorecrow
Follow Us on Facebook at The Scorecrow
Follow Us on Instagram at The Scorecrow
Facebook Group where you can read and post articles at The Scorecrow
Reddit Group where everyone can post without fear of being banned at The Scorecrow
Follow Antonio Losada on Twitter @chapulana
Main Image Credit:
[getty src="1158427596″ width="480″ height="594″ tld="com"]