The Scorecrow Staff | February 3rd, 2019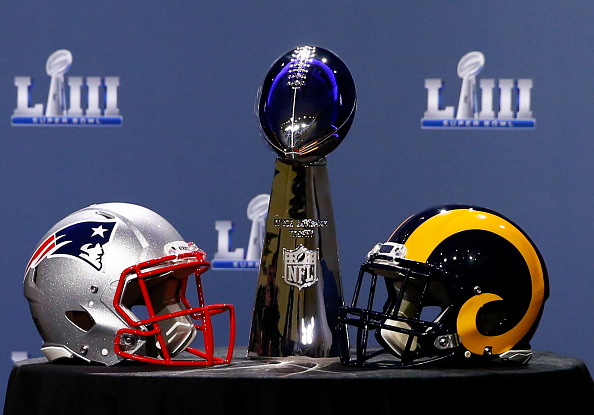 The New England Patriots and Los Angeles Rams will battle in SuperBowl LIII this evening in Atlanta. We broke the game down to 10 positional matchups and our staff had the teams go head-to-head. Here is what they came up with complete with predictions at the end. Enjoy the Game!
The Quarterbacks
In what is the largest age gap of any two competing quarterbacks to ever meet in a Super Bowl, which is 17 years. The elder statesman comes into the matchup, with a boatload of Super Bowl experience under his belt. Jared Goff, on the other hand, will be going into this game as a first timer.
Tom Brady has looked comfortable and quite productive in New England's playoff victories over the Los Angeles Chargers and the Kansas City Chiefs, as neither defense was able to get real pressure on him. The Rams will be counting on the very talented defensive line of Aaron Donald, Dante Fowler, and Ndamukong Suh working together to disrupt his timing and comfort zone if they have any hope of slowing down that passing attack. If they can't do that, then this could be another one of those countless instances, where Brady is able to frustrate the opposing defense with a heavy dose of successful short passes mixed in with his backbreaking deep ball game. Brady has, in fact, increased his passing yardage in each of his last six Super Bowl meetings.
Jared Goff has been rather average in his two lead-up games, completing just 40 passes for 483 yards with one TD and one interception. Early in the season, he was competing with Drew Brees, Patrick Mahomes, and Philip Rivers for a shot at the MVP, but his passing numbers were very lacking in the latter part of the season. I would argue, he was never quite the same after losing young receiver Cooper Kupp to a season-ending injury, Kupp was certainly a key cog in that three-headed receiver combo.
So which version of the young quarterback shows up in this game could go a long way toward determining the outcome. That defensive front of New England just last week was able to put four sacks on Patrick Mahomes, the Rams offensive line cannot afford to allow that sort of pressure on their quarterback, not if the team expects Goff to keep pace with Brady all night. He will be looking to join both Eli Manning and Nick Foles as the only quarterbacks to beat Tom Brady in the Super Bowl. – Follow Dale Money on Twitter @packerd_00
Advantage: Patriots
The Running Backs
Los Angeles Rams running backs
The Los Angeles Rams have the advantage when it comes to talent in the backfield. Their two-headed rushing attack is headlined by Todd Gurley and C.J. Anderson. They can easily get on a roll when both of them are playing at a high level. An example of this was earlier in the postseason when the two running backs combined for 238 rushing yards against the Dallas Cowboys.
Their ability to run the football will prove to be a point of emphasis in this game. One of the key ways to beat the New England Patriots is to ensure their offense doesn't get the ball. The easiest way to control the time of possession is to establish the ground game.
That is obviously easier said than done. Particularly since the Rams rushing attack was nonexistent in the NFC Championship. Gurley and Anderson combined for 20 carries for 54 yards. The major concern was Gurley's lack of action in the game.
Gurley only had 4 carries for 10 yards and a touchdown. He also had one reception for three yards but also dropped two passes as well. His lack of opportunities has many questioning his health despite the Rams insisting he is healthy.
Gurley said as much earlier this week per turfshowtimes.com:
""No, I'm good. If there was an issue on my knee, it would be on the injury report. Come on now. I'm at practice. I'm playing."
Both players need to perform on what will be their biggest stage of the season. Especially when everything is on the line. 
New England Patriots running backs
The New England Patriots have never been dependent on their running backs to win games. Regularly they are a plug and play kind of team that gets by on the greatness of quarterback Tom Brady. However, it has been a completely different story in this postseason.
The Patriots stable of running backs in Sony Michel, Rex Burkhead, and James White have been impressive this postseason. They combined for 254 total scrimmage yards and four touchdowns against the Los Angeles Chargers.
Then they went for 249 total scrimmage yards and four touchdowns against the Kansas City Chiefs. Their success on the ground allowed them to dominate the time of possession and keep Patrick Mahomes off the field. The Patriots had the ball for 43:59 versus the Chiefs having it for only 20:53.
They will surely want to dominate the ball in a similar fashion against the Rams.  It could be the key to the Patriots winning their sixth championship as a franchise and second in three years. – Follow Brendan Abban on Twitter @AbbanBrendan
Advantage: Rams
The Wide Receivers
This is going to be an interesting Matchup. Both teams are missing one of their top two receivers. The Rams lost Cooper Kupp to a torn ACL back in week 10. The Patriots lost Josh Gordon to deal with personal issues right before their Week 16 bout against the Bills. Let's take a look at the receivers who will be playing in the big game tonight.
Los Angeles Rams: Brandin Cooks, Robert Woods, Josh Reynolds
It's undeniable that the loss of Cooper Kupp was huge for them. Without him, the Rams were missing their short route and possession receiver. Brandin Cooks has blazing speed and terrific hands. In comparison to last year, Cooks had a comeback year. Finishing second on the team in receptions with 80, he averaged 15 yards/catch with a catch rate of 68.4% which is up 14% from last season when he was with the Patriots.
Robert Woods had a breakout year. Leading the team in receptions with a career-high 86, he averaged 14.2 yards/catch with a catch rate of 66.2%. After Kupp went out, Woods needed to step up and provide another target opposite of Brandin Cooks, and he absolutely did. He took on a much larger workload and he excelled. Even with the Rams number 1 receiver out, these two guys really stepped up and showed out and with third-year quarterback Jared Goff under center against possibly the greatest head coach in NFL history, these two guys have to do their job and some if the Rams want to stop the Patriots from winning yet another Super Bowl
New England Patriots: Julian Edelman, Chris Hogan, Phillip Dorsett
It has been a year of ups and downs both for the Patriots as a whole and for the receivers. Julian Edelman missed the first 4 games but still was able to post 74 receptions with a 68% catch rate. He's been old reliable for Tom Brady for years now, providing a security blanket able to run any route and his sticky hands make him a target that is extremely valuable.
Hogan and Dorsett may be the two biggest wild cards for the Patriots and in this matchup. With Aqib Talib likely sticking to Edelman in coverage in this matchup, one of these two with Gronk is going to have to make plays. Both only had just over 30 receptions apiece. Take that with a grain of salt since neither of them really saw any significant work this year with Josh Gordon around for most of the year. With Rob Gronkowski looking like a shell of himself for most of the year and Edelman getting covered by a top corner in the game, these two along with Sony Michel and James White will have to make plays in the passing game if the Patriots want to secure a 6th Super Bowl victory in the Brady-Belichick era.
Overall
With Tom Brady as probably the greatest quarterback of all time, and Jared Goff as an up and coming quarterback that is getting progressively better and both teams having a tremendous run game, which will no doubt be a focus for both teams, the passing game is going to play a huge role in which team wins this game. In terms of strictly at the wide receiver position, I've got to give the edge to the Los Angeles Rams. Even without Cooper Kupp, Brandin Cooks is a top receiver in the league and Robert Woods is showing that can be great receiver gives Goff two targets to work with. Hopefully, they can get some production out of their third wide receiver Josh Reynolds as well. These three guys, even with arguably the best running back in the game in Todd Gurley in the backfield, may just be the key to winning Super Bowl 53. – Follow Zach Gotlieb on Twitter @zachgotlieb
Advantage: Rams
The Tight Ends
Patriots
This Sunday could be the last game for future hall of fame tight end Rob Gronkowski. He has been instrumental to the Patriots success ever since he entered the league in 2010. However, the past few years have taken a serious toll on his body and many believe the end is finally near.
But the end has not yet come, and he does have at least one more game. This season you can tell Gronk has not been the force he has been in the past. But you saw in the game against the Chiefs Tom Brady still relies on Gronk in critical situations. In fact, it was the first time all year Gronk had double-digit targets. It was so obvious that Brady needed to or was going to throw to Gronk that Tony Romo was calling it before they even hiked the ball.
The Rams were middle of the pack when defending against the tight end this season. But Gronk isn't just any tight end, he is a future Hall of Famer. If the Patriots are going to defeat the Rams this Sunday, look for a heavy dose of Rob Gronkowski.
Rams
The Rams have two main tight ends on the roster Tyler Higbee and Gerald Everett. They have combined for 612 yards and five touchdowns. Even Gronk had more yards than the two of them combined. We must face facts; the tight end is not really part of the Rams' offense. They utilize the tight end about as much as Green Bay does. In fact, I think Green Bay uses their tight end more than LA uses theirs.
The Patriots defense is a top ten defense when it comes to defending the tight end. I'm sure the pair will get a couple catches but I would be surprised if they both equal out to six targets. Maybe a red zone touchdown, but that will be it. The Rams key to victory over the Patriots will be in getting Todd Gurley going, not their tight ends. – Follow Matt Woolsey on Twitter @AresgodFF
Advantage: Patriots
The Offensive Line
New England Patriots
New England possesses arguably the best offensive line in the NFL, led by one of the league's best guards in Shaq Mason, he partners with Joe Thuney, and center David Andrews to create a formidable interior group. With the Patriots offensive line, coming off its two best performances, they'll be looking to neutralize that Rams powerful front 4. Blocking the Rams interior pass rush will be a big test, so they'll be focusing on doubling up Aaron Donald as much as possible, a lot of that help will be coming from both Andrews along with a mixture of Mason and Thuney.
Not to take anything from what Tom Brady has been able to do in his two playoff matchups,  but you've gotta give it to an offensive line, that has not allowed him to be sacked in either game. And when you take into consideration, the last time he wasn't sacked through two playoff games was the 2003 season, you realize Brady couldn't be in better hands going into this Super Bowl.
Los Angeles Rams
The Rams offensive line has been just as dependable, having carried the same starters for all 16 games along with both playoff matches, and their consistency has been key to everything the Rams offense has been able to accomplish this year, ranked 5th overall in passing yards, 8th in touchdown passes, and 2nd in rushing touchdowns. Their team focus on blocking has really helped get the Rams to where they are now.
Led by the oldest offensive tackle in the NFL, Andrew Whitworth.  Whitworth has started every game except one, going back as far as 2014, he is about as dependable as they come. Left guard Rodger Saffold, center John Sullivan, right guard Austin Blythe, and right tackle Rob Havenstein round out this rock solid Rams OLine core. These five guys will need to put together another great performance on Sunday if the Rams want to defeat the New England Patriots in Super Bowl LIII. – Follow Dale Money on Twitter @packerd_00
Advantage: Patriots
The Defensive Line
The effectiveness of the defensive lines may just be the most important position in this game and I'll tell you why. Tom Brady has appeared in eight Super Bowls prior to this one. Brady is 5-0 in Super Bowls where he is pressured on less than 40% of snaps. In Super Bowls where he is pressured on more than 40% of snaps taken, he is 0-3. The New England Patriots offensive line has done an immaculate job at protecting Tom Brady in the playoffs, only allowing three QB hits in the postseason. Standing on the opposing side of the Patriots offensive line is a bad, bad man. His name is Aaron Donald, and he is about to be the reigning defensive player of the year for two consecutive years. Donald finished this season with an astounding 20.5 sacks, 25 tackles for loss, and 41 quarterback hits. If there's anyone who can pressure the quarterback, it's Donald. Michael Brockers plays at the other defensive end position, but offensive lines did a good job containing him this season. Brockers had career-lows in sacks and quarterback hits. I consider him as a possible X-Factor for the Super Bowl because if he is able to have his best game of the season and even pressure Brady a few times, he can really affect the course of this game. Ndamukong Suh is the other piece of the Rams 3-4 defensive system. Suh recorded 4.5 sacks and 19 QB hits at the nose tackle position. Suh is a good run-stopper and he needs to be able to stop Sony Michel and James White up the middle today.
The Patriots run a 4-3 defense. Headlining their defensive line is defensive end and the product of Arkansas, Trey Flowers. Flowers had career highs in sacks (7.5) and tackles for loss (9). He also forced three fumbles this year. He certainly isn't as dominant as Aaron Donald, but no one in the NFL is. Flowers has been the leader of the defensive line all year and will have a tough job against the Rams' offensive line on Sunday. Malcom Brown was very ineffective in his 14 starts this year. He didn't record a sack or a tackle for loss and only hit the quarterback once. He is primarily a run-stopper but he hasn't been a threat all year. He needs a big showing to make an impact in this game. Lawrence Guy is the other defensive tackle. Guy had one sack, one tackle for loss, and eleven quarterback hits. Guy was more effective than Brown, but these two defensive tackles are definitely not one of the most dominant duos in the league. Deatrich Wise came on strong in his rookie season. He recorded 4.5 sacks, four tackles for loss, and 16 quarterback hits. Wise is another product of Arkansas, and he has been dealing with an ankle injury. He is probably for the Super Bowl, so not much to worry about there. Adrian Clayborn did well when he was rotated in at defensive end, recording 2.5 sacks, three tackles for loss, a forced fumble, and 13 hits on the quarterback. While I believe that the Patriots have more depth on the defensive line, there is a clear advantage to Aaron Donald and the Los Angeles Rams. – Follow Givanni Damico on Twitter @giodamico15
Advantage: Rams
The Linebackers
I think that both the Rams and the Patriots have very underrated linebacker corps. Let's start with the Rams. One of my favorite players in the league plays outside linebacker for the Rams and that is Samson Ebukam. Ebukam does not get the respect he deserves. He had a good sophomore season with 40 tackles, three sacks, six quarterback hits, three forced fumbles, two fumble recoveries, and a pick-six. He filled nearly every category on the stat sheet. He's solid in coverage too. Ebukam is one of those guys that I can see blossoming into a future Pro-Bowler (not that that means anything anymore) if he keeps playing at the intensity in which he plays. Matt Longacre plays at the WILL linebacker position. He started seven games this year and had a sack with six hits on the quarterback. He's just a solid piece to put on the field but nothing on the stat sheet jumps out at you. These are the kind of players who could be difference-makers in the Super Bowl. Cory Littleton had a great season with 125 tackles, four sacks, nine tackles for loss, four quarterback hits, three interceptions, and a pick-six. He's another stat-stuffer who came out of nowhere and had a really impressive season. Cory Littleton is a difference-maker on this defense and if he shows up or not will really influence how this game goes. The Patriots love their slant routes over the middle so Littleton has to be ready for those as well as passes to the flat. Mark Barron used to play safety but now he's a solid linebacker for the Rams. He had 60 tackles with three tackles for loss, a quarterback hit, and a forced fumble. He's a coverage guy mainly so he will also need to be aware of the slants and passes to the hard flat. Basically, anything over the middle of the field will be Littleton and Barron's problem if they play zone coverage.
The Patriots have one of the most underrated defensive players in the league with Kyle Van Noy. Van Noy had 92 tackles with 3.5 sacks, five tackles for loss, ten hits on the quarterback, one forced fumbles, two fumble recoveries (one of which went for a touchdown), and an interception. New England took him out of the trash heap in the Motor City and turned him into an everyday starting linebacker. Kyle Van Noy is the X-Factor for the Patriots defense in my opinion (Michael Brockers was the X-Factor for the Rams). "Zeus" Hightower did not have an amazing season but he played well enough for the Pats. He had 48 tackles, three tackles for loss, a sack, six quarterback hits, an interception, and a fumble recovery. I've always thought that Dont'a Hightower was a pretty overrated linebacker but stats don't show everything. He is currently dealing with an illness that is putting his status for the Super Bowl in jeopardy, but I would think he'd try to play through illness. If not, I would go as far as saying he isn't a team player depending on the severity of the illness. Elandon Roberts quietly had a solid season with 65 tackles, six tackles for loss, two quarterback hits, a sack, and four passes defended. Roberts is another one of those "under-the-radar" type players who could make a huge impact on the game. It's players like Roberts who make a bigger impact than someone like Aaron Donald because you expect solid production from Donald, but you don't know what to expect from Roberts and players of his caliber, therefore if he plays well, it is very important to the team. These two teams have, as I said, very good, underrated linebacker corps. I give the advantage to the Rams. Ebukam and Littleton are better than Hightower and Van Noy, and Barron is about the same as Elandon Roberts. – Follow Givanni Damico on Twitter @giodamico15
Advantage: Rams
The Secondaries
It's Super Bowl Weekend, and it's what used to be the greatest weekend of the year. Yes, I said it, I wrote it so you can quote it. But anyway, it's a rematch a lifetime in the making, the New England Patriots versus the Los Angeles Rams. In their first Super Bowl meeting in XXXVI, the Rams were in St. Louis back then but that's neither here nor there. But we are here to take a look at each teams respective defensive backfield. It feels like it will be one of the most important matchups in the game.
The Rams secondary features brash cornerbacks Marcus Peters and Aqib Talib, who each can talk a very good game. They pair up with safeties John Johnson and Lamarcus Joyner, the Rams secondary will be going up against speedy Patriots' receivers and a big target at tight end in Rob Gronkowski. Then there is the threat of quarterback Tom Brady's go-to clutch guy Julian Edelman, who will most likely be covered in the slot by the infamous Nickell Robey-Coleman, won't go into THAT story again in this space. Coleman has allowed 2 catches for 16 yards in the playoffs (2 games). While Edelman has 10 catches for 156 yards in the slot this postseason. But going to Phillip Dorsett or Chris Hogan will be interesting because the Rams corners are crucial to which team will end up successful. The matchup will be interesting to watch throughout the game, Talib has had an almost dramatic effect on the secondary with a passing rating allowed of 69.0 when Talib is on the field. When Talib is out the rating balloons to 108.6.
Keeping Gronkowski in check will be the responsibility of Aqib Talib because he has been known to take star tight ends out of the game with his coverage ability. He will have help since this cannot possibly be a one-man job, but that would also force the Rams to play more man-to-man defense. And Gronk has not really had the type of season we have been used to seeing from him, so you expect him to be a major part of what Patriots do. Let's talk about the Patriots defensive secondary group versus the Rams receivers which will an even bigger compelling matchup in this game. Even though L.A. will be without Cooper Kupp, the Rams will employ Brandin Cooks and Josh Reynolds on the outside with Robert Woods manning the slot.
The Patriots may want to use a "shadow" on Cooks with Stephon Gilmore, the best cover corner they have. Or they can put Gilmore on Reynolds, play off of Cooks with J.C. Jackson or Jonathan Jones with over the top safety help. This way they can attempt to shut off Reynolds completely while focusing on Cooks on every snap. Help should come from Duron Harmon so that Devin McCourty can cover the middle of the field. The matchup with Devin McCourty and Woods is going to be good to watch too because McCourty has given up 17 catches for 170 yards three touchdowns and an interception in eight games. He has allowed those numbers due to the fact that New England corners are so good. The Patriots play more man coverage than any team against Los Angeles crossing patterns which are designed to beat a man-to-man defense. So this will be one of the matchups to pay attention to throughout Super Bowl LIII. I think both teams secondary units will play well, but also give up the big play, I expect the Rams to create at least one turnover in each half and they will win Super Bowl LIII in a close game 31-20. – Follow Christopher Dinkins on Twitter @rmdest
Advantage: Rams
The Special Teams
The Rams have good special teams, but made a mistake by getting rid of Pro Bowl return man Pharoh Cooper and haven't found any good production this season for their return game as a result as Cooper Kupp got injured and JoJo Natson has underwhelmed so the Rams may have to look to the offense to find a way to score on long drives to bail them out. The kicker Greg Zuerlein showed that he's 100% healthy in the Saints game so he should hit every kick, but for the Rams sake, he probably shouldn't be out on the field too much. Johnny Hekker can bomb punts so he can really flip field position to help out the Rams defense, but if the Rams offense is having troubles kickstarting early expect him to throw a pass on a fake punt early as special teams coordinator John Fassel will have him ready for anything. The Patriots have had one of the most exceptional special teams units in football for years led by Matthew Slater, who is a typical Belichick player and does his job very well tackling kick and punt returners in their tracks. The Patriots should have Cordarrelle Patterson as their primary returner as his speed could help him break off a couple of good returns setting up Tom Brady and the Patriots in prime position to score while Julian Edelman may also get some chances, but based on the index finger debacle he may not go near the ball too much so his impact will be limited. The kicking game is an issue as Stephen Gostkowski can be inconsistent and miss a kick here and there. The Patriots didn't even punt last SuperBowl and they should only punt 2 or 3 times in this game, but Ryan Allen can still pin the Rams deep even though against this Rams offense it won't matter as they can operate from anywhere. – Follow Pranav on Twitter @PranavRama1
Advantage: New England Patriots
The Coaches
The young innovative head coach vs. the seasoned, potentially greatest head coach in NFL history. Sean McVay vs Bill Belichick. While a lot of people dislike the fact that the Patriots made it to the Super Bowl again, this could be one of the most interesting and fun head coaching matchups the Super Bowl has ever had.
Belichick, 66, has been in the league, as a coach for 44 years and been the head coach of the New England Patriots for 19 seasons. There's a reason he's been to 8 Super Bowls and won 5 of them and won coach of the year 3 times; he is one of the best game planners in the league today with particular expertise in shutting down the opponent's number 1 and 2 option. As a defensive coach, he's had to stop some of the greatest offensive players to ever play the game in some of the highest leverage situations, including stopping one of the most potent offenses in the league in Patrick Mahomes and the Chiefs in the AFC Championship game two weeks ago,  and there is no doubt that his specialty will come into play in a big way come Sunday night. His age and experience will help him face a new test, the face of the offensive revolution in the NFL. Sean McVay.
Sean McVay, 33, is at the forefront for the revolution of an NFL offense. An offense predicated on more college style, spread offenses, pre-snap motion, and trick plays to keep a defense off balance. It's funny how head coaching hires this past year have been focused on "memes" talking about if they have even the slightest connection to McVay they should be a head coach somewhere or the more serious version of an evolutionary football mind that can bring new insight and expertise to the sidelines. His expert offensive game planning has to be focused on calling enough of the right plays, moving enough of the right parts and utilizing everyone and forcing the defense to make mistakes, just like he has done all year leading the Rams offense to a top 5 ranking in yards, passing yards, rushing yards and points per game this past year. His test is facing one of the greatest game planners in the NFL and finding a way to get his first options as well as his secondary options in the game and making plays.
While all of the credit is going to the head coaches, the coordinators, Josh McDaniels and Brian Flores for New England and Wade Phillips for Los Angeles. Josh McDaniels had a particularly tough job this year, despite having the GOAT Tom Brady at quarterback. He needed to integrate more of a running game than he has ever needed to do. With running backs Sony Michel and James White and a receiving core that was subpar this year, he needed to make an offense that can help Tom get back to the Super Bowl again and he did. Brian Flores, with Belichick, did a very good job this year of stopping top options in every offense, most notably devising a game plan for Tyreek Hill and Patrick Mahomes in the Championship Game. Wade Phillips has coached possibly the greatest defense ever in the Denver Broncos Super Bowl 50 team. He has the mind and experience to guide this uber-talented Rams defense, led by Defensive Player of the Year Aaron Donald, to a Super Bowl championship.
All in all, it's really difficult to say which coaching staff has the advantage here. One has the moxy and evolution of the NFL behind them and the other has the experience of 8 Super Bowls and 5 championships. Personally, I gotta give the advantage to the experience. Not only do the Patriots have a field general in Tom, who's essentially a coach, but a head coach that's been there with him the whole time and two coordinators that have been around for years on the staff. Coaching may very well be the difference in this game. If Belichick can shut down the Rams top options, the Patriots can win this game. On the contrary, if McVay can open up his top options, and execute on offense, the Rams could win this game. – Follow Zach Gotlieb on Twitter @zachgotlieb
Advantage: Patriots
Injuries
Super Bowl LIII kicks off tonight pitting the AFC Champion New England Patriots against the NFC Champion Los Angeles Rams. Despite a long hard fought season, both of these teams enter the game with very similar injury reports.
The New England Patriots have placed 11 players on injured reserve this season. These include:
John Ulrick OT                   Darren Andrews  WR                      Jeremy Hill  RB
Ryan Izzo  TE                       Braxton Berrios  WR                        Christian Sam ILB
Isaiah Wynn OT                 Eric Rowe  CB                                     Ja'Whaun Bentley  ILB
Brian Schwenke  C           Jacob Hollister  TE
The Los Angeles Rams have placed 8 players on Injured Reserve.  These include:
Garrett Sickels  DE            Mike Thomas  WR                            Dominique Easley  DT
Cooper Kupp  WR             Dominique Hatfield  CB                  Malcolm Brown  RB
Morgan Fox  DL                 Kevin Peterson  CB
With the exception of these already ruled out players, the Patriots have 2 players listed as questionable. Both were recently activated off the IR list so at present they are still questionable to participate in the game tonight.
The players activated include
Deatrich Wise, Jr.  DE suffered an ankle injury in week 17 against the New York Jets.  He has been inactive for both playoff games. He did not appear on the Patriots injury report posted on their website after participating fully in practice the week before the championship game.
Duke Dawson   CB was also activated from the IR list prior to the end of the season but has not played in any games. He is not listed on the official injury report, so it is doubtful he will be active for the Super Bowl.
Johnny Hekker  P and CJ Anderson  RB are currently on the injury report due to illness but expected to be ready to go when the game kicks off.
Greg Zuerlein  K suffered a left foot strain while warming up at halftime of the NFC Championship game. Despite the strain, he continued to kick strongly in that game and is expected to do the same today.
The other two players on the Rams injury report Blake Countess  S, who didn't practice last week due to a foot injury, told reporters at the opening night events that he plans to be ready to go on Sunday.  Ogbonnia Okoronkwo  DE was activated from the PUP list before the end of the season but has yet to play in any games this season.  It is unlikely this will change come Sunday.
The teams are required to issue an injury report daily leading up to the game so we will follow this for any updates.
One interesting thing, players on IR can still receive a ring if their team wins the Super Bowl. That makes players sitting on IR feel like they still belong to the team. We shall see what happens after Super Bowl LIII. – Follow Beth Sullivan on Twitter @GAPeachPolymer
Final Predictions:
Los Angeles Rams win:
New England Patriots win:
Check out more work by our great writers who contributed to this piece here:
Dale Money | Brendan Abban | Zach Gotlieb | Matt Woolsey | Givanni Damico | Christopher Dinkins | Pranav Ramasubramanian | Beth Sullivan
Questions and comments?
thescorecrowsports@gmail.com
Follow Us on Twitter @thescorecrow
Follow Us on Reddit at u/TheScorecrow
Main Credit Image: [getty src="1091266218″ width="594″ height="415″ tld="com"]