Dale Money | February 24th, 2019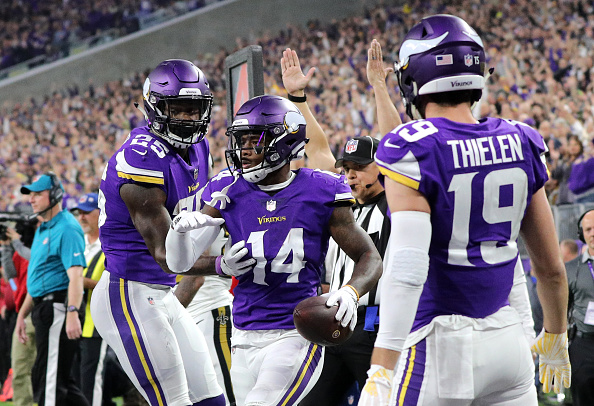 The writers at TheScorecrow.com decided to get together and come up with their version of a Top 100 NFL players from the 2018 season. Each writer was invited to submit a ranked list of their top 25 NFL players. The votes were then counted using a weighted average method. This means that a 1st place vote was worth more than a 25th place vote.
Players ranked 1st on a list received 25 points, 2nd = 24 points and so on down to 1 point for a 25th place vote. Each players points were added up and then listed from least to most to generate our list of top 100 players. The top few players were fairly common on all the lists, but after that it was interesting. We hope you enjoy our rankings and would love to read your comments on our list. Special thanks to Beth Sullivan for tabulating the votes and getting this project together.
TheScorecrow.com Writers
60. Mitchell Schwartz – Mitchell Schwartz, anchored the line for the leagues best offense, doing a superb job of protecting his MVP Patrick Mahomes, that hard graft did not go unnoticed. A true iron man, having not missed a snap in his seven-year career, he was honored with the Pro Football Focus' Bruce Matthews Award as the top offensive lineman in the NFL this past season.
59. Chandler Jones – Cardinals defensive end, Chandler Jones has had more sacks than any other player in the three years he has played for the team. He led them with 13 last season, and in only his third season with the Cardinals, is in seventh all-time in team history. With the potential of adding Ohio States Nick Bosa with the first pick in the draft, and pairing Jones and Bosa together, it would be something to watch closely if you are a Cardinal fan.
58. Andrew Whitworth – The elder statesman Andrew Whitworth has started every game except one, going back as far as 2014, at 37 years of age, he is the oldest offensive lineman in the NFL. However, age hasn't appeared to hold him back, as he was the cornerstone on what was one of the best offensive lines last season. He is currently considering retirement and hasn't yet decided whether he'll play another season in the NFL. Whitworth has one year remaining on a 3-year contract.
57. Mike Williams – The second-year receiver out of Clemson, Mike Williams played through an injury-filled rookie season, and worked hard to build himself up in the offseason. It certainly looked to have paid off, as he totaled 11 touchdowns in 2018, good for fifth among all wide receivers in the NFL. His 664 receiving yards ranked second on the team behind Keenan Allen.
56. Robert Woods – Woods managed to clear 60 yards receiving in 14 straight games between Weeks 2 and 16. Posting career highs in receptions, yards, and TDs. Woods ultimately lacks a WR1 ceiling in a loaded offense that spreads the ball around. Should Cooper Kupp return next season, in good shape from his season-ending knee injury, that could really help amp up Woods production, affording Goff another weapon, to take away some of the added attention.
55. Tyler Lockett – Tyler Lockett easily had a career year in 2018, and will look to keep it going next season.  The chemistry between quarterback Russell Wilson and Lockett was excellent, connecting on 57 catches for 965 yards and 10 touchdowns, leading Seahawks receivers in all three categories respectively.  He just signed a contract extension last August for another three years, so Seahawks fans will be able to enjoy his skills, for a good long while.
54. Leighton Vander Esch – The Rookie standout drafted out of Boise State, Leighton Vander Esch did quite well in his first year, not only earning himself a Pro Bowl selection but leading the Cowboy's defense in total tackles with 138 and was tied for first on the team in interceptions. He was in the thick of the race for the Defensive Rookie of the year race, as he placed third among candidates in the voting, behind Colts linebacker Darius Leonard, followed by safety Derwin James.
53. Grady Jarrett – Grady Jarrett the 304-pound Defensive lineman continued his dominance from 2017, contributing eight tackles for loss along with six sacks.A dominant player on the interior he seems to be getting better as he the years roll by. Now having finished the last year of his rookie deal, he is now scheduled to hit free agency in March and locking him up, needs to be the Falcons top priority. It is more likely that they will look to sign him to a long term contract come March 5, rather than having to use the franchise tag. A move that would cost the team $15.5 million next season.
52. Derwin James – Derwin James had a great rookie season, posting a sack in each of his first two games. He finished the year with 105 tackles, 3.5 sacks, and three interceptions while also deflecting 13 other passes, he was second in the Defensive Rookie of the year race, having been picked for the Pro Bowl to boot. The Chargers have got what could be a true franchise leader on their hands.
51. Lorenzo Alexander – Lorenzo Alexander re-signed with the Buffalo Bills for another year, the contract is worth $3.75 million in January, this will be his 15th season in the league. Just last year for the Bills he contributed 74 tackles, 11 tackles-for-loss, 6.5 sacks, ten quarterback hits, two forced fumbles, a fumble recovery, and two interceptions. His role as a player that can be moved around from outside linebacker to defensive tackle, did a lot for Buffalo's stifling defense. He was also selected by the team as the 2018 Walter Payton Man of the Year nominee.
50. Marshal Yanda – Since joining the Ravens as a third-round draft pick in 2007, Yanda's been one of the most rock solid figures in the franchise. He's played in 16 games in eight of his 12 NFL seasons and has made the Pro Bowl in seven of the past eight years; the lone miss came in 2017.
49. Kyle Fuller – Pro Bowl selection, Kyle Fuller tied for the NFL lead last year with a career-high seven interceptions. He also topped the NFL with 21 pass breakups and leads the league with 43 the last two seasons. The Bears matched the four-year, $56 million offer sheet signed with Green Bay Packers last winter to keep him in Chicago, so far it looks to have been a wise investment.
48. JuJu Smith-Schuster – JuJu finishes his sophomore campaign with 111 catches, 1,426 yards, and seven touchdowns. The Steelers offense could quite possibly be without two of their top offensive weapons by next summer. It's almost a foregone conclusion that Le'Veon Bell will be gone, however, we really don't know for certain if the Antonio Brown trade rumblings will actually come to fruition. I believe Schuster will be a very solid wide receiver one, should Brown be moved out of Pittsburgh in the offseason, he would need James Washington to step up and build on his late-season success, and fill in that second receiver role.
47. Jason Kelce -Kelce was named a first-team All-Pro for the second consecutive season, the 31-year-old center has been one of the more useful members of the Eagles under Doug Pederson, having not sat out a game for four seasons. Rumors of his possible retirement seemed to be unfounded, as he plans to return for another year.
46. Zach Ertz – Ertz had a historic season for the Eagles, catching 116 passes for 1,163 yards and eight touchdowns. His 116 receptions are the most ever in a season by an NFL tight end, breaking Jason Witten's previous record of 110.  He has three seasons remaining on a five-year, $42.5 million extension that now looks like a very nice deal for the team.
45. Stephon Gilmore – The lead cornerback in the Patriots secondary, Gilmore had a career-high 20 passes defended during the regular season, the second most in the NFL behind Chicago's Kyle Fuller. Having taken up the role of lockdown cornerback for New England in its Super Bowl matchup with the Los Angeles Rams, he didn't disappoint coming up with the crucial pick at the most critical point of the game, to ultimately help seal it.
44. Trey Flowers – Defensive end Trey Flowers was used in a variety of different positions this season, even playing at center. Only missing one game last year, he accumulated 7.5 sacks, 57 tackles, 3 forced fumbles, and two defended passes. He is one out of a group of several talented edge defenders that is about to hit free agency in March, entering his prime at 25 years of age, there should be a strong market for him, should he decide to jump ship.
43. Adam Thielen – Thielen started out the season on fire with eight straight 100-yard games but only tallied one game in triple-digits over the last eight contests. He finished the year with 113 receptions for 1,373 yards and nine touchdowns, career bests for the receiver. The contract he signed in 2017 has shown to be pretty solid value for the Vikings, he will receive an average salary of 4.8 million in 2019, it expires in 2021.
42. Stefon Diggs – Diggs had a successful first season with newly signed quarterback Kirk Cousins, finishing with 102 receptions for 1,021 yards and nine touchdown grabs, these were all career-high marks for the fourth year receiver, however, it wasn't enough to get them into a playoff spot. He will look to build on his relationship with Cousins.
41. Aaron Rodgers – Rodgers wasn't his usual elite self in 2018, for a team that relies a great deal on Rodgers to charge up that offense, not much seemed to be clicking the way we are normally accustomed. But there's certainly plenty of reason to think he can bounce back under a new coaching staff this upcoming season. Statistically speaking, it wasn't a bad 2018 for him at all, throwing for 4,442 yards, second-best in his career behind only his 2011 MVP season. Granted he only had two interceptions which are the least amount in his career as a starter, however, despite that, he threw just 25 touchdown passes, his lowest total in a season when playing at least 10 games.
Top 100 NFL Players | 100-81 | 80-61
Questions and comments?
thescorecrowsports@gmail.com
Follow Us on Twitter @thescorecrow
Follow Us on Reddit at u/TheScorecrow
Follow Us on Facebook at The Scorecrow
Follow Us on Instagram at The Scorecrow
Follow Dale Money on Twitter @packerd_00
Main Credit Image: [getty src="1054798962″ width="594″ height="406″ tld="com"]