Pranav Ramasubramanian | March 2nd, 2019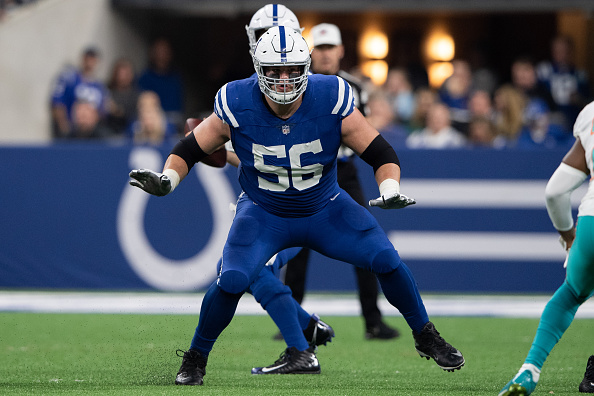 The writers at TheScorecrow.com decided to get together and come up with their version of a Top 100 NFL players from the 2018 season. Each writer was invited to submit a ranked list of their top 25 NFL players. The votes were then counted using a weighted average method. This means that a 1st place vote was worth more than a 25th place vote.
Players ranked 1st on a list received 25 points, 2nd = 24 points and so on down to 1 point for a 25th place vote. Each players points were added up and then listed from least to most to generate our list of top 100 players. The top few players were fairly common on all the lists, but after that it was interesting. We hope you enjoy our rankings and would love to read your comments on our list. Special thanks to Beth Sullivan for tabulating the votes and getting this project together.
TheScorecrow.com Writers
40. Alex Mack
Position: Center
Team: Atlanta Falcons
One of the reasons Matt Ryan had a ton of time to hit Calvin Ridley and Julio Jones over the top this year was due to the protection of Mack. Mack only allowed 3 sacks all year and barely made any mental errors as well as he only had 3 penalties for 18 yards all year earning him a spot in the Pro Bowl. He certainly wasn't the reason the Falcons lost so much this year and should continue his success in his 11th year as well.
39. Russell Wilson
Position: Quarterback
Team: Seattle Seahawks
The best year in terms of accounting for touchdowns as Wilson had 35, which is the most in his career as well as a career low for interceptions with just 7. He was a given a better offensive line and running game this season making him fresher as the season went along because he wouldn't have to run around the pocket too much. Wilson knows how to maximize the receivers around him by just throwing darts to them or hitting them with very accurate balls, which he did again this season accumulating 3,448 yards on the season getting him selected to the Pro Bowl and if he stays a Seahawk they should be SuperBowl contenders for many years.
38. Jamal Adams
Position: Strong Safety
Team: New York Jets
Adams did most of his work this year as a tackler trying to sniff out running plays and he was very successful diagnosing the plays as he had 115 combined tackles, 86 solo and 29 assisted. Adams only managed 1 interception all year, but his impact in that aspect also helped him get his first Pro Bowl selection while also being on second-team All-Pro. If he can get some help on the backside then the Jets could turn into a really formidable defensive unit again.
37. Jalen Ramsey
Position: Cornerback
Team: Jacksonville Jaguars
Ramsey's mouth moved more this season than his feet and he paid the price for that as he had opposing quarterbacks carving him up. Even though to his credit, he did win some one on one battles the inability to shift better on defense hurt him because opposing offenses flipped their schemes and threw away from him. He was put on the field too much as the Jaguars offense sputtered so he did end the year with 3 interceptions along with 65 tackles, 62 solo and 3 assisted turning a lost season into a decent statistical year for himself while also getting a spot in the Pro Bowl.
36. Darius Leonard
Position: Outside Linebacker
Team: Indianapolis Colts
Leonard was able to use his speed and ability to read plays to become a run-stopper with 163 combined tackles, 111 solo and 52 assisted as he was the NFL tackles leader helping the Colts defense vastly improve this year. He was also awarded NFL Defensive Rookie of the Year along with getting voted as a first-team All-Pro. If he becomes the leader and anchors this defense more the Colts could be a really dangerous team next year.
35. Luke Kuechly
Position: Middle Linebacker
Team: Carolina Panthers
Kuechly is the leader of the Panther defense and he kept them under control until Week 9 when the Panthers started losing and didn't stop until the last week of the season. Kuechly did everything in his power to keep the Panthers focused totaling a combined 130 tackles, 93 solo and 37 assisted due to his great field vision helping the Panthers keep games close. The collapse isn't his fault as he was still selected for the Pro Bowl and first-team All-Pro yet again and if he stays healthy he could easily get the Panthers back to the playoffs.
34. Jordan Poyer
Position: Free safety
Team: Buffalo Bills
Poyer was all over the field trying to stop plays from breaking big and helped give the ball back to the Bills offense. Poyer had 4 interceptions and 100 tackles, 73 solo and 27 assisted to help out the Bills actually win some games. Poyer is a really underrated part of this defense because all he does is show up and do his job when required, but if he continues to put in this type of work, then he will start getting the recognition.
33. Alvin Kamara
Position: Running back
Team: New Orleans Saints
A sophomore slump was nowhere in sight for Kamara as he easily racked up 883 yards and 14 touchdowns rushing while playing a nice role in the receiving game with 709 yards and 4 touchdowns helping the Saints win a lot of narrow games. Kamara would've hit the 1,000-yard mark if he hadn't missed three games due to his good speed and strength, but he still made the Pro Bowl. If the Saints let Mark Ingram go then the spotlight will be on Kamara to take over full-time so he must be ready for that responsibility next year.
32. Fletcher Cox
Position: Defensive Tackle
Team: Philadelphia Eagles
The Eagles weren't great until the end of the year, but Cox was a solid contributor and elevated his game as he increased his sack total almost double from last year with 10.5 on the year. He wasn't great getting to the ball, but still managed 46 tackles, 33 solo and 13 assisted, which earned him a spot in the Pro Bowl and first-team All-Pro. He has to keep the current momentum going and improve his tackling to become a superstar.
31. Davante Adams
Position: Wide Receiver
Team: Green Bay Packers
Adams is doing a lot to change the myth that he is just a red zone target with his ability to play small beating press coverage early and has great ball skills to catch what Aaron Rodgers throws his way. Adams grew a lot this year and turned into one of Aaron's favorite targets with 1,386 yards and 111 receptions on the year with 13 touchdowns. This gave Adams his second straight Pro Bowl appearance and he could easily become a star with the Packers if his numbers keep going up.
30. Tyron Smith
Position: Left tackle
Team: Dallas Cowboys
The Cowboys dominated running and passing the ball towards the end of the season and one of the keys was the good protection by offensive tackle Tyron Smith. He didn't allow any sacks last year so he was able to really thrive against good competition, which is why he was selected as a Pro Bowler for the sixth straight time. If he can limit his penalties than he can improve and become an even better player.
29. Odell Beckham Jr.
Position: Wide Reciever
Team: New York Giants
The Giants were bad this year, but at least they were fun and Beckham Jr. was one of the main reasons behind that. It was so fun he even threw for two touchdowns while accounting for 1,052 yards on 77 receptions for six touchdowns, which is good off of an injury year. He sacrificed his touchdown stats for Saquon Barkley, but the Giants couldn't get many wins so they should look at the draft for a new quarterback.
28. Myles Garrett
Position: Defensive End
Team: Cleveland Browns
After a disappointing rookie campaign, Garrett bounced back with a decent season and was able to show some flashes of good potential. He was able to get to the quarterback more with 13.5 sacks and 29 quarterback hits and even his tackling improved with 44 on the year, 35 solo and 9 assisted earning him a spot in the Pro Bowl and second-team All-Pro. He should start playing up to his expectation next year as this year was a good start for that.
27. Chris Jones
Position: Defensive End
Team: Kansas City Chiefs
A real Pro Bowl snub as his ability to make the pocket collapse and dominance in the trenches caused negative plays to help the Chiefs defense try and get off the field. The primary job of Jones was to pass rush and he did just for 15.5 sacks on the year while doing a decent job tackling as he accounted for 40 combined tackles, 35 solo and 5 assisted with 19 of those tackles were for losses earning him a spot for second-team All-Pro. The Chiefs defensive failures shouldn't be placed on him because he did his job to perfection this year.
26. Eddie Jackson
Position: Strong Safety
Team: Chicago Bears
The front end of the Bears defense was great, but the backend was also held up well with Jackson, who dropped back in coverage and drove on underneath routes to make plays. He also knew when to take risks, which lead to six interceptions, 2 of which were touchdowns while getting tons of tackles as he had 51 combined tackles, 41 solo, and 10 assisted. He was a first-time Pro-Bowl selection along with first-team All-Pro this season due to his improvement to his game after his rookie year.
25. Tyreek Hill
Position: Wide Reciever
Team: Kansas City Chiefs
Patrick Mahomes loves to throw the ball down the field and one of his favorites targets was Hill, who would use his speed to get behind the defense, but also did a great job on special teams making him a scoring machine. Hill accounted for 1,479 and 12 touchdowns and this year turned out to be the best year of his career so far. This led to a third straight Pro-Bowl and 2nd team All-Pro selection and with Mahomes, Hill could really start to excel.
24. David Bakhtiari
Position: Left tackle
Team: Green Bay Packers
Aaron Rodgers didn't have a year that was noteworthy, but at least Bakhtiari still showed up and did his job with high efficiency. Bakhtiari only allowed 3 sacks and limited himself to just four penalties becoming a real strength for the team leading to his first ever first-team All-Pro selection. The Packers need him to have another strong year next year if they want to bounce back.
23. Antonio Brown
Position: Wide Reciever
Team: Pittsburgh Steelers
JuJu Smith's success made Antonio Brown less of a target on offense because the Steelers really wanted to spread the ball out and be a more diverse offense, but Brown still showed up when he needed to. He had 104 receptions for 1,297 yards and 15 touchdowns really doing everything to keep the Steelers in the playoff picture, but the Steelers just couldn't use Brown's energy to help them out much. Antonio Brown made another Pro Bowl this year, but was dissatisfied with his reduced role and requested a trade out of Pittsburgh.
22. Akiem Hicks
Position: Defensive End
Team: Chicago Bears
His ability to both get to the quarterback and get crucial tackles in the running game made him hard to guard. He finished with 7.5 sacks, and 55 combined tackles, 41 were solo, while 14 were assisted. Vic Fangio's 3-4 system really helped him out and he was selected to the Pro Bowl for the first time after helping the Bears have a strong season.
Position: Left Guard
Team: Indianapolis Colts
Andrew Luck finally got a viable offensive line this year because of Nelson. Nelson did a good job of this by only allowing 1 sack along with just eight penalties, which is impressive for his rookie season. Nelson was also a big reason for Marlon Mack's success in the running game and his contributions won him a spot in the Pro Bowl and first-team All-Pro.
Top 100 NFL Players | 100-81 | 80-61 | 60-41
Questions and comments?
thescorecrowsports@gmail.com
Follow Us on Twitter @thescorecrow
Follow Us on Reddit at u/TheScorecrow
Follow Us on Facebook at The Scorecrow
Follow Us on Instagram at The Scorecrow
Follow Pranav on Twitter @PranavRama1
Main Credit Image: [getty src="1065456144″ width="594″ height="396″ tld="com"]