Nickolas Loza | January 9th, 2018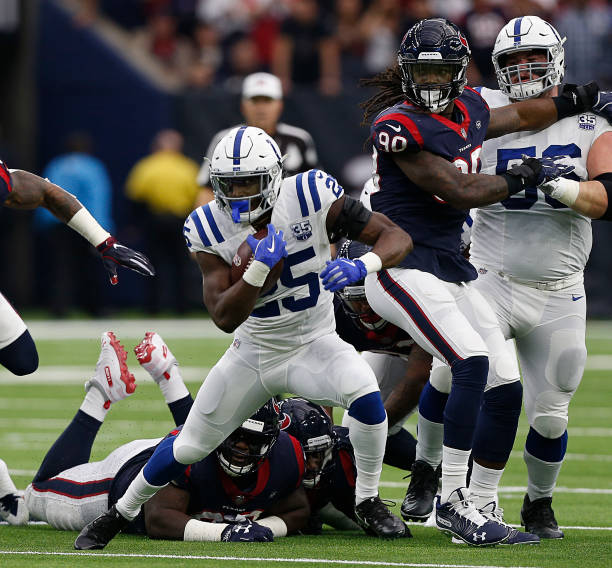 The Rise of the Colts Offensive Line
It's no secret how bad the Colts offensive line was in 2017 – they allowed 56 sacks and forced their quarterbacks to constantly run for their lives every play. They were rated the worst offensive line by many of the NFL's experts, and the offensive line was a focal point of improvement that the Colts needed to make to keep their newly healthy QB Andrew Luck on his feet.
They took the initiative and drafted Quenton Nelson with their first-round pick after moving down in the draft to the sixth spot. The expectations for the Colts offensive line heading into the 2018 season were low, though they were expected to get a bit better after their lackluster performance last year, as were the Colts as a team. Well, they went out and surprised everyone, allowing the least amount of sacks in the NFL with only 18, and Quenton Nelson made the Pro Bowl and was selected as First Team All-Pro. That's a dramatic culture change, and the effects have been spectacular. Andrew Luck is the leading candidate for Comeback Player of the Year, Marlon Mack has been a pleasant surprise in the backfield, and they had a 10-6 season with a win vs. the Texans in the AFC Wild Card Game. The Colts offensive line was a pleasant surprise this year, and so was Marlon Mack and the whole team.
The Rise of Marlon Mack
Last year, Marlon Mack was an obscure running back who was a backup to Frank Gore, and he did well when he was handed the ball, rushing for 3.8 rushing yards per attempt, but he was never a starter and he was never paid attention to. This year, however, he was the main man, and with the Colts offensive line being as overwhelmingly dominant as it was, it opened lanes for Mack to run, and he took advantage. Although he missed seven games, he rushed for 908 yards and nine TDs in the regular season, but his most impressive game was the Colts most important game of the year: the AFC Wild Card vs. the Texans. He rushed for 148 yards and one TD in a 21-7 win. He has been one of the Colts many pleasant surprises and has a promising future.
The Colts Future
The Colts have a nice future mapped out. They have the best offensive line in football, an All-Pro linebacker in Darius Leonard, one of the top eight QBs in football, and a Pro Bowl tight end in Eric Ebron. They have a really nice future, and we should all be excited to see how it pans out. They are in an easy division too, which definitely helps. This team has the chance to be a Super Bowl team in the very near future; they just need a couple more pieces on defense to be a great team.
Hope you all enjoyed!
Questions and comments?
thescorecrowsports@gmail.com
Follow Us on Twitter @thescorecrow
Follow Us on Reddit at u/TheScorecrow
Main Credit Image: [getty src="1090730210″ width="594″ height="552″ tld="com"]