Frank Dyevoich | September 5th, 2018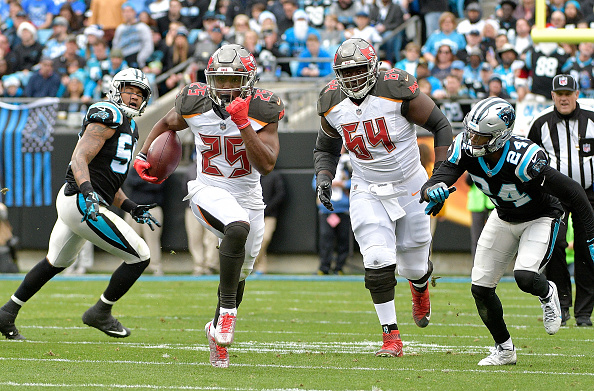 You hear it all the time, "You don't win your league at the draft." No truer words have been spoken in the history of mankind. Ok, that's a slight exaggeration, but I had to stress the importance. Every week throughout the season, you should be trying to improve your team. You should be constantly looking for trends to find next week's waiver wire gems and remain one step ahead of your league mates. You should always be looking for trades to bolster your squad (hint: pick on the losing teams because you were smart and drafted depth). No matter what you think, your team is never good enough. With that being said, a lot of us make panic decisions in our drafts because the clock is winding down or your league mates are yelling at you to pick, and those picks are usually not good ones. So just because the season has not started, it does not mean you can't start building that championship team. I did a little digging and found players with low ownership percentages that should be owned in both shallow and deeper leagues, or at the very least should be first on your watch list.
Shallow Leagues (10 Team or less) – Players owned less than 75% of Yahoo leagues:
RB Peyton Barber (TB) 75% ownership – There are no excuses. Barber should be owned in 100% of leagues. He is the unquestioned lead back on the Buccaneers and should get roughly 20 touches per game. Ronald Jones II is significantly behind him. If he is available, go get him now.
RB Alfred Morris (SF) 73% ownership – Alf should also be owned in 100% of leagues along with his counterpart Matt Breida. Jerick Mckinnon is out for the season so Morris and Breida will man this backfield. Morris has familiarity with Kyle Shanahan's zone blocking system and he looked very spry in the preseason. He will be the early-down and goal-line back with Breida taking the receiving work. He also averaged 4.8 yards per carry (YPC) in Dallas last season and he is only 29.
WR Kenny Stills (MIA) 69% ownership – If you have DeVante Parker on your team and Kenny stills is available, shame yourself in the mirror and then drop Parker and pick up Stills. Parker had all the upside in the world but he simply can't perform on the NFL level. It is time to give up the dream folks. Kenny Stills will be the WR1 for the Dolphins and he should be owned in at least 90% of leagues. Stills has 15 TDs over the last 2 seasons and 2018 should be no different.
WR Randall Cobb (GB) 66% ownership – Folks, the trade rumors were just that, rumors. When someone says "Randall Cobb could be traded" it does not mean they are shopping him or that they are considering moving on, it is just one possibility out of thousands, he COULD be traded. What's another possibility? He could finish as a WR2 in PPR since he is Aaron Rodgers' second receiver. That one is much more likely. We have to look at what the team is telling us. Randall Cobb did not play in preseason week 4 and Geronimo Allison did. Cobb is the WR2 on this team folks. If he is out there, go get him.
RB Aaron Jones (GB) 63% ownership – Do not let the suspension scare you away from Jones. It is only two games, and he is clearly the most explosive runner in the backfield. He looks like he is moving at a different speed than the rest of the guys on the field. If Jamaal Williams struggles, Aaron Jones could take this job sooner than later. If Jones steals this job, he will be a weekly RB1. I think that is worth a bench stash, don't you?
RB Bilal Powell (NYJ) 57% ownership – Powell could win this job right off the bat despite Isaiah Crowell being listed first on the depth chart. Crowell is a slow runner and struggles when he tries to go outside. Powell is the clear-cut pass catcher in this backfield and if given the lead-back role, he could finish as a top 20 RB. Over his last 250 carries, Powell has 1,163 (4.6YPC) and eight TDs. He has received more than 18 carries four times since 2016 and in those games he produced 145, 122, 145 and 163 yards rushing with five total TDs. Do not leave him on the waiver wire for your league mates to scoop up and beat you with.
WR Keelan Cole (JAX) 52% ownership – With the devastating knee injury to Marquise Lee, the WR1 role on the Jaguars is up for grabs. Word out of camp is that Cole has been the most impressive player on the field and that could translate to a dominant role in the regular season. Cole showed last season that if given the chance he could be a force when he had the most receiving yards in the NFL over the last 5 weeks. Do not let a top 36 WR sit on the waiver wire, especially not one with top 20 upside.
Standard leagues (12 Team) – Players owned in less than 50% of Yahoo leagues:
RB Matt Breida (SF) 50% ownership – See Alfred Morris. He should be owned in all leagues, especially PPR leagues.
WR Tyler Lockett (SEA) 49% ownership – With Doug Baldwin admitting he won't be healthy all season, Lockett has the opportunity to be a major weapon for Russell Wilson. He has the speed to score on any play and if he can stay healthy he could be this year's breakout. His upside is Tyreek Hill. Get him on your team while we figure out what his role is.
RB James White (NE) 48% ownership – James White should see significant work in the passing game the first 4 weeks of the season. Rex Burkhead is coming off of a slight tear in his knee and Sony Michel has just returned to practice. The real Super Bowl LI MVP should be used early and often, and if he is as productive as he has been recently, his role should remain constant throughout the year. In addition to the first 4 weeks, he is a strong play when the Patriots are facing a stout run defense. Grab him now so you don't have to spend your Free Agent Acquisition Budget (FAAB) dollars later.
WR D.J. Moore (CAR) 47% ownership – Moore is an explosive rookie and most analyst's favorite wide receiver out of this draft class. Drafted in the first round to be the future WR1 for this team, he could be Cam Newton's favorite target (aside from Greg Olsen) by midseason. Devin Funchess is best served as a supporting WR so this job is entirely within reach for Moore. Due to his physical play and his knack for coming down with balls in traffic, he is commonly compared to future HOF WR Steve Smith. This kid is a baller and it's not a question of if he will break out, but when.
WR Michael Gallup (DAL) 34% ownership – Dallas is desperate for great wide receiver play and we know that Allen Hurns is not the answer. Gallup is a tall physical receiver, and much more suited to be a team's WR1. He and Dak Prescott showed good chemistry in the preseason and if it translates into the regular season we could be looking at the steal of the draft.
RB Jordan Wilkins (IND) 31% ownership – Wilkins will have the first shot at leading this backfield in week 1. Marlon Mack was slated in as the starter, but he is dealing with a hamstring injury that looks like it will keep him out a few weeks. Wilkins is a physical runner and has the traits to be a three-down back. If he is successful in week 1 he very well could keep the job the entire season. It is not every day that a starting running back can be found on the waiver wire. Get him ASAP.
RB Theo Riddick (DET) 26% ownership – In a tumultuous backfield that is desperate for their first 1,000-yard rusher since Reggie Bush, Theo Riddick's role remains clear. He is the unquestioned passing down back and he is among the best receiving backs in the league. He will score at least five receiving TDs and should be rostered in all 12 team PPR leagues.
Deep Leagues (14 team or more) – Players owned in less than 25% of Yahoo leagues:
WR John Ross (CIN) – 23% ownership – Ross is a lightning bolt plain and simple. He is not the sharpest tool in the shed as ADIDAS offered $1 million or an island to anyone who broke Chris Johnson's 40-yard dash record wearing ADIDAS shoes and he did it wearing NIKE's, but that won't stop him from tearing up this league if the Bengals start to use him right. Tyler Boyd has been underwhelming thus far, so Ross can easily take the WR2 job on this team and if he is a staple in the offense he could finish as a top 30 wide receiver.
WR Anthony Miller (CHI) – 23% ownership – The Bears moved up to take Miller in the 2nd round of the NFL Draft and they are going to use him right away. He is slated as the WR2 opposite Allen Robinson and should be peppered with targets. Miller is a game breaker, evidenced by his 191 catches, 2,896 yards, and 32 TDs over his last two seasons at Memphis. He will put the NFL on notice quickly so best have him on your squad before he does.
WR John Brown (BAL) 19% ownership – If Smokey Brown can stay healthy this year, he could be an every week starter for your fantasy team. He has looked explosive this offseason, and word out of Ravens' camp is that he has been by far their best player. It appears that his soft tissue injuries are behind him for now, but he does suffer from Sickle-Cell so he is always a risk. However, right now he is healthy and he should be used heavily. Joe Flacco is one of the best deep passers in the league, and Smokey Brown is a deep catch specialist. Use him while he is healthy
WR Donte Moncrief (JAX) 17% ownership – After Marquise Lee went down, the Jaguars' WR1 position became anyone's gig. DeDe Westbrook is more of a slot/possession receiver and Keelan Cole is more of a deep threat. Cole could certainly be the WR to own, but Moncrief is a red zone (RZ) threat and could lead this team in TDs. He is as cheap as they come and could pay huge dividends.
QB Jameis Winston (TB) 15% ownership – If Winston were not suspended for 3 games, he might be a top 10 QB. He was on pace for 4,900 passing yards last season and the Buccaneers are due for some positive TD regression. If you missed out on the top 12 QBs and are rolling with Jared Goff, Derek Carr, or Dak Prescott as your QB1, sacrifice the bench spot and add Winston. You will have a weekly QB1 with top 5 upside. Ignore the nonsense that he might not start when he returns.
TE Mike Gesicki (MIA) 12% ownership – Gesicki has been the most impressive player at Dolphins' camp, and he is a truly gifted athlete finishing as one of the best NFL combine testers in history. He is 6'6 and should be the go-to option in the RZ. There are over 220 vacated targets from last year between Jarvis Landry and Julius Thomas, and Gesicki could soak up 100 of them himself. He should be Ryan Tannehill's safety blanket on third downs and when plays break down. Gesicki is the most likely breakout candidate at the TE position.
WR Courtland Sutton (DEN) 11% ownership – Sutton is a prototypical WR1 and could emerge as early as this season. Demaryius Thomas is 30 years old and a shell of his former himself. He looked slow and ineffective in the preseason, and given his contract, it is likely Denver moves on in the offseason. Sutton is the heir apparent for this organization. He is a jump ball specialist and should be heavily utilized in the RZ. The WR1 position is his for the foreseeable future, and when he surpasses Thomas you are going to wish he was on your team. Further, if Emmanuel Sanders or Thomas get hurt, Sutton will be an every week starter.
WR Geronimo Allison (GB) 10% ownership – Two words. Aaron Rodgers. Allison should be the WR2 on the Packers when they run two-wide sets as Randall Cobb is most effective in the slot. He has shown in the past that he can be a very effective WR when given the opportunity and we know Aaron Rodgers trust him in important situations. Until we see otherwise, Allison should be rostered in most 12 team leagues or greater.
WR Christian Kirk (AZ) 9% ownership – This preseason, Kirk has played himself into the WR2 role on this team. Larry Fitzgerald will receive the bulk of the targets for the Cardinals, but Kirk could see upwards of 90-100 targets whether it's Sam Bradford or Josh Rosen at the helm. He is a speedy deep threat and physical at the catch point. He could make a splash in this league as early as week 1.
RB Jeremy Hill (NE) 4% ownership – Hill is one of the best goal-line backs in the league and the Patriots snagged him to fill the LeGarrette Blount role. After an explosive rookie year, Hill fell very short of meeting expectations. However, he is still only 26, and the Patriots' running game is much more effective than the Bengals. If Hill keeps the goal- line role throughout the season, he is a lock for double-digit TDs.
Questions and comments?
thescorecrowsports@gmail.com
Follow Us on Twitter @thescorecrow
Follow Us on Reddit at u/TheScorecrow
Follow Frank Dyevoich on Twitter @Fantasy_Giant
Main Credit Image: [getty src="899617598″ width="594″ height="391″ tld="com"]