Zach Gotlieb | May 5th, 2019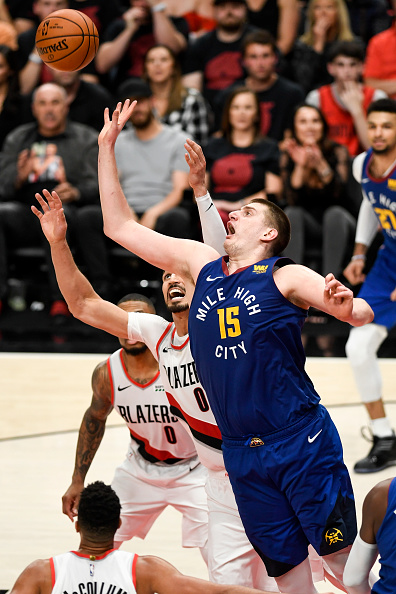 It's been all season, but the feud, so to speak, between the local media/fan base against pretty much everyone else, all started with a tweet from Fox Sports analyst Nick Wright. "The Nuggets are exactly what so many of us said they were: A pretend contender with a pretend superstar… Good luck next year fellas." People far and wide from everywhere have been calling the Nuggets frauds and that they'll "get exposed come playoff time." While it started with arguments and anger from Nuggets fans and local media, the fan base is now embracing the term: frauds.
The town formerly known as Denver is now being taken over as Fraud City. Where only good things that happen for the Nuggets are fake and fraudulent. Where ignorance and disrespect towards the team are not only typical but welcomed.
The proof is in the numbers. Statistically speaking, Nikola Jokic may just be the best player in the playoffs, here's the proof:
Heading into games on April 30, here's how all #NBA players have fared on both ends of the floor during the 2019 playoffs, per TPA: https://t.co/xcXQeWOM91 pic.twitter.com/w1XCC21UkO— NBA Math (@NBA_Math) April 30, 2019
This graph basically is saying that he is adding the most offensive points for his team and saving the most points on defense for his team. To the more basic stats, Nikola Jokic, in the first round of the playoffs, averaged 23 points, 12 rebounds, and 9 assists per game over the seven games. He's the third player to post multiple triple-doubles in their first playoff run (Magic and Lebron). His assist to turnover ratio so far is five which is outstanding and shows just how smart he is and how good of a passer he is. His effort defensively on LaMarcus Aldridge is definitely worth noting, forcing a guy that has typically been a 'Nuggets killer' for the majority of his career, to work for everything he got and playing strong defense down low forcing multiple steals in the paint. He played six more minutes per game in the first round including a whopping 43 minutes in their game 7 win over San Antonio. The most incredible part about that is, that same Fox Sports reporter, Nick Wright doubled down on his comments about Jokic being a "pretend superstar" saying, "However, Jokic was sensational in Game 6 and deserves credit… If he actually gets in shape & tries on defense next year, he could be great." I'm sorry, but Jokic has stayed healthy all year only missed two games due to a questionable suspension and rest that he didn't want. He played 43 minutes and continued to dominate Game 7 for the entirety of it. His defense was about as good as it gets for him. But of course, all of this was fake, and he is a fraud.
Jamal Murray or "The Blue Arrow" has been and will continue to be the x-factor for this young Nuggets squad. While he absolutely defines inconsistency and no one will lie about that, when he goes off, it's in a big way. His contributions have quite literally meant win or loss. In games where Murray went for 20 points and makes at least three 3-point field goals, Denver is 5-0. In games in which he doesn't achieve that, they have lost. His most notable game was Game 2 of the first round when he went off for 21 of his 24 points in the 4th quarter to get the Nuggets a win in a must-win game. He can be a plus-defender when he puts his mind to it, but his contributions on offense are critical, and it has shown. People can play the inconsistency card all they want – and they aren't wrong – but anyone that is trying to say that he doesn't have to ability to be a potentially special player if he gains consistency just seems ignorant.
And finally, the pinnacle of what's making Fraud City what it is, the media. It certainly seems like the ultimate 'if you can't fight 'em, join 'em' type of moment, but sarcastically of course. For months, there's been fire coming from national analysts and seemingly everyone else deeming this team to be "frauds" and that they'll "get killed in the playoffs" and for months, the local fan base has tried firing back with statistics and numbers to prove everyone wrong. But here's the thing about a debate in our society, it no longer works. When someone formulates an opinion, they will stick with it until the ends of the Earth as long as they don't have to admit that they're wrong. That's achieved by simply changing the narrative and shifting the expectations to heights that are seemingly unfair. Let's get real, the expectation going into the year was for this team to get over the hump and finally make the playoffs. They did that, they achieved the season expectation. Done. But they had to get to the 2-seed in the conference which has raised the expectations to at least get out of the first round. Done. There's only one thing that will keep everyone from saying this season was a disappointment: winning a championship, and that's just not fair at this point. The Blazers are an extremely tough opponent. Then they've got either the juggernaut Warriors or the Rockets that have easily killed the Nuggets for years now. Then the east doesn't exactly get easier. The Bucks, Raptors, 76ers, and even Boston (finally) are looking like championship contenders. While it's unfair for the team, we have to thank the national media and everyone that's been calling this team a fraud for giving the persona of the Mile High City Frauds.
Despite exceeding every early season expectation, the Frauds will still never satisfy the national media, and frankly, that's okay. They're not needed. The core is here to stay and will continue to grow and lead this team for years to come, but of course, this is all fake.
Questions and comments?
thescorecrowsports@gmail.com
Follow Us on Twitter @thescorecrow
Follow Us on Reddit at u/TheScorecrow
Follow Us on Facebook at The Scorecrow
Follow Us on Instagram at The Scorecrow
Follow Zach Gotlieb on Twitter @zachgotlieb
Main Image Credit:  [getty src="1146837607″ width="396″ height="594″ tld="com"]