Beth Sullivan | April 15th, 2019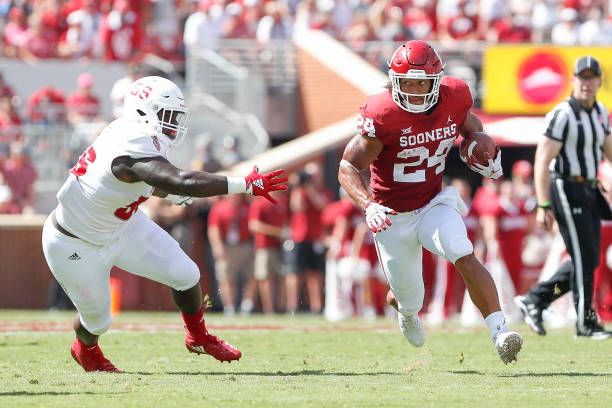 The draft is fast approaching and some of the names that are sure to be heard called have some question marks because of injury.  The NFL had several players that needed to be reevaluated due to injury following the combine.  I hope to provide some clarity on their injuries and recovery by the end of this writeup. In part 1 I will look at 3 players in various points in the recovery process from a torn ACL.  In part 2 I will look at 3 players dealing with other types of injuries.
Rodney Anderson – RB, Oklahoma.
Anderson has talent but injuries certainly marred his college career.  In 2015 he played in only 2 games before suffering a fractured Fibula while playing on special teams.  He underwent surgery to stabilize the fracture and returned for 2016, but he suffered a C5 vertebral fracture in August and didn't play a single game that season.  He did not require surgery and there was no mention of nerve damage. He returned in 2017, played in 13 games and showed the talent that had experts excited.  2018 was supposed to be the exclamation point to his 2017 season, but the football gods had other ideas.  During the first half of the second game of the season, Anderson suffered a torn ACL and had another season cut short. He underwent surgery to repair the injury and has been rehabbing ever since. He will be slightly over 6 months from his surgery to repair the latest injury when the draft happens.
Many have labeled Anderson as injury prone and debated whether he has an underlying metabolic or connective tissue disorder that contributed to his injury history. I don't believe either of these is the case. He is recovering according to schedule from his latest injury.  That being said, there is an increased risk of injury to the opposite knee for up to 2 years following the ACL injury.
Check out my articles Understanding Knee Anatomy – A Guide for the Sports Fan for additional information on ligament knee injuries and Fibula – More Than Just a Leg Bone for a review of fibular injuries.
Any of the injuries suffered by Anderson are significant and could have derailed any athletes NFL dreams. The fact that he is still considered draftable is a testament to his perseverance and ability.  That being said, provided he is not hurried back and allowed to fully recover, he should be able to return to play the game he is so good at.  That being said, whether the litany of injuries starts to impact his performance or longevity remains to be seen.  I would expect his doctors are telling him the same thing.
Bryce Love – RB, Stanford 
Love suffered an ACL tear in his last college football game.  He underwent reconstructive surgery a week before Christmas and is actively rehabbing during this pre-draft period.  Given the normal 9-12 month recovery time for this injury, I would expect that he will be drafted by a team who can allow him the time needed to completely recover from this knee injury.  I doubt he will play this year since 9 months puts him at the beginning of the season and 12 months the end.  If he uses the normal amount of post-surgery time to recover, I suspect that whichever team selects him in the coming draft will do so assuming that he will not play this season.  Provided he continues to progress without setbacks in his recovery, he should be ready to go come next season.  If he returns this season, the risk of reinjury or injury to the opposite knee is going to be much greater than if he is given the full season to recover.
Jeffery Simmons – DL, Mississippi State
The last ACL tear was suffered by Simmons when he suffered a non-contact, ACL tear while working out to get ready for the NFL Combine and draft. He is only 2 months out from his injury and surgery to repair.  He will be facing prolonged rehab when he hears his name called during the draft.  Given the short time frame since his injury, he will not be available to play at all this season.  I believe his draft position will fall because of the injury, but whatever team is able to call his name will be getting a premier player at bargain prices.  He will need the 2019 season to complete his rehab but should be good to go come 2020.
Questions and comments?
thescorecrowsports@gmail.com
Follow Us on Twitter @thescorecrow
Follow Us on Reddit at u/TheScorecrow
Follow Us on Facebook at The Scorecrow
Follow Us on Instagram at The Scorecrow
Follow Beth Sullivan on Twitter @GAPeachPolymer
Main Image Credit: [getty src="1026074370″ width="594″ height="396″ tld="com"]