John Lepore | January 22nd, 2019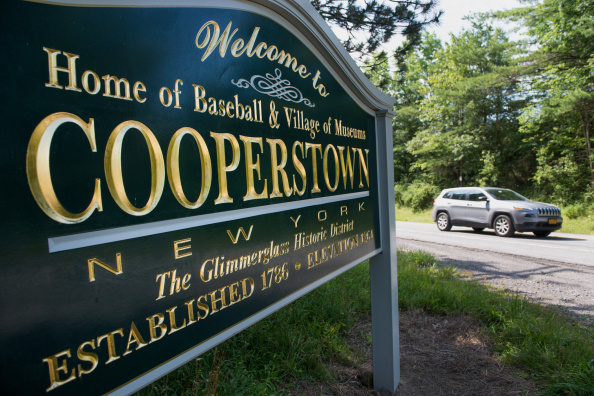 The Scorecrow would like to congratulate the four players who were elected to the Baseball Hall of Fame tonight. Although there is always debate on who should be in and who shouldn't, these four have proven worthy to 75% of the voters and deserve to be celebrated. See you in July at 25 Main Street in Cooperstown gentlemen.
The Four
Mariano Rivera is in and it's not much of a surprise. The fact that he is the first to be voted in unanimously is a bit of a surprise. Although he was the greatest closer ever, many thought that there would be, as usual, a couple voters who would see there way clear of not voting in Mo. He is the all-time leader in saves with 652 and won 5 World Series rings with the New York Yankees.
Roy Halladay made it in on his first try with 85.4% of the vote. Halladay won a Cy Young Award in each league (2003 Blue Jays, 2010 Phillies). Doc also finished in the top-5 of CYA voting 5 other times. He won over 200 games and had a 3.38 ERA with a 1.178 WHIP. Sadly he passed away on November 7, 2017.
Edgar Martinez gets in on his 10th and final year on the ballot with the exact same amount of votes as Halladay with 363. He had 70.4% and made a good jump before his eligibility ran out. Edgar made the jump he needed after getting 70.4% of the vote last year. He slashed an impressive .312/.418/.515 for his career.
Mike Mussina gets the nod in his 7th year on the ballot. A nice jump to 76.7% after getting 63.5% last year. He finished with 270 wins and nearly 3,000 Ks. His 3.68 ERA may have held some back from voting for him but when considering he played during the steroid era and in the AL East his whole career, 3.68 is actually very good.
Those who missed
Curt Schilling, Barry Bonds, Roger Clemens, and Larry Walker all received over 50% of the vote but their time is running out. For Schilling, Bonds, and Clemens next year will be their 8th year on the ballot. Walker will be coming into his final year and will need to make up over 20% to get in.
16 total players fall off the ballot after receiving less than 5% of the vote. They include Michael Young, Lance Berkman, Miguel Tejada, and Roy Oswalt.
A look at next year
Derek Jeter seems like a definite. The Captain of the Yankees and winner of 5 World Series rings will almost surely join Mariano in Cooperstown. Jeter had 3.465 hits with a .310 AVG, 260 HRs, and 358 SBs.
Bobby Abreu had quite a solid career and sports a 60 bWAR. His fate may be to be forgotten as many others have but he slashed .291/.395/.475 to go along with 288 HRs, and 400 SBs. Abreu was an all-around player and should get ample consideration.
Jason Giambi will be on the ballot. The admission of steroid use will almost certainly hurt his chances but he had a solid career. He slashed .277/.399/.516 and slugged 440 HRs.
Cliff Lee, Alfonso Soriano, and Paul Konerko round out some other names that will be up for consideration next year.
Questions and comments?
thescorecrowsports@gmail.com
Follow Us on Twitter @thescorecrow
Follow Us on Reddit at u/TheScorecrow
Follow John Lepore on Twitter @jball0202
Main Credit Image: [getty src="453023278″ width="594″ height="396″ tld="com"]