Daniel Corrigan | January 30th, 2019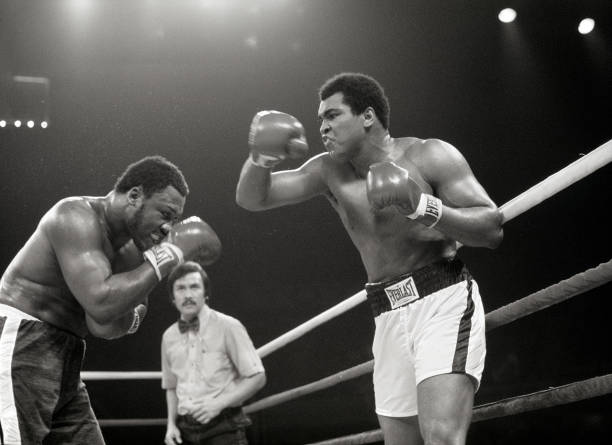 Coming in at number four (number five is here) in my countdown of the greatest moments in (American) Sports history is The Thrilla in Manila when Muhammad Ali TKO'd Joe Frazier in their third and final meeting to win their personal series 2-1.
Background and Lead Up
In 1975 the Heavyweight title was up for grabs as the current champion Muhammad Ali faced off against Joe Frazier at the Smart Araneta Coliseum in Quezon City, Philippines. Ali is considered the "GOAT" heck, his nickname is "The Greatest." I'll tell you one thing that he was also "The Greatest" at, that would be rhyming. That's how the match got its name. Ali nicknamed Frazier "the Gorilla" which he used in this pre-fight rhyme, "It will be a killa and a thrilla and a chilla when I get the Gorilla in Manila"  which he said while punching a fake gorilla.
The fight was watched by a worldwide audience of one billion people! This includes 500,000 pay-per-view buys on HBO. This was one of the most iconic fights in boxing history, two of the greatest to ever compete facing off for the third time. Both fighters had defeated each other, now it was time to settle the debate.
In their first meeting at Madison Square Garden in 1971, Frazier was the then heavy-weight champion and defeated the undefeated Ali by a unanimous decision. The rematch took place three years later again at MSG where Ali won in a unanimous decision.
The fight took place at 10 a.m. local time. Traditionally, fights are held late at night but in order to accommodate American audiences, the fight took place early in the morning. The venue was made of an aluminum roof. This made the arena hot in the already warm Philippines. At the pre-fight meeting in the center of the ring, Ali continued his trash talk "You don't have it Joe! You don't have it!" Frazier just smiled and returned to his corner. The fight to end the rivalry was on.
The Fight
Ali's trademark was his speed, and that came into play early as he took the first few rounds. He continued his trash talk begging Frazier to come closer. Ali made hand gestures to entice Frazier to enter Ali's range. In round three, Frazier landed a huge shot to Ali's body while Ali was using the rope-a-dope strategy. This strategy forced Frazier to come closer and waste energy. Ali then went a little out of character and threw taxing punches. Ali was known for a more defensive strategy having his opponent waste energy trying to tag him and then Ali would go after his opponent while they were tired. This is the same strategy that Floyd Mayweather uses.
Round five is when Frazier took control, he hit Ali with a right that obviously stunned Ali a little. This made it hard for Ali to continue his defensive strategy due to fatigue. Frazier was not known for having a powerful right hand, so this threw a huge wrench in Ali's game-plan. This made Frazier's deadly left-hand an even bigger weapon. Frazier did just that shortly after the beginning of round six. He hit Ali with a left cross that stunned and wobbled him. Moments later, he was hit with another left that sent him to the ropes. Ali wasn't out on his feet but was noticeably stunned. Ali's rope-a-dope wasn't working, he was getting crushed by the power of Frazier.
After round nine, it was clear that both men were gassed. Ali told his corner that "This is the closest I've ever been to dying." Frazier was dealing with extreme swelling to the face which impaired his vision. This became a problem in round 11 when Ali was landing strikes more frequently than before. Round after round Frazier's vision got worse and worse as Ali continued his dodge and strike strategy. Finally, after the grueling 14th round referee Eddie Futch called the fight in favor of an Ali TKO.
Two of the greatest fighters of all time, fighting for life-long bragging rights. Both fighters asking their corners to throw in the towel. Before the 14th round, Ali told his corner to stop the fight, they obviously refused. The legacy of this fight would change the combat world and the way we watch combat sports. The fight was the first to be televised on home pay-per-view transmitted by HBO.
This fight is argued to be Muhammad Ali's biggest achievement. Joe Frazier would go on to lose a re-match to George Foreman and then draw against Floyd Cummings before retiring. Ali would go 7-3 in his last ten fights after the match.
Questions and comments?
thescorecrowsports@gmail.com
Follow Us on Twitter @thescorecrow
Follow Us on Reddit at u/TheScorecrow
Follow Daniel Corrigan on Twitter @Corrigan_Tweets
Main Credit Image: [getty src="859862874″ width="594″ height="432″ tld="com"]