Matt Woolsey | November 15th, 2018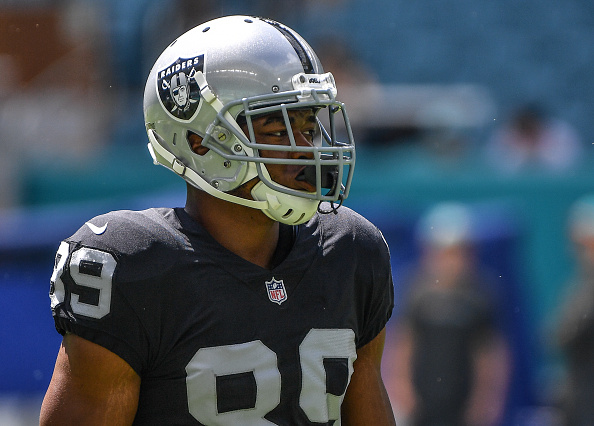 I'm sure Amari Cooper is a great person. I'm sure he is very giving and is heavily involved in his community. But as a fantasy player on my team, I hate him. I don't hate him as a person, just as a fantasy player. I drafted him in a dynasty league his rookie season and was rewarded with over 1,000 yards and six touchdowns. But in the championship game, he got me two catches for ten yards ahhhhhh.
A Frustrating Tale
He came out his sophomore season in 2016 with another 1,100 yards and five touchdowns. But week to week he was so up and down, it was unbelievably frustrating because the upside was there. If you benched him you risked missing out on 173 yards and a touchdown like he did against Tampa Bay.
2017 was the worst year to own Cooper. His first week he had 60 yards and a touchdown with five receptions but on 13 targets. Sure the double-digit targets were great, but the 38.5% catch rate was not. Over the next five weeks, he only had 84 yards, 13 receptions, on 26 targets.
After those five weeks how many people honestly had Cooper in their lineup when he went 210 yards, 11 receptions, and two touchdowns because I did not. He was killing my team every week. Pretty sure I had him in my lineup the following week, 48 yards and no touchdowns, oh darn.
Then we heard about how Cooper was injured all season and tried to play through it but wasn't effective and the entire Raiders offense was garbage all season long and it even got former Raiders head coach Jack Del Rio fired.
The Lie Continues
As we skip ahead to 2018 all we heard from new head coach Jon Gruden was how the offense was going to run through Cooper. Now at this point, I had traded away Cooper and like a dummy, I traded for him back. Opening night against the Rams he had one catch of nine yards and only three targets. You lied to us, Gruden.
He wasn't in my starting lineup Week 2 when he went for over 100 yards and ten receptions on ten targets. Yes, you read that correctly the player known for dropping passes and double-digit targets and caught all of them. Next week he had 17 yards, but he wasn't in my lineup that week, I've seen this story before.
Now Cooper is with Dallas and after the trade, I traded him away. It was such a relief to get rid of Cooper. Felt like a weight had been lifted off my shoulders. Then he was a WR-1 his first game with the Cowboys, shoot me now. Don't get me wrong, I don't want him back, but I traded him for pennies, probably could have gotten more for him if I had waited one more week.
Then he had 75 yards and six catches against the Eagles his second game with Dallas and I was seeing stuff like this
.@amaricooper9 will NOT be denied the 1st down.

📺: @snfonnbc #DallasCowboys https://t.co/nJe2OC5Cei

— NFL (@NFL) November 12, 2018
and then I saw him run routes like this
Amari Cooper gets open twice on this play against Ronald Darby. pic.twitter.com/XGnNnfJYKI

— Marcus Mosher (@Marcus_Mosher) November 12, 2018
What To Expect Now?
And I'm starting to think Cooper may actually be a good fantasy player. He has put together two weeks in Dallas that have not hurt your fantasy team. Maybe all it took was a change of scenery. Let's face it no one really wants to be in Oakland and play for the Raiders right now.
I know that doesn't explain last season, but there were all sorts of stories coming out of Oakland last season. Like the offensive line not wanting to block for Derek Carr. And the fact their owner Mark Davis was trying to get Gruden before Del Rio had even been fired.
If you held onto to Cooper this long or got him cheap, congratulations, he may work out for your team. If you traded him away and he blows up, you may feel a bit of traders remorse. As for me, if he blows up to the point where he has 1200+ yards and eight or nine touchdowns next season it will only add fuel to my I hate Amari Cooper fire.
Questions and comments?
thescorecrowsports@gmail.com
Follow Us on Twitter @thescorecrow
Follow Us on Reddit at u/TheScorecrow
Follow Matt Woolsey on Twitter @AresgodFF
Main Credit Image: [getty src="1043431104″ width="594″ height="426″ tld="com"]