Coach Treal | December 15th, 2018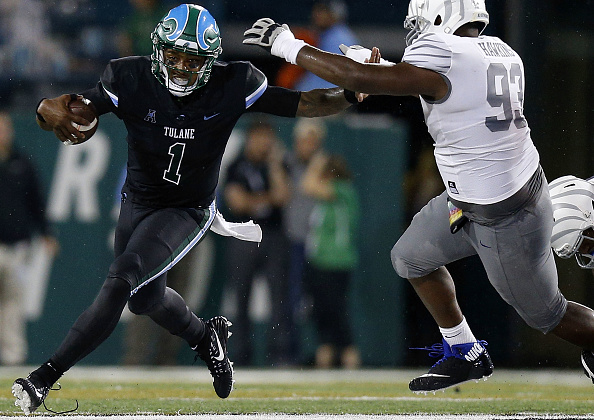 Welcome College Football fans we are in the midst of bowl season. With the Cure Bowl being established in 2015 it brings the American Conference and Sun Belt Conference together for not only competition on the field but also bringing awareness to Breast Cancer in the process as well. This years game brings us two high scoring teams as both teams average over 25 points per contest as Tulane Vs. Louisiana-Lafayette should make for a great contest.
Tulane (6-6, 5-3 in American Conference)
The Green Wave are looking for their first bowl game victory since 2002. One of the longest droughts in the country. I feel this is a bigger game for Tulane as they look to close the season on a high note as they are losers of 4 of the last 6 non-home games played. Quarterback play has not been great as both Jonathan Banks and Justin McMillan have only combined for 14 touchdowns this season but have kept their interceptions low with just five combined this season. Something to watch closely is the health of Banks as he is listed as questionable for this game and has missed the last four games dealing with an undefined injury. It is still unknown if he will be able to play in the game today. Running back Darius Bradwell should play a major role in this game as he is close to a thousand-yard season as he has 982 so far with nine touchdowns. He should see many opportunities today and he has even thrown a pass this season as well.
The defensive side of the ball for Tulane is still a work in progress as they are giving up close to 26ppg and on average only forcing one turnover per contest. They will need to help the offense out and come away with multiple takeaways to give their offense a chance to add points to the board. Safety Roderic Teamer is a player to watch on this side of the ball as he ranks 2nd on the team in both total tackles and sacks. But the main piece for this team on defense is the play of D-Lineman Patrick Johnson who leads the team in sacks with 10 and will need to have a huge impact to give them a chance to win.
Louisiana-Lafayette (7-6, 6-4 in Sun Belt Conference)
The Ragin Cajuns are winners of six of their last nine games and haven't won a bowl game in four years. But like their counterpart they have lost five of their last seven games non-home games. This season they have used two different Quarterbacks with both Andre Nunez and Levi Lewis seeing playing time. Both players have combined 26 touchdown passes and only compiled 13 interceptions so far this season. These number are better than the performance of the Tulane duo and make no mistake, whichever quarterback can move the ball down field and limit turnover has the best chance of winning this bowl game today.
Defensive for the Ragin Cajuns will need to come to play today as on the season they are giving up 32 points per game and will need to make a statement in order to win. They are battling some injuries on this side of the ball as Linebacker Terik Miller is questionable for the game today with a knee injury that has sidelined him for the last three games. But D-Lineman Bennie Higgins will be in uniform and he is leading the team with 4.5 sacks and is someone who, when I watched the game film, makes his presence felt and disrupts plays for the opposing team. The running game will be a huge factor and the Ragin Cajuns have a stud back in Trey Ragas who is already over a thousand yards this season (1,141) and close to 200 rushing attempts (197) with ten total touchdowns. But he is not alone in the backfield as he is joined by his running mate Elijah Mitchell who is close to a thousand-yard season himself with 951 so far to go along with leading the team in touchdowns with 15. They will play a key factor in determining the outcome today.
Summary
This is a complete toss up game as far as who will win this contest. I have only watched both teams on film as of recently and couldn't make a definite pick as to who has the upper hand in this battle. I can say that both programs need a bowl win to help with recruiting and momentum moving towards next season. Also lets not lose sight of the bigger picture with this bowl game and the name itself Cure Bowl is highlighting something bigger than the play on the field. Enjoy all the action!
Hit me up on Twitter to discuss Bowl Season and what games you are excited to watch!
Questions and comments?
thescorecrowsports@gmail.com
Follow Us on Twitter @thescorecrow
Follow Us on Reddit at TheScorecrow
Follow Coach Treal on Twitter @CoachTreal2
Main Credit Image: [getty src="1048416002″ width="594″ height="420″ tld="com"]