Dale Money | March 12th, 2019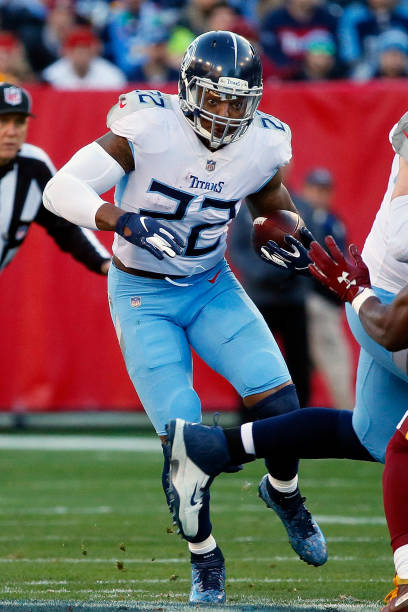 The Tennessee Titans just missed the playoffs last season after losing to the Indianapolis Colts in the final week 33-17. They finished the season with a record of 9-7, overcoming early struggles on offense and several injuries to make a late push. Tennessee's offensive rankings in 2018 weren't impressive, as they were ranked 25th in total yards, 29th in passing, and 27th in points. They then lost their offensive coordinator this offseason when Matt Lafleur signed on to be the next Green Bay Packers head coach. Mike Vrabel, promoted tight ends assistant Arthur Smith to fill the vacated position.
Rise Of Henry
Derrick Henry's turnaround was pretty jaw-dropping, let's be honest, having not rushed for even 60 yards in a single game all season, his monumental effort against the Jaguars in Week 14, was nothing short of astonishing. Rushing for over 230 yards and four touchdowns, against a relatively solid defense in the Jaguars, when many people had long since thrown in the towel on him, he continued that monster performance the next week against the New York Giants, rushing for 170 yards and touchdowns on the ground. As the third-year back did relatively nothing to be quite frank, for the first three months of the season. We can't really say he showed up many naysayers.
He lacked burst, vision, and he struggled to do anything productive with the ball in his hands. And then just as December rolled around, flipped the switch, doing the complete opposite of what was holding him back all those months, running with power and pure speed, refusing to be brought down in most situations. Without his late-season surge, would the Titans have gone on their four-game winning streak at the end of the season, of course not. The big question for Henry, at this point, is what the future holds for him. He will have an opportunity in 2019 to prove that he should be part of the Titans beyond next season. A motivated and further-improved Henry would certainly be what the doctor ordered. At just 25, he's still entering the prime of his career.
Mariota At A Crossroads
Many people considered last year to be the season where the Titans finally learned once and for all whether or not Marcus Mariota was their franchise quarterback. Unfortunately, that didn't pan out. His passing yards and touchdowns decreased, going from 3,232 yards and 13 touchdown throws in 2017 to 2,528 yards and 11 touchdowns in 2018. He did cut down on his interceptions greatly mind you, shrinking them from 15 to 8 in last year.
Again though the biggest issue hasn't gone away, and that is dealing with the ongoing health problems of Mariota. The 2015 second-overall pick is 25 years old and while he's missed just seven games in four seasons, he's struggled to stay healthy in recent years. If the Titans want to keep their quarterback healthy the problems on the offensive line need to be fixed. He was the 8th most sacked Quarterback in the NFL last year with 42.
He is in line to play the 2019 season on his fifth-year option, which works out to $21 million. He is currently set to be an unrestricted free agent in 2020. The Titans could certainly give Mariota a contract extension at some point during the offseason, but that seems like a risky decision considering the continuous problems surrounding his injuries and in turn the on-field production. Another option the Titans have is allowing him to play out his rookie contract and then give the franchise tag at the end of 2019. Which could certainly help in delaying things while they decide whether or not to keep him around long-term?
Problems At Guard
One of the major problems with the Tennessee Titans mediocre offense last season was easy to attribute to the offensive line. The unit as a whole, in fact, showed quite a bit of decline, they allowed 12 more sacks in 2018, as opposed to 2017 when they finished with 35. One player in particular who had a difficult time last season was guard Josh Kline. It was largely because of the struggles of Kline and the o-line that Mariota was limited to 14 games due to injury in 2018.
They must make some serious changes this off-season to help the offense reach its full potential in 2019. With both Kline and Ben Jones continuing to struggle, they will be looking to add someone both in free agency and quite possibly early on in the Draft, the Titans need to find replacements for them sooner rather than later.
Adam Humphries Signing
Adam Humphries is expected to sign on with Tennessee, according to NFL Network. The deal is meant to be around 36 million for 4 years, reportedly outbidding the New England Patriots for his services, per an ESPN source. Humphries brings some much-needed experience to a wide receiving core led by Corey Davis, Taywan Taylor, and Tajae Sharpe. He proved to be one of the better slot receivers last season, catching 76 of his 105 targets for 816 yards and five scores in Tampa Bay, increasing his receiving numbers every season since entering the league. They're also getting a very durable player in Humphries, having not missed a game in two seasons.
Draft Targets
D.K Metcalf, WR, Ole Miss – A potential first wide receiver chosen in the upcoming Draft, D.K Metcalf was one of the top overall performers at the combine, running the 40-yard dash in 4.33 seconds, tying for third among wide receivers. His combination of speed and strength virtually guarantees that someone will be excited enough to take a chance on him in the first round. The Titans adding a true burner in Metcalf, and pairing him with a franchise receiver in Corey Davis could pay huge dividends in the future.
Montez Sweat, Edge Rusher, Miss St. – The Titans are in need of another pass rusher on the edge to play alongside talented rookie Harold Landry. Having such a deep class as far pass rushers go this year, Montez Sweat is among the cream of the top. His 40-yard dash was the fastest time for any defensive lineman in the history of the combine. Sweat moves well and uses his length to control tackles. He would also step in and become a plus run defender right away. In his last two seasons as a Bulldog, Sweat put up 22.5 sacks for loss.
T.J Hockenson, TE, Iowa –Delanie Walker will turn 35 before the start of the 2019 season and he's coming off an ankle injury that caused him to miss the entire 2018 season. They'll be looking for a Tight end of the future in this draft more than likely, enter T.J Hockenson a 243-pound player out of Iowa. Hockenson is a do it all prospect, he is perfectly comfortable in pass protection and has excelled in that area. A true X-factor weapon. He doubled both his receiving yards and touchdown totals in 2018.
Check out our other Team Reviews: Atlanta Falcons | Minnesota Vikings | Washington Redskins | Miami Dolphins | Cincinnati Bengals | San Francisco 49ers | New York Jets | Denver Broncos | Indianapolis Colts | Oakland Raiders | Baltimore Ravens | Green Bay Packers | Tampa Bay Buccaneers | Detroit Lions | New York Giants | Cleveland Browns | Buffalo Bills | Pittsburgh Steelers| Arizona Cardinals | Los Angeles Rams | New England Patriots | Chicago Bears | Dallas Cowboys | Kansas City Chiefs | Carolina Panthers | Los Angeles Chargers | Houston Texans
Questions and comments?
thescorecrowsports@gmail.com
Follow Us on Twitter @thescorecrow
Follow Us on Reddit at u/TheScorecrow
Follow Us on Facebook at The Scorecrow
Follow Us on Instagram at The Scorecrow
Follow Dale Money on Twitter @packerd_00
Main Credit Image: [getty src="1086969616″ width="396″ height="594″ tld="com"]