Christopher Dinkins | February 9th, 2019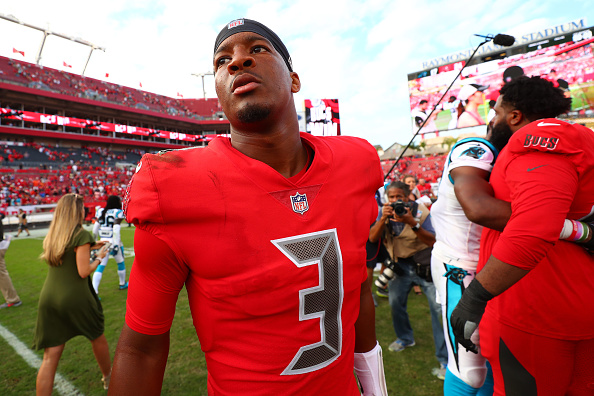 My Tampa Bay Buccaneers (that's what I like to call em), had a season to inspire people in 2018. Inspire them to throw their televisions out the window!!! This season began with the unknown; how was Ryan Fitzpatrick going to respond with Jameis Winston being suspended for first three games of 2018. Well, he AND the rest of the Buccaneers responded with the greatest two-game stretch for Tampa Bay football since the end of the 2002 season, the NFC Championship which closed down Veterans Stadium in Philadelphia for good, and Super Bowl XXXVII versus Oakland.
Tampa Bay was going to make a little bit of noise until the whispers of Winston's eventual return began to creep in and it all came to a stop on a Monday night at home on Tony Dungy's Ring of Honor night nonetheless. But it was what we all saw coming down the line, the success couldn't possibly continue, and it didn't.
Offense
But not to worry Buccaneers fans this season review will be exactly what you think it will be. The truth and nothing but the truth, okay we started off the season nicely but it ended up as many recent Tampa Bay seasons- at the bottom of the division and looking forward to next year. Our passing attack finished first in the league in yardage and was third in the NFL in total offense, so we can put points on the board and move the ball downfield. And of course, Mike Evans was a stud again with 86 catches, 1,524 yards, and 8 TDs. We were 29th in the NFL in rushing, averaging 95.2 yards per game rushing. I had hopes for Ronald Jones, who we drafted in the second round from the University of Southern California, but he ended up with a paltry 44 yards on the season. When your two QBs are second and third on your team in rushing then you know it's been a tough year. Turnovers also killed us. We were last in the league, giving the ball up 35 times. Meanwhile, we only took the ball away 17 times. Not a good combo.
Defense
On the defensive side who can forget Chris Conte getting absolutely dumptrucked by Vance McDonald on the Monday Night game that was mentioned earlier, but we won't dwell on that over here. The Buccaneers did finish in the middle of the pack defensively this past season but it did not look good at all. Injuries on the defensive line and to number one draft pick Vita Vea had us looking comical on the defensive side of the ball, again. The acquisition of Jason Pierre Paul from the Giants worked out as he contributed with 48 tackles and 12 and a half sacks. Gerald McCoy, who is usually a stalwart on Tampa Bay defensive line, missed two games and put up only 28 tackles, his lowest total since 2011. Lavonte David was his usual self putting up 120 tackles, but Kwon Alexander, who was supposed to anchor the middle, played only 6 games. This all led to giving up 464 points, 2nd worst in the NFL. We are looking forward to 2019 with a new coach, an international game in which we lose a home game and another top draft pick, this time we will have the fifth pick in the first round.
What next season holds
Hopefully, we can land a defensive end to help Todd Bowles' and his 3-4 defense he will be installing in Tampa. We are going to also need help with the secondary as well as our best corner, Brent Grimes, may leave in FA. He would be 36 and is coming off his first season with no picks since 2012 when he only played in one game. I like Greedy Williams from Louisiana State, a 6'3 shutdown corner and ballhawk, but first and foremost we have to make sure our defense is ready, I mean really ready to be better in 2019. We have a new head coach in Bruce Arians. He was coaxed out of retirement to hopefully bring Jameis Winston back to life and help the offense finish games. We have a game in London next season versus the Carolina Panthers and hopefully, we will be in a position of power and make a positive move in 2019. The thing Tampa Bay has to get better at is finishing drives and finishing games, the new regime will bring Bucs' Nation a much-needed revival, and I can't wait until we are good again and I can actually be proud of my team.
Check out our other Team Reviews: Atlanta Falcons | Minnesota Vikings | Washington Redskins | Miami Dolphins | Cincinnati Bengals | San Francisco 49ers | New York Jets | Denver Broncos | Indianapolis Colts | Oakland Raiders | Baltimore Ravens | Green Bay Packers
Main Credit Image: [getty src="1076255486″ width="594″ height="396″ tld="com"]