Kody Clawson | April 7th, 2019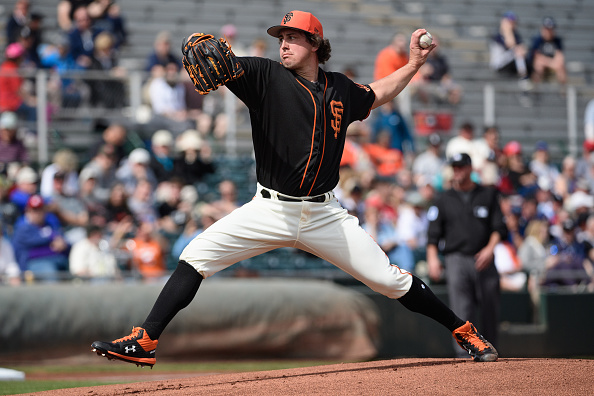 When you do this type of streaming pitching exercise, sometimes you feel like when you're right, you're wrong, and when you're wrong, it really, really hurts. Sonny Gray pitched beautifully but got no help from his offense (more on that later). The Rays pulled the rug out from under me, moving Chirinos' start from Saturday to Sunday, with some reports saying he might be used as the bulk reliever. As of this writing, Chirinos has yet to pitch. Crossing my fingers for at least a quality start. Tanner Roark was my second option, and he continued to have a typical Roark "meh" day (5 IP, 7 H, 3 ER, 1 HR, 2 BB, 4 K, ND). At some point, I plan to post an article with my results so far, probably toward the end of the month. But now, on to the upcoming matchups.
Eric Lauer, SD @ SF (21% Rostered)
I know Nick Pollack likes to call him Eric LOLauer, and probably with good reason. His slider was graded as a touch above average as a prospect on Fangraphs, and the rest was average or worse. His strikeout rate, walk rate, and home run rate were all just a touch below average in his 112 innings of work as a rookie last year. Even this year, with a non-existent strikeout rate and a balky home run rate, he's tough to even think of rostering. So why am I suggesting him? Because he's a lefty going against the Giants and this has a proven track record so far this season (59 wRC+ against lefties so far). So if he can put together even an average performance, he can make hay against the rough lineup of the Giants.
Others receiving votes:
Felix Hernandez, SEA @ KC (3% Rostered)
Carlos Rodon, CWS vs TB (29% Rostered)
Derek Holland, SF vs SD (3% Rostered)
Okay, now is my chance to talk about one of my favorite lesser rostered pitchers. Holland has always been a pitcher with at least some potential who has continually disappointed. Then something changed last year, in the middle of the season. Beginning with his start on June 20 last year, he moved his location on the rubber. This, along with going more with his four-seam fastball and his slider, gave him enough of a change that he began really racking up the strikeouts. Here are his strikeout rates, FIP, and xFIP for each month last year.
| | | | | |
| --- | --- | --- | --- | --- |
| Season | Monthly | K% | FIP | xFIP |
| 2018 | Mar/Apr | 23.6 % | 4.56 | 4.73 |
| 2018 | May | 16.2 % | 4.99 | 5.02 |
| 2018 | Jun | 28.2 % | 3.31 | 3.40 |
| 2018 | Jul | 29.9 % | 3.13 | 3.09 |
| 2018 | Aug | 22.3 % | 2.98 | 3.88 |
| 2018 | Sept/Oct | 21.4 % | 4.07 | 4.15 |
The jump in June and July were definitely noticeable, but even with the slowdown in August and September, he definitely held on to some of his improvements in his strikeout rate and his FIP. He's definitely not the same old Derek Holland from before, and he could certainly be useful as a streaming option in shallower leagues and worth holding onto in deeper leagues if you need pitching help. His start against the Padres should hopefully be a good jumping on point to start his second leg of his resurgence.
Others receiving votes:
Brett Anderson, OAK @ BAL (1% Rostered)
Jakob Junis, KC vs SEA (25% Rostered)
Sonny Gray, CIN vs MIA (24% Rostered)
I know he didn't get us a win last time, but he did everything he could to get us there, throwing 6.2 innings of quality work (3 H, 1 ER, 0 BB, 7 K). The offense couldn't give him any help, and he ended up with the loss. Nevertheless, I'm more than willing to go back to the well with him again, considering he's getting the Marlins, who are a Triple-A offense if I've ever seen one. Can we call them the MarLOLins? Is that okay?
Others receiving votes:
Jake Odorizzi, MIN @ NYM (13% Rostered)
Dereck Rodriguez, SF vs SD (21% Rostered)
Questions and comments?
thescorecrowsports@gmail.com
Follow Us on Twitter @thescorecrow
Follow Us on Reddit at u/TheScorecrow
Follow Us on Facebook at The Scorecrow
Follow Us on Instagram at The Scorecrow
Follow Kody Clawson on Twitter @kodyclawson
Main Credit Image: [getty src="1133024583″ width="594″ height="396″ tld="com"]