Frank Dyevoich | October 28th, 2018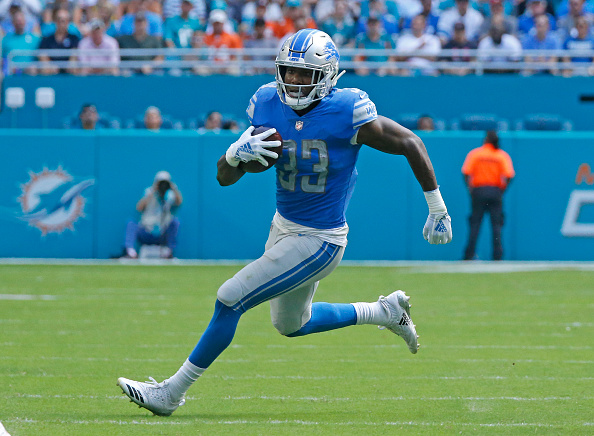 The playoffs are drawing near, and each week is more important than the last. We have to make sure that we keep the momentum and maintain our winning ways. This week there are four teams on a bye, so it is crucial that we make the right lineup decisions in place of our resting stars. Based on their matchups, I recommend you make the following start/sit decisions to give yourself the best opportunity to take home the all-important W in Week 8.
Start Em'
Quarterbacks:
Andy Dalton vs. TB. – Dalton laid an egg last week in a prime matchup, but we failed to recognize that he always plays poorly in primetime. This week he plays at home in a 1:00pm EST kickoff, right in his sweet spot. Add in the fact that he is playing the Buccaneers defense, who are allowing an average of 31 fantasy points to opposing QBs, and it is a no-brainer decision to fire up the Red Rifle this week. Projection: 347 yards, 3 TDs, and 1 INT.
Jameis Winston vs. CIN – Winston has a knack for making poor decisions, but that just means he is going to have to throw it, even more, to catch up. He has elite receiving weapons and the running game is atrocious which means if the Bucs are going to compete in this one, they are going to have to win it with the arm of Winston. The Bengals have also struggled against opposing quarterbacks all season, allowing an average of 25 fantasy points per game to QBs. Projection: 352 yards, 3 TDs, 2 INTs, 31 rush yards.
Jared Goff vs. GB – Goff will need to light up the scoreboard in this one if they are going to whip Aaron Rodgers and the Packers the way they have whipped everyone else. Vegas has this game with the highest over/under at 56.5, which means that even the experts expect a shootout in this one. Further, the Packers are vulnerable in all aspects of their defense, so the Rams should be able to score at will. That means Goff will have a very productive day along with his pass catchers. Start him with confidence this week. Projection: 362 yards, 3 TDs, and 1 INT.
Mitchell Trubisky vs. NYJ – Trubisky is on fire and as long as the flame remains lit, he must be in your lineup. It is looking more and more likely that he will, in fact, be this year's Jared Goff. He is averaging 39 fantasy points in his last three games where he has 11 passing TDs over that span and he added 181 rushing yards and a rushing TD to go along with those stellar numbers. This week he gets the Jets at home, and they have allowed the over 20 fantasy points to opposing QBs the past four weeks. He should easily finish the week as a top-ten QB once again. Projection: 325 yards, 2 TDs, 1 INT, 48 rush yards and 1 TD.
Running Backs:
Marlon Mack vs. OAK – With so many mouths to feed in the Colts' backfield, it was unknown how they would all be used. Well, wonder no more. This is Mack's backfield as long as he is healthy. The problem is that he has had a hard time staying healthy and he is questionable going into this game after rolling his ankle in practice on Wednesday. Nevertheless, he returned to practice on Friday and should be good to go this week, but it is still a situation worth monitoring since he has a 4:05pm EST start time. Make sure to have a backup plan in case he sits. However, assuming Mack plays he must be in your lineups. He is averaging 20 PPR fantasy points in each of his last two games, and the Raiders are allowing an average of 4.9 yards per carry, and have allowed seven running backs to either score a TD or produce 100 total yards this season. Projection: 93 yards, 1 TD, 4 receptions for 46 yards.
Kerryon Johnson vs. SEA – The breakout is in full swing folks, and it got started with a bang against the Dolphins where he ran for 158 yards on a career-high 19 carries. Johnson is averaging a stellar 6.4 yards per carry this season so he is making the most of his touches. Further, Theo Riddick is out once again, which undoubtedly will lead to more work in the passing game for Johnson. Also, the Seahawks' defense has been better than expected this season in their secondary so look for the Lions to lean in their stud rookie once again. This kid is a star in the making and he should be in all lineups across the board. Projection: 97 yards, 1 TD and 3 receptions for 36 yards.
Raheem Mostert vs. ARI – Matt Breida is banged-up and Moster has made the most with touches. He has looked excellent as both a runner and a receiver and he has certainly earned himself more touches in this offense. If Breida is out this week, consider Mostert a must-start option as he his facing the Cardinals, who are dead last in run defense, and are allowing the most fantasy points to opposing RBs. Even if Breida does play, Mostert is still in line for an increase in both carries and receptions, and against this defense, he should be in everyone's lineups. Projection: 82 yards, 1 TD and 4 receptions for 34 yards.
Phillip Lindsay vs. KC – Lindsay is in line for what could be his best game of the season. Royce Freeman now dealing with a bad ankle and has been ruled out this week, which means Lindsay will get all the work that he can handle. He has had at least 11 PPR points in every game (except when he was ejected), and running backs average over 5.0 yards per carry against the Chiefs defense. Whether the Broncos are leading or trailing, Lindsay will be on the field and be a featured part of the Broncos offense on Sunday. Fire him up in all formats and sit back and watch the fantasy points rack up. Projection: 104 yards, 1 FUM, 5 receptions for 63 yards and 1 TD.
Tarik Cohen vs. NYJ – Cohen has taken over as the main RB in this offense for fantasy purposes. Jordan Howard is still the RB1 on the depth chart and will still get the goal-line carries, but Matt Nagy is trying to get Cohen the ball in as many different ways as possible. He is coming off an unbelievable PPR performance where he finished with eight receptions for 69 yards and a TD on 12 targets. The TDs are certainly a welcome bonus to his fantasy owners, but the number to remember is 12 targets. Cohen is being featured in this offense and as long as he is producing at the elite level that he is, that is not going to change any time soon. Projection: 51 yards, 7 receptions for 83 yards and 1 TD.
Wide Receivers:
John Brown vs. CAR – Smokey Brown is the WR1 on this team for fantasy purposes. He is 100% healthy, and he is without a doubt Joe Flacco's favorite target. Brown is on an absolute tear this season, and there is no one on the Panthers that can slow him down. I expect another game with a high target volume and elite production from John Brown. Projection: 6 receptions for 93 yards and 1 TD.
Larry Fitzgerald vs. SF – Larry finally got in the end zone last week and he should be much more involved in this offense moving forward. Offensive Coordinator Mike McCoy was fired last week and his replacement is Byron Leftwich, a former QB who studied as a coach under Bruce Arians. This change in personnel is going to do wonders for this offense as Leftwich has already stated that they need to get the ball in the hands of Larry Fitzgerald and David Johnson. Further, Larry has dominated the 49ers over his career, and their secondary is severely banged up. Look for Larry Legend to back on track this week. Projection: 7 receptions for 82 yards and 1 TD.
Jordy Nelson vs. IND –  There's no more Amari Cooper. Jordy is not the unquestioned WR1 on the Raiders and his target volume is going to shoot through the roof. This week he takes on the Colts who are not exactly a scary matchup for opposing wide receivers. The Raiders will likely be in catch-up mode for this game and that will lead to a high target volume for Jordy. It may not be pretty, but Derek Carr is going to have no choice but to throw it to Jordy early and often. Projection: 7 receptions for 76 yards and 1 TD.
Chris Godwin vs. CIN – Godwin had a poor performance last week, but I'm still sticking with him this Sunday against the Bengals. Their defense is banged-up on all levels and recently they have not been able to stop anybody. The Bucs figure to be airing it out all game, and though Godwin will obviously be competing with Mike Evans and DeSean Jackson for targets and production, he is going to have one of his better games this year against this defense. Fire him up as a safe WR3 this week. Projection: 6 receptions for 82 yards and 1 TD.
Doug Baldwin vs. DET – Doug Baldwin is back and he has shown it by leading the team in targets over the last 3 weeks. With the addition of Damon "Snacks" Harrison to the Lions' defensive line, it is not going to be so easy to run against them anymore which means Russell Wilson is going to have to throw it a ton in order to stay competitive. Further, Baldwin makes his money in the slot and the Lions have struggled with slot receivers all season. Baldwin is a safe WR2 with upside this week so make sure he is in your lineups. Projection: 8 receptions for 84 yards and 1 TD.
Tight Ends:
David Njoku vs. PIT – Talent has never been a question with Njoku, and now he is starting to live up his tremendous potential with a competent QB throwing him the rock. Baker Mayfield has been leaning on Njoku, peppering him with 28 targets over the past three games, and he has an excellent matchup with the Steelers this Sunday, who are allowing the fourth-most fantasy points to TEs this season. The Browns are going to be trailing pretty early in this one and Mayfield is going to have to sling it in order to stay competitive. Njoku has scored a TD in back-to-back games and I expect him to cash in a third time this week. Look for him to get double-digit targets in this one. Projection: 7 receptions for 79 yards and 1 TD.
O.J. Howard vs. CIN – Howard has easily taken over as the TE1 for the Buccaneers and Jameis Winston is looking for him often. Cameron Brate is an afterthought in this offense now and Howard's fantasy owners could not be happier. Howard should continue his breakout season this week against the Bengals whose starting linebackers are injured. He is also going to be a matchup nightmare for their safeties who are undersized to begin with. Look for Winston to exploit those matchups on third downs and in the red zone. Projection: 5 receptions for 62 yards and 1 TD.
Jared Cook vs. IND – With the departure of Amari Cooper to Dallas, Cook is in line to take over the job as Derek Carr's favorite target. He is already a top-five TE on the season and now his target volume is going to increase even further. It is hard to trust Cook since he has let us down so many times over the past six years, but it appears he has finally hit his stride and found an offense that knows how to use him correctly. From here on out, Cook is an every week starter. Projection: 7 receptions for 85 yards and 1 TD.
C.J. Uzomah vs. TB –  This one is simply due to the matchup. Uzomah has been a decent replacement for Tyler Eifert, but he has not turned heads or made any splash plays that make us think his role could increase or that he is too talented not to be featured. However, this week he is a must-start option going against the Buccaneers who have the worst passing defense against opposing TEs, and have allowed four straight TEs to score a TD. Not to mention the Bucs have allowed either 100 yards or a TD to opposing TEs in every game this year. He is not an attractive option from week to week, but this week's matchup for Uzomah does not get any prettier. Projection: 5 receptions for 51 yards and 1 TD.
Defense/Special Teams:
New England Patriots vs. BUF – The Pats have owned the Bills in the Brady/Belichick era, and on Monday Night Football they are going to embarrass them once again. The Bills are responsible for the worst quarterback play in the league so far, and the Pats are going to dominate this game from the whistle. Vegas has the Pats as a 14 point favorite and I think their margin of victory could double that. They are widely available so pick them up and start them with confidence as the best defensive start of the week.
Arizona Cardinals vs. SF – The 49ers are allowing the most fantasy points to opposing defenses this season, and in their first matchup, the Cardinals had 2 D/ST TDs and were the highest scoring defense of the week. Look for the Cardinals to capitalize on another miserable performance from the 49ers offense this week, and possibly get their second win of the season.
Steelers vs. CLE –  The Steelers are coming off of a bye so they have had an additional week to prepare for this matchup. The first game between these teams ended in a tie, and while that may have been a moral victory for the Browns, it was an embarrassment for the Steelers. They have been looking forward to this re-match since Week 1, and I think it is going to be a bloodbath. Ben Roethlisberger always lights it up at home so the Brows are going to have to rely on their passing game to compete, and with the number of sacks they have given up so far this year, the Steelers should rack up fantasy points for their defense pretty effortlessly.
Sit Em'
Quarterbacks:
Carson Wentz vs, JAX – The Jaguars are not the elite defense that they were last year, but they still have an excellent pass rush and one of the best secondaries in the league. In fact, only two QBs have scored at least 20 fantasy points against the Jags this season. Alshon Jeffrey will have his hands full with Jalen Ramsey which will allow to linebackers and safeties to double Zach Ertz. This could be the lowest scoring game of the week so it is wise to fade Ertz this week and go with someone with u much higher ceiling. Projection: 228 yards, 1 TD, and 2 INTs.
Matthew Stafford vs. SEA – While the Legion of Boom is gone in Seattle, they are still an above average defense that has only allowed 1 QB all season to score over 20 fantasy points. This is going to be a hard-fought matchup and will likely be won on the ground. Stafford will likely throw two TDs like he typically does, but the yardage will be low and he is a lock for at least one turnover. Projection: 276 yards, 2 TDs, and 2 INTs.
Cam Newton vs. BAL – Last week, Cam was on the verge of an abysmal fantasy day until he cracked the code and shredded the Eagles in the fourth quarter. This week, he may not be so lucky. He is facing the Ravens defense, who just held Drew Brees to 212 yards, and they are allowing the second-fewest fantasy points to opposing QBs. It is really hard to sit Newton because he is averaging almost 50 yards rushing each week and he is the Panthers' goal-line RB, but the Ravens are well aware of his capabilities and you can be sure they will have a spy on Cam all game. This is going to be a rough week for Cam so you are wise to start a safer option. Projection: 185 yards, 1 TD, 2 INTs and 39 rush yards.
Running Backs:
Carlos Hyde vs. PHI – Hyde will be stepping into a featured role on the Jags, but he certainly does not know the playbook yet and the Eagles are not exactly the easiest matchup to going against. The Eagles are one of the toughest run defenses in the league, allowing the third-fewest fantasy points to opposing RBs and only two-rushing TDs, so the Jags will likely have to resort to the passing game to move the ball in this one. Hyde should see 12-15 touches in his first game as a Jag, but against this defense, he is not going to do much with them. Projection: 48 yards and 2 receptions for 14 yards.
Latavius Murray vs. NO – Murray is coming off of a truly epic two-game run where he has amassed over 300 total yards and has scored three TDs. However, his success on the ground is going to come to a screeching halt this weekend. He faces the Saints this week, who are among the top of the league in rush defense due to their athletic linebacker core. Further, the way to beat the Saints is by attacking their secondary cornerbacks and lighting them up through the air. This is going to be a high volume day for Kirk Cousins, Stefon Diggs and Adam Thielen, but not so much for Murray. Look elsewhere to fill your RB2 spot on your roster this week. Projection: 52 yards and 3 receptions for 28 yards.
Isaiah Crowell vs. CHI – You may be thinking that Crowell is a rock-solid RB2 now that Bilal Powell went on Injured Reserve, but do not be fooled. For one, Crowell is not fully healthy as he is dealing with ankle and foot issues. Secondly, this week he faces the stout Bears defense who are among the best in the league at stopping the run. The Bears offense has also been on fire lately, so the Jets will likely be in catch-up mode which does not bode well for Crowell. I hope you sold high on him when you had the chance. Projection: 41 yards and 2 receptions for 16 yards.
Aaron Jones vs. LAR – I am one of the biggest Aaron Jones truthers out there, but the fact of the matter is we do not make the play calling decisions. Mike McCarthy does not trust Jones in pass protection so unless the Packers are sitting on a lead, Jones does not see the field nearly as much as he should. This week against the Rams, the Packers are not going to be able to sit on any sized lead which means Jones will not see very many touches in this one. I pray that I am wrong and this coaching staff will realize that Jones needs 15 touches a week, but it's not happening this week. Projection: 46 yards and 1 reception for 11 yards.
Wide Receivers:
Devin Funchess vs. BAL – If Funchess does not score a TD, his fantasy performances are mediocre at best. While he is clearly the WR1 on his team, Cam Newton is not the most accurate QB and tends to overthrow Funchess quite often. Further, this week he faces the elite secondary of the Ravens, which means he will likely see the most of Jimmy Smith. This is going to be a frustrating afternoon for Funchess as it will be difficult for him to gain separation on Jimmy Smith, and it would be wise to keep him on your bench. Projection: 4 receptions for 41 yards.
Marquise Goodwin vs. AZ – Goodwin has phenomenal talent as a WR, but you are only as good as the QB throwing you the ball. C.J. Beathard has not been able to get on the same page as Goodwin, except for one game against the Packers, and with Goodwin likely to see the most of Patrick Peterson this week, it is certainly not going to correct itself on Sunday. Goodwin has not had more than five receptions in any game this year, and unless he scores a long TD he has been a miserable fantasy start. Don't expect that to happen this week as the Cardinals have only allowed four TDs to be scored by opposing WRs, best in the league. Projection: 3 receptions for 31 yards.
Marvin Jones vs. SEA – The simple fact of the matter is that Marvin Jones has taken a backseat to Kenny Golladay and Golden Tate as they have both outperformed Jones in both receptions and yards. Unfortunately, Jones is not an integral part of this offense anymore, evidenced by less than five receptions in two straight games and his failure to surpass 70 receiving yards in any game all year. It is possible that Jones get going again this year, but it is not happening against the stout secondary of the Seahawks. Look elsewhere for your WR3/ FLEX position this week. Projection: 4 receptions for 51 yards.
Robby Anderson vs. CHI – Anderson is a deep threat who needs time to let his routes develop and this week that is not going to happen. Facing the Bears elite defensive front, Sam Darnold is not going to have much time to throw the ball. It is true that Anderson is the only real receiving threat on the team, but as the unquestioned WR1 for the Jets last week, he only caught three balls on ten targets. This is going to be another day where Robby Anderson will do a whole lot of running but will have pitiful receiving numbers to show for it. Projection: 3 receptions for 31 yards.
Tight Ends:
Kyle Rudolph vs. NO – Rudolph the Red-Zone Reindeer has been anything but this season. He is an afterthought in this offense with Adam Thielen and Stefon Diggs commanding most of the targets and that is not going to change this week. Further, the Saints are giving up the fewest amount of fantasy points to opposing TEs, holding each one that they faced to under 8 PPR points, and they have only allowed one TE to score a TD this season. It is hard to find a reliable TE this season, but there are much better options available to be streamed this week. Projection: 3 receptions for 18 yards.
Jordan Reed vs. NYG – If you would have said that by Week 8 Jordan Reed would be the only healthy receiver on the Redskins, I would have laughed at you and said you were crazy. However, that is in fact the case, but sadly it does not matter. Reed has been awful this year, and his role has not increased with the injuries to the rest of the receivers. He is averaging less than six PPR points over his last three games, and he has not scored a TD since Week 1. This week he faces the Giants who have only allowed 1 TD to be scored by opposing TEs all season. Leave him on your bench and don't think twice about it. Projection: 4 receptions for 33 yards.
Evan Engram vs. WAS – Engram is still trying to make his way back from a sprained MCL that he suffered early on, and it may take some time before he is back in the mix. Last week, he could not get on the same page as Eli Manning and he posted a meager two receptions for 16 yards. This week he faces the Redskins who have held four of the six TEs they have faced to under ten PPR points. Leave Engram on your bench until we see him start to hit his stride in the Giants' offense. Projection: 4 receptions for 26 yards.
Questions and comments?
thescorecrowsports@gmail.com
Follow Us on Twitter @thescorecrow
Follow Us on Reddit at u/TheScorecrow
Follow Frank Dyevoich on Twitter @Fantasy_Giant
Main Credit Image: [getty src="1057945346″ width="594″ height="436″ tld="com"]