Frank Dyevoich | October 13th, 2018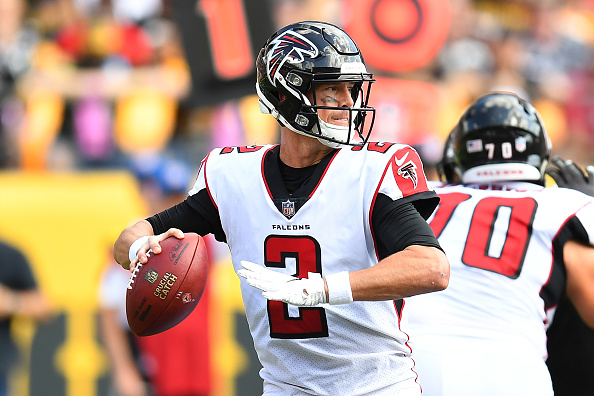 We are just about halfway through the season heading into week six, and our matchups become more critical. In these next few weeks, some will clinch a playoff berth and some will be eliminated from contention. That is why we must always be trying to improve our teams and do what we can to put the best possible starting lineup out there. First and foremost, always start the guys filling in for injured players. I am not going to tell you to start T.J. Yeldon and Tevin Coleman because that is too obvious, those guys should be in everyone's lineups. However, there are tons of players with great matchups this week so we have to make sure we pinpoint those matchups and capitalize.
Start 'Em
Quarterbacks:
Matt Ryan vs. TB – Fire up Matty Ice everywhere! He is always a great start at home, but this week he gets the added benefit of playing the Buccaneers, who were just lit up for six TDs by Mitch Trubisky. All three receivers score on Sunday, and Ryan will be the QB1 on the week. Projection: 385 yards, 4 TDs, and 1 INT.
Jameis Winston vs. ATL – The simple fact of the matter is Winston will be trailing in this game early and his defense will not be able to prevent the Falcons from scoring. He is going to air it out over 40 times in this game, and he has the offensive weapons to be a top-five QB every week. He will kick off his 2018 campaign with a bang as he lights up the injured Falcons' defense. Projection: 375 yards, 3 TDs, and 2 INTs.
Andy Dalton vs. PIT – The Red Rifle is firing on all cylinders this year and he is not going to slow down anytime soon. This week he gets the Steelers, who are 31st against the pass, in a juicy matchup at home, and he should have a floor of 300 yards two TDs. Projection: 360 yards, 3 TDS, and 2 INTs.
Russell Wilson vs. OAK – Most people are starting him, but I have seen him on a couple of waiver wires and people were starting Case Keenum over him last week. Wilson is a notoriously slow starter, but he will bounce back like he always does and it starts this week against the Raiders. Fire him up with confidence and watch the points roll in. Projection: 273 yards, 3 TDs, 1 INT, 6 rushes for 53 yards.
Running Backs:
Chris Carson vs. OAK – The Seahawks have shifted their offense back to the infamous ground and pound running scheme. They have over 30 rushing attempts in each of their last three games and Carson is the first man up. He is a lock for 15 carries a week, and he is a must-start against weak defenses. As such, make sure he is in your lineups this week against the Raiders in London. Projection: 91 yards and 1 TD.
Jordan Howard/ Tarik Cohen vs. MIA – This one is easy. Always start the RBs playing the Dolphins. Do not let Howard's disappearance last game think he has lost his fantasy value. The success of the passing game will open up lanes for Howard, and he is still a gifted between-the-tackles runner. As for Cohen, he exploded last game and showed this coaching staff that he needs the ball more. Neither RB will have a difficult time producing on Sunday. Projection: JH 86 yards, 1 TD, 2 receptions for 22 yards/ TC 26 yards, 6 receptions for 68 yards and 1 TD.
James White vs. KC – White is going to finish as an RB1 in PPR this year. His role as the receiving back is locked in, and its a huge part of the Patriots' offense. This week, he will be utilized heavily in a shootout with the Chiefs. Sony Michel is also banged up and if he doesn't sit out he will likely be limited. White is a lock for double-digit targets, and he will hit pay-dirt once again. Projection: 26 yards, 8 receptions for 79 yards and 1 TD.
Aaron Jones vs. SF – We were one week too early on Jones. The matchup was right in regards to RB vs. D/ST, but we did not take into account that it was a road game and the Lions have a good offense and if the Packers got down early, the game script would not favor Jones. Well, this week the stars are aligned. It is a home game, against a miserable team riddled with injuries and it's in primetime. The Packers are going to dominate this game which will lead to a delicious game script for Jones. Projection: 82 yards, 1 TD, 2 receptions for 31 yards.
Bilal Powell vs. IND – Powell is in line for a monster game this week. Isaiah Crowell is a game-time decision, but even if he plays he will certainly be limited. That leaves Powell as the main guy in this backfield, and we learned last week that this offensive line is learning to mesh together and can create mammoth lanes for the RBs. I expect Powell to see at least 15 carries in this game and be utilized often in the receiving game. Get him in your lineups. Projection: 87 yards, 1 TD, 5 receptions for 61 yards.
Wide Receivers:
Chester Rogers vs. NYJ – Rogers has received double-digit targets in back to back games, and it is very likely to be a third. T.Y. Hilton is expected to be out again and Eric Ebron is not 100%, so Rogers is likely to be the main target in the receiving game this week. The Jets have an average secondary and they will be focused on Ebron and Ryan Grant leaving Rogers to have his way with the slot corners. Projection: 7 receptions for 63 yards and 1 TD.
Tyler Boyd vs. PIT – Boyd did not come through for fantasy owners last week, but this week he will be heavily targeted as A.J. Green will be shadowed by Joe Haden. Green will still get his, but Boyd should find plenty of open space in a below average secondary. He will out-target AJ Green once again this week. Projection: 7 receptions for 73 yards and 1 TD.
Calvin Ridley/Mohamed Sanu – Fire up all receivers facing the Bucs. The Falcons will be able to score at ease on Sunday when they play at home against a division foe that happens to be dead last in passing defense. I expect each WR to have a TD and at least one out of the three of them will have two TDs. Projection: CR 5 receptions for 73 yards and 1 TD/ MS 7 receptions for 65 yards and 1 TD.
Amari Cooper vs. SEA – This week is a go for Amari Cooper. Sure, we could say he has been good every other week so it makes sense that this would be an on week. However, it actually makes sense this week. The Seahawks do not have any great cornerbacks, and they play a zone defense which allows him to find the holes in the secondary's coverages. He is bad when he is pressed man-to-man by good cornerbacks, so this week he should eat. Projection: 8 receptions for 96 yards and 1 TD.
Chris Godwin/DeSean Jackson vs. ATL – This one is all about game-script. The Bucs will likely be trailing in this one so they are going to have to air it out in order to stay competitive. It will be interesting to see who Jameis Winston has a connection with, but on Sunday he will need everyone he has. Projection: CG 5 Receptions for 64 yards and 1 TD/ DS 3 receptions for 88 yards and 1 TD.
Tight Ends:
Jordan Reed vs. CAR – It sounds impossible, but Jordan Reed is the only healthy player on the team right now. Alex Smith is going to lean on him heavily this week because he simply will not have anyone else to throw the ball to. This is going to be a huge bounce-back week for Reed. Projection: 6 receptions for 71 yards and 1 TD.
George Kittle vs. GB – Similar to Jordan Reed, Kittle is going to be leaned on heavily by his QB. He will be trailing early at Lambeau Field on Monday Night Football and Kittle will be the centerpiece of the receiving game for C.J. Beathard. Projection: 7 receptions for 83 yards and 1 TD.
Cameron Brate vs. ATL – Besides the fact that this game is going to be a shootout won through the air, Jameis Winston and Brate have a rare chemistry, especially in the red zone. With O.J. Howard still out, Brate will demand all of the TE targets for the foreseeable future. He is a must-start until further notice. Projection: 6 receptions for 58 yards and 1 TD.
Defense/Special Teams:
Green Bay Packers vs. SF – The Packers are due for a huge bounce-back game at home on Monday Night Football. If that alone wasn't enough, they play the injury-riddled 49ers. Everyone will eat this week, including the defense.
Carolina Panthers vs. WAS – The Panthers are coming off of a huge last-second win and they will build off that momentum this week. They take on the Redskins who do not have any healthy RBs or WRs. It's going to be a field day for the Panthers on Sunday.
Sit Em'
Quarterbacks:
Jared Goff vs. DEN – This is not shaping up to be a high passing game for Goff this week. They are going up against a horrific run defense and the forecast calls for a little bit of snow. He should be leading pretty early in this one and they simply are not going to have to rely on his arm in order to win. Projection: 253 yards, 2 TDs, and 1 INT.
Ryan Tannehill vs. CHI – He is facing arguably the toughest defense in the league and there are no viable threats in the receiving game. Under no circumstances can Tannehill be started this week, even in deep two-QB leagues. Projection: 210 yards, 1 TD, 1 FUM, and 2 INTs.
Andrew Luck vs. NYJ – Luck is coming off of two monster performances, but his receiving options are banged up and there are four RBs likely to see touches with Marlon Mack expected to play. Furthermore, the Jets have a stout defense. Luck will probably be an average start this week, but if you are looking for a huge performance I don't think this is the week to bet on Luck. Projection: 265 yards, 2 TDs, 2 INTs.
Running Backs:
Adrian Peterson vs. CAR – AP is going to play, but he has a dislocated shoulder and is nursing various leg injuries. On top of all that, they will likely be trailing in this one which will not work in APs favor. Add in the risk that he injures himself further and he is best left on your bench this week. Projection: 56 yards and 3 receptions for 24 yards.
Royce Freeman vs. LAR – This is going to be an ugly game for the Broncos. They are going to be in catch-up mode most of the game and Royce Freeman is not involved when they are trailing. Last week he averaged over 5.0 yards per carry but he did not get a touch in the second half. This week will be more of the same. Projection: 62 yards and 2 receptions for 23 yards.
LeSean McCoy vs. HOU – McCoy saw a season-high 24 carries last week so his owners may be tempted to start him on that volume alone. Don't do it. It is a trap. He is facing a top-five run defense this week that just held Ezekiel Elliott to under 60 yards, and Shady will suffer the same fate. Projection: 57 yards, 4 receptions for 32 yards.
Colts RBs – Marlon Mack is back in the mix and that makes it even more difficult to figure out who will get the bulk of the carries. All of them are best left on your bench, however, Nyheim Hines could be started in PPR due to the targets he should see if you are in a pinch at RB.
Ravens RBs – The Ravens are not very productive running the football and that makes owning their RBs extremely frustrating. Alex Collins is the more efficient runner, but he does not see red zone work and he is not involved in the passing game. Further, Javorius Allen is the least efficient RB in the history of the world, averaging less than 2.0 yards per carry. Look elsewhere for your important week six lineups.
Wide Receivers:
Corey Davis vs. BAL – This is a nightmarish matchup for opposing WRs. The Ravens have two elite cornerbacks and Davis is the only thing opposing defenses need to focus on. It is going to be a rough afternoon for Corey Davis. However, he is extremely talented and he is getting a ton of targets, so try and trade for him. Projection: 5 receptions for 53 yards.
Allen Robinson vs. MIA – Two words. Xavien Howard. A-Rob will be locked down by Howard and Trubisky is not a good enough QB to still make him productive. Your team is best served taking a shot on a player with a better matchup. Projection: 4 receptions for 41 yards.
Larry Fitzgerald vs. MIN – It has not been good for Larry Legend, but while I expect things to turn around for him over the next few weeks, it is not going to start this week. He will be covered by Xavier Rhodes most of the game, and what's worse is that he is still dealing with a hamstring injury that has limited his production. Right now, Christian Kirk is a better start. Projection: 4 receptions for 38 yards.
Tyler Lockett vs. OAK – Lockett has been productive as of late, but it is only because he has been able to get into the end zone. He is still averaging less than five targets a game and you can't count on him to score every week. I think this is the first of many let down weeks for Lockett this season. Projection: 3 receptions for 53 yards.
Jaguars' WRs vs. DAL – The fact of the matter is that the Jags have twenty-six WRs and you never know who is going to get the ball. Actually, they have four WRs, but the unpredictability of who is going to be involved from week to week remains constant. Further, this week they take on a top-five secondary so even the best WR would not be very productive.
Tight Ends:
Vance McDonald vs. CIN – Last week McDonald had one catch and the week before was not great either. Owners are hung up on the nasty stiff-arm he put on a defensive back in week three, but the fact of the matter is that he can not be relied on. Jesse James is also in the mix and the offense does not rely on the tight end position for success. It is hard to recommend sitting any tight end at this stage, but McDonald can't be trusted. Projection: 3 receptions for 32 yards.
Austin Hooper vs. TB – This one comes down to the fact that the Falcons' WRs will not be able to be contained, and the TE will not need to be a factor this week. He benefited last week from tight coverage against the WRs, but this week will not be exciting for him. Projection: 3 receptions for 41 yards.
Questions and comments?
thescorecrowsports@gmail.com
Follow Us on Twitter @thescorecrow
Follow Us on Reddit at u/TheScorecrow
Follow Frank Dyevoich on Twitter @Fantasy_Giant
Main Credit Image: [getty src="1047174888″ width="594″ height="396″ tld="com"]