Nickolas Loza | August 21st, 2018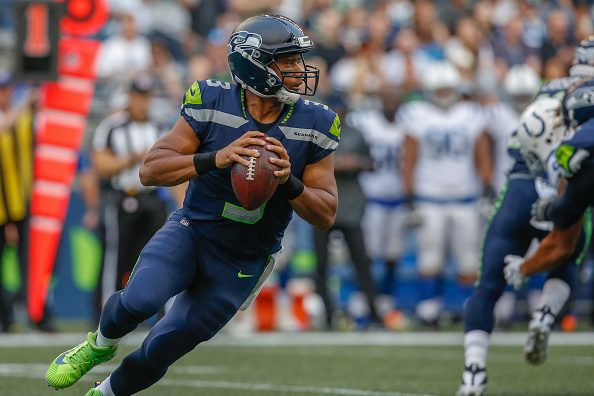 The Seattle Seahawks look to get back to the postseason in 2018-19. The NFC is tough and the Seahawks lost some key players including a few from the vaunted Legion of Boom. Can Pete Carroll and his crew get this team back to its former glory?
Seattle Seahawks Season Preview
Recap of Last Season
Seattle was a very good team last year, going 9-7 and missing the playoffs. They rode on the back of an MVP caliber QB in Russell Wilson who did it all last year. Russell Wilson was the identity of the team last year especially after Richard Sherman tore his Achilles in Week 10. Last year they had the 11th best offense in the league scoring 22.9PPG. Their famous defense was lagging last year at 13th best, which is bad considering a few years ago they had the fourth best defense, statistically speaking, of all time. Russell Wilson last year should've been the MVP if he wasn't playing on a team that missed the playoffs.  He threw for 34 TDs and 11 INTs.
Strengths This Year
Let's move on to this year and some of what their strengths could be. By far their biggest strength will be their passing game. Obviously, they have Russell Wilson who can do it all including scrambling. So offenses have to be aware of the dual threat behind center. But they still have Doug Baldwin who earned Pro Bowl honors last year and other receivers like Tyler Lockett to rely on. One of their other strengths is at middle linebacker where they have Bobby Wagner to anchor that linebacking crew and if Earl Thomas comes back from his contract holdout he will be a key player in the secondary. A minor strength is going to be their kicker, who will either be Sebastian Janikowski or Jason Myers. Same with their punter, Jon Ryan, who averaged a mediocre 45 yards per punt which is average but he also had booming punts like a 74-yarder.
Weaknesses This Year
Moving on to weaknesses and there are a lot of them. The biggest and most often looked at one is their putrid running game. After Marshawn Lynch left they have had no luck with running backs so they drafted RB Rashaad Penny in the first round this year to try and fill that massive hole in the backfield. Their second biggest weakness is their offensive line, which is famous for being terrible and forcing Russell Wilson to run around like a chicken with its head cut off. The offensive line looks good on paper but isn't great in reality. At left tackle there's Duane Brown, at right tackle there's Germain Ifedi, at center there's Justin Britt, at right guard there's D.J. Fluker, and at left guard there's Ethan Pocic. They will have to improve dramatically under Tom Cable, their O-Line coach, but they won't improve much. We've been excited in the past about the Seahawks than they've disappointed on the O-Line. Another weakness will be at the tight end position after Jimmy Graham left to go to Green Bay in the offseason. Yet another weakness will be at cornerback after Richard Sherman left in free agency to go to San Francisco. They also lost Cliff Avril which certainly won't help at defensive end.
Additions/Improvements
There were a couple of offseason additions that I'll go over: K Sebastian Janikowski, RB J.D. McKissic, QB Stephen Morris, DT/LB Barkevious Mingo WR Brandon Marshall, and they drafted RB Rashaad Penny and LB Shaquem Griffin. By signing/drafting these players they have added: an extremely experienced Kicker, a good RB, depth at the QB position, a good DT/LB and a veteran and proven WR. They drafted what they hope will be a franchise RB, and what looks like a good LB in Shaquem Griffin who is an excellent story to watch because he has only one hand. The key acquisition and the one to watch out for is Brandon Marshall. He has team-hopped over the past few years and he will have to settle down in Seattle.
Subtractions/Regressions
Phew. This is going to be a long list. A list that includes: CB Richard Sherman, K Blair Walsh, QB Trevone Boykin, DE Cliff Avril, TE Luke Willson, TE Jimmy Graham, DL Sheldon Richardson, DB DeShawn Shead, DE Michael Bennett and Paul Richardson. That's a combined 13 Pro Bowls between all of these players, which is a lot of talent to be shown the door. These losses are so impactful because Richard Sherman was the best CB they had and a former All-Pro, Blair Walsh is young, Janikowski is 40 years old, Trevone Boykin was a good backup, Cliff Avril was an excellent DE, TE Luke Willson was a good target, Jimmy Graham is a top 7 TE, Sheldon Richardson was a good DL, DB DeShawn Shead brought depth, Michael Bennett is a top 10 DE, and Paul Richardson is a reliable red zone target. That's a lot of loss compared to not a lot of gain. Yikes.
Prediction
Their schedule this year is the 5th toughest in the NFL which doesn't favor a team that dumped their entire defense. They get a tough test in Denver right off the bat which they'll lose. I don't see the Seahawks winning any of their first 3 games. At the bye they will be 2-4. Their final record will be 5-11 or at the best 6-10. They lost too much in the offseason to do well this year. Their future looks bleak unless they acquire a key free agent in the next offseason.
Questions and comments?
thescorecrowsports@gmail.com
Follow Us on Twitter @thescorecrow
Follow Us on Reddit at u/TheScorecrow
Follow Nickolas Loza on Twitter @sp0rtstAlkNick
Main Credit Image: [getty src="1014750612″ width="594″ height="396″ tld="com"]
Advertisement