Joel Dorcas | February 25th, 2019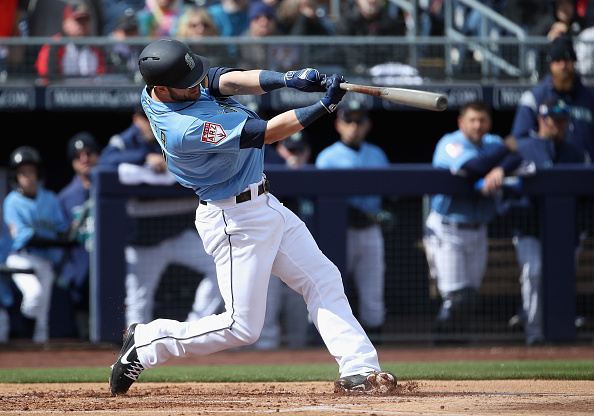 The Seattle Mariners had a very promising 2018 season, albeit not good enough to secure a playoff berth. They finished with an 89-73 record, 14 games back of division leaders, the Houston Astros. They fell short of a Wild Card position to division foe, the Oakland Athletics who were eight games better.
Last Season 89-73 3rd place AL West
The Mariners enter the 2019 season with a very different look highlighted by some very well known talent, not on this year's roster. Some young blood along with some other interesting pieces have been brought in to perhaps surprise everyone much like they did last year.
Catcher/Infield Projections
27-year-old catcher Omar Narvaez was brought over from the Chicago White Sox in exchange for Alex Colome. In 97 games/280 plate appearances, he hit .275 with 9 HR and 30 RBI's. Narvaez reached career highs in many categories, his slugging % went from .340  in 2018 to .429 last season, and his hard hit % raised from 19.4 to 28.6. Narvaez had a 2.1 WAR in 2018. Narvaez will be counted on to call at least 70% of Mariner games this season. Will he be an upgrade at the position over former Mariner, Mike Zunino? Offensively he will be less of a boom/bust type but looking at the defense aspect of each player, Narvaez will be a work in progress (much like many players on this roster). Zunino was number two in all of baseball in defensive WAR last season at 1.7 compared to Narvaez who finished barely over replacement level at 0.1. Zunino also only allowed 34 steals in 111 games played where Narvaez allowed 66 in 85 games played.
One of the biggest off-season changes for the Mariners occurs at shortstop. The Mariners have a bright young prospect in J.P. Crawford. Crawford was brought in from the Philadelphia Phillies and will no doubt take some time to adjust with the big league club. He has all of 225 plate appearances at the big league level with the Phillies organization. We won't get into what he's done to date where it is such a small sample size. Needless to say, the Mariners view him as top notch prospect that, if all goes according to plan, will grade up as a high caliber player. Jean Segura, another player apart of the Crawford acquisition, will be missed as he brought consistent production to the top of the Mariner order. Crawford has some big shoes to fill as it won't be easy to replace 20 steals, 10 homers and a .304 batting average that Segura produced in 2018.
The rest of the infield remains in tack with a minor acquisition in Jay Bruce. He was brought in to spell off Ryan Healy at first base as well as fill in at designated hitter and in the outfield. The Mariners will need much better production out of 31-year-old third baseman, Kyle Seager. Seager a career.258 hitter, hit a measly .221 last season, all while playing his usual steady third base. Seager will need to address his walk and strikeout issues of last season. Seager carried a 21.9 K% compared to his career rate of 17.3%. His walk to strikeout ratios was out of whack as well. Career: 0.47 BB/K, 2018: 0.28 BB/K.
Speedster Dee Gordon will man second base as the smooth-swinging Robinson Cano signed with the New York Mets in the off-season. Cano is on year five of his 10-year deal that will pay him an absurd $240 million. Gordon isn't nearly the caliber of player that Cano is /was but he can steal bags and hit for a decent average all while costing the Mariners way less. His defense at second may need some work though.
Outfield/DH Projections
Mitch Haniger leads the outfield group. Last season was a breakout year for the three-year pro and the future seems to be bright baring injury as he enters his prime years in his age 28 season. Haniger slashed .285/.366/.493 for the Mariners in 2018.
Edwin Encarnacion is thought of as perhaps a replacement for the now departed Nelson Cruz. Encarnacion will look to make it eight straight seasons of at least 30 HRs. The walk and strikeout rates from last season were his career worst with seasons of at least 300 plate appearances at 0.48.
Domingo Santana is another power threat that the Mariners will look to for offensive production. Santana was buried in the Brewers system and will now get regular playing time. When giving an everyday role, Santana put up strong numbers slashing .278/.371/.505 with 30 bombs and 15 steals in 607 plate appearances during the 2017 season.
Rounding out the outfield is speedster Mallex Smith. Smith swiped 40 bags for the Rays last season and hit a very respectable .296 in 544 plate appearances.
Starting Pitcher Projections
Mike Leake heads a group of mediocre starting pitchers that no longer includes lefty flame-thrower James Paxton who will now dawn Yankee pinstripes. Going into 2019 Leake has seven straight seasons of at least 30 games started. Leake has a 4.03 career ERA, last season he pitched to a 4.36 ERA with 10 wins. The Mariners will need at least 12 wins from Leake and an ERA south of last years mark.
The Mariners have a promising pitcher in Marco Gonzalez. The 2013 first round draft pick out of the St.Louis Cardinals system went 13-9 with a 4.00 ERA along with 7.83 k/9 and 1.73 BB/9 in his debut major league season.
Yusei Kikuchi is one of two Mariner newcomers to the rotation. Kikuchi profiles as a high strikeout, high walk pitcher that has at least four major league pitches. The 27-year-old Japanese import projects to almost 9 k/9 and over 3 BB/9.
Wade LeBlanc made a career-high 27 starts last season for the M's. In 32 games LeBlanc compiled nine wins to fives loses, a 3.72 ERA and 130 K's,  40 BB's in 162 innings.
Justus Sheffield is the other newcomer to the pitching staff that could make the rotation. The 2014 first round draft choice of the New York Yankees has yet to set foot on a big league field. Sheffield made 15 AAA starts in 2018 striking out 84 and walking 36 in 88 innings. Despite some control issues he managed to pitch to a 2.56 ERA.
Felix Hernandez hopes to be in the mix for 2019. Hard to believe that King Felix is only 32 years old. He will look to try to regain his form from the 2009 to 2015 seasons. Injuries have hampered Felix over the last few seasons. Last year was one to forget as he went 8-14 with a 5.55 ERA.
Bullpen Projections
Acquired from the New York Mets, Anthony Swarzak only pitched 26 innings to the tune of a 6.15 ERA in 2018. He hopes to get back to 2017 form where he pitched 77 innings and sported a 2.33 ERA.
Shawn Armstrong has only 58 innings of major league work with a 2.95 ERA. Last year Armstrong was able to nail down 15 saves at the AAA level.
Roenis Elias projects to be a valuable, versatile piece for the staff. In 23 appearances Elias had a 2.65 ERA, he also made four starts.
Cory Gearrin has 270 big league games spanned over seven seasons under his belt. Over the course of his career hitters have only hit .233 against him. Last season, however, hitters fared better hitting .253.
Hunter Strickland had a down year in 2018. In 45 innings of work, Strickland recorded 14 saves and finished with a 3.97 ERA with 4.17 BB/9. Strickland has a career 2.91 ERA and a 3.15 BB/9 mark in 253 innings.
Chasen Bradford in two seasons has appeared in 74 games, a career 3.71 ERA and hitters have a .249 average against him.
Season Prediction: 80-82
Given last year surprise showing with more marquee players, it's difficult to imagine the Mariners repeating a similar season with this year's roster. Without a true number one starting pitcher and a suspect bullpen, there are bound to be some bumps and bruises. The Mariners do boast a decent lineup but it won't be enough to make up for lack of solid pitching unless Felix Hernandez regains what he once was and they get really solid seasons out of either/ both Yusei Kikuchi and Justus Sheffield.
Check out our other Team Previews | Colorado Rockies | Toronto Blue Jays | Minnesota Twins | Atlanta Braves | Chicago Cubs | Tampa Bay Rays | Arizona Diamondbacks | Miami Marlins | Cincinnati Reds
Questions and comments?
thescorecrowsports@gmail.com
Follow Us on Twitter @thescorecrow
Follow Us on Reddit at u/TheScorecrow
Follow Us on Facebook at The Scorecrow
Follow Us on Instagram at The Scorecrow
Follow Joel Dorcas on Twitter @Joel_Dorcas6
Main Image Credit:
[getty src="1131462646″ width="594″ height="416″ tld="ca"]