Troy Pierce | March 22nd, 2019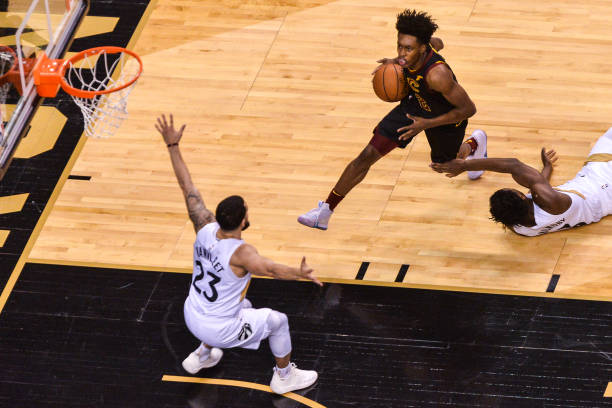 The Rookie of the Year race is heating up and the final weeks of the NBA's regular season are upon us.
This week we will be checking on on two rookie point guards looking to make a name for themselves in this league.
Without further ado, here is your Rookie Report for the week of March 11, 2019.
COLLIN SEXTON
Collin Sexton was firing on all cylinders Monday against the Raptors in Toronto, and throughout the week, despite the slow start to his rookie season.
Sexton's presence on the court was a steadying force throughout the game and he provided a dominant offensive performance, something that's been a regular occurrence over the last 7 games for the Cleveland Cavaliers.
The 8th overall pick found ways to score from everywhere on the floor against a staunch Raptors defense. He would repeatedly get to the basket thanks to his speed, which would be on display all night. Sexton's first points of the night would come in the first quarter via a give-and-go with Jordan Clarkson. After receiving the hand-off from Clarkson, Collin Sexton would make a sharp cut and blow past Kyle Lowry for a shot at the basket, contested by Kawhi Leonard. Jeremy Lin and Marc Gasol would fall victim to Sexton's speed as well, leading to easy points for the rookie point guard.
Sexton's deep-range ability was on display as well. Sexton would finish 4-of-7 on the night from beyond the arc.
Collin Sexton would also help his team from the charity stripe, shooting 100% on 4 attempts.
The rookie out of Alabama would finish with a game-high 28 points, going 10-of-18 from the field. He would also chip in 4 rebounds and 5 assists.
Defensively, Sexton made smart plays despite not contributing in the box score. Early on he would stop a fast break by tipping a pass off of Danny Green that would result in a turnover for Toronto. Near the end of the opening quarter, despite the size difference, Sexton would draw an offensive foul on OG Anunoby. Collin's ability to play physical defense without fouling would force Toronto's second-year forward to pick up his dribble, and in an attempt to create space OG Anunoby would elbow Sexton triggering the referees whistle.
Collin Sexton's breakout week would result in 26.3 points per contest on about 53% from the field and 50% from three-point range. Unfortunately, Cleveland's only victory for the week would be against Toronto.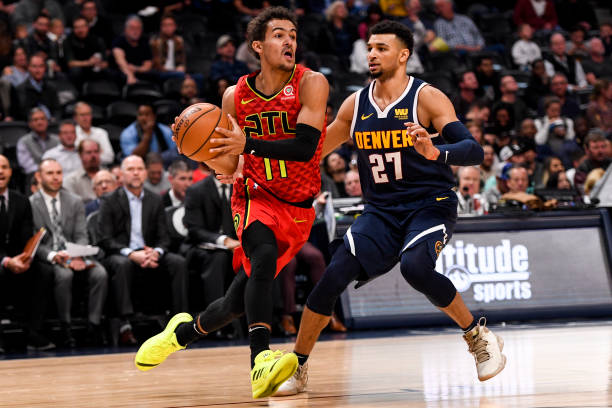 TRAE YOUNG
Trae Young continues to dazzle when he takes the court. The fifth pick in the 2018 draft has thrust himself into the forefront of the ROY conversation and is not going out quietly.
Offensively, Young is living up to the Steph Curry and Steve Nash comparisons. His passing, shooting, and ability to finish at the rim make him one of the toughest players to guard even though he has yet to finish a full NBA season. He would have all of those skills on display Wednesday against the Memphis Grizzlies.
Young's passing has been nothing short of fantastic this season as he currently sits tied for 4th in the league in terms of assists per game, and first among rookies. In fact, Trae Young in the only rookie in the top 25 when in comes to assists per game this season. Young's biggest – or only – competition for Rookie of the Year, Luka Doncic, sits at 26th league-wide. In terms of total assists, Trae (561) ranks second behind Russell Westbrook with Luka Doncic (374), coming in as the only other rookie in the top 25, holding the 25th spot.
Trae's three-point prowess has already earned the nickname Baby Steph, and it's easy to see why. Young has an uncanny ability to hit shots from well beyond the arc, helping him open up all aspects of his game such as his play-making and driving ability. When the defense has to focus on everything Young is doing, it allows him to find open teammates by drawing multiple defenders as the defense tries to force the ball out of Young's hands.
This ability to draw in the defense has instilled confidence in his teammates. Kevin Huerter, Dewayne Dedmon, and John Collins have all become valuable pieces to the Atlanta Hawks offense with each being steady contributors in all aspects of the game. This ability to make his teammates better certainly puts Young into the conversation of being one of the absolute best playmaking point guards the NBA has to offer.
Trae Young would finish with 22 points on 8-of-12 from the floor, 3-of-3 from the charity stripe, and 3-of-5 from distance. He would also have 3 rebounds, 8 assists, and 1 steal.
Questions and comments?
thescorecrowsports@gmail.com
Follow Us on Twitter @thescorecrow
Follow Us on Reddit at u/TheScorecrow
Follow Us on Facebook at The Scorecrow
Follow Us on Instagram at The Scorecrow
Follow Troy on Twitter @HoopHead_prod
Main Credit Image:[getty src="1079381292″ width="594″ height="396″ tld="com"]
[getty src="1062176050″ width="594″ height="396″ tld="com"]