Troy Pierce| April 13th, 2019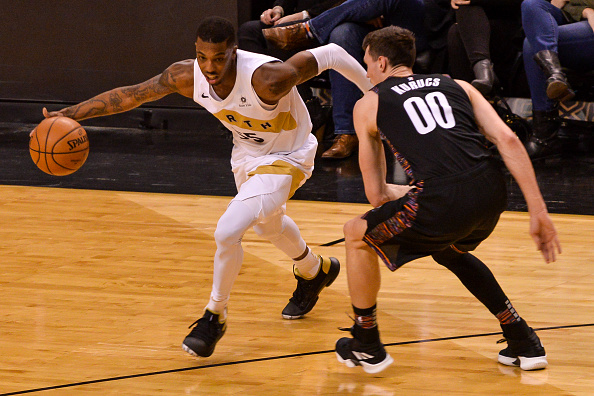 82 regular season games have come and gone, and playoff basketball is upon us!
Several rookies made a name for themselves this season, but of all the top rookies from this season, only three remain with playoff basketball at their fingertips. Rodin Kurucs (Brooklyn Nets), Landry Shamet (Philadelphia, traded to LAC), and Shia Gilgeous-Alexander (Los Angeles Clippers) will get the chance to suit up and take the floor this NBA postseason.
The playoffs, and ultimately the Finals, is what every player wants the chance to play for and these rookies, while they haven't been the stars their colleagues Luka Doncic and Trae Young are, will play a vital role in helping their teams this postseason.
Without further ado, let's talk rookies…
RODIONS KURUCS
Rodions Kurucs has become one of the Brooklyn Nets better perimeter defenders, and, in late game situations, has been tasked with guarding opponents perimeter threats. His length and mobility allow him to guard wing players and his height allows him to go toe-to-toe with some power forwards. That ability to guard multiple positions should bode well for the rookie when facing Philadelphia. He'll likely spend a lot of time guarding Tobias Harris. His first priority should be eliminating the space Harris has on the perimeter. Forcing the ball out of Harris' hands will take away his outside shot and force other Sixers' to hit from three-point range.
While his defense has been a nice surprise, Kurucs will need to find his outside shot. He finished the regular season shooting just 31% from beyond the arc. That number jumps to 38% on three-point attempts from the corner. Where he struggles is from the wings. Finding a way for him to be effective while running the baseline and working the corners will be important for him to contribute on the offensive end.
SHAI GILGEOUS-ALEXANDER
SGA has really stepped up and prove his ability as a starting point guard in the NBA. He's not as flashy as Trae Young or as explosive as Collin Sexton, but Gilgeous-Alexander has done what they haven't. He's helped lead his squad to the NBA playoffs, and in the tough Western Conference.
Shai is going to need to be presence in the lane for the Clippers. He has an uncanny ability at getting to the basket and also to the free throw line, with the vast majority of his shot attempts coming at close range.
SGA will also need to make sure he takes care of the ball and makes smart passes. There are times he tries to force passes and it leads to turnovers, staying calm and playing under control will be key for the rookie in that aspect. Look for an ample amount of pick-and-roll sets with Shai and Ivica Zubac to help build the rookies confidence in his playmaking abilities.
LANDRY SHAMET
Landry proved himself to be a deadeye shooter from distance. In fact, Shamet finished 11th in the league in three-point percentage at 42.2%. – very impressive for a rookie. Since the trade from Philly to Los Angeles, the Wichita State product has only gotten better on the offensive end managing to increase his scoring average by three points per contest and his three-point percentage by a whopping 5%! The rookie has also raised his rebounding and assist numbers since the trade.
His defense on the perimeter will be vital, especially going against the two-time defending NBA Champion Golden State Warriors. Steph Curry and Klay Thompson are lethal from the perimeter and it would be unfair to expect Shamet to play lockdown defense. Steph and Klay will still be a force for the Warriors but forcing them into tough, contested shot attempts is a good first step.
For more in depth look at each rookies' respective teams and their playoff matchups, follow the links below.
Questions and comments?
thescorecrowsports@gmail.com
Follow Us on Twitter @thescorecrow
Follow Us on Reddit at u/TheScorecrow
Follow Us on Facebook at The Scorecrow
Follow Us on Instagram at The Scorecrow
Follow Troy on Twitter @HoopHead_prod
Main Credit Image: [getty src="1081231898″ width="594″ height="396″ tld="com"]