Dale Money | November 21st, 2018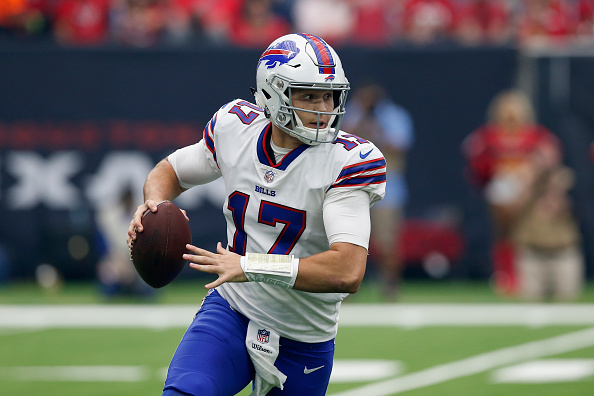 An in-depth look at how the five first round QBs are doing this season and what the future holds for the young signal callers.
Baker Mayfield, Cleveland Browns
Baker Mayfield is changing the face of the Browns, slowly but surely. It all really began Week 3 against the Jets, filling in for an injured Tyrod Taylor.
He seized the opportunity, leading the Cleveland Browns back from a 14-0 hole in the second half, and securing a Brown's win. It was a very monumental moment in their history, first win since 2016, snapping a 19-game winless streak.
After that showing, Mayfield was handed the keys and has not looked back. Going 2-5 as a starter, completing 1,984 yards, 13 touchdowns along with 7 interceptions. He ranks first among rookie signal callers, in touchdown's, yards, completions, and attempts.
Regardless of the hurdles of losing a head coach along with an offensive coordinator, halfway through his first season. The expectation of being the first overall Pick, and resurrecting a Team, that has been in a state of dejection for well over a decade.
Mayfield has still largely played with composure and an improving awareness. Made his share of rookie mistakes, which is to be expected. Forcing passes, holding onto the ball too long, missing open receivers.
But in the past four games, Mayfield has produced for nine touchdowns and just two interceptions. His playmaking on extended plays and ability to deliver accurate passes on the move are attributes he can build upon.
As far as offensive support, Nick Chubb has been good since taking over the starting running back role from Carlos Hyde, scoring three touchdowns in his last four games. including a superb outing last week, that included a 92-yard run. This gives Baker a player he can grow with.
Jarvis Landry is a solid possession receiver, to be truthful though I expected more at this point from him. It had looked like Mayfield and Landry would become a nice combo. However, they haven't meshed for whatever reason. The targets are there but the production has been missing.
Rookie receiver Antonio Callaway should get better as time goes on, ranking third in Browns receiving yards and second in touchdowns.
Does Baker Mayfield have what it takes to be an elite quarterback? That's a question, that won't be learned this season. Give him a couple of years to get his feet under the table, and we can start to get a better picture. At the very least, the Browns can feel relaxed in the fact, they'll have their starting quarterback in 2019. Something quite rare for a franchise that hasn't had a starting quarterback start at least 12 games in back-to-back seasons since Tim Couch.
Sam Darnold, New York Jets
Week 1 against Detroit, Sam Darnold was put right into the starting role, even throwing a pick-six on his first career pass to Quandre Diggs. Darnold had enough mental fortitude to continue to push, finishing with 198 passing yards and 2 touchdowns, leading the Jets to a 48-17 blowout win. After that display, it looked like he may end up having a standout rookie season, that opening week excitement dwindled as the season went along. Darnold has gone through a pretty up and down season until this point, his last game against Miami he threw four picks with no touchdowns. Currently, his record stands at 3-6 with 11 touchdowns and 14 interceptions.
One of the biggest strengths of Darnold's game has been his ability to extend plays with his feet and avoid defenders in the pocket. Which given that he's the seventh most pressured Quarterback in the League, that ability has certainly come in handy.
If there is one main gripe with Darnold, it would be that he doesn't do enough to minimize his turnovers. Not even into Week 11, he leads the league in interceptions. Also, his tendency to rely a little too much on the short passes is a habit he'll need to fix if he's to be successful. Darnold ranks 29th in the NFL in yards per attempt (6.8).
The Jets have a pretty good deep threat in speedster Robby Anderson and their chemistry must be a focus for the offense. Quincy Enunwa and Jermaine Kearse are solid players who fit the West Coast scheme but are just that solid, nothing spectacular.
His turnovers were pretty much a given, just like the flashes of brilliance.as an exciting young Quarterback. Now it's about building momentum in the second half of this season.
If Darnold can learn to cut down on the foolish mistakes and the Jets can work on adding some receiving help in the Draft. He could certainly end up becoming the Quarterback, the NY Jets coveted when they grabbed him 3rd overall.
Josh Allen, Buffalo Bills
Josh Allen while inconsistent, the rookie has shown incredible arm strength and mobility for a player of his size.
Allen is also willing to get hit, and while the hits have come far too often, he's not shied away. What's stood out so far is his potential to be effective on short and intermediate throws to the sideline.
His arm was his most talked about attribute going into the NFL Draft. In six games Allen has produced 832 yards,2 touchdowns, one pick, and a fumble. That shows me a lack of natural ability to reliably protect the football.
Looking at the rest of the Bills offense, 30-year-old LeSean McCoy has been the lone bright spot on the offensive side of the ball for a good while. How much longer can he hold out on those aging legs?. Sooner or later, I'd imagine Chris Ivory will be knocking on the door, as he has already shown some glimpses of potential.
The second-year receiver out of East Carolina, Zay Jones leads the Team in receiving yards and touchdown receptions, he could be a nice weapon going forward. If Jones wasn't already at the top of the depth chart, he's close, especially with Kelvin Benjamin continually proving to be a bust, since the Bills picked him up for a third-round draft pick last year.
Allen was thrown into the starting role far too early in his career and that's on the Bills,they made a huge mistake with the decision to trade Tyrod Taylor without any real set plan to replace the veteran, going with a man in Nathan Peterman, who couldn't even keep the job for more than a week,he was that bad.
They didn't really give the kid, an opportunity to learn the ropes from an experienced vet such as Tyrod, that has had some success with the Bills, and could have given him some time to relax, learn a bit and come in when he was ready.
Allen has missed the past four games with an elbow sprain, an injury he acquired midway through Buffalo's Week 6 loss to the Texans. Returning to limited practice last week. If he is considered fully healthy after the bye, he will most likely be reinserted back into the starting role.
So far, Allen has shown he lacks the consistency and accuracy to match the expectations of a seventh overall draft pick, but I don't want to give up on the young Quarterback just yet, not this early in his career, especially given the injury setback and lack of seasoning,
Just getting through the last 8 games, regrouping for next years draft, should be the main focus at this point.
Josh Rosen, Arizona Cardinals
Falling to tenth in 2018 Draft, Josh Rosen made it known to every team that slept on him, he would make them regret the decision. As they say though, talk is cheap and ill be interested to see how his first few years play out.
His pocket movement is already pretty advanced for a young NFL quarterback, and he capitalizes on this, by continuously keeping his eyes downfield. Has the velocity on his throws to fit balls into tight windows downfield, along with decent escape ability.
There are always things you can improve upon, and Rosen is no exception. Rosen needs to learn to throw the ball away and protect the possession as well as his own body. He also has a tendency to get careless with the football. He'll force balls into coverage or throw blindly at times.
Rosen was backup to Sam Bradford at the start of the year, eventually being thrown into the starting role, very late in Week 3 against the Chicago Bears. Was named the starter for Week 4.
Since then going 2-4 as a rookie starter, passing for 1,280 yards,6 touchdowns, and 8 interceptions. Rosen has been pressured on 38 percent of his dropbacks. The only other Quarterback that has been pressured on a higher scale, has been Deshaun Watson.
As Christian Kirk continues to grow into potentially the successor to Larry Fitzgerald, and David Johnson's role as the Cardinals dual-threat running back is restored. He will reap the benefits. Rosen and this young unit have plenty of things to work out, but I like the potential going forward.
Lamar Jackson, Baltimore Ravens
Lamar Jackson, the dual-threat quarterback out of Louisville has arguably had the most quite rookie year out of the 1st round Quarterbacks. Taken with the 32nd overall pick, is still sitting behind Joe Flacco, patiently biding his time just for his opportunity.
You can imagine, the young man is watching these other young rookie quarterbacks, the hunger is there to get his shot. Although Jackson isn't starting for the Baltimore Ravens, he's still picking up some garbage time snaps, gaining some much needed Pro experience.
Often used in specialty and Wildcat packages to take advantage of his electric athletic skills. Playing running back and receiver in the offense. Jackson's combination of arm strength and athleticism, commands respect from any opposing defense.
Now, Flacco is dealing with an injury. Could it be time for Lamar Jackson to step in, or is Robert Griffin III going to get another shot in the NFL? We'll see this weekend.
Questions and comments?
thescorecrowsports@gmail.com
Follow Us on Twitter @thescorecrow
Follow Us on Reddit at u/TheScorecrow
Follow Dale Money on Twitter @packerd_00
Main Credit Image: [getty src="1052132226″ width="594″ height="396″ tld="com"]