Jacari McRae | February 28th, 2019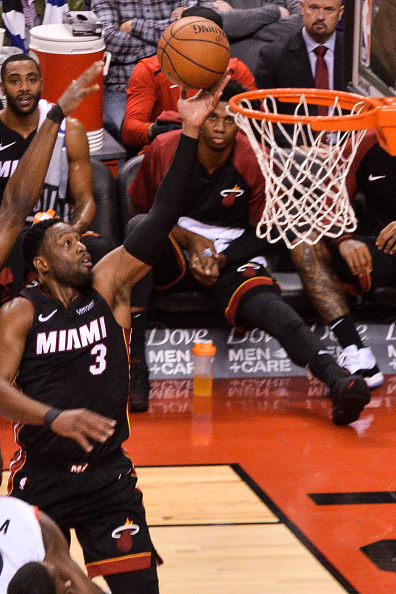 Here are my four takeaways from the Miami Heat's 126-125 win over the Golden State Warriors.
Wade's house
This is indeed Dwyane Wade's house, and he protected it on Wednesday night. In what was a botched possession, Wade banked in an off-balanced three at the buzzer to push the Heat past the  Warriors. The win ended the Heat's six-game losing streak at home.
THIS. IS. HIS. HOUSE!@DwyaneWade called game with his banked-in 3 to lift the @MiamiHeat past the Warriors! What a shot, what a finish, what a man.#HeatCulture #NBA pic.twitter.com/o9ShhgtIES

— Bally Sports Florida & Bally Sports Sun (@BallySportsFL) February 28, 2019
You can add this to a long list of great Wade moments. This was a moment that both the team and the fans needed.
Dragic's huge second quarter
The Heat ended the first half with a season-high 74 points, one shy of tying the franchise's record. And that was thanks to a huge second quarter from Goran Dragic. In his third game off the bench, Dragic scored 20 of his 25 first half points in the second period. The Slovenian hit four of six three-pointers and shot 9 for 9 from the free throw line before halftime.
https://twitter.com/MiamiHEAT/status/1100936362562330630
The point guard's 20-point second quarter set a Heat record for a reserve, as did his 25 first half points.  With the Miami not making a move at the deadline to improve its roster, a healthy Goran Dragic could be a big boost down the stretch.
Bam fills in for Whiteside
The Heat were without starting center Hassan Whiteside for Wednesday's game against the Warriors due to a hip pointer. On the Warriors side, Demarcus Cousins sat out for rest. Heat backup center Bam Adebayo started in place of Whiteside. Adebayo finished the night with a double-double (11 points and 10 rebounds).
Most underrated play of the game. Bam is PHENOMENAL on perimeter defense. pic.twitter.com/ACJj8IqJyU

— ariel (@FIashhhhh) February 28, 2019
While his dunk over Kevin Durant was one of the biggest highlights of the game, Adebayo also took the challenge of guarding Warriors stars Durant and Stephen Curry. His ability to go out and guard the perimeter is one of the reasons why the team is so high on him.
Haslem appearance
With Kelly Olynyk getting his fourth foul in the third quarter and no other available options in the power rotation, Coach Erik Spoelstra inserted Udonis Haslem with two minutes left in the third. It was Haslem's sixth appearance of the season, with his last appearance coming against the Sacramento Kings. Haslem added two rebounds to his franchise-record rebounding totals.
Next up: Heat at Houston Rockets. Game tips off Thursday night at 8pmET
Follow Us on Twitter @thescorecrow
Follow Us on Reddit at u/TheScorecrow
Follow Us on Facebook at The Scorecrow
Follow Us on Instagram at The Scorecrow
Follow Jacari McRae on Twitter @JMcRae23
Main Credit Image: [getty src="1079388444″ width="396″ height="594″ tld="co.uk"]