Mike Fanelli | May 21st, 2019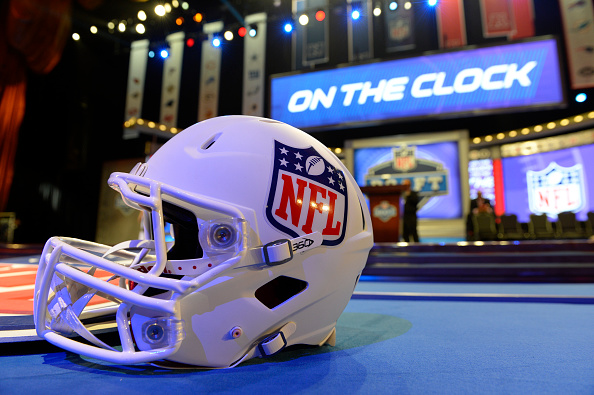 May 3rd was the deadline to pick up the fifth-year options for the 2016 first round picks. Now that it has passed and with three seasons to see how the draft class has played, it's fair to look back and do a re-draft! For the purposes of this re-draft, I'm going to keep all trades in place. As a reminder, there were only 31 first-round picks because as the New England Patriots forfeited theirs as a result of the Deflategate investigation.
Los Angles Rams → Jared Goff (Option picked up)

Re-draft: Goff (Taken 1st overall)
After a bumpy rookie season, Goff bounced back under head coach Sean McVay. During his two seasons with McVay, Goff has led the Rams to 24 wins, while throwing for 60 touchdowns and just 19 interceptions. Goff led the Rams to their first super bowl since 2001 last season. The future is bright and Goff was the correct pick for the Rams.
Philadelphia Eagles → Carson Wentz (Option picked up)

Re-draft: Wentz (Taken 2nd overall)
Some people have jumped off the Wentz wagon after he has suffered season-ending injuries in each of the last two seasons. However, the Eagles still have faith in Wentz as they picked up his option and let Nick Foles leave in free agency. Prior to the injuries, Wentz was playing at an MVP level and hopefully, he can return to that level this season.
Los Angles Chargers → Joey Bosa (Option picked up)

Re-draft: Bosa (Taken 3rd overall)
Until last season where he missed over half the season with an injury, Bosa had registered double-digit sacks every season. Since he stepped on the field as a rookie, Bosa has been viewed as one of the best pass rushers in the league. The pairing of him and Melvin Ingram is one of the best in the league and the Chargers don't regret their selection in the slightest bit.
Dallas Cowboys → Ezekiel Elliott (Option picked up)

Re-draft: Dak Prescott (Taken 135th overall)
Some might wonder why the Cowboys would select Prescott here in a re-draft instead of Ezekiel Elliott but the answer is simple; you can't win without a quarterback. Since entering the league, Prescott has won at least nine games in each season. Elliott might be the better player but running backs with a lot of workload don't hold up during their second contract. With 1,003 touches in his 40 career games (25.1 per game), the Cowboys would be foolish to value Elliott over Prescott.
Jacksonville Jaguars → Jalen Ramsey (Option picked up)

Re-draft: Yannick Ngakoue (Taken 69th overall)
The 2016 draft class was excellent for the Jaguars and while first-round pick Ramsey has been one of the best cornerbacks in the league but he isn't the most important player from the class. Ramsey is a great cornerback but A.J. Bouye has the ability to take over as the number one guy. However, cornerbacks don't have the same impact pass rushers do in the league today. Ngakoue has registered at least eight sacks in each season so far in his career and he will see a big extension coming his way soon.
Baltimore Ravens → Ronnie Stanley (Option picked up)

Re-draft: Stanley (Taken 6th overall)
Since being a top pick in 2016, Stanley has started every game at left tackle for the Ravens. He has done a good job staying healthy, missing just six games during his career. The Ravens have one of the more underrated offensive lines in the league, in large part due to Stanley, protecting Lamar Jackson's blindside.
San Francisco 49ers → DeForest Buckner (Option picked up)

Re-draft: Buckner (Taken 7th overall)
After a quiet first two seasons, Buckner turned into a star last season for the 49ers. The season was a disappointment for 49er fans, but Buckner finished the year with 12 sacks; tied for 14th best in the league. With Dee Ford and first-round pick Nick Bosa creating pressure off the edge, Buckner will see fewer double teams this season.
Tennessee Titans → Jack Conklin (Option declined)

Re-draft: Michael Thomas (Taken 47th overall)
Conklin has struggled with injuries the last few years and while he is a good right tackle, the Titans lack a true number one wide receiver and there aren't many better than Thomas. Since entering the league, Thomas has shown to be an elite wide receiver that can run every route asked of him. He has topped 1,100 receiving yard in each of his three seasons in the league and while Drew Brees throwing to him is a factor, Thomas would still produce well with Marcus Mariota.
Chicago Bears → Leonard Floyd (Option picked up)

Re-draft: Jalen Ramsey (Taken 5th overall)
While Ramsey tends to run his mouth at times and did struggle at times in 2018, he is still a top-five cornerback and would make an already scary Bears defense even more dangerous. Floyd has been a solid player but he has just 15.5 sacks in his career. Last year he had a career-low four sacks despite playing in all 16 games for the first time in his career. Pairing Ramsey with Kyle Fuller would give the bears one of the best cornerback duos in the league.
New York Giants → Eli Apple (Option declined)

Re-draft: Laremy Tunsil (Taken 13th overall)
Apple couldn't hold up in the big apple and was traded to the Saints during last year's trade deadline for a fourth and seventh round picks. After a disappointing stint in New Orleans, the Saints declined his option. Apple has just three interceptions in his career. The Giants' offensive line is a mess and had they drafted Tunsil, they wouldn't have wasted $62 million dollars on Nate Solder last offseason.
Tampa Bay Buccaneers → Vernon Hargreaves (Option picked up)

Re-draft: Ezekiel Elliott (Taken 4th overall)
The Buccaneers' defense has been a mess for years. How much worse would they be without Hargreaves? Not much worse. However, imagine if the Buccaneers' offense had the ability to run the ball? There is still some hope that Ronald Jones turns into a starting caliber running back but he clearly isn't on the same level as Elliott. If the Buccaneers could run the ball and protect their defense, they wouldn't finish last in the division year after year.
New Orleans Saints → Sheldon Rankins (Option picked up)

Re-draft: Rankins (Taken 12th overall)
Prior to suffering a torn Achilles in the playoffs, Rankins was having a career year last season, posting career highs in several categories. His eight sacks ranked second on the team and was doubled his previous career best. The Saints don't have a lot of guys who can rush the pass consistently, but Rankins is one of them, proving he was the correct selection a few years back.
Miami Dolphins → Laremy Tunsil (Option picked up)

Re-draft: Xavien Howard (Taken 38th overall)
Much like the Jaguars, the Dolphins had a really good draft in 2016. Their first-round pick was re-selected a few picks ago, so they take their second-round pick here in the re-draft. Howard recently signed a five-year/$75.25 million dollar extension and is coming off a career year. His seven interceptions last year were a career high and was tied for the league best. If the Dolphins can't re-draft Tunsil, Howard is a great second option.
Oakland Raiders → Karl Joseph (Option declined)

Re-draft: Deion Jones (Taken 52nd overall)
The Raiders signed a couple of free agent linebackers this offseason but Brandon Marshall and Vontaze Burfict aren't long term difference makers. Jones was one of the best value picks from this 2016 draft and the Falcons defense looked totally different with him off the field last year. In 37 career games, Jones has 297 total tackles and 27 passes defended. The Raiders' defense would be decent if they had Jones.
Cleveland Browns → Corey Coleman (Option unavailable)

Re-draft: Jaylon Smith (Taken 34th overall)
Three years ago the Browns were a dumpster fire and now they are the favorites to win the AFC North. While they have had great success in the draft recently, it didn't happen in 2016. Coleman was probably the biggest bust that year as he has been on four teams in his three-year career. While Joe Schobert is a very good middle linebacker, once healthy, Smith has been arguably the best linebacker in the league.
Detroit Lions → Taylor Decker (Option picked up)

Re-draft: Decker (Taken 16th overall)
In no way has the Lions' offensive line been elite over the past few years but Decker has been solid. Decker has started every game he's played in during his three-year career and has played in all 16 games twice. Drafting Matthew Stafford's blindside protector was the right move in 2016 and is the right move in this re-draft.
Atlanta Falcons → Keanu Neal (Option picked up)

Re-draft: Neal (Taken 17th overall)
Last season really showed how valuable Neal is to the Falcons defense. In 2017, he was selected to the Pro Bowl and had 113 total tackles. Last season, Neal suffered a season-ending knee injury in the season opener and the defense was never the same. Many questioned this selection in 2016 but Neal has developed into one of the better safeties in the league.
Indianapolis Colts → Ryan Kelly (Option picked up)

Re-draft: Cody Whitehair (Taken 56th overall)
The Colts didn't make a bad pick here as Kelly is coming off a career year. However, they should have drafted Whitehair instead. Kelly has missed 13 games in three years while Whitehair has started all 48 career games. Whitehair has the ability to play guard or center as well. Grabbing an offensive lineman was the right move for the Colts but in this re-draft, they grab a healthier player.
Buffalo Bills → Shaq Lawson (Option declined)

Re-draft: Tyreek Hill (Taken 165th overall)
Yes, Hill's playing future is in doubt but assuming he plays this season, the Bills would love to have him on their roster. First off they wouldn't have had to pay John Brown $27 million dollars this offseason. Second, it would give Josh Allen a true number one wide receiver with the ability to make plays downfield and take advantage of Allen's arm strength. Meanwhile, Lawson has just 10 career sacks.
New York Jets → Darron Lee (Option declined)

Re-draft: Ryan Kelly (Taken 18th overall)
Recently the Jets traded Lee to the Chiefs for a sixth-round pick so obviously, this pick was a poor one. However, let's focus on the positives for the Jets; their offensive line needs a lot of work. Maybe that wasn't positive but it's true. They traded for Kelechi Osemele in the offseason and spent a third-round pick on Chuma Edoga, but the center spot could easily be upgraded. Kelly is coming off a career year and would be the perfect guy to keep pressure out of Sam Darnold's face.
Houston Texans → Will Fuller (Option picked up)

Re-draft: Hunter Henry (Taken 35th overall)
Over the last two drafts, the Texans have spent three picks on tight ends; however, if they had drafted Henry back in 2016, they wouldn't have that issue. Fuller is a good wide receiver when he is on the field, the problem is his health. Fuller has missed 35% of his career games because of injuries. DeAndre Hopkins can't catch every pass and with Henry, he wouldn't need to.
Washington Redskins → Josh Doctson (Option declined)

Re-draft: Kevin Byard (Taken 64th overall)
During the 2019 NFL draft, the Redskins spent two picks on wide receivers, which signaled the Redskins declining Doctson's fifth-year option. Injuries and inconsistent quarterback play have slowed his development but he never should have been a first-round pick. Meanwhile, the Redskins have built a really good defense except for the free safety spot. Over his last two seasons, Byard has 12 interceptions, including a league-high eight in 2017 and clearly would have made more of an impact than Doctson.
Minnesota Vikings → Laquon Treadwell (Option declined)

Re-draft: Joe Thuney (Taken 78th overall)
Speaking of disappointing wide receivers, Treadwell was passed on the depth chart by a former fifth-round pick (Stefon Diggs) and an undrafted free agent (Adam Thielen). Both guys have become Pro Bowl wide receivers while Treadwell has just one touchdown in 40 career games. The Vikings' offensive line really struggled last year and had they drafted Thuney, Kirk Cousins would have been better protected.
Cincinnati Bengals → Williams Jackson (Option picked up)

Re-draft: Jackson (Taken 24th overall)
After missing his rookie season because of injury, Jackson has developed into a very good cornerback. Over the last two seasons, he has 27 passes defended despite not being thrown at very often. In a division filled with wide receivers like JuJu Smith-Schuster, Jarvis Landry, Odell Beckham, Jackson might the Bengals most important player on defense.
Pittsburgh Steelers → Artie Burns (Option declined)

Re-draft: Jack Conklin (Taken 8th overall)
The cornerback spot has been an issue for the Steelers for years and Burns has been a big part of the problem. The decision to decline his fifth-year option was a simple one. Instead, the Steelers should have drafted Conklin as he would be their current starting right tackle. Earlier in the offseason, they traded Marcus Gilbert to the Cardinals because he has struggled with injuries the past few seasons. Conklin has had an up and down career but is still a starting caliber right tackle.
Denver Broncos → Paxton Lynch (Option unavailable)

Re-draft: Kenny Clark (Taken 27th overall)
John Elway screwed up another quarterback pick; surprise, surprise. Lynch is one of the biggest busts from this draft class as the Broncos released him last preseason and he is currently fighting for a roster spot on the Seahawks. Instead of wasting the pick on a statue disgusted as a quarterback, Elway should have taken Clark. Last season, Clark has a career-high six sacks and image what he could do with Bradley Chubb and Von Miller coming off the edge.
Green Bay Packers → Kenny Clark (Option picked up)

Re-draft: Myles Jack (Taken 36th overall)
The Packers would love to take Clark again with this pick but with him off the board they turn to the do it all linebacker. Jack slide in the draft because of concerns about the health of his knee; however, he hasn't missed a game in his career. While Blake Martinez is a solid starter, Jack would easily be an upgrade over Oren Burks at linebacker.
San Francisco 49ers → Joshua Garnett (Option declined)

Re-draft: Alex Lewis (Taken 130th overall)
Another example of taking the right position but the wrong guy. The 49ers made the smart move to trade back into the first round and grab an offensive lineman but selected the wrong one. Garnett is currently on the second team and has struggled as the starter. Meanwhile, Lewis has been one of the better offensive linemen for the Ravens and has the ability to play guard or tackle.
Arizona Cardinals → Robert Nkemdiche (Option declined)

Re-draft: Matt Judon (Taken 146th overall)
Remember when people said the Cardinals got the steal of the draft in Nkemdiche? Well, that didn't age well. Nkemdiche has missed 44% of his career games and has just 4.5 sacks, all of which came last season. Meanwhile, Judon has put up back-to-back seasons of seven or more sacks, which allowed the Ravens to let Terrell Suggs sign with ironically with the Cardinals this offseason.
Carolina Panthers → Vernon Butler (Option declined)

Re-draft: Graham Glasgow (Taken 95th overall)
Many questioned the Butler selection when it happened in 2016 as the Panthers had spent a first and second round pick on defensive tackles a few years earlier. It became clear the Panthers didn't trust Butler as a starter when they signed Dontari Poe before the start of last season. Instead, the Panthers should have taken Glasgow as he could play guard or center and would have replaced Andrew Norwell at left guard last season.
Seattle Seahawks → Germain Ifedi (Option declined)

Re-draft: Jarran Reed (Taken 49th overall)
The Seahawks' offensive line has been an issue for years and part of the mess has been Ifedi's struggled at right tackle. While the Seahawks would like to take a better offensive lineman with this pick in the re-draft, they instead decide to lock down their excellent second-round pick, Reed. Last season, Reed finished second on the team with 10.5 sacks; also a career high.
After three seasons the draft class has shown several pro bowl caliber talents and a number of busts already. Only 15 of the original 31 first-round picks were re-selected in this re-draft. The Cowboys, Jaguars, and Ravens tied with the most players selected in the re-draft with three each. Meanwhile, there were 13 teams with zero players selected in the re-draft. If you loved or hated your team's first-round pick this year, just remember only about half pan out three years from now.
Questions and comments?
thescorecrowsports@gmail.com
Follow Us on Twitter @thescorecrow
Follow Us on Reddit at u/TheScorecrow
Follow Us on Facebook at The Scorecrow
Follow Us on Instagram at The Scorecrow
Follow Mike Fanelli on Twitter @Mike_NFL2
Main Image Credit:
[getty src="579070140″ width="594″ height="395″ tld="com"]