Smith Brickner | February 1st, 2019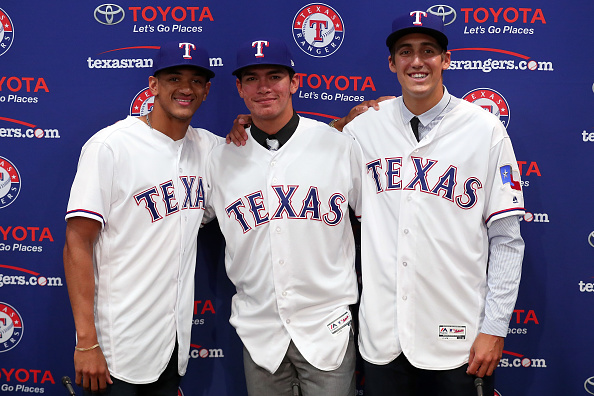 There are teams like the San Diego Padres and Atlanta Braves that have dedicated years of losing to rebuilding their farm systems. Then there are other teams who have unheralded minor league systems featuring quality talent. As I began delving into the Texas Rangers, I realized this was the predicament they were in. Not a single major publication has the Rangers within their top-5 minor league systems, but nevertheless, they credit the organization for acquiring and developing solid amateur talent.
In years past, Texas has developed quality homegrown position players like Joey Gallo, Rougned Odor, and Nomar Mazara, but that's come with so-so pitching. However, Texas has recently begun flipping the script and has placed a large emphasis on developing pitching through the draft: they've continued utilizing the international marketplace to sign some of the best bats available. In my opinion, this is a smart philosophy to follow, as pitching prospects are more unpredictable than hitters. Drafting pitchers who are at least 2 years more developed than international pitchers make them a little easier to project.
Despite what I believe, various midseason updates and early offseason rankings pegged the Rangers' farm system anywhere from 17th-23rd in baseball. I'm a bit higher on their system than most, ranking them 15th.
So without further adieu, here's a look at Texas' top 5 prospects:
---
Height: 6'4″
Weight" 185 lbs.
Fastball: 70/70
Curveball: 60/70
Changeup: 40/50
Command: 40/45
Future Value/Risk: 55, High Risk
All throughout his high school career, Crouse excelled for Team USA (he pitched and won the U-18 Pan-American gold medal game against Cuba in 2016), as well as on the showcase circuit. So much so, the Rangers drafted him in the 2nd round of the 2017 draft and signed him to an over-slot bonus of $1.45 million.
Crouse, 20, has always had a lively fastball, sitting around 93-96 and touching 100 when he's feeling good. In 2018, he really focused on throwing his heater in all quadrants of the zone, something he eventually did with regularity towards the end of the season. His curveball is more of a slurve, but it's nonetheless a plus pitch due to its great movement and comparable arm action to his fastball. It could potentially become a plus-plus pitch if he can locate it a little better. His changeup is well behind the other two pitches because he struggles to locate it and doesn't generate enough velocity separation from his heater, but he hasn't used it very much (and truthfully hasn't needed to so far). With repetition, it's plausible to suggest it could become an average offering.
Because Crouse is still learning to throw his breaking ball and off-speed pitch for strikes, his command currently grades out as below-average. Even with development time, scouts are uncertain how much his command will improve thanks to the violent motion of his delivery: Crouse is known for a "head whack," meaning his head is constantly moving as he releases the pitch. Now, that's not to say he can't succeed with a head whack, as several major leaguers have excelled despite a head whack, but it gives pause to scouts from projecting him as a for-sure frontline starter.
Outlook: He has the potential to be a frontline starter, but he raises large red flags for some evaluators. Such concerns have led to such evaluators pegging him for multi-inning relief duties. Alas, that's a wide range of possible outcomes for Crouse, making him one of the most debated pitching prospects in baseball. Granted, he's several years away and is still young, so he has time to prove the critics wrong. ETA: 2021
---
Height: 6'2″
Weight: 190 lbs.
Fastball: 60/65
Curveball: 55/60
Slider: 55/60
Changeup: 50/55
Command: 50/55
Future Value/Risk: 55, Moderate Risk
Winn was so dominant at his Colorado high school, he won the state's Gatorade Player of the Year award… as a junior. The following year, he transferred to Orange Lutheran High School in California to face better competition. That decision paid big dividends for him, as he netted $3.1 million after getting selected 15th overall last year. Winn, like several other pitchers Texas signed in 2018, didn't pitch in the regular season in order to preserve his workload.
While Crouse might have the edge in upside, Winn is the more predictable arm because of his repeatable delivery and knack for throwing strikes with all 4 of his pitches. Winn's best pitch is his fastball, which comfortably sits 92-96 and can touch 97 when he's on. Not far behind, however, is his 12-6 curveball, a curveball which some evaluators felt was the 2nd best in the entire draft class, trailing only Carter Stewart's all-world one.
His slider and changeup are behind his heater and curve, but that's because he didn't need to use either pitch before his pro debut. Both pitches show good life, giving scouts the belief that both can become above-average offerings in time.
Outlook: Truth be told, Winn could be first on this list, but I just couldn't give him that distinction since he hasn't thrown a single regular season pitch. His clean mechanics, his strike-throwing ability, and his strong 4 pitch arsenal make him one of the safer bets amongst all minor league arms. Don't be surprised if he rises quickly through the system and realizes his middle-of-the-rotation upside. ETA: 2021
---
Height: 6'2″
Weight: 186 lbs.
Hitting: 30/50
Game Power: 35/50
Raw Power: 55/55
Speed: 70/70
Fielding: 45/60
Arm: 60/60
Future Value/Risk: 55, High Risk
Thompson was not only a highly touted baseball prospect in high school, but he was also a state championship-winning quarterback who displayed incredible athleticism. His multi-sport status made him a bit unpredictable compared to his draft-eligible peers, but it didn't scare the Rangers from drafting him 26th overall in the 2017 draft, signing him for $2.1 million.
Thompson fits the mold of previously drafted Rangers position prospects: athletically gifted but incredibly raw. While his athleticism was never in doubt, there was uncertainty about how his bat would translate into pro ball. Thompson eased some of those concerns with a very strong showing in Single-A Hickory last season, posting a 123 wRC+ against older competition. He does strike out quite a bit because of below-average pitch recognition on breaking balls (28.7% strikeout rate). He's also pretty pull-heavy with his power, but both those elements could improve as he accrues more plate appearances. Thompson's strong wrists generate plenty of bat speed, allowing him to really impact the ball.
As athletic as he is, Thompson is still a work in progress defensively. There's no doubt he has the necessary speed, arm and range to man center – his 70-grade speed is supported by his 32 steals – but his reads are currently subpar. But similar to his pitch recognition woes, improved reads will probably come with time as he gains more reps.
Outlook: I'm very high on Thompson because he's already begun translating some of his big upside into results. I believe that at full maturation, he has 4 above-average tools at his disposal, maybe 5 if he makes gains in the contact department. Still, Thompson is at least another year away, if not two years from contributing and will probably begin the year in High-A. ETA: 2021
---
Height: 6'1″
Weight: 190 lbs.
Hitting: 35/55
Game Power: 25/40
Raw Power: 55/55
Speed: 60/60
Fielding: 60/60
Arm: 55/55
Future Value/Risk: 50, High Risk
Taveras has baseball blood in him: he's the cousin of former stolen base king Willy Taveras. Signed as a top international prospect in the 2015-16 signing period for $2.1 million, the Rangers have been aggressive with his promotions, often pitting him against much older competition. Consequently, Taveras' underwhelming stats have not scared scouts away, though there are more concerns about his game than in previous years.
Taveras, a switch hitter, combines good bat speed with a smooth swing from both sides. Additionally, he doesn't whiff much and he sprays the ball around the field. But even as he's matured throughout his career, it hasn't translated to in-game power. Through 2018, he has 14 homers in 1490 plate appearances or 106 plate appearances per homer. If Taveras is to regain some of the luster he's lost, he must make gains in this department, regardless of what level he starts in 2019.
The bat might not be where scouts had hoped, but there are no such complaints about his base-running and fielding skills. Some were initially worried that he'd have to move to a corner outfield spot once he was physically matured, but he's showed no signs of slowing down. In fact, I've heard he's gotten a little quicker since his pro debut. Even if a move to a corner spot was required, he'd have all the ingredients to play Gold-Glove defense there.
Outlook: I tend to give Taveras the benefit of the doubt because he's consistently played against older competition. Having said that, the concerns about his power output are real. If he continues to struggle with the bat, don't be surprised if Texas makes him hit left-handed full-time. The speedy outfielder had a 2020 ETA last year, but he has enough work ahead of him where that timeline has been pushed back a year. ETA: 2021
---
Height: 5'10"
Weight: 180 lbs.
Hitting: 40/55
Game Power: 30/40
Raw Power: 50/50
Speed: 65/65
Field: 55/55
Arm: 45/45
Future Value/Risk: 50, Moderate-High Risk
After the Rangers whiffed on two-way star Shohei Ohtani, they wheeled-and-dealed and acquired international bonus money to sign Martinez for $2.8 million. At 22 years old, Martinez was one of the oldest players to start the season in the Dominican Summer League, though that was to get his timing back and had nothing to do with his lack of development. He soon was promoted to Low-A Spokane, where he enjoyed a solid campaign. More recently, he participated in the Arizona Fall League and impressed scouts, slashing .327/.397/.519 in 58 plate appearances.
Martinez, a Cuban native, doesn't have multiple standout tools at his disposal, but his well-rounded game could make him an intriguing major leaguer. Offensively, he has strong hands which generate good bat speed, but he's got a thin build and – like Taveras – doesn't generate much loft in his swing, resulting in below-average homer output. In his prime, perhaps he could hit 10-15 homers, but most of his power will translate gap-to-gap. Complimenting that gap-to-gap power is his plus-plus speed. Simply put, Martinez can fly. His speed is the one plus-plus tool in his toolbox.
Martinez is able to maximize his speed in center thanks to his strong reads. But besides his speed and reads, Martinez has fringy arm strength which could become a liability if he were to move to a corner spot. Overall, Martinez is an above-average defender in center who would become average or below-average in a corner spot. Whether he plays center or a corner spot depends on how much he physically matures. Considering he's already 22, however, it's debatable how much growth he has left.
Outlook: Already 22, Martinez is at least a couple years away from contributing at the big league level. That said, he has the ability to contribute in several ways, not making him reliant on any one tool developing. ETA: 2021
Check out the rest of our Top-5 Prospect Series | Toronto Blue Jays | Colorado Rockies | Minnesota Twins | Chicago Cubs | Atlanta Braves
Questions and comments?
thescorecrowsports@gmail.com
Follow Us on Twitter @thescorecrow
Follow Us on Reddit at u/TheScorecrow
Follow Smith Brickner on Twitter @SmithBrickner
Main Credit Image: [getty src="696738348″ width="594″ height="396″ tld="com"]