Zach Gotlieb | April 29th, 2019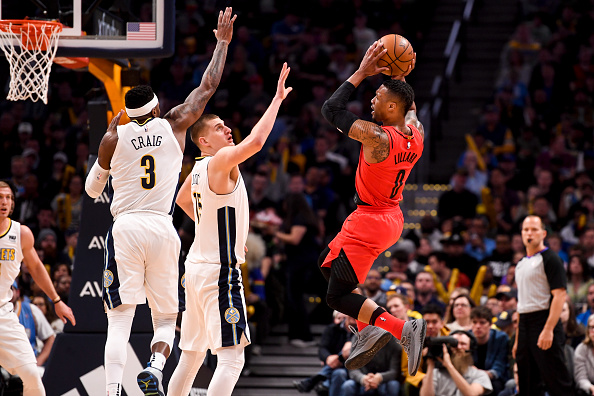 Two teams that continue to surprise from the beginning of the season even to now as we get into the Western Conference Semifinals are facing off in the second round of the Western Conference Playoffs. The Nuggets find themselves in a place the franchise hasn't been in a decade, the second round. It wasn't a pretty series, but they now have the playoff experience that they lacked after going seven games and getting past the San Antonio Spurs. The Portland Trail Blazers are another team that is seeming to get hot at the right time. Damian Lillard is looking nearly unstoppable – watch his game five buzzer beater over Paul George to win the series against the Oklahoma City Thunder if you need an example. CJ McCollum is healthy and playing well. Those two playing well together is making them one of the most dangerous backcourt duos in the league today. These two teams are divisional rivals and always play competitive and spirited games every time the two teams are on the court. Here's what to expect in this matchup of the Western Conference Semifinals.
Denver Nuggets:
Overall: The Denver Nuggets have not been to the second round of the playoffs since 2009 when they made a run to the Western Conference Finals. For the sake of other history in Denver, this is the first time ever that the Nuggets and Colorado Avalanche (NHL) have been to the second round of the playoffs in the same year. That means the Pepsi Center is going to be rocking for NBA and NHL playoffs every night from Monday-Thursday. Sorry, back to the Nuggets. This season has been remarkable, going from losing on game 82 to miss the playoffs last season all the way up to second seed in the superior Western Conference. All of that is despite having one of the youngest rosters in the league and leading the league in games lost due to injury, missing at least one starter for over 60 games this season. The fear of Denver's lack of playoff experience is no longer an issue. While they showed some nerves, especially in game one, this team now knows what it takes to win in the playoffs. Now, their big worry is lack of consistency. Jamal Murray is the ultimate lightswitch player. The three-point shooting seemed to be different night to night. The defensive intensity seemed to fluctuate from game to game and quarter to quarter sometimes. If Denver wants any hope for winning this series, they must find a way to find some consistency in their shooting and defensive effort.
Key Players: Nikola Jokic. The Joker. What an incredible first playoff series he had coming one assist shy of averaging a triple-double for the first round while having two games in which he had a triple-double in two games this series which hasn't been done since LeBron James. He joined Magic Johnson and James as the only players in NBA history with multiple triple-doubles in their first postseason. He showed sheer dominance on the offensive end, having those two triple-doubles and a 43 point game that gave him the franchise record for points in a playoff game. Portland, like San Antonio, doesn't really have a guy to defend Nikola Jokic. When Jusuf Nurkic went down, they lost their Joker defender, and Enes Kanter just isn't that guy defensively, giving up 22-13-9 to Nikola a little less than a month ago. Joker is gonna continue to do Joker things on offense, the question is if he can keep up the same defensive effort and energy that he played with while guarding LaMarcus Aldridge in round one.
Gary Harris/Torrey Craig: They may just be the two most important players for the Nuggets in this series because they are the defenders. In round one, head coach Mike Malone made a change to the starting lineup by putting in Torrey Craig and taking out Will Barton for defensive purposes. Gary and Craig at worst slowed down the threats of DeMar DeRozan and up and coming guard Derrick White. Both players played very very well and posed significant threats, but they just aren't in the same league as Lillard and McCollum. If I had to guess, Harris will start on Lillard and Craig on McCollum, but that may change. Lillard is a special kind of hot right now and minimizing the easy shots, and uncontested shots he gets has to be the focus of the Nuggets defense. I mean, my game plan is to let Lillard do whatever and stop everyone else, but even that wouldn't stop Lillard at this rate. This series is going to be crucial for defenses on both teams to execute as both teams have extremely potent offenses. For the Nuggets, it starts with Gary Harris and Torrey Craig.
Jamal Murray: I've been saying it time and time again, this team can beat anyone if Jamal Murray is on his game. The proof is that in the four wins Denver had Murray scored 20+ points, including a huge 21 point 4th quarter in game two that sealed the victory and what local media deemed to be the Nuggets season. However, he scored less than 20 in the three losses, and the difference in the offense as a whole was noticeable. Jokic will get his, obviously, but Jamal Murray is going to be the guy that puts this team over the top. He is the "x-factor" and playing like the second best player on the team is absolutely imperative if Denver wants any chance to win this series. He's built for big games and big moments, so don't expect to see Jamal stand down to Damian Lillard, actually, I'd expect the contrary. Murray is a competitor, and he is going to do everything he can to give Dame a run for his money.
The bottom line: Denver has the talent to match up with just about any team in the league, they now have the playoff experience to go with the talent. As was the key to beating the Spurs, if the Nuggets stick to their style of play, which is predicated on ball movement and player movement, they can win this series. It's gonna be dependant on if Murray can be the "Blue Arrow" and not the dud arrow, Nikola Jokic doing Joker things, and the defense continuing to be solid and strong while doing whatever they can to at least slow down arguably one of the hottest players in the NBA.
Portland Trail Blazers
Overall: I've always been on the train that has been yelling that Damian Lillard is underrated. He's finally showing everyone what he is truly made of and just how good of a player he is. He's shooting from "Steph range" consistently, going 4-6 on shots 30 feet or longer in the series-clinching game five, in which he scored 50 points. The thing about Lillard going ballistic is that his backcourt running mate CJ McCollum gets lost in the shuffle despite being an upper echelon shooting guard who's also playing really well. It's a travesty that he hasn't made an all-star game yet because he definitely plays like an all-star. He averaged just under 25 points per game in the first round, but Lillard averaged 33 to overshadow that. While those two are playing at an extremely high level, there is one problem, it's the loss of Jusuf Nurkic. He went down with a gruesome leg injury on March 25, and it has left a void that isn't easily filled. After getting swept in the first round last year, they've already remedied the failure of last season. After making the playoffs five years in a row, this team definitely has playoff experience and a Damian Lillard that is scolding hot right now. This team is legit and could give any team a run for their money and even beat most teams.
Key Players: Damian Lillard of course. He has to stay hot. There's not much else to it. If he can continue to hit shots and continue being the Lillard that everyone knows and loves, Portland has a real chance. He went up against DPOY candidate Paul George and managed to average 33 points per game, with an explosion of 50 in game five. Dame is likely going to be defended by the Nuggets two best wing defenders Gary Harris or Torrey Craig, who are excellent defenders in their own way. Craig has managed to stop Russell Westbrook twice this year while helping to staunch the bleeding in the last series with DeRozan and D-White going crazy. He uses his size and impressive defensive IQ while Gary Harris is a little undersized but has quickness and very good/quick hands. Both pose a challenge that differs from Paul George, and he'll just have to keep doing what he's been doing regardless of who is guarding him. If Portland is going to win this series, they'll have to be carried by the explosion of Damian Lillard.
Enes Kanter is going to be super important in this series. Offensively, he's very skilled. He is physical and tends to be able to have his way around the basket. The expectation is that he will continue to do that. Where the question lies and what's going to make him so valuable is on defense. At best, he's a mediocre defender, and he's going up against arguably the most dominant big man of the playoffs this year in Nikola Jokic. Kanter can put up 25 and 15 rebounds, but he's going to be tested on defense with a guy like Jokic who can score from seemingly anywhere and showing different moves in the post that differ from last moves we've all seen. This does not mean he has to block every shot or even any shots, he just has to make life difficult on Jokic by being physical with him and contesting every shot. If he can become a pest on defense, the Blazers can have a very real possibility of knocking off the 2 seed.
I'll just summarize it as the bench. Denver hosts one of the deepest benches in the league as well as one of the most productive benches in the NBA this year. Monte Morris and Malik Beasley are dangerous from everywhere and seemingly just make the right play almost every time. Mason Plumlee is a starter on at worst a handful of teams. Portland is going to have to get production, at least defensively, while Dame and McCollum are getting rest to keep the Nuggets from pulling away just with the second unit. Jake Layman had a career shooting year shooting over 50% for the first time, and he played well against Denver back in early April when he went for 15 points going 3-5 from 3. Zach Collins has a significant role to fill with Nurkic out, and he's gonna have his hands full with Mason Plumlee who is a physical player on both ends. He and Kanter together are gonna have to try and get production against two very good centers. The Nuggets bench is dangerous, the Blazers bench is gonna have to keep them in check to help the Blazers keep this to the starters where Lillard can take over.
Bottom line: This is a very good Portland team that has the makeup and resume to show that they are legit contenders. If Portland can continue to rely on Lillard to stay hot and McCollum to stay hot, the Trail Blazers are looking like they could win it, but if they can't keep Nikola Jokic in check, this series is going to be very very tough and may end up being the difference.
Series Prediction: This is going to be very close, and I expect each game to come down to the wire. The regular season doesn't account for everything, but Denver did win three of the four matchups, while the one loss was while resting Jokic, Murray, and Harris and seemed to intentionally lose. Take that with a grain of salt because it is the playoffs and everything seems to be raised another level. I've got Denver in seven games, and Nikola Jokic is going to continue his dominance against a subpar defender in Enes Kanter. This prediction is contingent on Jamal Murray getting/staying hot for four games and being the energy this team has shown that they need to win games.
Questions and comments?
thescorecrowsports@gmail.com
Follow Us on Twitter @thescorecrow
Follow Us on Reddit at u/TheScorecrow
Follow Us on Facebook at The Scorecrow
Follow Us on Instagram at The Scorecrow
Follow Zach Gotlieb on Twitter @zachgotlieb
Main Credit Image: [getty src="943981566″ width="594″ height="396″ tld="com"]