Coach Treal | February 28th, 2019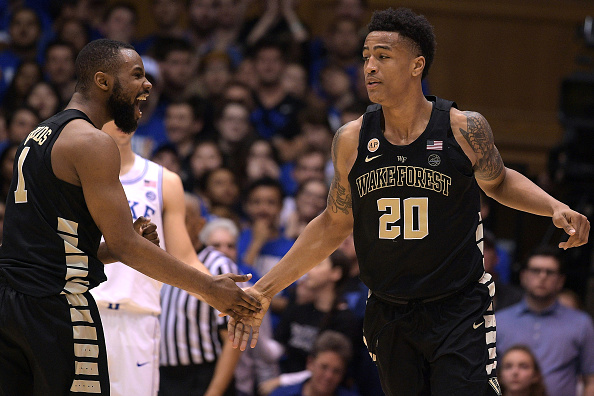 It is hard to have a time frame on when a player is showing you something more than they did the previous season or previous game. Second-year Atlanta Hawks Forward John Collins has done just that with his play in his sophomore season. His hard work and improvements haven't gone unnoticed as he was selected to take part in the NBA Rising Stars Challenge Game and made his debut in the Slam Dunk Contest as part of the All-Star weekend.
His success this season doesn't come as a shock to anyone who has watched him play. He made All-Rookie second team last season after posting 10 points per game along with seven rebounds and one block a night, all while being very efficient, shooting the basketball at 57% from the field.  This season started off rocky for John as he missed action with a left ankle injury. But once he was cleared and got back on the court he picked up right where he left off, showing improvements in his game in all areas.
His play this season hasn't just been one-sided as he has shown a better understanding of rebounding now in his second season. He currently ranks 15th overall in offensive rebounds with a total of 160. That is a huge number and means those are extra possessions for his team on the offensive end of the floor. As the season continues to play out I would like to see him make his way up the overall rebounding list and see his average improve before the season is out. He has all the physical tools and athleticism to be an elite rebounder in the association.
This season John is posting a near double-double with 19 points and 9.5 rebounds per game. He has increased his double-double total from last season, posting 22 this year after the 11 he managed as a rookie.  He has made his impact felt when the Hawks have been victorious this season, as his numbers in the Hawks 15 wins so far jump to 22 points and 10 rebounds per game, while shooting 62% from the field. The chemistry between JC and Point Guard Trae Young has been noticeable since they have taken the floor together and looks to be the building blocks for the Hawks moving into the future. The next area of improvement for Collins' game seems to be becoming a more consistent three-point shooter. Him being able to be a respectable shooter will open up the floor and driving lanes for Young who can then finish at the rim or draw defenders and find his shooters for clean looks.
Check Out Other Players in Coach's Spotlight Series | Domantas Sabonis | Spencer Dinwiddie | Montrezl Harrell | Tobias Harris | Buddy Hield | Pascal Siakam | Julius Randle | Nikola Vucevic
Questions and comments?
thescorecrowsports@gmail.com
Follow Us on Twitter @thescorecrow
Follow Us on Reddit at TheScorecrow
Follow Coach Treal on Twitter @CoachTreal2
Main Credit Image: [getty src="642679298″ width="594″ height="396″ tld="co.uk"