Levon Satamian| May 2nd, 2019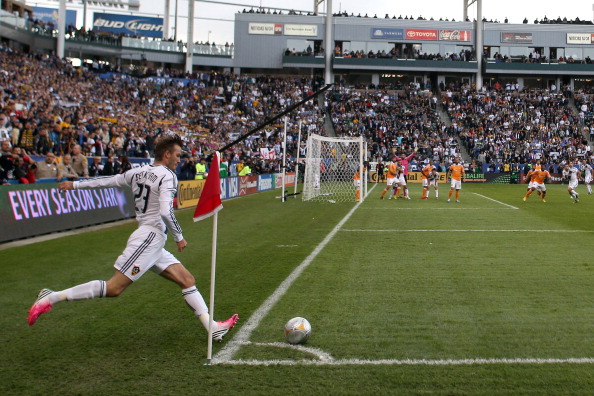 David Beckham revolutionized the game of soccer in America.
David Beckham changed Major League Soccer for the good of the league and the enjoyment of the fans. Beckham joined the LA Galaxy in 2007. He signed a whopping five-year, $168M deal with LA. At the time, besides Kobe Bryant, there wasn't that other star-studded talent in LA, besides Nomar Garciaparra and Landon Donovan, but Donovan was not as known as Beckham whatsoever. So, this was a change in culture for LA, and the Galaxy as a franchise and fanbase. Beckham was the biggest MLS signing since Pelé, Johan Cruyff, George Best, and Franz Beckenbauer.
Then-Galaxy general manager Alexi Lalas had high praise for Beckham. Lalas said, "One of the interesting things that I think people are going to see, is first off, the attention he's going to bring to the sport and to American soccer. People are going to see the quality that exists over here, and I fully recognize that many people over in England don't have a grasp of what's going on with major league soccer on or off the field. But the fact is that we have competitive teams, competitive individual players and an outstanding and growing league. It's not that we can't get better and I would put our teams up against some Premiership teams in a second."
AEG president Timothy J. Leiweke said "David Beckham will have a greater impact on soccer in America than any athlete has ever had on a sport globally. David is truly the only individual that can build the 'bridge' between soccer in America and the rest of the world."
Coming to LA, the fans had high hopes for Beckham and high standards, for him and Donovan to deliver MLS Cup Championships to the City of LA. The Galaxy won two championships in the Beckham-era, in 2011 and 2012, back-to-back seasons. However, there was some conflict within the team. David Beckham and Landon Donovan were not on the same page during the 2009 season. Donovan had an outstanding performance during the Confederations Cup. Coming off that performance, Donovan questioned Beckham's leadership, commitment, and motivation for playing soccer in the United States.
The day after the MLS season finished, Beckham agreed to a loan with AC Milan. Donovan was bothered by Beckham's commitment. Donovan said, "When David first came, I believed he was committed to what he was doing. I can't think of another guy where I'd say he wasn't a good team-mate, he didn't give everything through all this, he didn't still care," Donovan said. "But with (Beckham), I'd say no, he wasn't committed." Beckham went to AC Milan on loan, and he was set to return ten months later. When Beckham returned, the question was, how would Donovan and Beckham co-exist? Two of the biggest names in American soccer must have had found a way to co-exist. Donovan said, "Let's say he does stay here three more years," I'm not going to spend the next three years of my life doing it this way." He said, "I don't want to have soccer be this way." A month after Beckham returned to LA, the Galaxy had a friendly game against one of the world's most premier soccer teams, FC Barcelona. It was a packed crowd of 73,000 people at the Rose Bowl. I was one of the few people wearing a David Beckham jersey, and the first 44 minutes of the game, every time Beckham touched the ball, all you heard in the stadium were boos. In the 45th minute plus stoppage time, LA had a free-kick, Beckham was known for his ridiculous goals from free-kicks, people started calling his free-kicks, "Bend it like Beckham," because of his ability to bend the ball passed the line of defense and the goal-keeper. So, Beckham winded up for the free-kick and scored, to tie the game at one apiece, going into halftime. After that moment, the boo's stopped, and nothing but cheers broke out at the Rose Bowl.
After that, Donovan and Beckham were able to co-exist and bring LA two championships in back-to-back seasons. It was great to see two of my favorite MLS players working together, and when determined, there was no stopping them, winning championships, and conquering the MLS at the time.
Now, David Beckham is expanding the MLS by announcing an expansion team, in Miami. Beckham said that he hopes the team will be able to start playing in 2020 and the stadium will be built by 2021. Before Beckham formulates this team, there are still some obstacles to climb past. Many people are speculating Beckham will try landing one of the biggest names in sports, Cristiano Ronaldo. It remains to be seen when this team will be formulated, but once it is, the MLS will continue its rampant growth.
Throughout his career, he played with Manchester United, Real Madrid, LA Galaxy, AC Milan, Paris Saint Germain, and the England men's national team. David Beckham will always be known as revolutionizing American soccer, one of the players that made soccer popular, fun to watch, and highly competitive.
Questions and comments?
thescorecrowsports@gmail.com
Follow Us on Twitter @thescorecrow
Follow Us on Reddit at u/TheScorecrow
Follow Us on Facebook at The Scorecrow
Follow Us on Instagram at The Scorecrow
Follow Levon Satamian on Twitter @TheSportsNotes
Main Image Credit: [getty src="157460857″ width="594″ height="396″ tld="com"]