Givanni Damico | September 2nd, 2018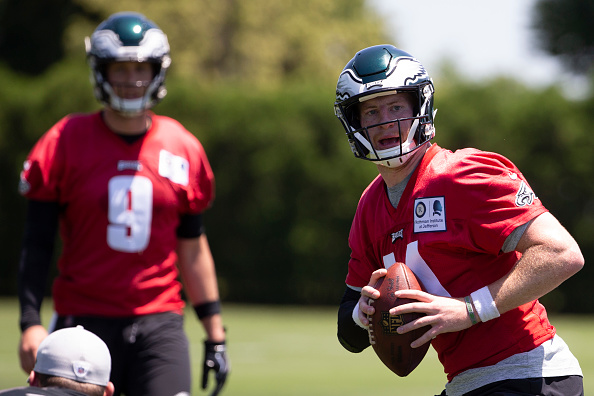 The Philadelphia Eagles had a fantastic season last year, considering they won the Super Bowl. They started off 11-1 through 12 weeks last year and ended at 13-3. They could've easily gone 14-2 but made the smart decision to rest their starters for Week 17. The question is…can they repeat?
Philadelphia Eagles Season Preview
Recap of Last Season
Carson Wentz looked amazing last year. He threw for 3,296 yards and 33 touchdowns in 13 weeks until he, unfortunately, went down with the ACL and LCL injury. They had a more than competent backup in Nick Foles who threw for 537 yards and five touchdowns. Putting stats aside, Foles was an above-average backup who could've started for multiple other teams last season. Albeit, Eagles fans were rightfully disappointed that their starter and potential MVP was down and they were worried about the upcoming postseason. Well, their worries were put aside when they saw that Foles could play. He was a bit quiet in the divisional round, throwing for 246 yards and not recording a touchdown. Then he came out and destroyed the Vikings top-notch defense for 352 yards and three touchdowns. The Eagles had made the Super Bowl. This was the ultimate test for Nick Foles. Could David beat Goliath? Could Nick beat Tom? It was a back and forth game. There was little to no defense played as Brady and Foles both had great days. Of course, we all know the outcome. Nick Foles threw for 373 yards and three touchdowns while also catching a touchdown on the pass from Trey Burton. The Eagles had done it.
Strengths This Year
This whole team is a very strong, promising team. They have youth and nice veterans to guide the youth. They have depth and they have explosiveness. Of course, their quarterbacks are a huge strength to them. Carson Wentz is a future MVP if he remains healthy, and Foles isn't a bad backup. Not every team's backup quarterback is a Super Bowl MVP. Nick Foles joins Trent Dilfer as the only quarterbacks who won the Super Bowl and then didn't start the next season. Carson Wentz most likely will not be cleared for contact by week one, which is very unfortunate. This means that Foles will draw the start on the first game of the NFL season. He will likely get a warm welcome. Hopefully, Wentz will be ready soon after week one. I like the depth that the Eagles have at running back. Jay Ajayi is very inconsistent. He is a hit or miss player who could run for 200 yards or for 40 yards. You don't know what you're going to get from him. They also have Corey Clement who made big plays for them in the playoffs last year. He is a wildcard that many don't think about, but he could be a huge piece for their future. Darren Sproles is returning from injury for what is more than likely his last season in the National Football League. Sproles is one of my favorite all-time running backs. I love how he doesn't let his height affect his game, and how explosive he is. He is also a great kick returner and he hasn't seemed to lose a step. Zach Ertz is a huge threat at tight end and could break out as a top three tight end. They have a solid offensive line headlined by tackle Lane Johnson, who was a First-Team All-Pro last season. The defensive line might be the best part of this team. Fletcher Cox was a Pro-Bowler last season, totaling 26 combined tackles, 5.5 sacks, and two fumble recoveries. Brandon Graham is a premier defensive end who recorded 47 combined tackles and 9.5 sacks last year. These numbers don't jump out at you like Von Miller's numbers, but Cox and Graham put so much pressure on opposing quarterbacks and are nightmares for the opposing offensive line. They also have Tim Jernigan as their other nose tackle. Jernigan is a solid starter who had a down year last year, only recording 2.5 sacks. This year, they are starting second-year defensive end, Derek Barnett. As a scout, I'm really excited about this because I loved Barnett at Tennessee. Barnett didn't start a game last year and still managed to rotate in and record 21 combined tackles, five sacks, two forced fumble, a fumble recovery, and a touchdown. They also have depth on the line with veterans Michael Bennett and Haloti Ngata who will rotate in for Barnett and Timmy Jernigan. This team, dare I say, looks even stronger than last year.
Weaknesses This Year
This will be one of the shortest paragraphs I ever type in an article. The only real weakness I see for the Philadelphia Eagles, other than losing Wentz for the first game or two of the season, is with outside linebacker Nathan Gerry. Gerry is a converted linebacker who used to play safety. He appeared in 10 regular season games last year without recording any stats. I think any free agent linebacker could easily slide in and replace Gerry. I don't see weakness in the receiving corps like some do.
Additions/Improvements
The Eagles went for the depth route this offseason. They added Michael Bennett and Haloti Ngata to the defensive line, both of whom are currently listed as backups on the official depth chart. They also drafted defensive end Josh Sweat from Florida State, but he is buried in the depth chart. They also added to the tight end position in two ways. They drafted Dallas Goedert from South Dakota State in round two of the NFL draft. Goedert was projected by many as a first round pick so this might be a steal for Philly. They also signed former Packers tight end, Richard Rodgers to a one year deal. Avonte Maddox was drafted by the Eagles in the 4th round of the draft. Maddox, a rookie cornerback from Pitt, who ran a 4.39 40-yard dash.
Subtractions/Regressions
The Eagles lost defensive end Vinny Curry in free agency. This isn't a big deal though since Derek Barnett was coming for his starting job anyways. They also lost linebacker Mychal Kendricks. Kendricks was released and signed with the Cleveland Browns. He recorded 73 combined tackles and two sacks last year. I'd say this move was a bit surprising since they are now starting Nathan Gerry at that position. Kendricks was probably the biggest loss for the Eagles this offseason. They lost longtime Eagles tight end Brent Celek who retired. Celek was a fan-favorite but has no spot on the team with the depth they have now. Punter, Donnie Jones, also retired. The Eagles also lost wide receiver Torrey Smith in a trade with the Panthers for cornerback Daryl Worley, who was later released after an altercation with police and promptly signed by the Oakland Raiders. This was kind of a lose-lose for Philly because they lost a solid, although old wide receiver plus they waived the player that they acquired in the trade. I would say that the Eagles didn't get worse but also didn't improve too much during the offseason, which is fine since they won the Super Bowl. It's hard to improve from that.
Prediction
I believe that the Eagles will win between 10-13 games this season. They might have a bit of trouble with the Falcons during week one without Carson Wentz. The Vikings will also provide a challenge in week five, despite the blowout that occurred in the conference championship last year. Wentz will be back by week three at the latest and the Eagles will continue their dominance from last season. I don't believe Michael Bennett will make much of an impact and I could see him getting cut during or after the season. I don't think the Eagles will give up over 150 rushing yards in any single game this year which is a hot take because that is from everyone combined not just one running back. Overall, the Eagles will make it to at least the conference championship and might have a chance at repeating.
Questions and comments?
thescorecrowsports@gmail.com
Follow Us on Twitter @thescorecrow
Follow Us on Reddit at u/TheScorecrow
Follow Givanni Damico on Twitter @giodamico15
Main Credit Image: Embed from Getty Images