Brian DeWester | July 19th, 2018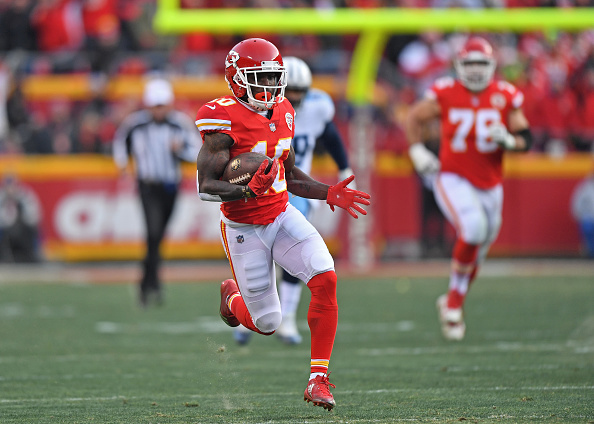 One of the common expressions of the fantasy football offseason is "that guy is on my 'do not draft list.'" And while some people stick to that list no matter what, there are others who stray from it. For those people that list isn't a hard and fast rule. Rather, it's a guideline for who to avoid at their current costs. In other words, it's not really a "do not draft list." It's more of a "do not draft this player at their average draft position (ADP)" list. Sure it's longer, but it's a better way to approach fantasy football.
There are a number of variables that could affect that cost: Regression expectations, free agent signings, organization changes with the team, legal issues, and the upcoming schedule. The following overvalued players are no strangers to these variables.(Statistical information can be found at playerprofiler.com and fantasydata.com. Half PPR ADP information can be found at fantasypros.com.)
Tyreek Hill
ADP: WR11, pick #28
Yes, it's still July. And yes, a lot can still change before the season starts. However, Tyreek Hill is overvalued at his current cost. Hill fans are quick to point out his WR8 finish last year in Half PPR leagues as justification for his cost. Here is the thing though: even if you assume that Hill's achievements will continue, despite all of the variables that have changed around him, then you're still drafting him near his ceiling. It's important to remember that one of the main contributors to Hill's success was Alex Smith's deep ball efficiency last year (second best in the league). Now, the Kansas City Chiefs have turned over their reigns to Patrick Mahomes.
People know Mahomes as a gunslinger. People will point to his prodigious arm strength and Hill's remarkable speed as a sure-fire recipe for fantasy goodness. Again, Smith had the second best deep ball efficiency last season. It would be unreasonable to assume that a rookie quarterback could come in and duplicate that feat.
If Hill takes a hit in the deep ball department, he would have to increase some of his volume stats; specifically, he would have to increase the number of targets coming this way. There are two potential obstacles to his pathway for more targets though. First, the Chiefs recently signed Sammy Watkins to join a crowded group of receiving options. Second, we have no idea who Mahomes will prefer as his top receiving option. All we have to go off is one career start and some offseason reports that point towards a connection with Watkins. Yes, it's a narrative based argument. However, Watkins becoming the number one target is within the realm of possibilities.
What doesn't seem to be in the realm of possibilities is Hill becoming a red zone threat. According to Warren Sharp, Hill only saw four red zone targets last year. Only one of those targets came inside the five-yard line. In fact, all seven of his touchdowns came from at least 30 yards away. That's hardly a recipe for repeatable fantasy glory.
LeSean McCoy
ADP: RB14, pick #23
Potential legal issues aside, fantasy football drafters are overvaluing LeSean McCoy for several reasons. First, he has the issues of age (30) and career touches (2,626) working against him. In fact, last season McCoy saw a decline in efficiency stats like yards per carry and yards per touch.
Second, the quarterback situation for the Buffalo Bills doesn't exactly inspire a whole lot of confidence. If that group struggles, then McCoy will be looking at less positive game scripts. While McCoy's receiving ability does help to make him more game script proof, he would be reliant on the inefficient quarterback play, who could put the team in the negative game script, to pass him the ball.
One of the reasons people are still are on board with McCoy is that the Bills rely heavily on him because they don't have anyone else. Counter to that point: the Bills don't have anyone else. They don't have the offensive talent to take the defensive focus off of McCoy. Sure, Kelvin Benjamin is there. Although, his recent production isn't the sort that strikes fear into the hearts of defensive coordinators.
Finally, even if McCoy continues to evade tackles with the best of them, he will have to do so with one of PFF's lowest graded offensive lines. In other words, even if he breaks the trend of aging running backs, overcomes the lack of great quarterback play and the absence of other offensive weapons, he'll still have to score points with a poor offensive line at a position that is dependant on blocking. Yikes.
Jarvis Landry
ADP: WR25, pick #58
The case here is simple. Jarvis Landry thrived on the Miami Dolphins because of a high volume of targets. That isn't going to be the case in Cleveland. There he will have to compete for targets with Josh Gordon, Duke Johnson, David Njoku, and Corey Coleman/Antonio Callaway. Not to mention the Tyrod Taylor effect. His affinity for running the ball will affect passing attempts, which, of course, affects the potential volume for wide receivers. Yes, there is a chance that Taylor doesn't start the full season, but the truth at this point is that no one knows if Baker Mayfield will start this year.
What we do know is that Landry will have a hard time repeating his touchdown total from last year. Touchdown regression is coming for Landry. So if both his volume and touchdown numbers take a hit, his chances of exceeding or returning value at his ADP become smaller and smaller.
Deshaun Watson
ADP: QB2, pick #42
There is no question that Deshaun Watson's run last year was fun to watch. And his actions off the field made him an easy player to root for. There is also reason to believe that he can finish as a top 10 fantasy quarterback this season. The problem here is that people aren't just drafting him as a top 10 guy. People are drafting him as the second quarterback off the board in the fourth round, which has a high opportunity cost. Especially since Watson's touchdown percentage (9.3%) will regress. Also, keep in mind that people are basing his value on an extremely small sample size (seven games). Chances are that Watson doesn't match his ADP and disappoints his drafters.
Juju Smith-Schuster
ADP: WR19, pick #44
This one blends the lines between overvalued and risky. Opportunity cost makes Juju Smith-Schuster a bit of an overvalued pick. Currently, people are drafting him over the likes of Golden Tate, Demaryius Thomas, Allen Robinson, and Brandin Cooks. That's a lot of talent to pass on.
What makes Juju Smith-Schuster a risky pick is where he falls in line for targets on his team. Antonio Brown isn't going anywhere, and the Steelers have Le'Veon Bell for at least one more season. So third is where Smith-Schuster seems to fit in. The problem with that is his target total from last season (79, which ranked 51st amongst wide receivers) doesn't typically support that high of a finish. In fact, over the past five seasons, the WR19 has averaged 123.2 targets. The average amount of targets for a WR2 in the Steeler offense is 88 during that same time. In other words, there is a floor there that early drafters are ignoring. A few things are going to have to break Smith-Schuster's way in order for him to live up to his current draft price.   
Questions and comments?
thescorecrowsports@gmail.com
Follow Us on Twitter @thescorecrow
Follow Us on Reddit at u/TheScorecrow
Follow Brian DeWester on Twitter @BrIreland
Main Credit Image: [getty src="903087964″ width="594″ height="424″ tld="com"]