Jacari McRae | May 4th, 2019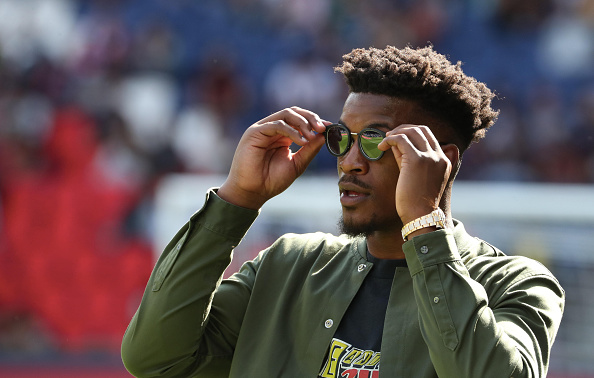 There's a quote from Pat Riley's season-ending presser that stood out to me.
Does Riley feel the Heat are positioned to acquire a star who says he wants to move.

"It doesn't make any difference what we have the ability to do. We can want anything but it doesn't make any difference. It's up to the player. It's up to them to choose where they want 2 go."

— Five Reasons Sports (@5ReasonsSports) April 13, 2019
The first player that came to mind was Jimmy Butler. Before Butler was traded to the Philadelphia 76ers last November, the Miami Heat were one of his preferred destinations. However, each time the Heat got close to a deal, the Minnesota Timberwolves reportedly kept asking for more. Consequently, the Miami Heat pulled the plug on trade talks.
This may not be the last time Jimmy is linked to Miami.
After this season, Jimmy Butler is expected to become an unrestricted free agent, if he chooses to opt out the final year of his deal. With his teammate Tobias Harris looking for a huge payday in July, and Ben Simmons' looming extension, some have speculated that Butler will be the odd man out.
If Butler remains interested in Miami, then Pat Riley has to find a way to make it happen. The Heat may not have the capability to offer a max contract, but they may consider engaging in an opt-in-and-trade deal this summer. In case you're not familiar with the opt-in-and-trade idea, it's basically where a player opts into the final year of his deal and gets traded to his desired destination, just like Chris Paul did two years ago.
Opt-in-and-trade are usually easier to execute than sign-and-trades, which can be difficult for teams over the cap to complete. For example, let's say Jimmy Butler tells the Philadelphia 76ers he wants to play for the Heat. Butler would then opt in while the Sixers and Heat try to complete a trade. Since Jimmy Butler makes $19.8 million next season, the outgoing salary for the Heat would have to match that.
Just as they would in a normal deal, the Heat could package, say, Josh Richardson and Kelly Olynyk in a deal for Butler. The Sixers would acquire a 3&D player in Richardson and a floor spacing big in Olynyk. As for the Heat, they will acquire one of the best two-way stars in the league and a go-to scorer in clutch situations.
While this would be the ideal scenario for the Heat, this would require patience on Butler's part. Butler would have to wait another year before he signs a new max extension. Would he be willing to wait that long? Doubtful.
All in all, this is just a hypothetical scenario. As of Saturday, the 76ers have a 2-1 lead over the Toronto Raptors after a dominating performance in Game 3. Should the 76ers continue to play well and advance to the next round, the Sixers may commit to Butler long-term.
In the meantime, we'll watch how it plays out.
Questions and comments?
thescorecrowsports@gmail.com
Follow Us on Twitter @thescorecrow
Follow Us on Reddit at u/TheScorecrow
Follow Us on Facebook at The Scorecrow
Follow Us on Instagram at The Scorecrow
Follow Jacari McRae on Twitter @JMcRae23
Main Image Credit: [getty src="1023191168″ width="594″ height="378″ tld="com"]