Givanni Damico | April 24th, 2019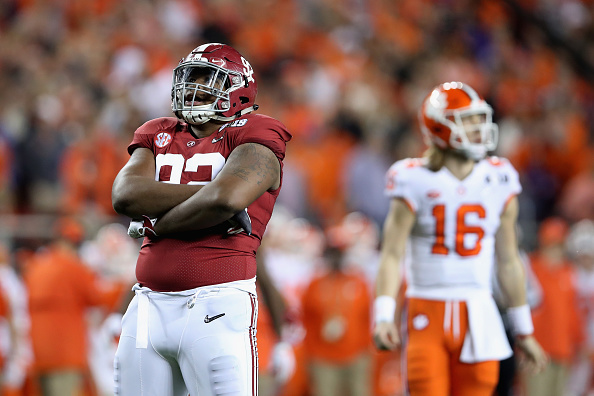 Thanks to the FanSpeak mock draft simulator for allowing me to make this as realistic as possible. How will Mike Mayock and Jon Gruden handle the 2019 draft? Will Gruden's bold moves pay off?
Round 1, Pick 4: Quinnen Williams, DL (Alabama)
Williams is a very athletic space eater. He came on strong during his redshirt sophomore year which boosted him to the top-five discussion that he currently sits at. Williams recorded 71 tackles to go along with 19.5 tackles for loss and eight sacks. He is great at creating leverage against offensive linemen and is very dominant despite his lack of size. Almost every criticism about him is that he's not big enough or that he won't be able to keep his weight up. Williams played against the best of the best offensive linemen in college and dominated, so I am not too concerned about his lack of size.
Of course, pro offensive linemen are much more dominant than even the best of the best college guards, but Williams is already making a concerted effort to keep his weight up. He is very explosive off the line and quick to get involved in the play. His play strength is probably below the average NFL defensive lineman, but once he puts in work for whichever team drafts him, this should improve.
Round 1, Pick 24 (via CHI): D.K. Metcalf, WR (Ole Miss)
Metcalf is an athletic freak. At 6'3" 228 pounds. Metcalf was still able to run a blazing fast 4.33 40 time. This height, weight, and speed combination is very rare and highly coveted by many teams, which makes me doubt that he will fall this far. His 20-yard shuttle was unusually slow at 4.5 but it is not something to read into too much. Metcalf is very capable of coming up with a flashy catch and he is also very capable of beating the defense on all three levels of the field.
He's had two season-ending injuries in the last three years so his durability is questionable. He also tends to drop some easy passes from time to time because he takes his focus off of the ball in anticipation of running up field. Overall, Metcalf could be considered one of those boom-or-bust guys, but he has all the physical capabilities to be a Pro Bowl wide receiver.
Round 1, Pick 28 (via DAL): Joshua Jacobs, RB (Alabama)
Jacobs is a very forceful running back who would fit the scheme in Oakland very well. He has a non-stop motor and never gives up on the play. Jacobs is also very effective in the passing game. He has soft hands and runs solid routes. His footwork is already better than some professional running backs and does a good job letting the blockers open holes for him. Despite his high motor, Jacobs lacks explosiveness.
He doesn't have fantastic speed so it might be hard for him to get that breakaway run. Jacobs' biggest weakness is his cuts. They are sloppy and don't usually work on the defender. Jacobs is easily the most pro-ready running back, but he still has a lot to work on to attempt to perfect his craft.
Round 2, Pick 35: Chris Lindstrom Jr, OG (Boston College)
Lindstrom is extremely athletic and quick for his position. His footwork is impressive and he does well in space. He is very good at reading and reacting to the blitz in order to make the needed adjustments. His blocking is impeccable on play-action passes. His frame is a bit underwhelming which will allow for stronger defensive linemen to take advantage of him. He is a good fit for the Raiders, considering they traded Kelechi Osemele earlier this offseason. Lindstrom will be a day one starter.
Round 4, Pick 106: Hamp Cheevers, CB (Boston College)
We have the two Alabama teammates in Jacobs and Williams, and now we have two Boston College teammates in Lindstrom and Cheevers. This was a coincidence for those wondering, I didn't purposely pick two people from the same college. Cheevers is relatively undersized at 5'9" 165 pounds which cause him to overcompensate at times. He is pretty fast, running a 4.52 40-yard dash.
He is fantastic at reading the eyes of the quarterback and adjusting his positioning to make the big play. He has great change of direction and takes good angles to the ball. He could get beaten by fast receivers, especially if he's playing on the outside. He is very raw and could take time to develop. Round four is a bit optimistic for Cheevers, but he would be worth the pick.
Round 5, Pick 141: Drew Sample, TE (Washington)
Sample is a very mature player with fantastic mental processing ability. He is a good pass-blocker and has the strength to sustain his blocks. He has great hand placement and is an anchor that causes trouble for the defense. Sample is fast enough (4.72 40-yard) and is great at recognizing the coverage that the defense is in. He has very sure hands and should be productive as a pass catcher, which wasn't necessarily the case at Washington.
His biggest issue is his route running ability which seems very predictable. He could use a little bit more competitive toughness in his play because he is tough but he doesn't have that edge to him. Washington is great at producing sleeper tight ends, and I believe that Sample will have a better NFL career than former Washington tight end and current Seattle Seahawk, Will Dissly.
Round 7, Pick 219: Lukas Denis, SAF (Boston College)
Wow, when I did this draft, I had no idea that I had three players from a single college, let alone Boston College. Well, it would be optimistic for the Raiders to expect Denis to fall this far. He used to play wide receiver so his ball skills are better than most, if not all the safeties in this class. He is very athletic and is good in slot coverage. His speed is lacking (4.64 40-yard dash) and his combine performance did not stand out.
He only had one-year of ball production in 2017, so we don't really know if that was a fluke or not. Denis needs to do a better job at reading the quarterback's eyes and anticipating the pass. He is also one of the worst tacklers out of this safety class because of his poor approach. This is a major red flag, but his technique can be improved. Denis is a fifth-round pick, in my opinion, and has the potential to be a starter in the league.
Round 7, Pick 236 (via SEA): Trace McSorley, QB (Penn State)
There's not much to analyze with this pick. McSorley will more than likely be a career backup and he would fulfill that role on the Raiders. They are in need of quarterback depth which McSorley provides. He is very mobile and he can definitely sling it, but his accuracy is all over the place a lot of the time. His mechanics are rough. He is most definitely not going to start anywhere in his first year or two, if at all.
Check out our other Team Mock Drafts: San Francisco 49ers| Washington Redskins | Indianapolis Colts | New York Giants  |Arizona Cardinals| Jacksonville Jaguars | Detroit Lions | Tampa Bay Buccaneers | New York Jets | Green Bay Packers | Cleveland Browns | Los Angles Rams | Pittsburgh Steelers | Chicago Bears | Tennessee Titans | Baltimore Ravens | Seattle Seahawks | Buffalo Bills | New Orleans Saints | Atlanta Falcons| Cincinnati Bengals  | Kansas City Chiefs | Denver Broncos | Houston Texans
Questions and comments?
thescorecrowsports@gmail.com
Follow Us on Twitter @thescorecrow
Follow Us on Reddit at u/TheScorecrow
Follow Us on Facebook at The Scorecrow
Follow Us on Instagram at The Scorecrow
Follow Givanni Damico on Twitter @giodamico15
Main Image Credit:
[getty src="1079243462″ width="594″ height="396″ tld="com"]