Givanni Damico | August 29th, 2018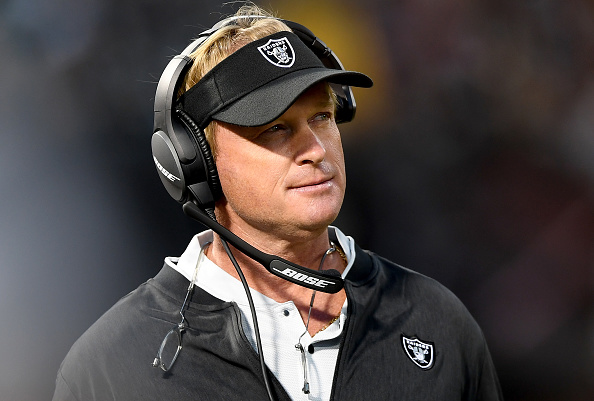 No one was happy with the 6-10 performance of the Oakland Raiders last season, including upper management who decided Jack Del Rio's time in the Bay Area was up. Can they bounce back to 2016 and show last year was a fluke?
Oakland Raiders Season Preview
Recap of Last Season
The Oakland Raiders had a very underwhelming 6-10 season in 2017. They went in with high hopes after going 12-4 and making the playoffs the prior year under Jack Del Rio. They had a very chaotic 2016 offseason including giving quarterback Derek Carr a monster contract extension and signing retired running back Marshawn Lynch. They also had a questionable draft, selecting cornerback Gareon Conley from Ohio State who had some domestic violence allegations at the time which were later proven false. It was a weird offseason which only heightened expectations of Raiders fans. They started the season very well winning the first two games and scoring 71 combined points over that span. Then everything hit the fan. Derek Carr started turning the ball over more and more and Marshawn Lynch was playing very average. The receiving core had a very below-average season with no one even eclipsing 700 yards. The defense didn't really help the offense out either, only totaling five interceptions. They also hurt themselves by giving up over 1000 yards in penalties last season.
Strengths This Year
I don't know if things are looking up for the Raiders or not, but new blood at the head coach position can often help a struggling team. Especially when it's Chucky. Jon Gruden was a head coach that all the fans and players loved. He's back. I don't know what to expect from Gruden this season, but I think it can be a major strength. Now he doesn't make the team, of course, he needs his players to come through for him. Derek Carr needs to bounce back after a brutal year and Marshawn Lynch needs to show why he's still a starting running back in the National Football League. Another asset that the Raiders have is their wide receiver corps. They have a big three of Jordy Nelson, Amari Cooper, and Martavis Bryant. This is an improvement from last year, even though they lost Michael Crabtree. Martavis Bryant has a lot of red flags since he is constantly getting in trouble due to his substance abuse issues, but if he stays clean and healthy, he is a great receiver to have. Jordy Nelson was a big acquisition for the Raiders. Highly coveted by many teams, Nelson is coming off a down year, but how could you blame him? He had Brett Hundley throwing to him for most of the year. When he has a good quarterback throwing to him, he makes plays. Amari Cooper is intriguing because he is a great player at times and looks awful at others. His hands are questionable from time to time and he needs to worry about securing the ball before looking upfield. The Raiders have a few young studs in the secondary as well. Karl Joseph and Gareon Conley headline this group. Since Conley has been proven not guilty of domestic violence, it takes a big problem off the Raiders' hands and Raiders fans were able to let out a huge sigh of relief. Conley was only able to play two games last year due to injury. Joseph improved or stayed the same in nearly every statistical category in his second year in the NFL. He had a career-high with 78 combined tackles and recorded his first NFL sack. Oakland also has a few projects like safety Obi Melifonwu and Nick Nelson who could be solid starters or good backups with the right coaching. Now, the obvious strength when you talk about the Oakland Raiders is Khalil Mack, but not now. Refer to the weaknesses portion of this article.
Weaknesses This Year
The Raiders are going into this season with a concerning issue at the defensive end position. Khalil Mack is holding out for a better contract. He isn't happy with his current situation and believes he deserves more money. He's so serious about this hold-out that he has taken two fines over $800,000 each thus far because of him not reporting to preseason games. A colleague of mine made a good point, saying that it's almost like he and Aaron Donald are in a standoff to see who will cave in and sign the contract first. Think about it, both of these guys think they're the best defensive lineman in the league and they don't want to show weakness by caving before the other. I'm going to call the linebacking corps of the Oakland Raiders their biggest positional weakness. They have Derrick Johnson, Tahir Whitehead, and Emmanuel Lamur at their three starting linebacker positions. I have no problem with Whitehead, I think he's a very good player. The other two though are extremely inconsistent, Johnson only of late. Derrick Johnson has been on a rather unsteady decline over the last three seasons which makes sense. The man will be 36 in November. Despite his age, it isn't good to have someone who's production has gone down by a lot in a three-year span. He would be a very formidable backup, but I think his days of starting are coming to an end. Emmanuel Lamur has just never been good at all. The man has started 15 games in his career and had one mediocre season in Cincinnati in which he recorded 97 combined tackles and a pair of interceptions. This just doesn't look good for the Oakland Raiders.
Additions/Improvements
I have talked about the additions to the wide receiving corps already. Jordy Nelson and Martavis Bryant should make this team even more of a passing threat than they already were. The Raiders also added Doug Martin as a potential backup running back to Marshawn Lynch. Martin has been solid during the course of his career, but he's very injury prone and has gotten in trouble in the past. They added to their return game as well by trading for wide receiver Ryan Switzer from the Dallas Cowboys. Switzer could potentially be a good receiver also but he hasn't had that chance yet. Dwayne Harris was also signed for depth and kick/punt return purposes. They also added to the offensive line via the draft by taking offensive tackle Kolton Miller from UCLA in the first round and offensive tackle Brandon Parker from NC A&T in the third round. The Raiders added a decent amount on the defensive front as well. They added depth to the secondary by going for cornerbacks Leon Hall and Daryl Worley in free agency. They drafted for defensive depth as well, selecting linebacker Azeem Victor from Washington, who frankly, should probably start over Emmanuel Lamur. They also drafted cornerback Nick Nelson from Wisconsin. He is a high risk, high reward, project player. They beefed up the defensive line with rookie defensive tackle P.J. Hall who was taken in the second round. They also signed defensive end Tank Carradine in free agency which could be huge if they don't reach a deal with Khalil Mack. Overall, the Raiders had a solid offseason.
Subtractions/Regressions
As much as the Raiders added, they also lost a significant amount. In February, the Raiders waived cornerback David Amerson, who was on a contract year. He had underperformed and not been what the Raiders had hoped he'd be. They also released another cornerback in Sean Smith. Smith had been arrested and had many off the field issues prompting his exit. The same situation occurred with linebacker Aldon Smith, who was released due to domestic violence allegations. Smith has had many legal issues in the past as well, as he was arrested for three DUIs which held him out of the league for a couple years. They also lost a couple of wide receivers. Cordarrelle Patterson was traded for a draft pick and was basically replaced with Ryan Switzer. Michael Crabtree was released and signed with the Baltimore Ravens in free agency. Although he was underwhelming in the 2017 season, he was probably their most consistent receiver. This was definitely their biggest loss. They also waived punter Marquette King, which surprised many fans since everyone seemed to love King. King was considered a top-three punter in the league. He later signed with the Denver Broncos.
Prediction
I believe that the Oakland Raiders will win between seven and ten games this season. I don't see them beating the Chargers this season and they will split with the Broncos and Chiefs. They have a relatively easy schedule, playing struggling teams such as the Browns, Bengals, Colts, and Ravens. Marshawn Lynch will have an underwhelming season. His dominance in this league has come to an end and this will likely be his last season. Amari Cooper will bounce back this season with over 800 yards, as will Nelson with around the same. Martavis Bryant will total between 550 and 700 yards this season with a few touchdowns but nothing too insane. Khalil Mack will end up signing a deal before the season starts and playing out this season with the Oakland Raiders. As I previously stated, the linebackers will be a problem this season and I do believe that their defense will be slightly worse than last season. The Raiders are such an unpredictable team because they have all the pieces, but they can't seem to fit them together. Let's hope that Jon Gruden will bring this team back to the playoffs this season and that Derek Carr is back to his pre-injury self.
Questions and comments?
thescorecrowsports@gmail.com
Follow Us on Twitter @thescorecrow
Follow Us on Reddit at u/TheScorecrow
Follow Givanni Damico on Twitter @giodamico1
Main Credit Image: [getty src="1018600296″ width="594″ height="401″ tld="com"]