Jamie Gatlin | March 11th, 2019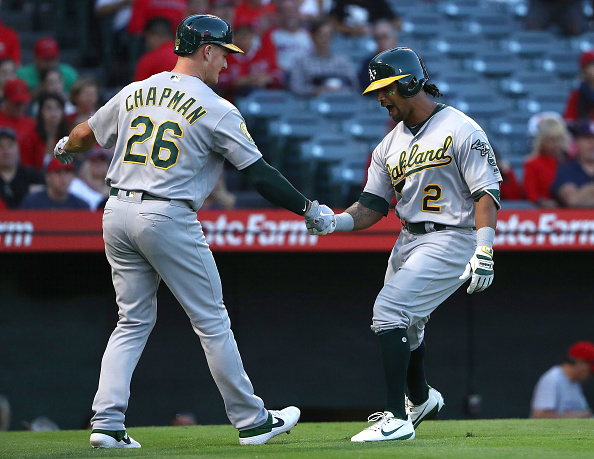 It's a new year and expectations are high in Oakland entering the 2019 season. The A's surprised the baseball world last year as they finished with ninety-seven wins in a year they were supposed to rebuild. With the A's young players getting more experience they could again be a sleeper team this coming season.
Recap: 97-65 ( 2nd AL West)
Carried by their youth the A's finished second in the AL West. Their impressive season, however, came to an end in the wildcard game against the Yankees.  Regardless of the disappointing ending the A's saw many of their young players take steps forward. Billy Beane again worked magic with the veteran acquisitions such as Edwin Jackson and Mike Fiers. Despite the disappointing ending, the future looks bright for this team.
New Faces
Jurickson Profar– The A's acquired Profar to the fill a void in the infield left by the departure of Jed Lowrie. The former top prospect is coming off a breakout season in which he hit .280 and drove in 77 runs. After struggling with injuries to begin his career Profar finally flashed his potential when healthy last season. Profar gives the Athletics multiple options as he appeared at five different positions last year. In order for Profar to build off last season health will be key.
Marco Estrada–  The expectations will be high for Estrada entering 2019 as he is expected to stabilize the rotation. The A's signed the former All-Star to a one year four million deal this offseason. He is coming off a down year in which he had 14 losses with a career-high ERA of 5.64. The A's are hoping he can return to his All-star form from two years ago. In a rotation missing ace Sean Manaea due to shoulder surgery, Estrada will need to be at his best.
Joakim Soria– A veteran of 11 big league seasons Soria will play a key high leverage role in front of closer Blake Treinen. In 2018 Soria had another solid season recording an ERA of 3.12 with 16 saves. He has a career ERA of 2.88 and has excelled everywhere he has pitched. Soria should have another solid season as the bullpen again figures to be this team's strength.
Robbie Grossman– While the A's starting outfield is already set, Grossman will serve as a reserve outfielder. He is coming off a solid season in which he hit .273 and drove in 48 runs for the Twins. His calling card is his ability to get on base and hit left-handed pitching. The former Twin leaves a lot to be desired defensively but could be a valuable addition due to his ability to get on base.
Strengths
Bullpen–  The A's relief corps will again be a strength despite losing Shawn Kelley and Jeurys Familia in free agency. Blake Treinen will be looking to build off a dominant 2018 campaign in which he recorded 36 saves. His supporting class will include Yusmeiro Petit and Lou Trivino, who is coming off a solid rookie season. Fernando Rodney and Joakim Soria will provide veteran leadership and look to prove that they still have something left in the tank.
Young Talent– While the A's young pitchers dealt with numerous injuries last year, the position players shined. Matt Olson and Matt Chapman established themselves as rising stars due to above average defense and power. Along with Stephen Piscotty and Khris Davis, the A's should again have a dangerous offense. This club finished with the fourth best offense last year and should only improve. They have one of the best farm systems in baseball with plenty of pitching talent on the way to help this offense.
Weaknesses
Starting Rotation– Like the bullpen, the A's starting rotation will include a few friendly faces. With Manaea out until the All-Star break, Mike Fiers will be the ace of this staff. He will be looking to build off one of his most productive big league seasons. The rest of the rotation will be some combination of Frankie Montas, Estrada, Daniel Mengden, Chris Bassitt, and Brett Anderson. There is also a chance that the A's top prospect Jesus Luzardo could make his debut at some point. This group does have potential, but they offer little depth.
During 2018 the A's went with a patchwork rotation which improved as the season progressed. They used fifteen different starters, the same as the Rangers who finished in last. While that strategy worked last season, they have even less depth entering 2019. In order for the A's to return to the playoffs, staying healthy and consistency from the starters will be key.
Infield Projections:
C- Josh Phegley
1B- Matt Olson
2B- Jurickson Profar
SS- Marcus Semien
3B- Matt Chapman
Outfield Projections:
LF- Nick Martini
CF- Ramon Laureano
Rf- Stephen Piscotty
Starting Pitchers:
Mike Fiers
Marco Estrada
Daniel Mengden
Chris Bassitt
Brett Anderson
Bullpen:
Blake Treinen
Lou Trivino
Joakim Soria
Yusmeiro Petit
Fernando Rodney
2019 Outlook:
While the A's could again surpass expectations, it will not be easy. The Astros are still one of the best teams in the American league, and the Angels could also be dangerous, assuming their starters stay healthy. The A's, are not expected to repeat last season's success however, they have never let expectations define them. If this young core continues to improve, then the A's could again make the AL West an interesting race.
Check out our other Team Previews | Colorado Rockies | Toronto Blue Jays | Minnesota Twins | Atlanta Braves | Chicago Cubs | Tampa Bay Rays | Arizona Diamondbacks | Miami Marlins | Cincinnati Reds | Seattle Mariners | Texas Rangers |Los Angeles Dodgers | New York Yankees | Milwaukee Brewers | San Diego Padres | Detroit Tigers | Kansas City Royals | Cleveland Indians |
Questions and comments?
thescorecrowsports@gmail.com
Follow Us on Twitter @thescorecrow
Follow Us on Reddit at u/TheScorecrow
Follow Us on Facebook at The Scorecrow
Follow Us on Instagram at The Scorecrow
Follow Jamie Gatlin On Twitter @JamieGatlin1217
Main Credit Image: [getty src="1043257602″ width="594″ height="459″ tld="com"]