Antonio Losada | July 30th, 2019
After trading Eric Sogard to Tampa Bay on Sunday, Toronto wasted no time in calling up über-prospect Bo Bichette, who was actually pulled from the Triple-A game he was playing for Buffalo.
Such was Toronto's anxiety to get its last shinning youngin' to the Majors, and such should be yours to make him available to suitors in case you happen to have him in your fantasy team or are still able to acquire him in case he's still free out there.
I know. I know it sounds crazy. Who in the world would trade Bichette given he's assured to be the Blue Jays featured shortstop for the rest of the season, that he is only 21-years old, and that he is basically all upside? Bear with me.
Everybody loves a shiny new toy. I don't think there are many more players around the MLB right now attracting more attention than Bo. He's been making the rounds and creating ridiculous amounts of hype for quite some time now. Even more, in his first plate appearance for Toronto, he did this:
[youtube https://www.youtube.com/watch?v=AfhWn4tG8Gc&w=560&h=315]
Took a strike, then hit a grounder toward left field for a single. One throw was all the kid needed to measure Brad Keller and hit his offering the second time he sent the ball Bichette's way.
What does that mean? For the short term (and by short term I mean today), everybody will be crazy about Bo, even more than they already are.
Since he was called up to the Majors, Bichette's ownership (Yahoo!) has gone from a paltry 12% to a massive 35% and counting. Go get him while you can, because there is not a single soul you can't convince of trading for him and what you can get back from the prospect could flip the table and help you contend now.
Look, it's been only a game, yes. Bichette could be a better long-term option than whatever you can game now, much more in dynasty leagues. Not going to lie there. But such is the hype and the expectations that I'm sure someone will overpay to get him from your hands.
Of course, the fact that Toronto already called him up proves he's been raking as of late. That's true and nobody can argue it. Here are some trends that highlight Bichette's performance this season: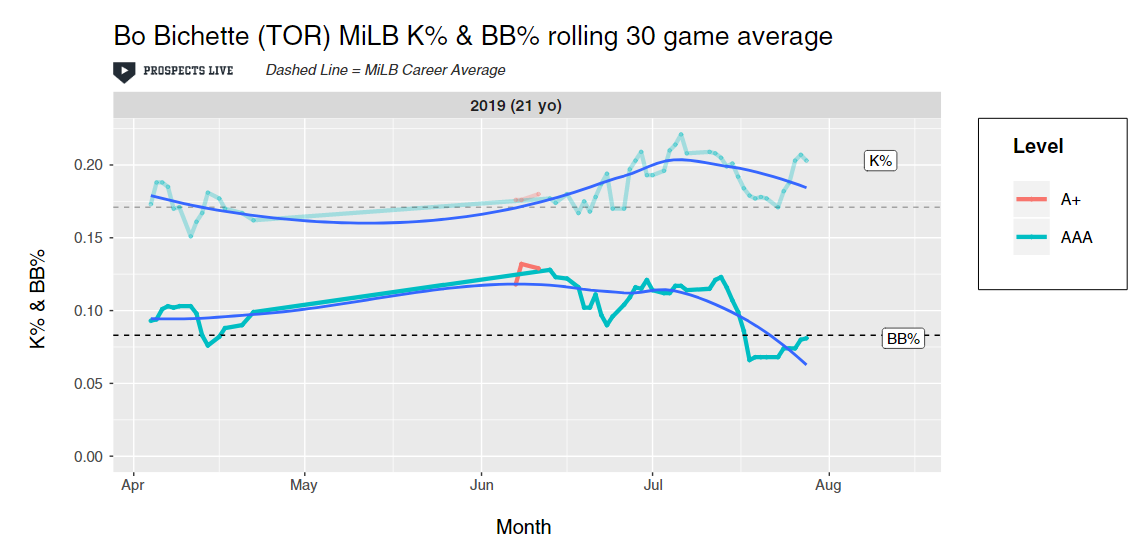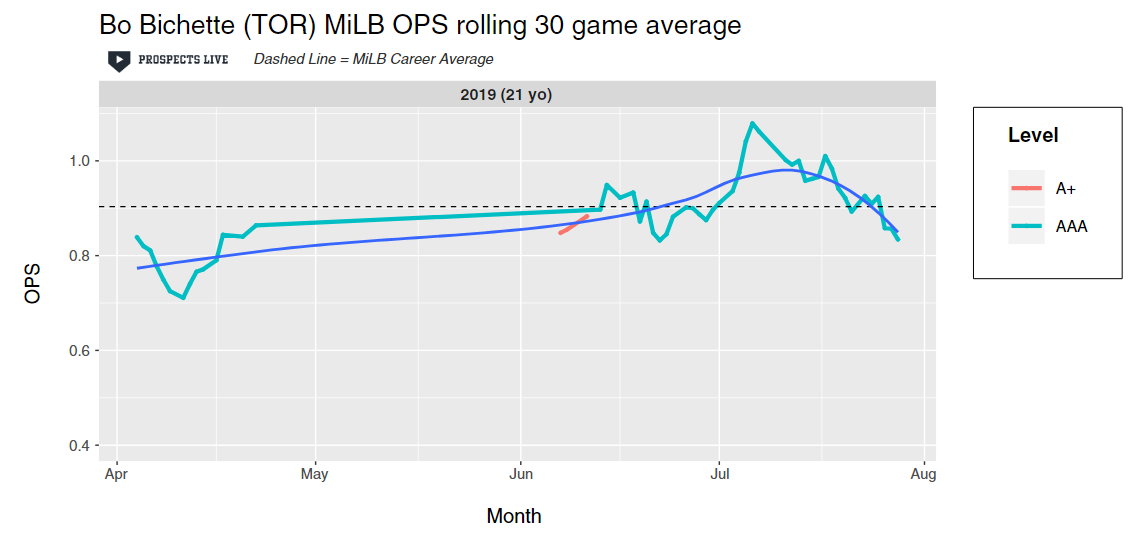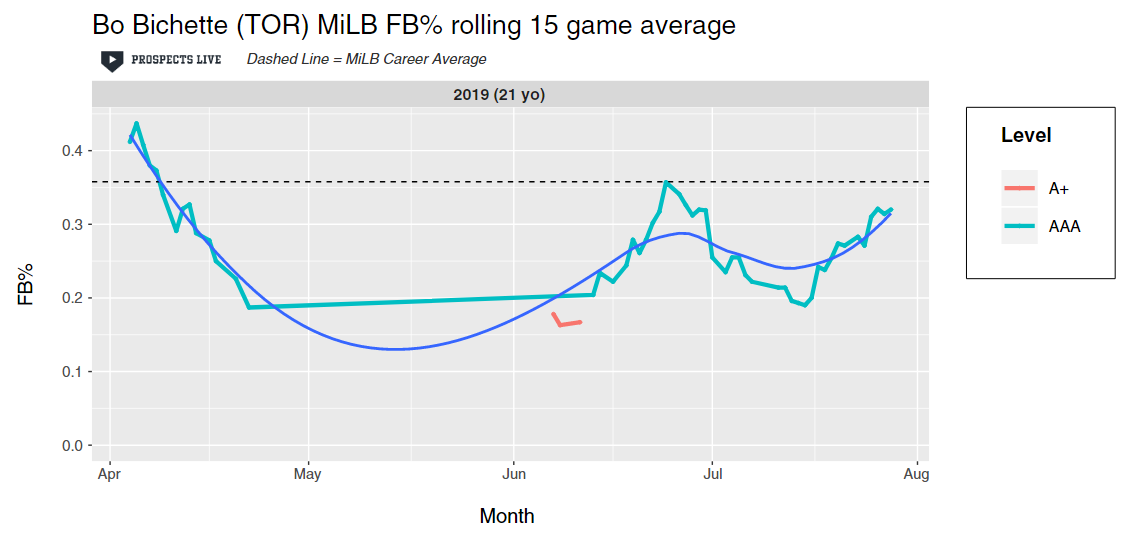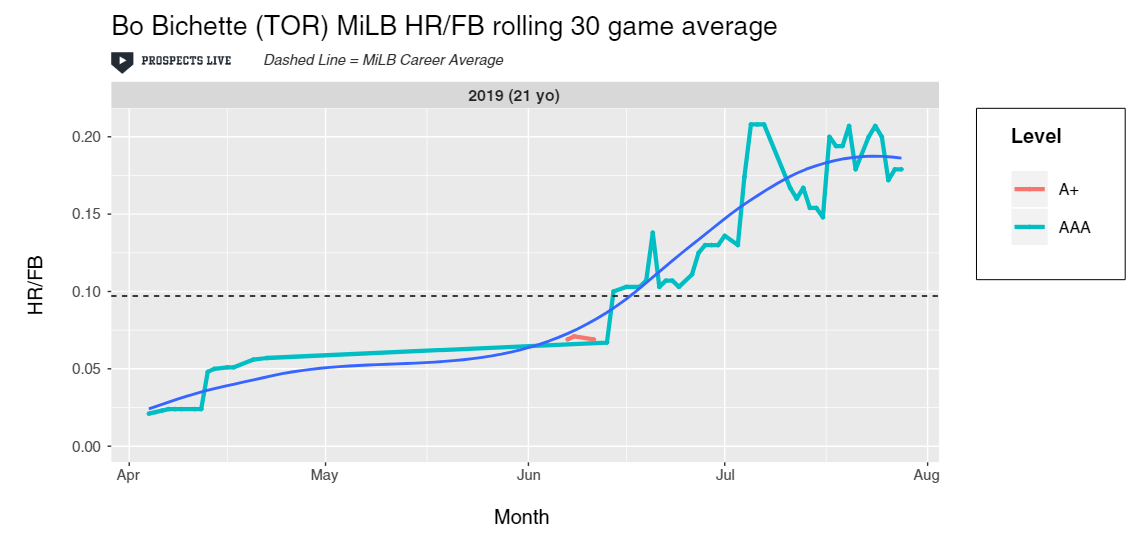 If it were me, I'd say that keeping Bichette is as risky as trading him. At the end of the day, Bichette is MLB's No. 8 prospect all around the league after their mid-season update just a few days ago. No slouch. The potential is as high as a Georgia pine.
But what if you get something more than interesting in return just now? There are a bunch of players that are putting up incredible numbers at the SS position this season, probably more than ever at the slot. Obviously, pieces such as Francisco Lindor, Manny Machado, Alex Bregman or Javier Báez are out of the equation. Even rebuilding fantasy owners would more than probably pass on Bichette for any of those studs. But there may be other interesting options out there. These could be some potential trade headliners you want to consider as conversation-starters and try to get a something-plus in addition to them for Bichette:
Didi Gregorius is owned in "only" 70% of Yahoo! leagues while ranking as the 7th-best shortstop. In a power-laden lineup such as that of the Yankees, and batting normally between the 4th and 6th spots in the lineup, he could be someone worth trading for to get instant production. He missed the first part of the season and that gives you leverage.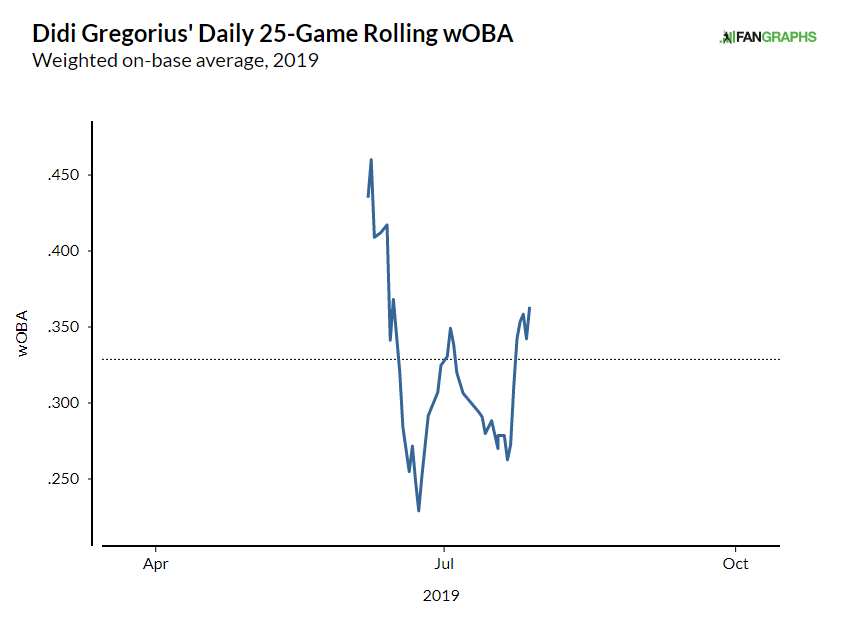 Another player worth exploring would be Paul DeJong. The Cardinals' SS is also owned in 70% of the leagues and is considered the 15th-best at the position right now. He's been in a slump during July but he's recovering, he's producing 109 wRC+ and he's historically a 3+ WAR player (he's already at 3.1 and there are still two months to play). If he improves even a little and stabilizes his production he'll be a tremendous addition for your squad.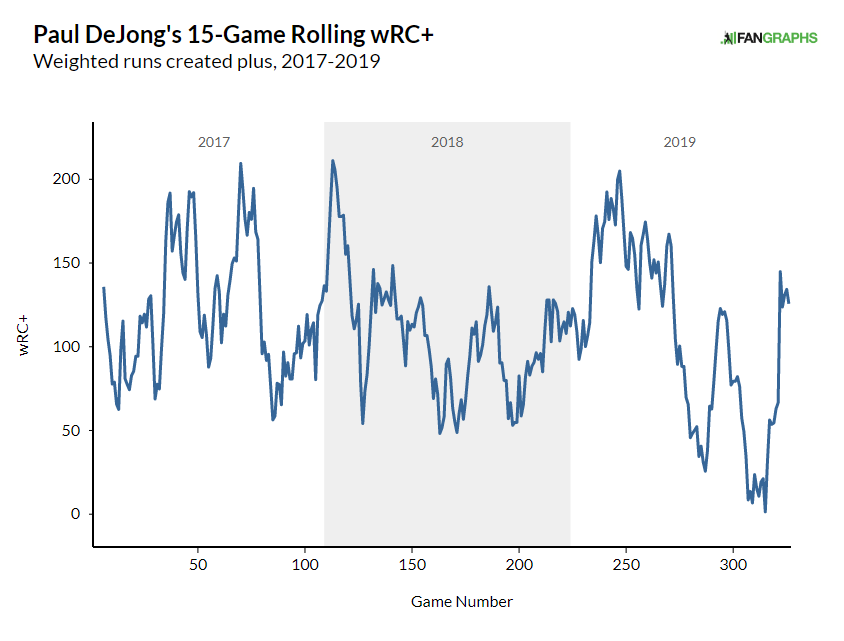 Perhaps a little more under the radar is another name I'd consider: Ehire Adrianza (and what can potentially come with him). He should never be traded straight for Bichette in a one-for-one deal, of course, so you can get some other pieces attached to him to bolster what you get.
Although in a short amount of plate appearances, Adrianza seems to have found his pace and is carrying a 10.4% walk rate while striking out only 14.6% of the time. He currently has the 3rd-best BB/K ratio of all shortstops with at least 150 PA this season. You should try and combine Adrianza with other Twins' interesting options such as Luis Arraez or Mitch Garver and you could easily end on the winning side of the deal.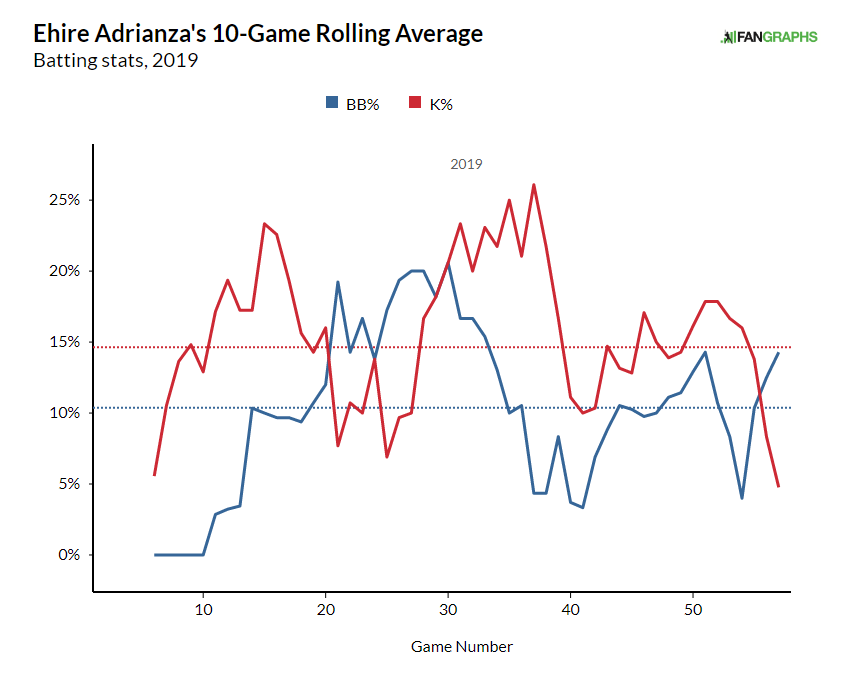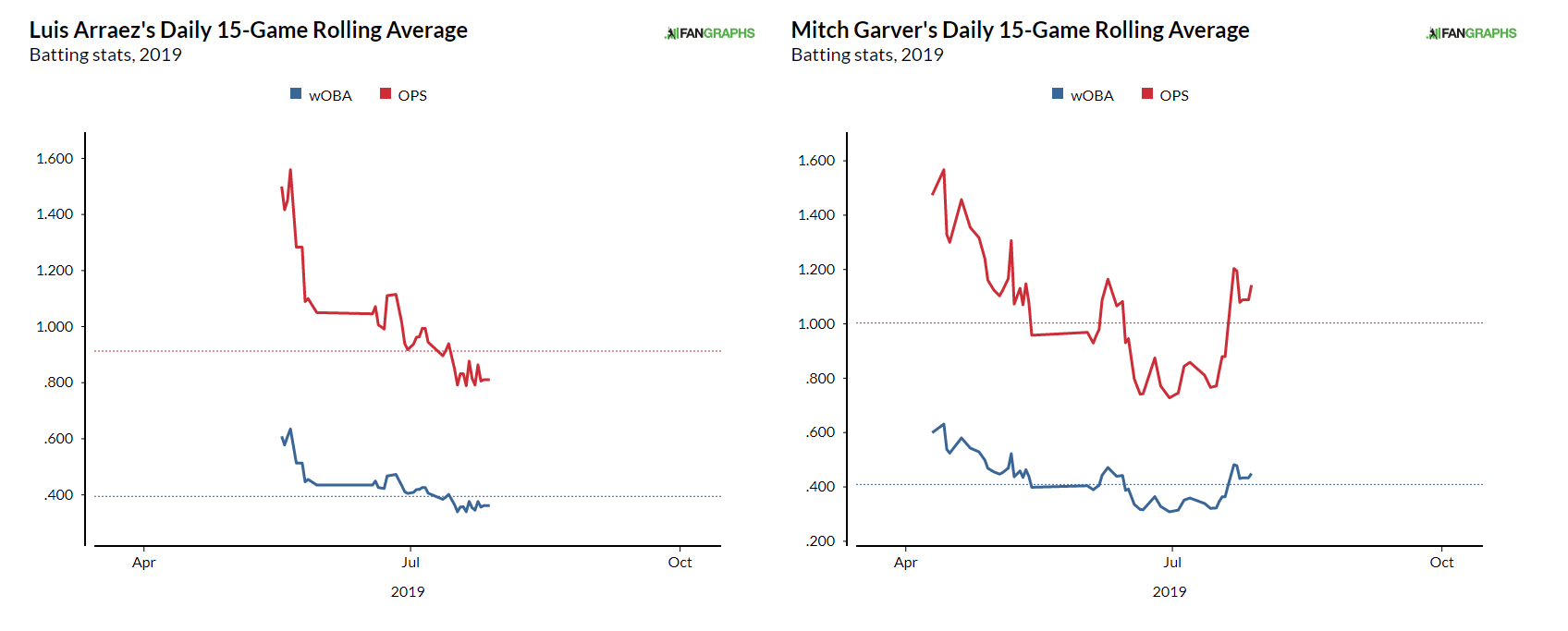 As you can see, those are just three potential options to explore in the wake of Bichette's call-up. Trading Bo as a prospect was always going to fetch you interesting assets. Now that he's a legit major leaguer your trade options can only get better.
I don't know if any of the moves I proposed here are realistic or not, to be honest, as it depends on the owners in your league, how you and they value prospects against other more established players, the type of the competition, and multiple other factors. It could even be possible you can get an even more valuable piece(s) in return for Bichette given both what is expected from him and the hype around his persona.
At the end of the day, though, one thing is clear: Get Bichette, Trade Bichette.
Questions and comments?
thescorecrowsports@gmail.com
Follow Us on Twitter @thescorecrow
Follow Us on Reddit at u/TheScorecrow
Follow Us on Facebook at The Scorecrow
Follow Us on Instagram at The Scorecrow
Facebook Group where you can read and post articles at The Scorecrow
Reddit Group where everyone can post without fear of being banned at The Scorecrow
Follow Antonio Losada on Twitter @chapulana
Main Image Credit: [getty src="1165010135″ width="594″ height="403″ tld="com"]