Antonio Losada | June 27th, 2019
Entering last weekend's series against the White Sox at home, Nomar Mazara had not been able to pad his home run numbers in more than 11 games, which is to say, he got his last one on June 8th against Oakland.
On Friday, though, he lit Reynaldo Lopez with the score tied at zero to put the Rangers ahead, making it to (at least) the present day's history books: the 505-foot homer off of Mazara's bat became the longest ever recorded by Statcast. It marked his 10th of the season.
[youtube https://www.youtube.com/watch?v=8kyjQQh_JwA&w=560&h=315]
So far, after logging 301 PA at the time of this writing, Nomar Mazara has 77 hits including 12 home runs. Looking at ZiPS projections for the season, they predicted the right fielder to end the campaign with 24.
As of today, Mazara is hitting a home run every 24.7 PA, his best ratio since he debuted back in 2016. He finished the 2018 season with 20 homers in 536 plate appearances for a 26.8 ratio. The extra four home runs ZiPS predicts he'll get this season would come at the expense of getting to the plate around 107 times on top of those he saw last year. That would mean he'll need to reach almost 650 PA.
The good news for Mazara, though, is that he is clearly on pace to reach that number (he already has 296 PA in 70 games) and not only that but he should actually surpass it if he reaches 150 games, which given his double-duties as RF and DH is well within reach for him.
The most encouraging aspect of Mazara's game lately is how he has been heating up, due mostly to a change in his hitting approach this season. These are his monthly splits for the 2019 season:
| Month | PA | BB% | K% | AVG | OBP | SLG | wRC+ |
| --- | --- | --- | --- | --- | --- | --- | --- |
| Mar/Apr | 108 | 5.6% | 18.5% | .242 | .306 | .465 | 95 |
| May | 103 | 5.8% | 18.4% | .284 | .330 | .453 | 97 |
| Jun | 90 | 5.6% | 25.6% | .313 | .356 | .506 | 118 |
The walks have remained stable for all three months. The strikeout rate has increased notably. That should be bad, although it is not. Mazara's slash line and wRC+ has grown considerably over this time frame to make for his best season up to date.
There are a few things related to his approach at the plate worth noting in order for us to understand how he has reached this point and how his hitting is improving yearly.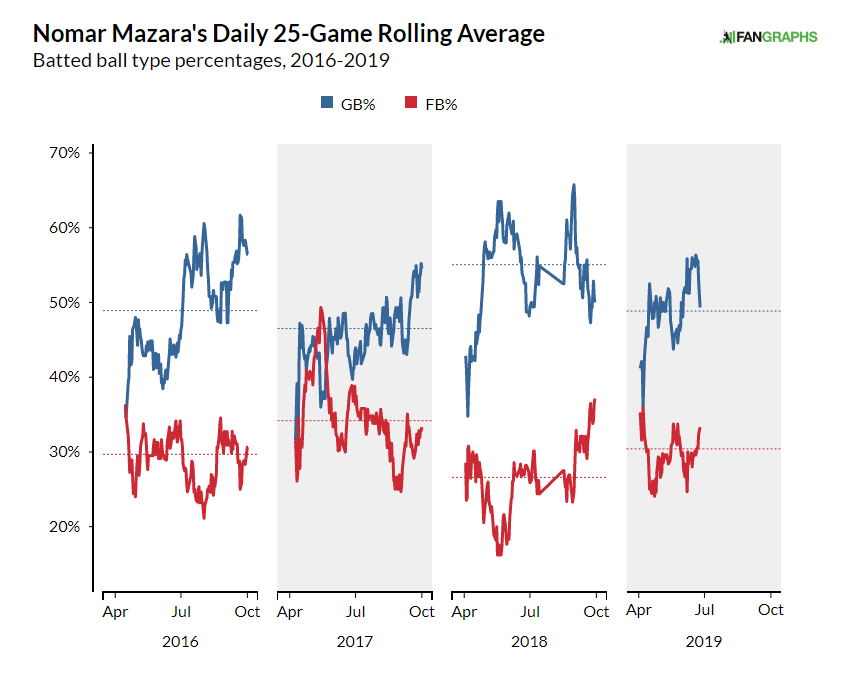 First things first, the change between 2018 and 2019 in batted balls is rather notable. No longer is Mazara hitting over 55% ground balls, but he's kept them just a hair under 50% at 48.8%. Contrasting with that, his fly ball rate has gotten up to 30.4% after he could only reach 26.6% last year. In the boom or bust era we're living in, he's making the most of his game.
Another trend we're seeing more and more of is that hitters are chasing as much as they can, and going for it each and every time. Here is how Mazara's tendencies have evolved yearly: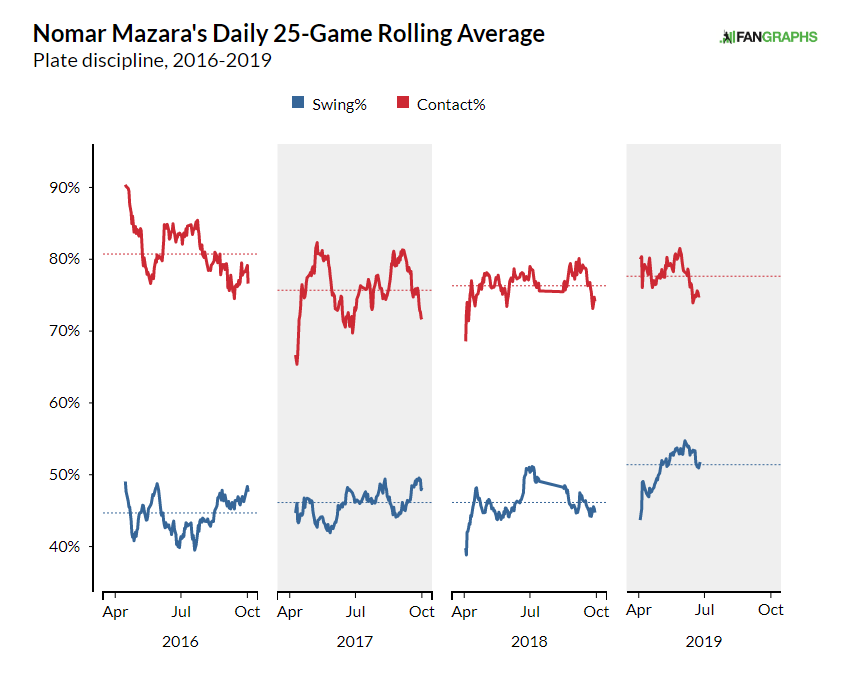 Again, the contrast and success from 2018 to 2019 is clear. What last year was only a Swing% of 46.1% has turned into 51.4% this year. Not only is Nomar Mazara swinging more than half of the times, but he's also making contact 3.5 percentage points more than he did last season.
Moreover, Mazara is hitting the ball harder than ever. He's also helping his chances by increasing the volume of his swings. Mazara is helping his numbers by putting the bat on the ball more than he's done lately. And to put a cherry on top, he's also lowering his soft hits: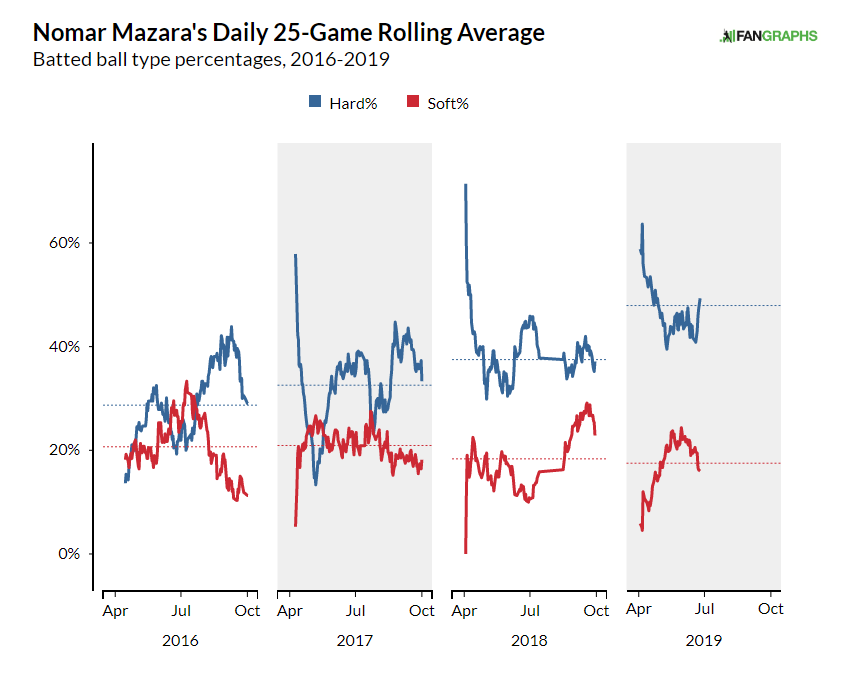 Although the stats will stabilize a little over time removing what was a fluke at the start of the season, the evolution is glaring.
As a final observation, it is also interesting to see how Mazara has been able to close the gap between his pulled and opposite-field hit percentages. Historically a pull hitter, Nomar is flipping the table this season: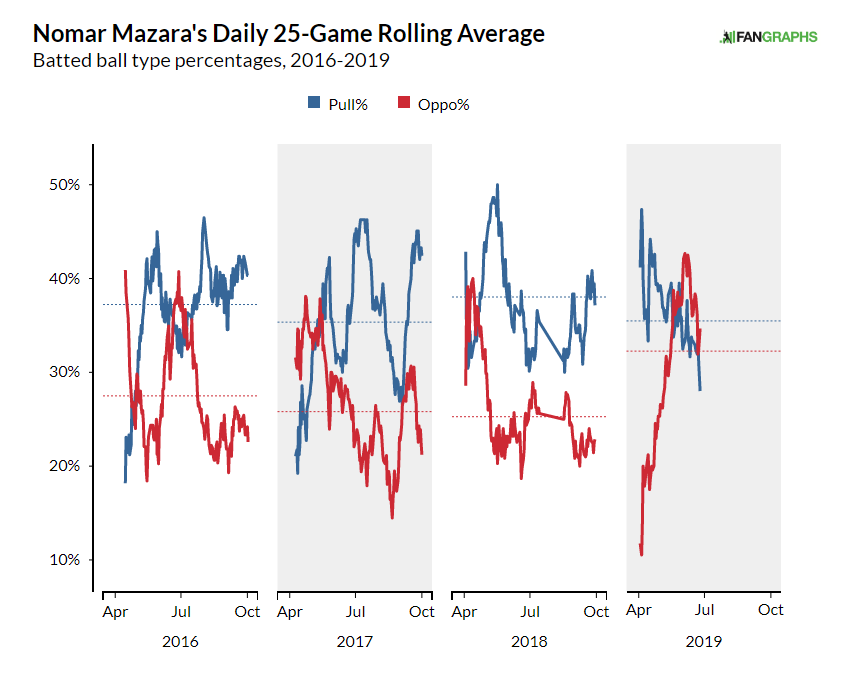 He's lowered his pull tendencies on a daily basis since the start of the 2019 season while he has been able to grow his Oppo% from day one. A late bump down while going the opposite side has made the percentages separate a little but the movement is in place and there is no reason to argue a change in Mazara's approach to hitting is an ongoing, developing project.
Almost at the midpoint of the season, there is no question Nomar has changed his ways, become more aggressive, and ultimately improved his outcome.
He's still 24 and this is already his fourth year at the top level of the game. If he's figured out how he can improve his game (as it seems by all accounts) and keeps this pace, maybe the bridge deal he signed this past January turns out to be a great deal for him and a springboard to a much more succulent one come next winter.
Only time will tell, but Mazara bet on himself, had a trick up his sleeve and is showing his full range of abilities now with everything pointing in the right direction for him.
Questions and comments?
Follow Us on Twitter @thescorecrow
Follow Us on Reddit at u/TheScorecrow
Follow Us on Facebook at The Scorecrow
Follow Us on Instagram at The Scorecrow
Facebook Group where you can read and post articles at The Scorecrow
Reddit Group where everyone can post without fear of being banned at The Scorecrow
Follow Antonio Losada on Twitter @chapulana 
Main Image Credit:
Main Credit Image: [getty src="1157586947″ width="594″ height="384″ tld="com"]