Jamie Gatlin | October 11th, 2018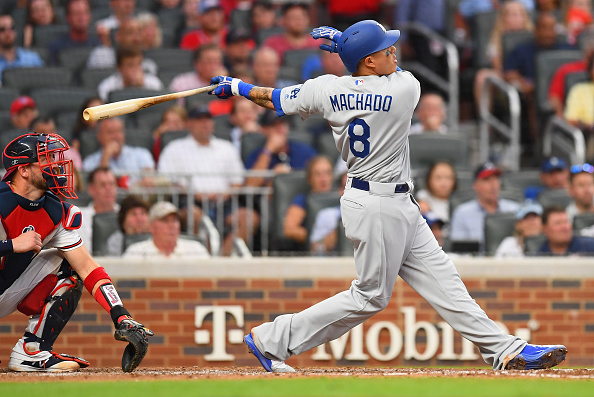 After the first round of the playoffs, the two teams left standing in the National League are the Milwaukee Brewers and the Los Angeles Dodgers. This matchup comes as no surprise as both teams won their respective divisions. They both had different journeys to get here, but only one can advance. The series starts Friday and is one you will not want to miss.
Last Series Recap
The Brewers made it to the playoffs after being one of the busiest teams in the offseason. It was highlighted by the additions of Lorenzo Cain and MVP candidate Christian Yelich. They finished the regular season with 96 wins and have carried that momentum into the playoffs. In the first round, the Brewers faced Colorado who knocked off Chicago in the wildcard game. The series was one-sided as the Brewers swept the Rockies in a best of five. The Brewers outplayed Colorado in all aspects of the game outscoring them 13- 2. Their pitching was dominant as it shutout Colorado in Games Two and Three. Milwaukee was led offensively by Ryan Braun who hit .385.
Unlike Milwaukee, the Dodgers made it to the playoffs because of the moves they made during the season. Their biggest acquisition was Manny Machado whom they acquired midseason. Unlike the Brewers, they needed four games to finish off the Atlanta Braves in the NLDS. They outscored the Braves 20-8 and held their bats in check other than in Game 3. Offensively they were lead by Justin Turner who hit .357 and  Machado who drove in six runs.
Lineups
Against Colorado, the Brewers offense was carried by some unexpected faces. Erik Kratz and Keon Broxton hit over .300 while Christain Yelich and Lorenzo Cain hit under .250. The Dodgers pitching represents a favorable matchup for both of the Brewers struggling outfielders. This season Cain has a .333 average against Dodgers pitching while Yelich has hit .433. The same can not be said for Ryan Braun who hit .263 against the Dodgers in the regular season. Mike Moustakas who was acquired by Milwaukee at the trade deadline hit .364 in the NLDS but also struggled against the Dodgers in the regular season hitting .200. The Brewers will need their veterans to step up as they will be facing a Dodgers lineup on fire.
Against Atlanta, the Dodgers offense was held to less than five runs once. For this series, they will have another favorable matchup. Of their starters, only Chris Taylor is hitting under .269 against Milwaukee pitching. Both Justin Turner and Yasiel Puig have owned Brewers pitching this season as they hit .400. The Dodgers will need more than just two players producing offensively to advance. Against Atlanta, They had seven batters that hit .286 or better and received home runs from six different players. Manny Machado and Max Muncy both homered twice in the opening round but hit under .200. If the Dodgers are to advance they will need them to be better.
Pitching Staff
The Brewers pitching will need to be at their best in this series. Jhoulys Chacin will most likely start game one and be followed by Wade Miley in Game Two. Both were impressive against Colorado as they did not allow a run in their only starts. For Chacin, things did not go smoothly against LA this season as he allowed eight earned runs in his only start. For Miley, this is a much better matchup. In two starts against LA this season he has not allowed a run and held Dodgers hitters to a .136 average. The key for Milwaukee will be their bullpen which was one of the best in baseball this season.
Against LA only two of their relievers had an ERA over 3.00 this season. The Brewers trio of Josh Hader, Jeremy Jeffress, and Joakim Soria dominated Dodgers hitters and did not allow an earned run. They will be relied upon heavily in a series that will be full of offense. The Brewers will most likely go with a bullpen day in one out of the first three games meaning Chacin and Miley will have to give them innings. If the bullpen gets taxed early then this could be a very short series.
Unlike the Brewers, the Dodgers rotation is set for this series. Kershaw will get the ball in game one. He will be followed by Walker Buehler, Hyun- Jin Ryu, and Rich Hill in game four. Of these four, Ryu is the only starter that did not face Milwaukee this season. This group was very successful against the Brewers as Kershaw had the highest ERA with 2.25. They will be supported by a bullpen that had the second lowest ERA in September.
They will be used differently than the Milwaukee relievers. Brewers manager Craig Counsell likes to extend his relievers beyond one inning and make few changes. Dave Roberts likes to use his relievers in certain situations in order to gain an advantage. Kenta Maeda will handle the eighth while Pedro Baez will get the seventh. Scott Alexander, their situational lefty, will get familiar with Christian Yelich and if he struggles in that role will fall to rookie Caleb Ferguson. Their closer Kenley Jensen was impressive against Atlanta in two appearances and did not allow a run.
X-Factor
For the Brewers, their X-Factor will be their pitching staff. They do not have the starting rotation depth of the Dodgers. As a result, they will rely on their bullpen which had the best ERA in September. Chacin and Miley will have to step up so this bullpen is not taxed early. They have a potent offense but their pitching will determine whether or not they advance to the World Series.
The Dodgers are looking to advance to their second straight World Series. In order for that to happen, they will need Machado and Muncy to step up. They drove in a combined 10 runs against Atlanta but hit .176 and .182 respectively. They are key pieces for the Dodgers offensively and they need to get on base more. It will make the Dodgers offense more dangerous which is the last thing the Brewers need.
Prediction
This series will be a close one but the Dodgers have the edge due to their starters. Their offense will be hard to contain forcing the Brewers to rely on their bullpen more than they will like. After struggling against Atlanta, expect Machado to catch fire and lead the Dodgers against Milwaukee. That is why they acquired him at the trade deadline. This series will be a battle and should last six or seven games. This series will begin tomorrow night and it could be one for the ages.
Questions and comments?
thescorecrowsports@gmail.com
Follow Us on Twitter @thescorecrow
Follow Us on Reddit at u/TheScorecrow
Follow Jamie Gatlin On Twitter @JamieGatlin1217
Main Credit Image: [getty src="1047759386″ width="594″ height="397″ tld="com"]