Antonio Losada| July 23rd, 2019
Moments after winning their 30th game of the season, the Tigers had someone to thank for it. His name, Nicholas Castellanos. Detroit's outfielder hit a homer in the 10th inning to seal the victory and, well, not much more given the season the Tigers are in the middle of.
What called for my attention, though, was what Castellanos had to say after the game. Not paraphrasing here, but he basically said that Comerica Park is the best park at suppressing his power-hitting to center field, getting home runs from him on hits that would go the distance at other ballparks.
This got me wondering how good Castellano's eye is (in case he doesn't pay attention to analytics and studies his tendencies), or how knowledgeable he is on his spray chart (in case he really pays attention to it and wasn't just letting out his long-stored frustration after hitting a homer to get a win for the Tigers).
Of course, Comerica Park has a little reputation of being a hard park to hit home runs in. It ranks as the 17th-best in HR generation and the 3rd-best in triples. The quickest takeaway from that is that its long center field makes it hard to go the distance while allowing batters to still get long hits dropping for extra bases. Comerica Park's outfield wall is located 420 feet from home plate, the deepest center field of the MLB.
Moving onto Castellanos himself, the first thing I looked at was his batted ball profile. Here are the visual results season by season since he debuted in 2015, so it's easy to assess how he behaves at the plate and where his hit balls are placed over the field: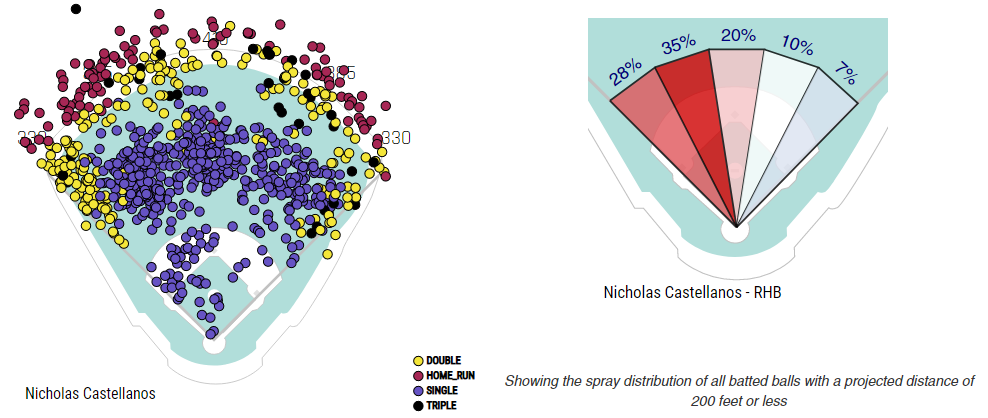 Both the spray chart and the zone distribution make it clear. As a right-handed hitter, Castellanos has hit quite a lot of balls to left, pulling the ball on a nightly basis. Excluding his 2013 debut season (only 18 PA), he has always posted a Pull% of at least 36.2% and an Oppo% lower than 30%.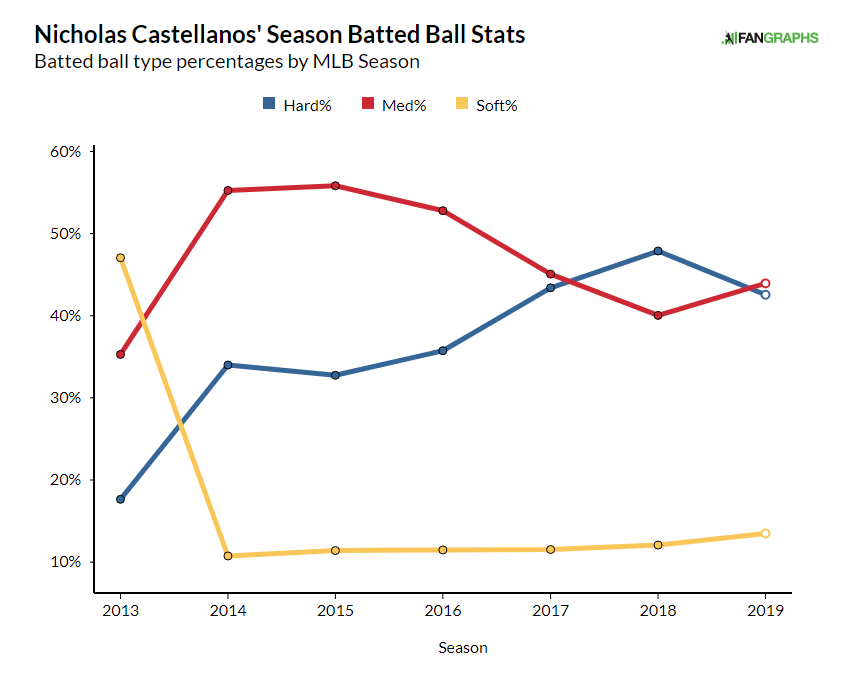 On top of those pulling tendencies, Castellanos has always been a hard-hitter. The combination of pulling the ball and hitting it hard should definitely translate to home run generation.
Turns out, though, he's not that high in the home run leaderboards since 2015. Among 362 hitters to qualify in terms of PA during the six-season span, Castellanos ranks 67th in HR with 104, settling in the 82nd percentile. Good-not-great numbers for such a power hitter.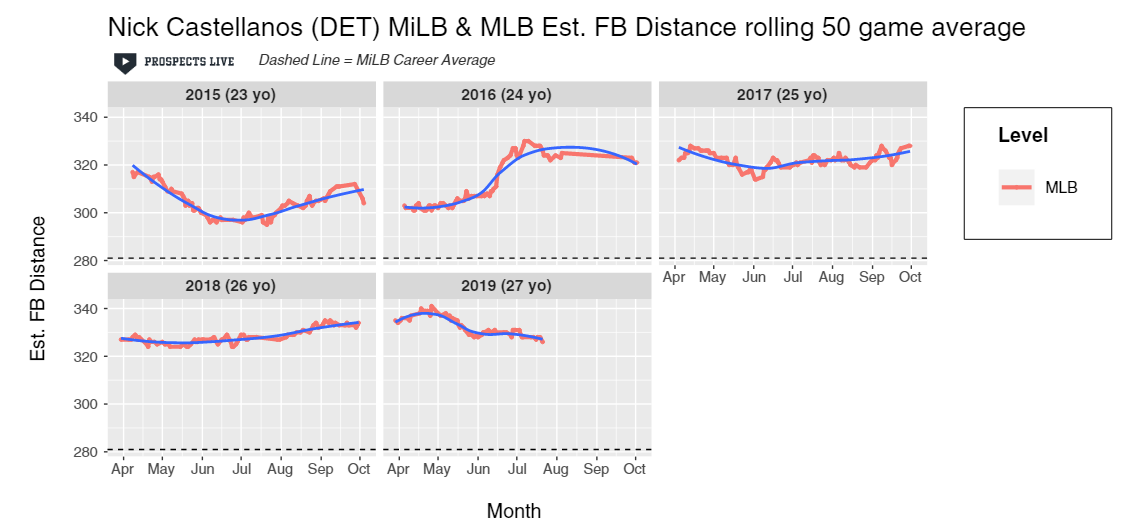 Where Castellanos completely loses his edge, though, is in the HR/FB ratio leaderboards. Since 2014, he has averaged a 11.5% HR/FB, which ranks 192nd, leaving him in a paltry 47th percentile. This must be even more frustrating to him knowing he's been hitting the ball farther and farther each passing season.
Comerica Park definitely played a factor, but how much of it?
Thanks to Baseball Savant, I could run a quick query to see how Castellanos has performed on long fly balls. I searched for every 300-foot+ hit by Castellanos from 2014 to this date. He has always played for Detroit, so I confidently plot them in the outline of Comerica Park to see how he has performed on those hits in terms of home run production.
Given Castellanos is a pull hitter, the best we can do to plot his hits in a perfect-world park for him would be to pick Fenway Park as it has a left field distance of just 310 feet, although the wall would still remove a lot of homers from the hitter. That is why I've settled for the Chicago White Sox' Guaranteed Rate Field, with a left field line at 330′ and a center field depth of a square 400′. It holds the 2nd-best HR factor among all MLB parks per ESPN, so we're good to go with it.
Here is Castellanos 300'+ hits spray chart, which contains 195 such hits, overlaying Comerica Park (left) and Guaranteed Rate Field (right):

Just a quick look at the charts let us see how a lot of the non-red dots on the left (Detroit) would be red on the right (Chicago). Let's remove the home runs from the chart to make things a little easier to the eye:

Looks like a bunch of dots were sadly-placed in Comerica while they'd have been much more happily-placed in Chicago. Here is the same chart, only overlaying Chicago's Guaranteed Rate Field outline on top of Comerica Park's one and leaving the hits that would have been home runs visible on the left, and those that still wouldn't on the right: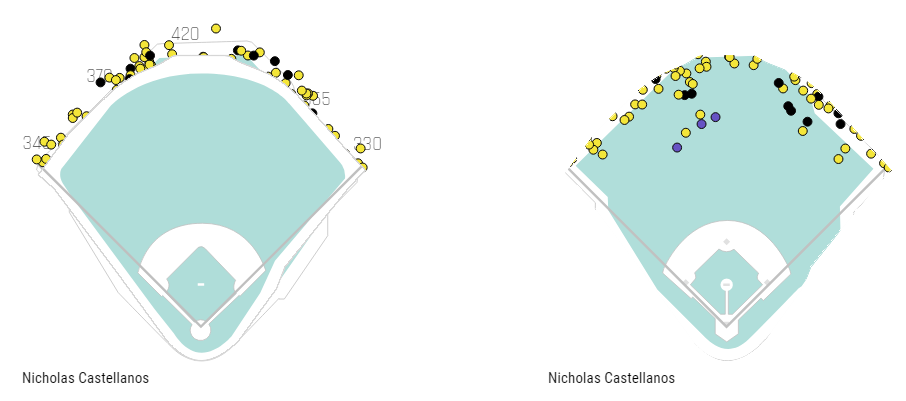 It can be said that quite a lot of hits by Castellanos would have indeed been home runs in Chicago (and a few other parks, for that matter.) Just counting the dots out of Chicago's outfield manually (nothing close to the best scientific method here, mind you), I got to around 50 would-be homers. That would put Castellanos total since 2014 at 154, the 19th-best mark (95th percentile) among all 362 qualified hitters.
The difference had Castellanos played for the White Sox instead of the Tigers would be, indeed, quite big. He would be ahead of much-heralded home run hitters such as Charlie Blackmon or Freddie Freeman and on par with others like Albert Pujols or Bryce Harper.
Nicholas Castellanos is one of the players that could be traded before next week's trade deadline. Detroit is nowhere close to a playoff spot and is right in the middle of its rebuilding efforts, and Castellanos profiles as one of the few productive hitters available via trade. Whoever is looking for a bat should take Castellanos's words after beating Toronto seriously when assessing his value.
Comerica Park may not be the be-all and end-all of Castellanos' production (which is already good at 115 wRC+ and 1.4 WAR in 93 games and 409 PAs for Detroit), but if the team getting him provides him with a right-handed-batter favorable park his outcomes could improve vastly.
Both the Cubs and the Phillies seem to have inquired about Castellanos. While Wrigley Field could still be a little bit of a hassle for him (the left-field line at 355′), Philadelphia's Citizens Ball Park could be a perfect match for his profile (center at 401′, left wall at 329′, 8th-best HR factor.)
Only time will tell where Nicholas Castellanos finishes the 2019 season and where he plays from 2020 onward but if I had to bet, I'd put my money on him seeing an improvement in his home run numbers once he leaves Detroit.
Check Out The Other Deep Dives: Lucas Giolito | Rafael Devers | Corey Seager | Eduardo Rodriguez | Amed Rosario | Alex Verdugo | Joey Gallo | Mike Soroka | Christian Yelich| Justin Smoak| Martin Perez|Marwin Gonzalez|Derek Dietrich|Bryce Harper|Kirby Yates|Nomar Mazara|Zack Wheeler | Tommy La Stella|Starlin Castro|Aaron Sanchez|Edwin Encarnación|Yonny Chirinos
Questions and comments?
thescorecrowsports@gmail.comFollow Us on Twitter @thescorecrow
Follow Us on Reddit at u/TheScorecrow
Follow Us on Facebook at The Scorecrow
Follow Us on Instagram at The Scorecrow
Facebook Group where you can read and post articles at The Scorecrow
Reddit Group where everyone can post without fear of being banned at The ScorecrowFollow Antonio Losada on Twitter @chapulanaMain Image Credit:  [getty src="1157328532″ width="594″ height="396″ tld="com"]