Dale Money | December 6th, 2018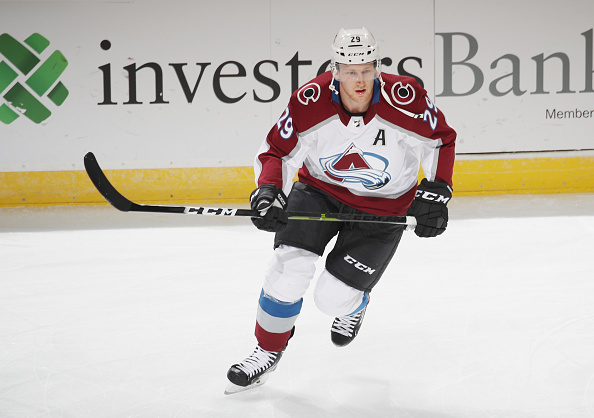 As December has arrived, the NHL has crossed the quarter mark for the 2018 season. We're gonna look at a couple of players that are potentially on the path to great things, an early surprise player, a team that hasn't panned out, as well as some Calder favorites.
Potential Super Stars
Nathan MacKinnon, Colorado Avalanche – MacKinnon has been around forever it seems, on the scene for six years, it might be quite easy to forget he's just 23 years old. Alongside Mikko Rantanen and Gabriel Landeskog, he is presently playing on one of the NHL's top lines. The trio has been tearing it up with every member chipping in. Between the three of them, they are amongst the leaders in goals, shots, assists, and plus-minus.
Through 28 games, MacKinnon has put together 19 goals, 24 assists, 14 power-play points, 119 shots, along with a plus-12 rating. Currently on pace for 58 goals, 73 assists and a plus-39 rating over a full season. McKinnon will go onto smash the career-high 97 points he put up just last season, as it stands.
The finalist for the Hart Trophy last year so far looks like he could easily compete for the Trophy again. He is sitting second in voting to Connor McDavid a quarter of the way through the season.
Patrik Laine, Winnipeg Jets – Budding young Finnish star, Patrik Laine, had a November he'll never forget, the best of his three-year NHL career. Full of memorable and historical achievements, that included scoring a hat trick in three separate countries, as well as winning the NHL's first star of the month, beating out both Nathan MacKinnon and Marc-Andre Fleury for the honor.
He became the fourth youngest player to reach 100 goals, behind only Wayne Gretzky, Jimmy Carson, and Brian Bellows, respectively. It happened on November 29th, in a 6-5 Jets victory, burying it by Corey Crawford. Taking Laine a mere 179 games to accomplish the feat.
Coming off a very tough October, the Global Series in Helsinki couldn't have come soon enough, as it seemed to get him back on his feet. He picked up a very impressive four goals in the two-game miniseries, including a hat trick on November 1. Laine's confidence level seems to be at an all-time high.
Early Surprise Player
David Rittich, Calgary Flames – David Rittich has been one of the NHL's surprise stories this fall. Coming into the season, it had looked as though Mike Smith had cemented himself as the starting netminder for the Calgary Flames. Having a pretty rocky start to the season, where Smith had put up quite mediocre numbers, opened the door.
Rittich who was a bit of question mark, to tell you the truth, given his struggles last year, did a great job of turning the tide when his name came up early in the season. Going 8-2-1 with .919 save percentage, after splitting last year with Calgary and the AHL's Stockton Heat, the 26-year-old was finally getting his first real opportunity at earning consistent starts at the NHL level.
It looked as though he might have wrestled the top spot in the Flames net. However, Smith has had a bit of a turnaround in the last few games, perhaps this showing by Rittich put a real fire under him. Who's to say really, backstopping the Flames to three straight wins over the last four games, Smith looks to be back in everyone's good books for now.
Now with the Flames on top of the Pacific Division, winning 6 of their last ten, Rittich will just have to wait in the wings, on the chance that he is needed again in the future.
Standout Rookies
Elias Pettersson, Vancouver Canucks – He became the youngest player in Canucks history to score five points in a regular-season game during a 7-6 overtime win against the Colorado Avalanche on Nov. 2. Elias Pettersson leads all rookies in goals and points. So far collecting 13 goals and 10 assists in 24 games.
With his incredible display of goals and backbreaking maneuvers over the past two months, Pettersson has gained a lot of attention around the NHL. Adding to an already impressive offensive game is his ability to be an all-around player, that is ramping up the play. He's been better than the Canucks could have expected thus far.
Miro Heiskanen, Dallas Stars – Early Calder candidate Miro Heiskanen is proving Jim Nill right for not trading him to Ottawa. The third overall pick out of last year's draft is certainly making a case for himself as one of the potential top young Defenders.
What Heiskanen lacks in offensive numbers, he more than makes up for in reliability. When you consider two of his four goals have been game-winners. In 28 games, he has recorded 4 goals and 8 assists, along with 54 shots that rates as second most amongst rookie skaters. Heiskanen is a rookie to be sure, but he's certainly been pitching in for the Stars, recording just under 23 minutes a game.
Henri Jokiharju, Chicago Blackhawks – Being selected by the Blackhawks in the first round of the 2017 NHL Draft, Henri Jokiharju wasn't a sure thing to be on this year's opening night roster. To many people's surprise, he has been one of the standout rookie blueliners. In offense, defense, and time on ice. If you're looking for a player that can cover all strengths of the game, Jokiharju has certainly shown up in all facets.
Paired alongside longtime Hawk, Duncan Keith, he has seemed to blossom in the role. At current, he is tied second in assists amongst rookies, along with logging over 20 minutes ice time per game. They may have found the player to take over the defensive workhorse role, once Keith eventually decides to hand over the reins.
Early Disappointment 
After missing out on the playoffs last year, the St. Louis Blues decided to make a big splash, trading for both Tyler Bozak and Ryan O'Reilly this summer. However, in spite of these pickups, the Blues are sitting dead last in the Western Conference with a 9-13-4 record. Marking their worst start in over ten years. It eventually came to a head for former head coach Mike Yeo, when he was fired in late November.
Jake Allen has been struggling again this year, posting a below .500 record to go along with his .896 save percentage. Those numbers aren't nearly good enough for an NHL starter, simple as that.  While the special team's unit is top ten in the League. The team is bottom basement quality in many other departments. Outside of O'Reilly's great start, which includes 12 goals and 28 points in 26 games, the majority of the roster is not up to par.
Questions and comments?
thescorecrowsports@gmail.com
Follow Us on Twitter @thescorecrow
Follow Us on Reddit at u/TheScorecrow
Follow Dale Money on Twitter @packerd_00
Main Credit Image: [getty src="1056896208″ width="594″ height="418″ tld="com"]