Givanni Damico | December 9th, 2018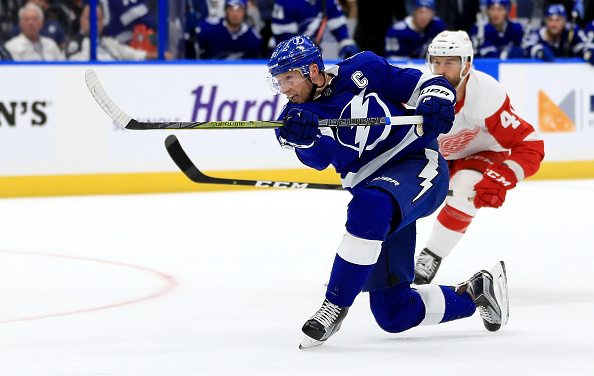 In my opinion, the Eastern Conference is the more exciting conference of the two in the National Hockey League. I am going to be highlighting a player or an exciting line from each team to watch out for as you get your fill of hockey this year.
Boston Bruins
The Boston Bruins have one of the best first lines in the Eastern Conference. They have young talent, age and experience, and a guy who likes to lick people. David Pastrnak, only 22 years of age, is on fire this season. He has played in 29 games this year and has 34 points, 20 goals, and 14 assists. Pastrnak is an electrifying player to watch and he will be around for a while. He had 80 points last year, with 35 goals and 45 assists. Starting at center is Patrice Bergeron. Bergeron has been with Boston since his career started in 2003. Bergeron is a four-time Selke award winner for best defensive forward and has been nominated for the award nine times. Before going down with an injury on November 16th, Bergeron was on pace to have the most points in one season in his 15-year career. This says a lot about the players around him, as well as that age is just a number in hockey. Brad Marchand likes licking people. He also enjoys himself a nice stay in the penalty box. We are only 29 games into the season and Marchand already has 72 penalty minutes. Despite being on pace for 226 penalty minutes which would be almost three times his career high, Marchand has 27 points in 29 games and is having a good season. Other players to remember are defensemen Torey Krug and Charlie McAvoy (when healthy), and winger Jake Debrusk. Tuukka Rask, the goaltender, isn't too bad himself.
Buffalo Sabres
The Buffalo Sabres revamped their team this offseason, and it has worked out very well. Jeff Skinner, the former Carolina Hurricane, has 20 goals in 30 games so far and is on pace for over 50 on the year. He has brought this energy to the team that they just didn't have last year. Despite leading in goals, I don't believe that Jeff Skinner is the best player on the Buffalo Sabres because that player is Jack Eichel. Jack Eichel is only 22 years old and has been consistently good since being drafted and at one point was the only bright spot on this team. Eichel has been on the assisting end of 27 goals this year while only finding the net nine times. This trend won't continue though. Eichel is known for heating up during the mid-back half of the season and I fully expect that to happen. Carter Hutton has been the goalie the Sabres needed. He was a backup to Jake Allen in St. Louis last year, but this year, he already has 12 wins, a .917 save % and 2.60 goals against average. I don't want to leave out the star defensemen whom I call Rasmus squared. These two are the rookie, Rasmus Dahlin, and the young vet, Rasmus Ristolainen. The Sabres have a very young core including players like Sam Reinhart, Tage Thompson, and Casey Mittelstadt. This team is exciting.
Carolina Hurricanes
The Carolina Hurricanes have an exciting 21-year old center named Sebastian Aho. He's a playmaker who already has 27 points in 28 games. Another player to highlight is 24-year old winger, Teuvo Teravainen (try pronouncing it, I dare you). He hasn't had the best start to this season, but it definitely hasn't been bad. He has 20 points this season in 28 games. He broke out last season with 64 points in 82 games and I expect him to finish with similar numbers. There's not too much else on this team that excites me, but other notable players include winger Micheal Ferland, veteran winger Justin Williams, and defenseman Dougie Hamilton.
Columbus Blue Jackets
I love this team. They make me excited for the future of hockey, and of course for the current state of the league. My favorite player on the team is Pierre-Luc Dubois. Dubois is only 20 years old and is already one of the best young players in the league, but also one of the most overlooked. He had 48 points in 82 games last year which isn't eye-popping, but he was a rookie who didn't get many line one reps. This year, he has thrived on line one, scoring 13 goals and recording 12 assists in 29 games. Mark my words, Dubois will be one of the best players in the NHL in two years. Let's talk about Artemi Panarin. The Blackhawks made a mistake getting rid of him two years ago, and he made them pay last year, recording 82 points in 81 games. He had a stellar plus-minus of 23 as well. He is on pace for about the same amount of points, although I'd like to see him find the back of the net more often. Cam Atkinson has been RED-HOT over the last month. He has 13 goals in his last 13 games and hopefully will continue to lead this team to victories. I don't want to leave out the two young, line one defensemen in Seth Jones and Zach Werenski. Seth Jones has started a bit slow with 16 points in 24 games but this isn't too out of character for him. He is a defensive defenseman but he also makes contributions offensively. Last year he had 57 points in 78 games. Zach Werenski has performed admirably this year with 16 points and 30 blocked shots so far. I'd like to see the number of blocks go up a bit more, but he is on pace for a solid season. Some other players on this season who go overlooked are Josh Anderson, Nick Foligno, and Boone Jenner.
Detroit Red Wings
I am really not a fan of this team at all. To me, they are the Los Angeles Kings of the Eastern Conference: boring and predictable. However, they have a couple of difference-makers in Detroit. My favorite Detroit Red Wing is a 24-year old winger, Andreas Athanasiou (again, if you can pronounce it, you get a cookie). Athanasiou plays on line two but he is easily the biggest difference maker on the team, with 11 goals in 26 games. He is the only Red Wing that I rely on in NHL DFS play. There is, of course, the veteran goaltender, Jimmy Howard. Howard is having an above average season so far, going 9-6-4 with a .920 save % and 2.77 goals against average. Despite his good play, his offense doesn't help him much. Don't worry Red Wings fans, I didn't forget about your pride and joy, Dylan Larkin. Larkin has 28 points in 30 games so far and had 22 points last year. It is notable that his plus-minus is -3, but his team doesn't help.
Florida Panthers
The Florida Panthers have Mike Hoffman who is having an insane season. Hoffman has 14 goals and 14 assists in 28 games and is on pace for career-highs in goals, assists, and points. Let me not leave Aleksander Barkov and Vincent Trocheck out of the list of insane players on Florida. Trocheck went on the IR and won't be back for a while, but before he was hurt, he had 14 points in 18 games. He is only 25 and has a very productive career ahead of him. Barkov has 27 points in 28 games and amazingly, has not spent a minute in the penalty box this season (Brad Marchand should take notes). They have a nice one-two punch at defenseman too with the up-and-coming stud Aaron Ekblad, and the productive veteran Keith Yandle. Yandle has 28 points in 28 games and is on pace for a far-and-away career-high in points. I didn't forget about Evgeni Dadonov. He has been the most productive player on this team (notice my constant use of the word "productive" to describe the Florida Panthers) recording 28 points in 28 games, including 13 goals. To think that this man spent five years outside of the NHL is insane. Roberto Luongo has cost this team many games this season and the same could be said about James Reimer.
Montreal Canadiens
Montreal is an interesting one for me. I'm going to be short and sweet with Montreal because I dislike this team's inconsistency. Brendan Gallagher is very talented but is the root of the inconsistency. He has 19 points in 29 games. He hasn't hit that hot streak yet. Max Domi and Jonathan Drouin are the best players on this team right now, and Jeff Petry and Shea Weber aren't too bad either. Carey Price has also been very inconsistent and unlike himself this season. Once he and Gallagher step up their play, this team will improve, but for now, they are stuck in the middle of the pack.
New Jersey Devils
The New Jersey Devils are a consistent goaltender away from being a contender. They have Taylor Hall who is one of my favorite players in the NHL. Hall has 30 points in 27 games and is a huge playmaker for this team. He is the set-up man for Kyle Palmieri who has 24 points, 14 of them being goals. Recently, Palmieri was moved to line two with Jesper Bratt being moved to line one. Palmieri is still on the first powerplay unit but I really disagree with this decision. I like their defensive core with underrated players like Damon Severson, Andy Greene, and Sami Vatanen. None of these guys are Brent Burns or Morgan Rielly, but they are overlooked when it comes to good defensemen. Nico Hischier is also a nice up-and-coming player (at center) on line one with Taylor Hall. Keith Kinkaid has been pretty average in goal this season, with a 10-7-5 record, a .906 save % and 2.94 goals against average. Cory Schneider is a nightmare. I'd rather put my arthritis-ridden grandmother in goal (not actually, that would be mean) than watch this man. He is 0-5 in seven games with a .862 save % and a horrendous 4.19 goals against average. He has severely regressed each of the last three years.
New York Islanders
This team is such a facade. People think they're good but they really aren't. Anders Lee has had an off year so far, same with rookie of the year Mathew Barzal. Barzal has been outperformed by line two center, Brock Nelson this year. Barzal has more points with 22, but he only has three goals, while Nelson has lit the lamp 10 times. Anthony Beauvillier has stepped up, but there's really nothing on this team that I like. They need defensemen! Johnny Boychuk can't play on line one anymore. Thomas Greiss has been good this year with a 10-6-1 record, a .918 save % and 2.58 goals against average.
New York Rangers
The Rangers are a team that I like to use in DFS because they have consistent pieces, but they don't have enough to make the playoffs in my opinion. Chris Kreider has 14 goals and eight assists in 29 games. Each team needs someone like Chris Kreider who just puts the puck in the net and has a good goal-to-assist ratio, not assist-to-goal ratio. Good job, Chris. Here's the inverse. Mika Zibanejad has been very productive this season, totaling 26 points (nine goals) so far through 29 games. This team has many notable players including Kevin Hayes, Neal Pionk, Mats Zuccarello, and Brady Skjei. Henrik Lundqvist is the man who keeps this team in contention. His record isn't flashy at 10-8-3 (.919 save % and 2.68 GAA), but his team doesn't give him much help. This is a hit or miss team. They could score six for Henrik or they could get shutout.
Ottawa Senators
I really like the youth of this team. Brady Tkachuk has 16 points in 19 games with nine goals in his rookie campaign. Thomas Chabot had 25 points in 63 games last year, but this year he already has 33… in 30 games. He has found the back of the net eight times and provided 25 helpers. This is a super exciting player for the future of hockey. Drake Batherson is a rookie as well, who has provided seven points in 12 games so far, looks promising as well. Mark Stone, Matt Duchene, Ryan Dzingel, Bobby Ryan, and Colin White all are huge pieces to the team as well. Matt Duchene has been a stellar addition to this team. He has 34 points (12 goals, 22 assists) in only 29 games and has flown so far under the radar. But for real, Ottawa? You can't find a better netminder than Craig Anderson? He's wasting this team's potential.
Philadelphia Flyers
I have been a fan of Claude Giroux for my entire life. He has been great once again this season with 11 goals and 25 helpers. It really is too bad that this team is terrible because Giroux is such an underappreciated player because of the team he plays on. I will miss Giroux when he retires and I don't like the Flyers front office for messing up his legacy. He is only 30 though, so he should have at least five more years left. Rant over. Sean Couturier has 20 points in 26 games but has been pretty inconsistent. Obviously, their shortcomings don't fall on him or anyone except the goaltenders (and the front office). This team should trade for or draft a goalie ASAP.
Pittsburgh Penguins
The Pittsburgh Penguins have been a dominant team for the last decade thanks to Sid the Kid, but this year isn't off to that good of a start. Since letting Marc-Andre Fleury go in the expansion draft to Vegas, goaltending has been an issue for them. The team thought that Matt Murray was their future stud netminder, but that has not panned out at all this year. Murray is having a horrendous year, recording a 4-5-1 record with an .877 save % and 4.08 goals against average. Murray hit the IR a couple weeks ago but is expected back soon. Don't be too surprised if Casey DeSmith takes over the starting job even when Murray is back. DeSmith is 8-4-3 with a .923 save % and 2.44 GAA. Let's talk about Sidney Crosby. The "kid" has been in the league since 2005, since he was 18, and hasn't let up since his rookie year when he was second in the Calder trophy voting (rookie of the year) to who? Alexander Ovechkin. I'll get into him later. In seasons that he has played over 70 games, Crosby has scored at least 84 points in each of them. He is on pace to keep that trend going, but will the Penguins 12-year playoff streak end? Let me talk about the most underappreciated player in the NHL. Evgeni Malkin. The same stat that I addressed with Crosby is true with Malkin, except Malkin has only played more than 70 games five times in his career. He's had issues staying healthy which is why I think so many people forget about him. Another player who goes overlooked on this team is Kris Letang. Letang has never scored 70 points in a season before, but he is still very reliable and very consistent offensively. His defense is very impressive as well, as he is a big shot blocker. There's so much to go over on this team that I won't be able to get to Jake Guentzel and Patric Hornqvist, because I have to talk about Phil Kessel. Kessel has always been a very reliable goal-scorer and also is good with spreading the wealth. He has played on the second and third lines for Pittsburgh when he could easily play for any other team's line one. The only bad thing about this team is that all their good pieces hover between the ages of 30-35 so their time to win is now, and if the goaltending can't help them with that, they may need to look into a trade partner for Matt Murray.
Tampa Bay Lightning
The Tampa Bay Lightning will be a powerhouse team for the next five years. All of their powerhouse skaters including Nikita Kucherov, Steven Stamkos, and Victor Hedman are in their mid-twenties with plenty of career ahead of them. Not only do the Lightning have them, but they also have guys like Brayden Point, who is having an even better season than Steven Stamkos this year, skating on line two and powerplay line one. Point is only 22 years and is proving to be one of the most productive players on the team this year, recording 39 points (21 goals, 18 assists) in just 31 games. The only other player on the team with more points is the aforementioned Nikita Kucherov. Kuch has 44 points in the same 31 game span, 32 of those being helpers. This team meshes so well together and it's amazing to watch their offensive dominance. Tyler Johnson, JT Miller, Ryan McDonagh, and Mathieu Joseph have helped them greatly as well. Their young, elite goalie, Andrei Vasilevskiy (who is currently injured), is proving to be the most dominant and consistent goaltender in the entire league this season. Before his injury, Vasilevskiy was 9-3-1 with a .927 save % and 2.29 goals against average. The only other goalie playing at that level (maybe even better) is Nashville's Pekka Rinne, who is the reigning Vezina trophy winner. This team has a lot of potential and firepower already and will continue this dominance for years to come.
Toronto Maple Leafs
I'm worried about this team. They have great pieces right now and easily could be the best team in the league for years to come, but they have only $12 million in salary cap after this season to re-sign: Auston Matthews, Mitch Marner, Kasperi Kapanen, Andreas Johnsson, Jake Gardiner, and Ron Hainsey. Auston Matthews will probably cost $10 million by himself so they will have to let Mitch Marner go. So when reading my description of this team, keep it in the back of your head that they most likely won't have Mitch Marner or Jake Gardiner next year. That being said, retaining Auston Matthews is absolutely crucial to this franchise. Matthews IS the next Sidney Crosby. Auston Matthews missed half of this season with an injury, but in 16 games so far for him, he has 16 goals and 10 assists. That is insane. His first two seasons he had 69 and 63 points, but this season I'd say he can get to 85 if he stays healthy. Then if he plays a full season, he's easily a 100-point scorer. Mitch Marner is off to a fantastic start, point-wise, as he has recorded 40 points in 30 games (six goals and 34 assists). Marner played all 82 games last season and had 69 points. He is currently on pace for over 100. It's going to suck to be a Maple Leafs' fan and have to watch him go in free agency. Let's talk about Morgan Rielly. Rielly is a favorite for the Norris trophy so far (best defenseman). In 30 games, Rielly has nine goals and 23 assists for a grand total of 32 points. He started out scalding-hot and has cooled down over his last 10 games. Nevertheless, he still has seven assists in those games, so he should stay in the running for the Norris. Frederik Andersen has been lights out in goal this year. So far, he is 16-8 with a .926 save % and 2.50 GAA. He led the league in saves last season and is on pace to have even more this year. Andersen always faces high shot volume, which makes him that much more of an enticing DFS goalie (albeit expensive). I expect this team to make it to the conference finals, at least.
Washington Capitals
We're in the home stretch, and we will be ending off with the reigning Stanley Cup-champions, the Washington Capitals. Led by Alex Ovechkin, who had 49 goals last season, this Capitals team is always a threat. Ovie already had 22 goals and 14 assists this season, putting him on pace for 60 goals if he plays the rest of the season. We've been discussing underappreciated players (which will be a separate article soon), and one of those is Nicklas Backstrom. Backstrom and Ovie have always been the one-two punch for Washington, but Backstrom is often overlooked. With 34 points already this year, he is on pace for one of his best seasons. T.J. Oshie is currently injured but I believe this team picks up steam when he returns. He has nine goals and five assists in 18 games. Tom Wilson is a beast. He needs to keep his emotions in check to be a reliable player for Washington, but in 11 games (he was suspended for the first 18 games) he has eight goals and six assists. If he stays healthy and not suspended, watch out for him. John Carlson has been very productive as usual. Carlson has five goals and 25 assists in 28 games. He has been a huge helper to Ovie and Backstrom this year. Braden Holtby has been pretty inconsistent this year. He is 11-7-2 with a .911 save % and 2.85 GAA. These are the worst stats of his career so far, but don't fret. I believe Holtby will start heating up and becoming dominant like he was last regular season. One more huge impact player on this team is Evgeny Kuznetsov. Kuz was injured for a short while this year, but in 23 games has seven goals and 20 assists and is getting the most ice time per game of his career. This team is an all-around threat once they get it going and I think they contend for a Stanley Cup again.
Questions and comments?
thescorecrowsports@gmail.com
Follow Us on Twitter @thescorecrow
Follow Us on Reddit at u/TheScorecrow
Follow Givanni Damico on Twitter @giodamico15
Main Credit Image: [getty src="1052481650″ width="594″ height="376″ tld="com"]