Joel Dorcas | March 12th, 2019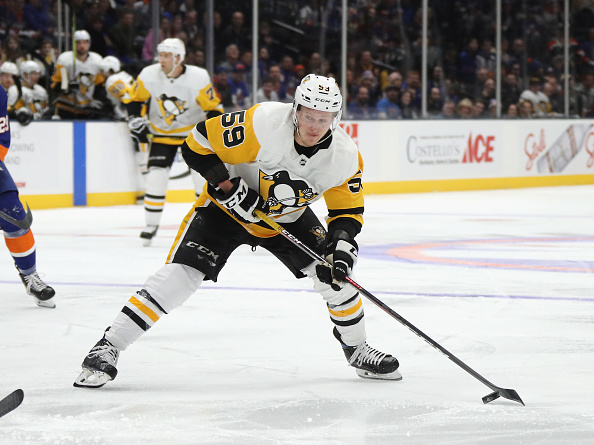 We have a decent size offering of games to choose from tonight. A couple obvious high profile games lead the way. Pittsburgh is home to the red-hot Washington Capitals, winners of seven straight. The struggling Winnipeg Jets(4-5 in there last nine) host the smooth sailing San Jose Sharks(6-2-1 in there last nine). Our other set of games appears to be more one-sided, but still valuable in terms of fantasy point production. Montreal hosts Detroit and New Jersey visits Calgary. Time to break it down!
At the Core
Nicklas Backstrom C WAS $6,000
It appears that the defending Cup Champs are running on all cylinders of late. During their seven-game win streak, they have lit the lamp 30 times. For a change, it is someone other than Alex Ovechkin leading the charge. Nick Backstrom centers a very effective second line and powerplay one unit. Both teams are actually allowing fewer goals recently than their season averages but there is just too much firepower on both sides for the defense to slow the pace down. In his last five games, Backstrom has three goals, two assists and 10 shots on goal.
Jake Guentzel W PIT $6,600
A  nice 6-5 game really feels like it's on the horizon here between Pittsburgh and Washington, but the DFS Gods aren't always on our sides so this, of course, could easily be 2-1, especially given the way that both teams have buckled down recently. If we do get fireworks, Crosby and Guentzel at home will do some heavy lifting. Guentzel, over his last five games, is borderline scorching, five goals, four assists, and 15 shots.
Patrik Laine W WPG $6,000
Even though the Jets are a game under .500 over their last nine, they are still extremely dangerous, and you know they will be ready for a home game against a Western Conference powerhouse like San Jose. Patrik Laine is now playing on the first line with Mark Scheifele and Blake Wheeler as well as playing the point on the first powerplay unit. That trio of forwards on one line is a boat-load of talent. Let's see if we can cash in before his price increases.  Laine has performed well over his last 10 games, scoring four goals and adding five assists as well as putting 30 shots on goal.
Shea Weber D MTL $5,900
Maybe a brutal Detroit Red Wings squad is just what the doctor ordered for the Montreal Canadiens who will be playing at home after a rough West Coast swing that finished with them getting thumped by the Anaheim Ducks 8-2. Last time these two met the Canadiens were the ones doing the thumping, as they exploding for eight goals of there own. The Wings have just a single victory in their last 10 games, allowing an average of 4.2 goals per contest. A steady Shea Webber should continue on his nice pace, he has two goals, two assists, 23 shots and nine blocks in his last five. Over his previous 10 games, he has two goals, four assists, and a healthy 34 shots to go along with 20 blocks.
Value Plays
Jared McCann W PIT $4,600
McCann has been a great addition to the Penguins. Since being acquired from the Panthers he has eight goals and 11 points in 19 games. This coupled with the fact that he is now playing first line minutes with Crosby and Guentzel make him a great play at a lower cost. McCann keeps getting better and better as indicated by his most recent play, three goals, three helpers, 11 shots and seven blocks over his last five contests.
Lars Eller C WAS $4,300
Eller isn't getting top-six minutes on a loaded Capitals squad, but he is making up for it by logging valuable minutes in penalty kill situations and on the second power-play unit. Eller is actually showing flashes of offensive play of late, he leads his team in shots on goal over the last five games with 20, two more than the "Great Eight". More about that offensive uptick Eller has shown, in his last 10 games he has eight points whereas on the season his pace was much more subdued, just 32 points in 68 games.
Tyler Myers D WPG $3,900
Winnipeg is still playing without three prominent defensemen which of course has increased other players workload, such as Tyler Myers. Myers is averaging over 21 minutes of ice over the last 10 games, he also has chipped in offensively with three goals, two assists and 21 shots on goal. Of course, we also get blocks with Myers, 14 in the previous 10 games, all tole Myers is averaging 3.2 DKpts per game over this recent span.
Paul Byron W MTL $4,600
Byron has seen an uptick in offensive production of late amassing eight points over his last 10 games, well above his full season pace which is at 27 points in 46 games. Byron stands to benefit from playing with Max Domi on the second line and the first powerplay unit. If the Wings get into penalty trouble this core group of Canadiens players stand to benefit, the Red Wings own the fifth-worst penalty kill percentage in the league at 77.6%.
Stacks
Pittsburgh Penguins- Crosby(C), McCann(W), Guentzel(W), Schultz(D)
Washington Capitals-Backstrom(C), Eller(C), Oshie(W), Ovechkin(W)
Montreal Canadiens-Domi(C), Byron(W), Webber(D), Mete(D)
Questions and comments?
Follow Us on Twitter @thescorecrow
Follow Us on Reddit at u/TheScorecrow
Follow Us on Facebook at The Scorecrow
Follow Us on Instagram at The Scorecrow
Follow Joel Dorcas on Twitter @Joel_Dorcas6
Main Image Credit:
[getty src="1080966042″ width="594″ height="445″ tld="ca"]