Joel Dorcas | February 19th, 2019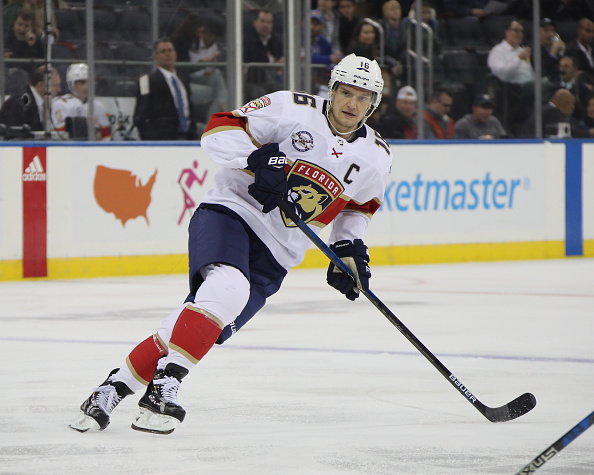 The NBA is still on all-star break so this is a great opportunity to get in on some NHL action. We got some teams that are playing really well and are showing no signs of letting up so let's hope they can keep things going for us. Highlighting the card tonight are Sabres at Panthers, Penguins at Devils, Rangers at Hurricanes and Blue Jackets at Canadiens. 
At the Core
Nino Niederreiter W CAR $5,500
The Carolina Hurricanes are amongst the NHL's hottest clubs over the last month. They have scored 40 goals in there last 11 games, and have a very nice 8-2-1 record over that span. Niederreiter has fit in incredibly well since being brought over from Minnesota scoring eight goals and 12 points in 12 games. Niederreiter and the Canes draw the 26th ranked in goals against per game New York Rangers. Henrik Lundqvist, the predicted Rangers goalie has lost his last four starts.
Kris Letang D PIT $6,500
Letang is in the midst of having a career year. His price is very favourable so we should be taking advantage of this great value. One more goal and Letang will tie his season-best total of 16 goals reached in 2015-2016. Letang has been very consistent averaging nearly a point a game over the season. In his last five games, he has three goals and three assists and has averaged just over a whopping 27 minutes per game. The Penguins opponent, the New Jersey Devils allow the 29th most goals against per game in the league yielding 3.4 per game.
Aleksander Barkov C FLA $6,800
Barkov is the clear leader on a sneaky-good Florida Panthers squad. Barkov went off for a hat trick Saturday versus the Canadiens and had a team-high seven shots on goal. Against tonight's opponent, the Buffalo Sabres, Barkov has three goals and two assists in three games, averaging an eye-popping 6.8 fantasy points per game. Barkov has shown to be much more productive at home compared to on the road averaging 5.1 FPTS per game instead of 3.1 per game.
Artemi Panarin W CLS $7,200
The Jackets will be entering there match with Montreal after just playing the night before at home against the best team in the NHL, the Tampa Bay Lightning. Columbus is an underrated team that may be hitting their stride at the right time and are led by the "bread man" who along with goalie Sergei Bobrovsky are playing some of there best hockey right now. Panarin has seven points in his last five games going into Monday's tilt against the Lightning. The Canadiens have hit a bit of a bump recently and goalie Carey Price has been on the hook for four straight defeats allowing at least three goals against in three of those games.
Stacks
Pittsburgh Penguins-Crosby(C), Malkin(C), Letang(D), Shultz(D)
Florida Panthers-Barkov(C), Hoffman(W), Ekblad(D), Malgin(W)
Carolina Hurricanes-Niederreiter(W), Aho(C), Teravainen(W), Ferland(W)
Value Plays
Nick Foligno CLS $4,200
Even though most of the time it is recommended to stay clear of a team playing on back to back nights, as mentioned earlier, I still like them on the road against a struggling Montreal Canadiens squad. Foligno isn't exactly lighting the lamp with just three points in his last ten games, but he is showing promise with 16 shots on goal in his last five games. He's also getting first line power play minutes alongside the likes of Panarin and Cam Atkinson.
Justin Schultz PIT $3,500
Schultz is just recently getting back to regular playing time for the Penguins. Since his return, Schultz has chipped in for a point in both games played. Schultz is averaging a respectable 2.8 fantasy points per game over six games played this season, a decent return for the salary.
Denis Malgin FLA $2,900
We may be scrapping the bottom of the barrel here with Malgin, but hey the salary relief is intriguing at the very least. Malgin sniped one last time out versus Montreal and saw his ice time increase to just over 14 minutes whereas he was only seeing the ice at just under 12 minutes per game averaged over the last five games.
Follow Us on Twitter @thescorecrow
Follow Us on Reddit at u/TheScorecrow
Follow Us on Facebook at The Scorecrow
Follow Us on Instagram at The Scorecrow
Follow Joel Dorcas on Twitter @Joel_Dorcas6
Main Image Credit:
[getty src="1058621482″ width="594″ height="475″ tld="ca"]
Advertisement