Richard Benites | September 27th, 2018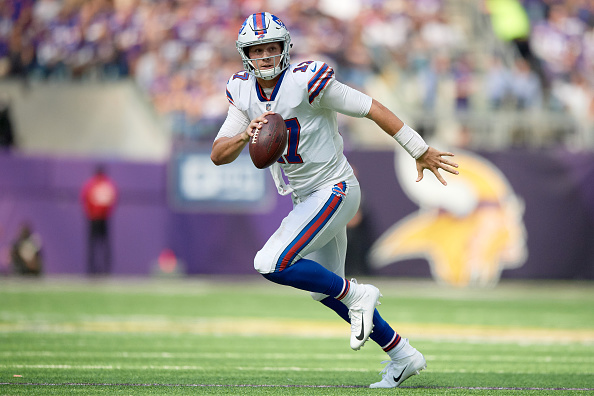 Week 3 is now wrapped up and the season is already shaping up to be a closely contested one. As of Monday Night Football, only 3 teams remain undefeated and another 3 are without a win. Also on the topic of wins, the Browns finally got the job done and the Patriots appear to be in a bit of a Super Bowl hangover. For more on these storylines and other big news from around the league, here are our picks for the NFL Week 3: Award Winners.
1) The Browns Are Back in Town Award: Baker Mayfield
Cleveland's defense deserves a lot of thanks for limiting the visiting Jets to only a field goal following halftime, but the action didn't start until rookie quarterback Baker Mayfield took the field.
Thursday Night Football featured the, starving for a win, Browns hosting the New York Jets. There was a lot of hype surrounding this one, particularly for the home side who were, for the first time in a long time, favored to win; you'd have to go all the way back to Week 16 of the 2016 NFL season to find Cleveland's previous victory.
However, the start of the game had the Browns looking in last season form as the Jets ran the ball in twice for a 14-0 lead late in the 2nd quarter. Then, to make matters worse, the Browns' starting quarterback Tyrod Taylor was done for the night after sustaining a concussion. Although, hope from the fans didn't falter as they finally had the chance to see what their No. 1 overall draft pick could do on the big stage. Ultimately, Mayfield blew away everyone's expectations as he spearheaded a 21-17 comeback win on national television. Hue Jackson, don't mess this up…start the man!
2) The No Days off Award: Buffalo Bills
I think it's fair to say that no one, on either side, saw this coming. Some fans might get anxious when they see the Vikings are up next for their team's schedule, whereas some fans are prone to get excited when they see the Bills; except, these aren't your average Bills. No, these Bills, in particular, are led by rookie quarterback Josh Allen who Buffalo selected as the No. 7 overall pick in this year's NFL draft.
The visiting Bills did all their damage in the first half, after scoring 27 uncontested points thanks to turnovers on defense. For the remainder of the match, a flurry of Vikings' mistakes and failures on fourth downs limited their scoring to only a pair of field goals. The Bills had done it and we were left wondering who deserved this award more; Buffalo to honor their resolve or Minnesota to remind them that there are no easy days in the NFL.
Alternatively, Vontae Davis is this and every week's: Days off Award winner.
3) The Hype Maker, Record Breaker Award: Patrick Mahomes
Most of us saw Mahomes' 3rd and goal touchdown to Chris Conley, some of us saw it several times just because of how spectacular it was. With every new week, the Chiefs are showing us why we should believe the hype. The only question that remains: is it sustainable?
After his 314 yards for 3 touchdowns stat line, second-year quarterback Patrick Mahomes broke the NFL record for most touchdowns thrown through the first three weeks of a season; a record previously held by, future Hall of Famer, Peyton Manning. Mahomes is a talented rising star with a cannon for an arm. The Chiefs will look to keep the hot streak alive as they visit the Broncos this week for some exciting Monday Night Football.
4) The SNF Snafu Award: Hoodie Belichick
It's Sunday Night Football, America is watching, and oh, what's this? Bill Belichick is bringing out the hoodie! Avid football fans have seen this clothing cameo many times throughout the Belichick era, and it's enough to get us all locked in and ready for another masterful Patriots performance.
New England wanted to make this one a statement game after falling short last week in a heated Conference playoffs rematch against the Jacksonville Jaguars; however, things didn't go nowhere nearly as planned. Detroit's defense held Brady to only a single touchdown, Matthew Stafford had his first dominating performance of the season with a 101.9 QB rating, and Belichick's former defensive coordinator, Matt Patricia, head coached the Lions to a 26-10 victory. Maybe next time Bill, you'll high-five that kid from the stands.
5) The Future Employee of the Month Award: Earl Thomas III
As we saw throughout the offseason, the Cowboys need Earl Thomas and Earl Thomas wants to be on the Cowboys; enough so that a few pundits claim tampering. Regardless, the Seahawks' safety has started this year scorching hot and even intercepted his potential Dallas employers twice last Sunday.
Through only two games, since an injury kept him out of Week 2, Earl Thomas is tied for leading the league in interceptions with three on the year. If that fact alone doesn't scream last-piece-of-the-puzzle for a lackluster Cowboys secondary, then we're not sure what will.
6) Honorable Mention: Drew "Mike Vick" Brees
Cue the video of Drew Brees' 7-yard rushing touchdown against the Atlanta Falcons. At 39 years old, you can't do it much smoother than that. Saints fans were holding their breath hoping that the team's legendary quarterback made it out safe, whilst Falcons fans saw shades of their own legendary quarterback, Mike Vick, manifest before them.
Questions and comments?
thescorecrowsports@gmail.com
Follow Us on Twitter @thescorecrow
Follow Us on Reddit at u/TheScorecrow
Follow Richard Benites on Twitter @RichardIBenites
Main Credit Image: [getty src="1043873810″ width="594″ height="396″ tld="com"]