Richard Benites | September 19th, 2018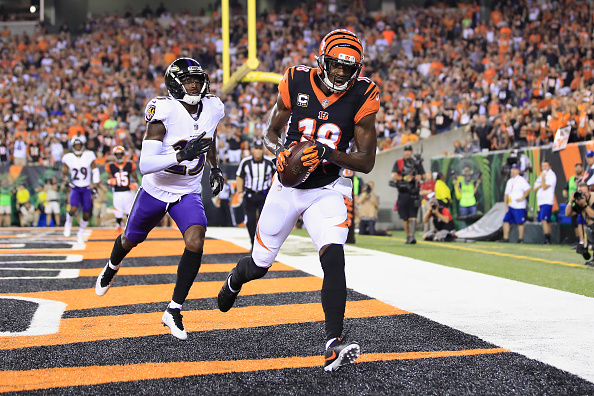 Week 2 of the young NFL season has now concluded and boy oh boy, there are plenty of juicy storylines to cover. While some may be proud of their team's performance so far, others are in panic mode and taking to Twitter to express their malcontent. Regardless, this is already shaping up to be yet another unpredictable year of football; one where you really have to stay on top of things. Here's a leg up on this week's conversations and our picks for the NFL Week 2: Award Winners.
1) The Maybe We Shouldn't Leave Him That Open Award: A.J. Green
Let me set the scene really quick: it's Thursday Night Football, Bengals vs. Ravens, the whole nation is watching as Baltimore's defense has been widely touted as one of the best in the NFL. Plot twist: you let A.J. Green catch 3 touchdowns before the half.
Seriously, the game was seemingly out of reach by the beginning of the 2nd quarter of play. On one hand, fans were excited to see Green put on a show and prove that he's still a top 5 NFL wide receiver. On the other hand, how could you not game plan against him? How could you not slide over safety help? How on earth could you give him that much space in the redzone?! Altogether, the Bengals' star wideout went for 69 yards and 3 touchdowns; Baltimore fantasy owners, eat your heart out.
2) The 'Put Me In, Coach!' Award: Josh Rosen
The first goose egg of the season goes to none other than the Arizona Cardinals, after losing 34-0 in Week 2. If we're being fair, they were going up against a very strong Los Angeles Rams side. However, if we're being honest, Sam Bradford played awful, through and through.
Bradford has not looked the part since his arrival in Arizona during the offseason. His overall career record is now 34-47-1 and all signs are now pointing towards his depth chart substitution for rookie Josh Rosen. The Cardinals selected the former UCLA quarterback with the 10th pick in the first round of the 2018 NFL Draft, and he was chosen with the notion that he'd be the future of the franchise. Well, the future is now, and if head coach Steven Wilks fails to see that, we just might get more replays of Rosen yawning on the sideline from boredom.
Checking in on Josh Rosen… pic.twitter.com/rlyBGF9489

— CBS Sports (@CBSSports) September 16, 2018
3) The 'Put Me Out, Coach!' Award: Vontae Davis
I think I speak for most NFL fans when I say Vontae Davis' spontaneous retirement is unprecedented. A late in the preseason surprise retirement, fair. Stepping away from the game in the middle of the season, rare but we've seen it. Calling it quits and leaving the stadium during halftime while your team is out there fighting, wow.
Although we're far from this former All-Pro's prime, he's shown flashes that he's not too worse for wear. Now we don't know the exact specifics of Davis' situation, but he has come out and stated that his departure was a family decision in order to preserve his health. Even if that is the sole reason for his actions, we wish him well.
4) The Kicking and Screaming Award: Minnesota Vikings & Cleveland Browns
If you thought missing field goals were bad, try missing extra points. The Vikings and Browns top this award because, well, the Vikings are cursed with dreadful kickers and the Browns organization is cursed altogether.
Vikings' rookie kicker Daniel Carlson was waived today after going 0-3 on field goal attempts during their closely contested game against the Packers. The end result was a 29-29 tie where a made kick, even on a clutch last-minute field goal, would've won it for Minnesota; veteran Dan Bailey was signed to replace Carlson. Cleveland's kicker, Zane Gonzalez, was also waived after back-to-back weeks of failed opportunities. In a match where the Browns only fell 18-21 to the Saints, Gonzalez missed two field goals as well as two extra points. Although it was later found out that he was playing through an injury, Gonzalez was also eventually waived from the Browns.
5) The This is Fine… Award: Pittsburgh Steelers
This is Mike Tomlin right now:
As of this week, the Pittsburgh Steelers are 0-1-1 on the season, Le'Veon Bell continues his indefinite holdout, and, in a recent surprise turn of events, Antonio Brown did not report to team meetings/practice. The root of Brown's situation may have something to do with a former Steelers PR representative calling him out on Twitter, where the star receiver then responded with, "trade me let's find out". These five words were enough to cause a social media monsoon and have Pittsburgh fans wiping away tears with their Terrible Towels™.
6) Honorable Mention: Khalil Mack
Disclaimer: Raiders fans should look away on this one. We all saw plenty of mentioning of Khalil Mack in our sports feeds this week, and for every mention of him, there's a subsequent reference to how foolish the Raiders were to trade him away. However, one stat stood above all others – Mack's defensive production vs. the entire Raiders' defensive production…yeah, seriously.
In only six quarters of play: Mack has tallied 2 sacks, 1 interception, 2 forced fumbles, 1 fumble recovery, and 1 touchdown; whereas 8 quarters for the Raiders have brought them only: 2 sacks, 1 interception, 1 forced fumble, 0 fumbles recovered, and 0 touchdowns. Once again, we hope you didn't read that Raiders fans, and if you did, then we hope you and your two future 1st-round picks the best.
Questions and comments?
thescorecrowsports@gmail.com
Follow Us on Twitter @thescorecrow
Follow Us on Reddit at u/TheScorecrow
Follow Richard Benites on Twitter @RichardIBenites
Main Credit Image: [getty src="1032941696″ width="594″ height="396″ tld="com"]