Pranav Ramasubramanian | November 3rd, 2018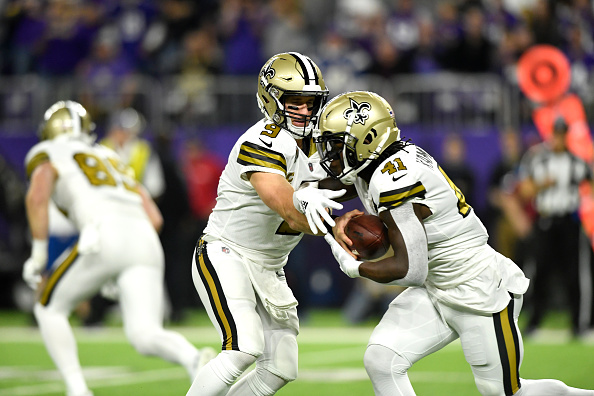 We have undergone eight weeks and have hit the midseason point in the NFL. At this point, we kinda have a basic idea of who's for real and who's not. Here are the teams that have looked like Super Bowl contenders so far.
1. Kansas City Chiefs (7-1)
Patrick Mahomes is straight balling with 26 touchdown passes and is on pace to get 50, a rare feat that only Peyton Manning and Tom Brady have achieved in the regular season. Patrick Mahomes also has this other impressive stat:
Patrick Mahomes over 300 passing yards for a 7th straight game. Forget a streak, no QB had more than 6 300-yard passing games ALL OF LAST SEASON. #rockstar

— Matthew Berry (@MatthewBerryTMR) October 28, 2018
The Chiefs have maximized all their offensive talent and it seems to be working out well so far. Kareem Hunt has been good all year getting tough yards and receiver Tyreek Hill has been a stud on special teams so far along with tight end Travis Kelce's ability to draw double teams getting other receivers open, but it's Mahomes, who has this crazy ability  to find his receivers in great spots and make smart plays making the offense very  explosive. The only real issue is their defense that has a mediocre pass rush and terrible pass coverage from the cornerbacks. This cost them during their only loss vs New England. This Chiefs team is different and the offense can cover up for the glaring weakness on defense so the Chiefs are the No.1 team in the league right now.
2. New England Patriots (6-2)
Five weeks ago it looked as if the Tom Brady-Bill Belichick feud had finally caught up to the team and the Patriots were headed towards disaster starting just 1-2. Since then the Patriots have won five straight even though most of them were bad teams, but they did get two big wins against the Kansas City Chiefs and Chicago Bears. They made a good move by trading for Josh Gordon, who is a good speedy receiver and Edelman coming back from suspension helped Brady as he needed reliable receivers leading to the Patriots reemergence. Sony Michel was also doing a good job integrating himself into the offense until disaster struck when he got injured. Even though the Patriots beat the Chiefs, the Patriots are below them because they have had an easier schedule so far and have lost more games than the Chiefs who have had a tougher schedule with a better record so far. The defense is inconsistent and the pass coverage gave up good games to Blake Bortles and Mitchell Trubisky, who haven't nearly produced this season. Just for some perspective:
Every Patriots season is weird in its own way, but this one seems particularly strange. Defense has been so-so, Gronk hasn't produced like he normally does, and Brady has ever so slightly underperformed, but they're 6-2 and the best team in the AFC.

— Doug Kyed (@DougKyed) October 30, 2018
If the Patriots didn't lose two straight, one to the Jacksonville Jaguars and the other to the Detriot Lions, they would be atop this list.
3. New Orleans Saints (6-1)
An opening day loss to FitzMagic had everyone wondering if the offseason expectations set for the Saints were too high because their defense felt like it was completely exposed.  Drew Brees has put the team on his back the last six weeks after realizing the defense wasn't in full form yet to help the Saints go 6-0 since the opening day loss, using Brees to close out 5 out of those 6 games. The defense just lets the other team hang around too much. Drew Brees has also been breaking some passing records this season as usual. Alvin Kamara has also added some punch to the offense not dropping off at all from last season and in fact, he is on a faster pace than he was last season, which is remarkable.
So, @A_kamara6 had 14 TDs last season, and has 9 in the first 7 games this year. He's special

— John DeShazier (@JohnDeShazier) October 29, 2018
The Saints have three straight good wins over good teams like the Redskins, Ravens, and Vikings proving that they can still be among the NFL's elite teams with just their offense because of pieces around Brees. If not for the defensive dropoff, the Saints could easily be the team to beat right now and trading to get Eli Apple while giving up some picks to the New York Giants was a step in the right direction as the pass coverage should improve with him.
4. Los Angeles Rams (8-0)
The only unbeaten left in the NFL right now, but they have come really close in half of their games, which just look like mere tests that they have passed. The biggest win came last week against the best quarterback in the game, Aaron Rodgers, and the Rams also have big wins on the Chargers, Vikings, and Seahawks. Todd Gurley has been the anchor on offense catching short passes and turning them into long runs or getting the handoff and running hard till he goes down racking up the touchdowns and yardage, which helps open up play-action for Jared Goff down the field for Brandin Cooks, Robert Woods or Cooper Kupp.
Touchdown No. 1️⃣5️⃣ of the year! @TG3II sets the franchise record for most touchdowns through the first 8 games of the season! pic.twitter.com/W2U1FRkfzP

— Los Angeles Rams (@RamsNFL) October 28, 2018
Sean McVay's creative offensive play-calling and personnel upgrades at receiver each year has benefitted Jared Goff well as he can take advantage of a bevy of weapons putting the ball in tight spots and trusting the receiver will catch the ball. The defense upgraded well, but Aqib Talib is on IR and Marcus Peters gets burnt in coverage, but the dominant pass rush of Aaron Donald and Ndamukong Suh strikes fear in the opponent's eyes leading to crucial wins over tough teams. The Rams also traded with the Jacksonville Jaguars for a former No.3 pick and outside linebacker in Dante Fowler Jr. on Tuesday so the pass rush on the outside should improve. The Rams have been too close to be safe against good teams so far and that's why even though they are unbeaten they rank in the low tier of contenders as they need a big signature win.
Big games to watch for in the 2nd half of the season from these teams that could prove as tests. Here are some those games:
Week 9
1. Green Bay Packers vs New England Patriots
2. Los Angeles Rams vs New Orleans Saints
Week 10
New Orleans Saints vs Cincinnati Bengals
Week 11
Kansas City Chiefs vs Los Angeles Rams in Mexico
Week 13
New England Patriots vs Minnesota Vikings
Week 15
1. New England Patriots vs Pittsburgh Steelers
2. Philadelphia Eagles vs Los Angele Rams
Week 16
Pittsburgh Steelers vs New Orleans Saints
Questions and comments?
thescorecrowsports@gmail.com
Follow Us on Twitter @thescorecrow
Follow Us on Reddit at u/TheScorecrow
Follow Pranav on Twitter @PranavRama1
Main Credit Image: [getty src="1054799506″ width="594″ height="396″ tld="com"]