Joey Ricotta | March 13th, 2019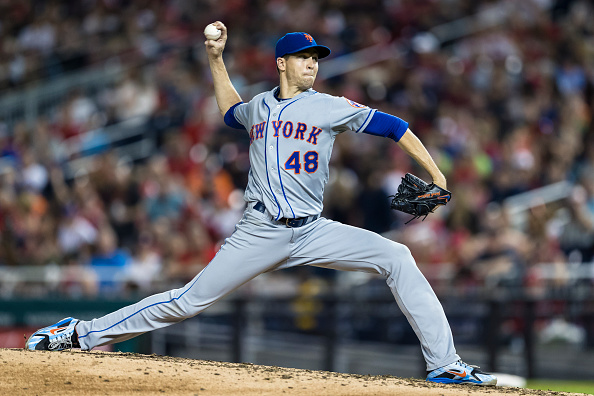 The Mets are a very interesting team. They find themselves in a division that is shaping up to be a four-team, very competitive race. GM Brodie Van Wagenen has put together a roster that can compete, whether the rest of the baseball universe believes it or not. Van Wagenen is the former co-founder of Creative Artists Agency. He helped negotiate deals for Robinson Cano with the Mariners and Yoenis Cespedes with the Mets among others. Trying to get away from their conventional approach, Van Wagenen added some new pieces to improve the Mets chances in 2019.
Last Season 77-85 4th Place in the NL East
The Mets started out hot last year. They finished April with a 17-9 record, which included a 9-game winning streak, winning 11 of their first 12 games. That would quickly be disrupted by injuries and a lack of hitting production. A 4.96 bullpen ERA won't get the job done either. That marker was good enough for third worst in the MLB. Looking to bolster the team and take more of an analytics approach, Mets ownership brought in new General Manager, Brodie Van Wagenen to help lead the charge.
Key Additions
2B Robinson Cano, RHP Edwin Diaz, 3B Jed Lowrie, C Wilson Ramos, LHP Justin Wilson, RHP Jeurys Familia, LHP Luis Avilan, CF Keon Broxton, INF Adeiny Hechavarria, 3B J.D. Davis, LHP Hector Santiago
Key Departures
OF Jay Bruce, RHP Anthony Swarzak, 3B David Wright, C Jose Lobaton, 3B Jose Reyes, RHP AJ Ramos, LHP Jerry Blevins, RHP Jenrry Mejia, INF Wilmer Flores, C Kevin Plawecki,
Catcher Projections
Wilson Ramos was acquired in the off-season after signing a 2-year $19 million deal. He was one of the best catchers on the open market and the Mets are expecting him to deliver largely for them. Last season, he made the All-Star team for the second time in his career. He slashed .306/358/487 (845 OPS) with 15 home runs and 70 RBI in 111 games total, between the Phillies and Rays.
If d'Arnaud is ready to go opening day, it's a good possibility the Mets start the season carrying three catchers. It's also not out of the realm of possibility that he ends up being dealt to another team, prior to or at some point during the season.
Devin Mesoraco was mainly used as Jacob deGrom's personal catcher last season. Coming off of his best season thus far, it's no wonder why deGrom has sung his high praises. He obviously has great chemistry with Mesoraco and that alone gives him a good chance to make the roster.
Another candidate to make the roster is Tomas Nido. If it weren't for the chemistry with deGrom, Nito might've had the leg up on Mesoraco for a backup catcher role. As it stands now, I think he's the odd man out.
Infield Projections
It's Pete Alonso, not Peter! Now going by the shortened version of his name, Pete Alonso is looking to break onto the big stage and make a big splash in 2019. He's got loads of upside, but can his contact keep up with his power and mirror that of superstars? The one thing that could hold him back, other than service time and team control issues, is his defense. From the sounds of it, Alonso has a tremendous work ethic and has made strides to improve defensively. Mickey Callaway and Brodie Van Wagenen have said they will take the best 25-men with them on opening day. Whether or not the Mets choose to bring him with the big league club come opening day, he will certainly have a big role this season.
On paper, Dominic Smith is competing with Alonso for the first base job. The Spring numbers back up that statement. But there is no question which player is kept in higher regard as far as their ceilings go. Smith is the better defensive player but lacks the power Alonso holds and has yet to hit consistently in the majors. In 105 career games played he's hit .210 with a .259 OBP and -1.8 WAR.
Todd Frazier figures to get a lot of time at first base and at the hot corner this season. He's looking to bounce back from a rough injury-plagued 2018 season, in which he hit .213. He still managed to knock out 18 home runs in 115 games. Frazier is dealing with an oblique injury at the moment and his opening day availability is uncertain.
Newcomer Robinson Cano is extremely motivated entering his 15th season in the majors. Following a season in which he served an 80-game suspension for PED use, Cano will be returning to the Big Apple. The city where he started and played nine seasons with the New York Yankees. Fourth on the All-time active hits list, He's a lifetime .304 hitter. Cano slashed .303/374/471 last year, with 10 bombs in 80 games. So, there's still some pop in the 36-year-old's bat.
Amed Rosario looks to improve and build on last year's progress. He showed signs of being more patient but needs to improve even more on his walk rate (1.8% in '17, 4.9% in '18). He has great range at shortstop and will only improve at the position as time goes on. He has good speed and there may be even more power to boot. Rosario will be an exciting young player to watch and many think he could break out this season.
Jed Lowrie projects to be the everyday third baseman. Lowrie had a career year in 2018 with Oakland en route to his first All-Star game. He hit .267 with 23 bombs and 99 driven in. The Mets locked him up for two years in hopes he can duplicate or come close to that. However, he may start the year on the shelf due to a knee injury.
The Mets have been considering playing Jeff McNeil at third base. They want his bat in the lineup and he can play multiple positions (infield and outfield). After making his debut last year, McNeil hit .329 with 7 steals in 63 games played. JD Davis is another option to make the roster. He's been hitting well in the spring, can fill in at each of the corner spots on the infield or outfield, and hits lefties solid.
Notable Non-Roster Invitees: Danny Espinosa, Adeiny Hechavarria
Hechavarria could make the opening day roster, because of the injuries to Frazier and Lowrie. If they do that, it's likely to prevent McNeil from playing every day at third base.
Outfield Projections
Michael Conforto has been seeing a lot of time in right field this spring. He can play any of the three outfield spots. Although the Mets would prefer him to lock down one of the corner positions. Nimmo is the same way, but he has bounced around between the three outfield spots more in his career. They would prefer him to play left field, but because of lack of depth and need for another bat in the lineup, Nimmo could find himself playing more center field this season. Conforto has dealt with some injuries in each of the past two seasons that might have kept him from hitting 30-plus home runs. He's a big run producer that has hit at least 27 home runs in each of the last two seasons. Fighting through injuries and struggles, Conforto really came on strong to end the season, slashing .286/365/616 in September and October, with 9 home runs and 29 RBI. Expect Conforto to hit in the middle of the lineup and expand on what he did late in the year. Nimmo had a breakout season in 2018, playing in 140 games he slashed .263/404/483 with 17 home runs. Hitting at the top of the Mets lineup, Nimmo could provide a great spark with his power and on-base percentage combo. Platoon city! Manager Mickey Callaway doesn't want to call it a platoon, not traditionally anyway as both are righties, but that's pretty much how the third outfield spot will be handled. Juan Lagares has been around for a while now. We pretty much know what he is at this point, a good role player. But he might be forced to start more games in center than the Mets had hoped. He's a lifetime .260 hitter and hit .339 in 30 games last year. Keon Broxton hasn't looked good this spring but is expected to make the opening day roster and play a decent amount. Broxton is a career .221 hitter but did have nice power/speed output with Milwaukee in 2017, hitting 20 home runs and stealing 21 bags.
Dealing with injury, there is no exact timetable for the return of Yoenis Cespedes. He certainly has the potential to be a big impact bat when healthy and he does seem optimistic about returning at some point during the season. As it stands, the Mets are best off not expecting him to play. If they get anything from him, it has to be looked at as a bonus. Cespedes has only played in a combined 119 games the last two seasons.
Notable Non-Roster Invitees: Carlos Gomez, Rajai Davis, Gregor Blanco, Tim Tebow
Starting Rotation Projections
Right at the top of the rotation is right-handed hurler Jacob deGrom. deGrom is the reigning NL Cy Young Award winner. He had a career year in basically every stat category, except for wins, but wins aren't really an important stat anymore. A 10-9 record means very little when you have a 1.70 ERA (led majors), 0.4 HR/9 (led majors), and an 88% quality start percentage. (28 of 32 GS: led majors).
Noah Syndergaard or "Thor" is the most recent Mets starting hurler to succumb to the injury bug. His nickname is Thor for a reason, he has an absolute hammer for a curveball. One of the nastiest pitchers in the game when healthy, Thor is looking to maintain his 3.03 ERA from a year ago and get his strikeout rate up to where it's been in years prior.
Zack Wheeler is a right-handed power arm that seemingly came out of nowhere in 2018, with a career-best 3.31 ERA. But, Wheeler is a former first-round draft pick. So, did he really come out of nowhere or is he just finally fully healthy and coming into his own? Well, it might be a combination of both. He didn't pitch at the big league level for two full seasons, 2015 and '16, due to Tommy John and other setbacks. In 2018, Wheeler started throwing a split-finger fastball and cut back on changeups and sinkers. According to Fangraphs, using the splitter he struck out 36.5% of batters with a 14.8% SwStr rate and held opponents to a .216 AVG, .098 ISO, and 55 wRC+. So, if he continues to throw the splitter effectively like he did in the second half of last season, Wheeler will continue to impress.
Steven Matz is the teams' projected fourth starter. Matz posted some career-best numbers in 2018. He started 30 games and racked up 154 innings pitched. He also had a 3.97 ERA and 8.9 K per nine rate. His development was delayed and his big league career has been sidetracked because of multiple arm injuries. So, last year was a step in the right direction.
Jason Vargas is on the back end of this rotation and his career for that matter. He figures to be a stop-gap pitcher, they hope can eat some innings and keep them in games. He was an All-Star in 2017 with the Royals, maybe there is more left in the tank. Pitchers, Corey Oswalt, and Hector Santiago are also battling for that fifth starter spot. Oswalt will likely be optioned to the minors to start the year. In all likelihood, Santiago won't make the rotation either but could provide some depth. Maybe even a bullpen role could be in order for him.
Bullpen Projections
Part of the offseason trade with the Mariners, joining Robinson Cano, was Edwin Diaz. Out of the pitchers that faced a minimum of 250 batters last season, Diaz was second to only Blake Treinen in wOBA. But Diaz was number one with the lowest xwOBA (.212). Arguably the games best active closer, Diaz notched an MLB best 57 saves last year, to go along with a 1.96 ERA, 1.61 FIP, 0.79 WHIP, and 15.22 K/9 rate. The rest of the bullpen shapes up nicely. Cubs fans aren't sad to see Justin Wilson go, but he did pitch a lot better last year (3.46 ERA) than he did the year prior with the team. Familia seems to be accepting of his role change to setup man. He was brought back on a 3-year $30 Mill. deal. Lugo and Familia offer good stability leading up to Diaz. Lugo has started games and has pitched exactly 101.1 innings in each of the last two seasons. He had a 2.66 ERA last year, working mostly out of the bullpen. Gsellman has also started in the past, but worked in 68 games exclusively out of the bullpen last year, finishing 24 of them. He also had 13 saves. The Mets aren't relying on him to be the man at the end this year, but rather an added depth guy. Avilan has a good chance of making the roster because he's a veteran left-handed arm that pitches well against opposing lefties. He has a career 3.09 ERA as well as a .210 batting average against versus lefties. If Hector Santiago loses the battle for the fifth starter spot (which I expect him to), he'll most likely find his way into the bullpen as the team's long reliever or mop-up man. If needed, he could fill in for a spot start.
Strengths
Starting pitching to be exact, but they've added some depth to the bullpen and seem to be strong in that department as well. The top 3 in the rotation, and maybe even 4, can be as dominant as any other staff. When you have three guys that could legitimately contend for the Cy Young Award, that's special.
Weaknesses
Health is key with every franchise. It's especially key for the Mets because it's something they've struggled with year in and year out. When fully healthy, this starting pitching staff has the potential to be the best in the majors. The problem is they are rarely fully healthy. It's not only the starting rotation either. To go along with their well-documented injuries, they've suffered from a number of injuries at other positions. Yoenis Cespedes will already be sidelined for at least the first few months of the season. Jed Lowrie and Todd Frazier are already banged up and questionable at best for opening day. Because of their depth, the Mets may not be relying on any one player as much as in years past, but the injuries could still put a cap on their full potential. Obviously, all of them would have to produce at the levels they are capable of, but Mets fans haven't even really had a chance to see what it could be like.
Predictions
83-79 3rd place in the NL East
The NL East is overly crowded with talent and will be very interesting to watch. Realistically, the Mets have the pitching and I believe enough hitting to compete with any of the contending teams. They need to stay healthy and the starting staff needs to pitch to their full capability. If those things happen, look out. It could be a wild and exciting year for Mets fans. There are just too many unknowns. There are too many things that need to go just right for this team to make a serious run. They are already dealing with some nagging injuries. When it comes to the Mets, I need to see it to believe it. Prove me wrong and stay healthy. They say an apple a day keeps the doctor away. Maybe in order for the players to produce, they need some fresh produce. If that's what helps, fans of the team located in the Big Apple would certainly appreciate it.
Check out our other Team Previews | Colorado Rockies | Toronto Blue Jays | Minnesota Twins | Atlanta Braves | Chicago Cubs | Tampa Bay Rays | Arizona Diamondbacks | Miami Marlins | Cincinnati Reds | Seattle Mariners | Texas Rangers |Los Angeles Dodgers | New York Yankees | Milwaukee Brewers | San Diego Padres | Detroit Tigers | Kansas City Royals | Cleveland Indians | Oakland A's | Philadelphia Phillies | Boston Red Sox
Questions and comments?
thescorecrowsports@gmail.com
Follow Us on Twitter @thescorecrow
Follow Us on Reddit at u/TheScorecrow
Follow Us on Facebook at The Scorecrow
Follow Us on Instagram at The Scorecrow
Follow Joey Ricotta on Twitter @theriot326
Main Credit Image: [getty src="1037502348″ width="594″ height="396″ tld="com"]